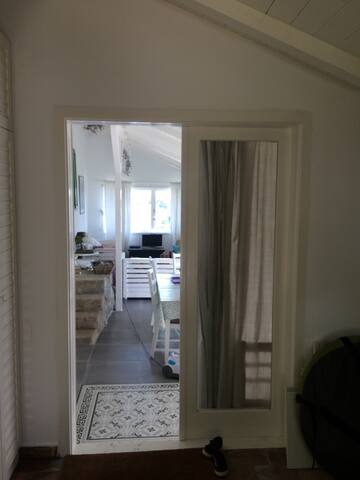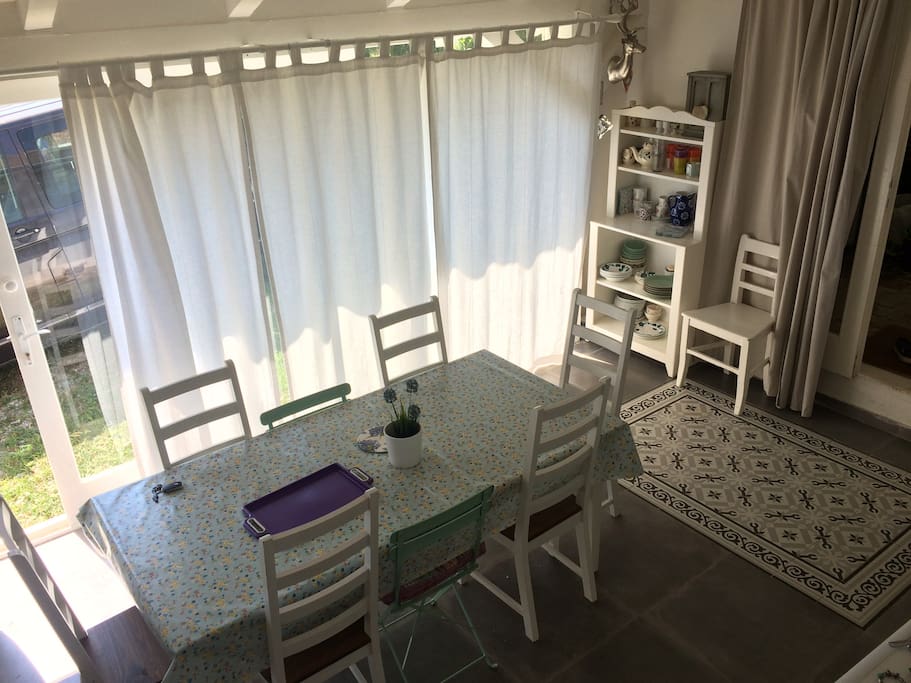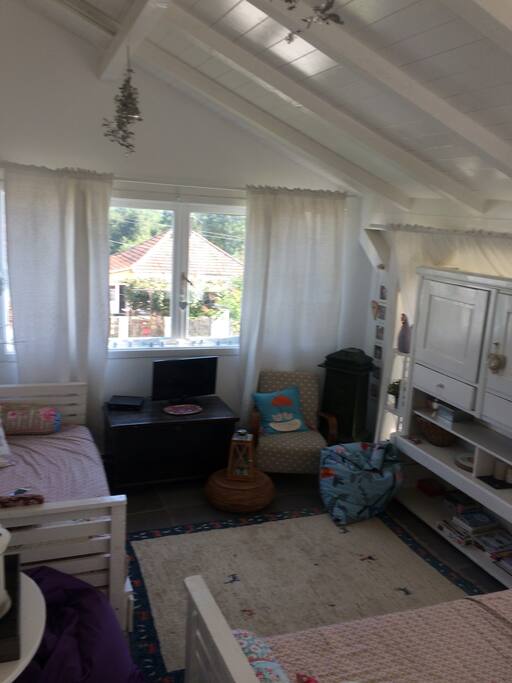 Kućica Lavanda is close to nature, Babe country club, Sopot town, traditional restaurants, Kosmaj and Avala mountains, walks and cycle paths and with beautiful, bustling Belgrade only 35 kms away. It's a calm, tranquil place, with a warm ambiance and home comforts.
房源
It's a lovingly restored, traditional country 'wattle and daub' home, perfect for solo travellers, couples, families and pets. There's all you need to be able to enjoy a unique experience in the unexplored Serbian countryside. A cosy fire in the autumn/winter and a pool in the spring/summer, makes Kućica Lavanda a wonderful year-round destination for adventurers looking for something a bit different, off the beaten track.
房客使用权限
Kućica Lavanda has a fully equipped kitchen, including an oven, fridge, freezer, washing machine, tumble dryer and dishwasher. The garden is big enough for games of football, there is a play house for children and a cosy pool and BBQ corner... The pool is open from 15th April to 15th September.
与房客的互动
Our neighbour, Milan, takes care of the kućica, including handing over the keys to our guests. He does not speak English but I am easily contactable should it be necessary.
其他注意事项
There is an attic bedroom which is not available to guests. This is our private space where our six children keep their memories. Please do not use this space at all. Thank you!
---
---
- Our neighbour, Milan, will meet you, give you the keys and be available to drive you into Belgrade should you need a lift (15€ one way). He will light the fires for you, help you order wood (for stays of a week or more, you will need to buy your firewood. It costs about 30€/m3), bring you fresh bread, eggs and milk for breakfast and help you with anything you may need.
---
If you are interested in a peaceful family friendly countryside retreat, this is probably the best place ever. Look no further! You will love it. It's a special place, full of the energy of a happy, loving family. Every detail is carefully thought out. It's the exact opposite of a soulless hotel room, but a lot more comfortable and cleaner. The house is almost at the end of a cul-de-sac with a few other neighbors. We took various hikes on the surrounding hills and met many nice local people. If you are with a car, you can park it inside the large garden. There is a playhouse for children and plenty of space to run around in the garden for pets too. Our visit was in November and the wood heaters were more than enough to heat the place for our 4 month old baby. All appliances in kitchen and bathroom are new and modern. We had everything we needed. Stove, oven, dishwasher, kettle, washing machine and even an electric dryer. A beautiful morning light fills up the living room in the morning. I can imagine long breakfasts in the garden near the pool during summer. We only stayed a week in total but it left us wanting to live here. Catherine was very easy and efficient to communicate with. She explained everything perfectly and made sure we had a great experience even though she wasn't in town. Milan, the neighbor helped us with everything we needed and more. He delivered us firewood and food every morning. He even went grocery shopping for us. He is the go-to-man for anything you may need. He knows the house very well and takes care of it in Katherine's absence. All in all, we are extremely happy we stayed here and will be coming back.
---
My mum, me and our dog stayed in Kucica Lavanda in February/March. What we liked: + The house is nice and has a good size - it's not too big, not too small + The house is comfortable and has all equipment + Milan, the neighbour, is very helpful and approachable + Rural location and no traffic near the house What we didn't like: - The house is heated by two wood burners. At the time of booking, the listing didn't include any information regarding the fact that guests were supposed to buy their wood. The day we arrived to the house we were quite surprised to learn that we needed to buy the wood (30euro/m3). The owner later added to the listing the information that the price of wood was not included in the rental after we suggested it would be good to inform her guests about the extra cost. - The owner informed us that we were supposed to register at the police, however didn't tell us it had to be done within 3 days after our arrival to the house (this is the requirement of the Serbian law when you stay in a private house in Serbia, as we found out later). We went to register with Milan on the 6th day and it was not a nice experience, the police was quite upset and unpleasant because we came to register late. - The internet was very slow for the last week of the month. - Not much privacy in the garden. - Real nature is far from the house and a car is necessary. Overall, we would rate this place 3,5 out of 5.
I am so sorry about this review from Petra, who originally booked for 2 weeks and then extended her and her mother's stay at kućica lavanda for another 6 weeks! I am sorry, too, about the confusion regarding the wood. Guests pay for the wood when they stay for longer than a week, as the fires are an extra to the two electric radiators in the house. Furthermore, when Petra asked for a couple of extra things in the house, Milan went to buy these immediately., so we have tried to accommodate her requests. I am happy that Petra highlighted the need to register with the police within 3 days of arriving somewhere in Serbia. Regarding the internet, this was apparently slow for several days at the end of February, but was back to normal at the beginning of March. Unfortunately, I have no control over the speed of the internet because of the house being in the countryside. When Petra asked to stay on in the kućica, asking for the original rate that she was paying, I agreed. I was happy that she and her mother appeared very happy to be in the kućica, at least this is what I undestood from her messages to me, as well as her wish to stay on for much longer. Unfortunately, she caused fire damage to our swimming pool by leaving hot ashes close to it, therefore I am unable to give a good review to her as a guest, until I see that she has repaired the pool as it should be, and replaced any other things that were damaged by the fire. I will be able to complete this review once I see the pool after Petra has repaired it, and the house once she has vacated it.
---
This is an extremely cosy place! The hosts are having a great taste in design - it's just a great pleasure to stay! Even though outside it was cold, thanks to the heating system - the house was warm super fast. A perfect place on the nature, if you would like to get out of city routine! If I could put 6/5 stars in the rating - I would certainly did :) Totally recommended!
---
We are a couple with 6 children. At the moment, we are looking for accommodation for my husband only, in Charleroi, as he takes flights early on Saturday mornings, to come and see us in Thessaloniki, where we are currently based!