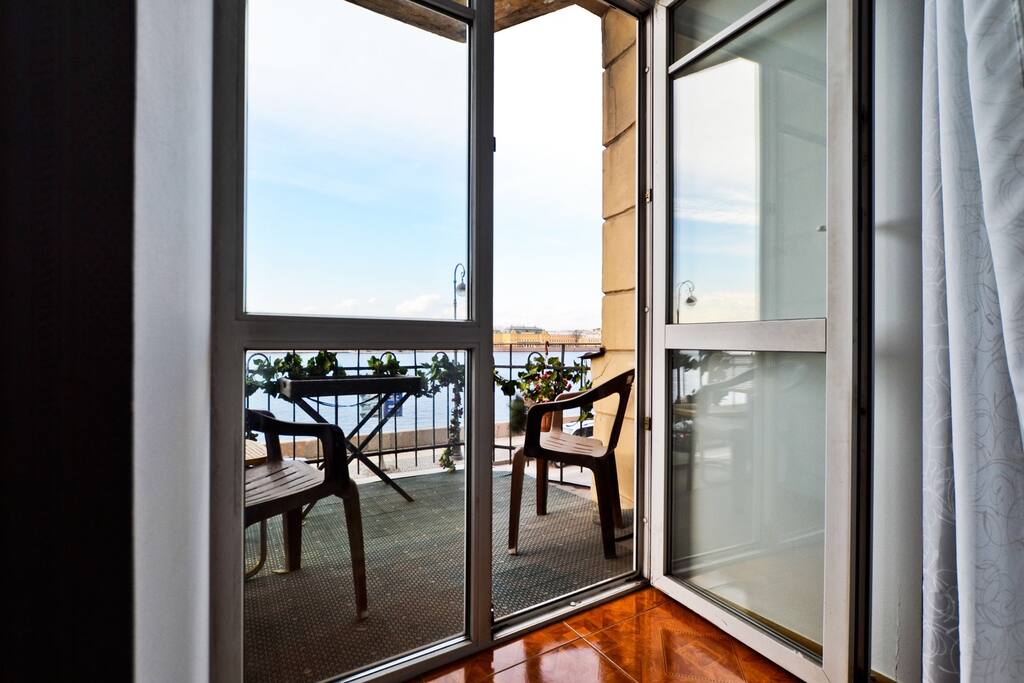 房源
Gorgeous 2 bedrooms apartment is located on the Gallernaya street 17 and has a magnificent view of the Neva river. Apartmenr gas a balcony. from the balcony our guests can see very beautifull view on English embankment and Neva river.
The balcony is a great advantage for smokers!
Excellent transport links one more of the great advantages of the apartment.
  The apartment is freshly renovated (renovation 2012). An area of over 100 m2. The apartment is located on the 2nd floor 5ti storey building.
 Besides excellent repair in the apartment is equipped with modern quality furniture and household appliances, audio, video - music center, TV LCD, TV normal (diagonal)
 Modern spacious kitchen has a classic style and warm colors. In the kitchen, our guests will find all the same need for cooking and a comfortable pastime: refrigerator, microwave, dishwasher, kettle, toaster, coffee maker.
 Two large comfortable bedrooms are equipped with double beds.
 The entire property is available wifi.
 Bathroom is equipped with a classical bath, washing machine, dryer, the most necessary bath accessories and towels. Linens prepared on the number of people corresponding to your request.
---
Dear Friends
My name is Rafael. I am very glad to represant to you my apartments in Saint Petersburg. Saint Petersburg is one of the most beautifull city in the world and i honestly bealive that staying in my apartments makes your trip to Peterburg much more better and full of good experience. From my side i am do my best for my guests. And i really enjoy my job and meeting new people.

Moreover i offer transfer service, visa support and registration. Always can give good advise where to find best excursions, dinner and rent service of everything you need))))


Дорогие друзья.
Меня зовут Рафаэль.
Я счастлив поделиться с Вами уютом и теплом моих апартаментов. Я убежден что пребывание в одной из моих квартир дополнит и без того великолепные впечатление от посещения Северной Венеции. С нетерпением жду встречи с Вами.

P.S. С удовольствием организуем для Вас трансфер с места Вашего прибытия до апартаментов и обратно. Поможем с визовой поддержкой и регистрацией. Всегда подскажем куда обратиться за лучшими экскурсиями, обедами, развлечениями и прокатом всего на свете))

语言:
English、Türkçe、Русский