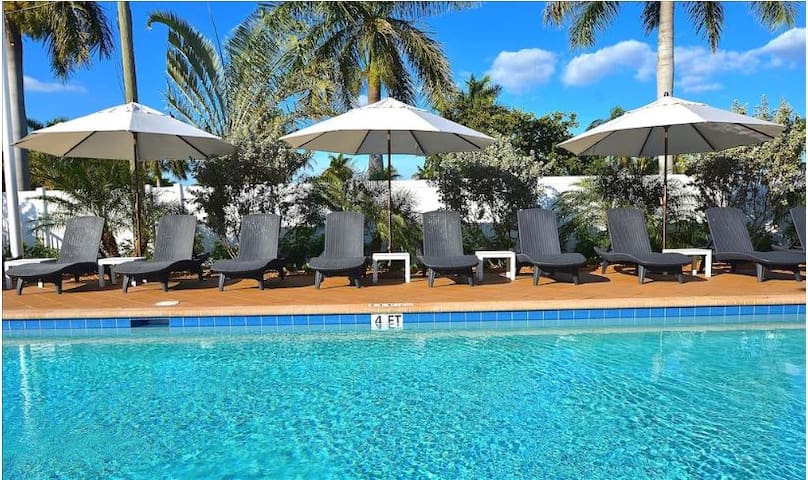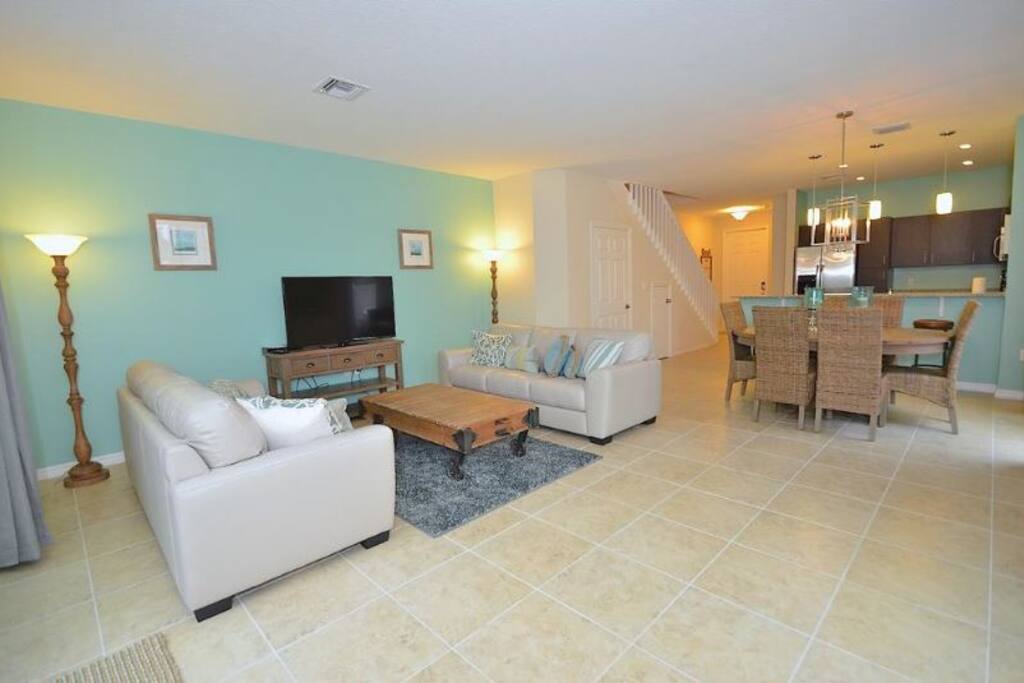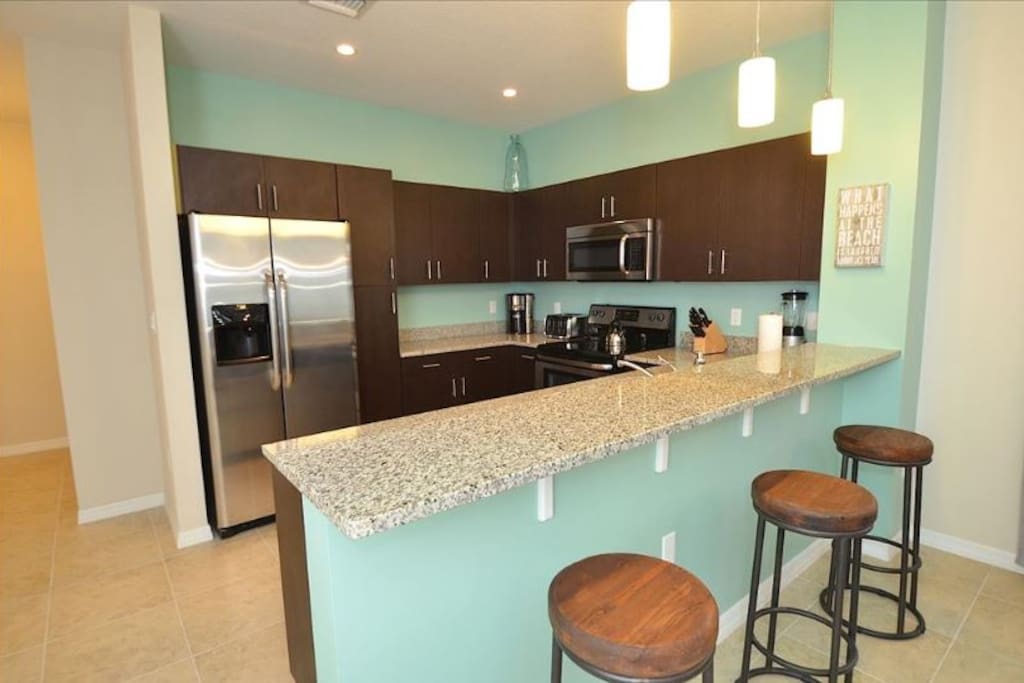 Santa Barbara Villas is conveniently located in Greater Pompano Beach area and offers immediate accessibility to a multitude of wonderful activities. The newly redesigned and award winning Pompano Beach is situated less than one mile from Santa Barbara Villas. The Atlantic Boulevard beach portal offers life guards during the day, cabana rentals, new restroom facilities, a spectacular children's playground, an adult workout and exercise facility and a children's water play area with fountains.
---
---
---
---
Guests must be Twenty-Five (25) years of Age to reserve the vacation home
We require proof of identification (a government issued photo id)
We require a signed rental agreement from the renter. This rental agreement will be emailed to the guest separately.
We require a Damage Deposit. The Damage Security Deposit required is $1,000.00 and this amount is placed on the renter's credit card.
We require copy of credit card for Damage Deposit
We require a list of occupants
We require a list of automobiles used by the guest and parked at the vacation home
We require a background screening
Upon placing reservation, our staff will provide in a separate email detailed instructions for check in procedures.
The guest must come to our office to check in between 10:00am to 5:00pm on his/her arrival day. Monday to Friday.
For arrivals after 6pm or weekend arrivals, special instructions will be provided by email.
The guest listed on the reservation must check in, no exceptions, and provide a government issued photo identification and credit card.
Check-In Time is 4:00 PM and Check-Out Time is 10:00 AM
We do not guarantee or allow early check-in's requests. All locks are time sensitive and will not give you access prior to 4:00 PM. Guest should not expect to take occupancy sooner than times stated. Please note that the 4:00 check-in is not always guaranteed, in some cases check-in may be delayed due to circumstances beyond our control. Rate adjustments credits cannot be made for late check-in or early departure. We will text or call you if we have changes in check in times.
You may request a late check-out in writing via email in advanced. Based on availability we may grant your request in writing via email and the late check out fee will be provided and charged to the credit card on file. If you do not receive a written confirmation allowing a late check out via email, then it is unauthorized to stay late. Verbal commitments will not occur. If you stay later and it is unauthorized, you will be asked to leave and will be charged a full day rate on your security deposit hold for failure to notify in advance and vacate.
Pets
Please inquire with management for details involving pets. Not all vacation homes accept pets. We reserve the right to individual policies and fees. Failure to comply may result in fees or eviction.
Pools
The rental property owner or rental property association controls pool temperatures. By The Sea is not responsible for pool or spa temperatures, closures or malfunctions. No credit, discount and/or rate adjustments will be granted for items mentioned above or circumstances beyond our control. There will be days when the weather conditions will not allow pool heaters to accommodate swimming and temperature recovery times will vary.
Substitution of Accommodations
By The Sea Vacation Villas reserves the right to move, relocate, reassign or change the rental property noted on the rental reservation for unforeseen circumstances. By The Sea Vacation Villas will make every effort to re-book the guest in a like and kind or upgraded rental property. Under no circumstances does the rental confirmation guarantee the rental property selection or assignment. If Guest does not wish to relocate or accept the alternative accommodation By The Sea Vacation Villas will issue a full refund to the Guest or pro-ration if during occupancy in the event the property is unavailable or becomes unavailable due to maintenance or otherwise. Under no circumstances will By The Sea Vacation Villas be liable for any other charges incurred for property moves or cancellations. We can not honor requests by guests to switch units because they are unhappy with decor or location. Units are not owned by management and each unit is individually owned. We can not grant transfer requests without an owners approval.
Guest Satisfaction
Your rental agreement will be construed under Florida law and the sole venue and jurisdiction shall be the Courts of Broward County, Florida. All disputes between By The Sea Vacation Villas, owner, or agent and the guest based on the rental agreement or its breach will be mediated under the rules of the Florida Bar Association or other mediator agreed upon by the parties prior to filing any civil suit. Mediation is a process in which parties attempt to resolve a dispute by submitting it to an impartial mediator who facilitates the resolution of the dispute but who is not empowered to impose a settlement on the parties. The parties will equally divide the mediation fee, if any. In any litigation based on this Agreement,the prevailing party will be entitled to recover reasonable attorneys' fees and costs at all levels. By signing the rental agreement Guest agrees to work amicably and diligently with By The Sea Vacation Villas, owner, or agent in resolving any deficiencies before during and after the guest stay. Prior to any credit card dispute, filing of any online review or regulatory complaint the guest agrees to notify By The Sea Vacation Villas, owner, or agent in writing and allow By The Sea Vacation Villas,owner, or agent a process of good faith negotiations with management in an effort to allow By The Sea Vacation Villas,owner, or agent opportunity to maintain good customer relationships. Guest complaint investigations may take over 30 days before they are resolved and before a refund may or may not be granted.
RELEASE; Indemnity
In consideration for the use of the rental property and the other terms and provisions of this confirmation, Guest agrees as follows: (i) Neither By The Sea Vacation Villas nor any of By The Sea Vacation Villas agents, officers, directors, shareholders,employees, or other representatives (hereinafter, collectively referred to as the "By The Sea Vacation Villas Parties")shall at any time be liable or responsible in any way whatsoever for any loss,injury, death, or damage caused or arising in connection with the Guest's(including members of Guest's travel party and any visitors or invitees of Guest) use or occupancy of the rental property or any of the amenities, or as a result of acts of god, acts of government or other authorities, wars, civil disturbances, hijacks, thefts, or any circumstance beyond its control; and (ii)Guest with the intention of binding itself, its successors, legal representatives, directors, stockholders and/or assigns, as the case may be,hereby releases and forever discharges each of the By The Sea Vacation Villas Parties, and indemnifies and holds the By The Sea Vacation Villas parties harmless,from and against any and all liability, damages, actions, causes of action, claims, losses and/or expenses (including but not limited to attorneys' fees,court costs and expenses) (hereinafter collectively referred to as "Losses"),arising in connection with or based on injury to or death of any person, or damage to property, including the loss of use thereof, caused in whole or in part by Guest or any member of Guest's travel party, including without limitation visitors or invitees of Guest, regardless of whether or not caused in whole or in part by the negligence of one or more of the By The Sea Vacation Villas Parties; provided, however, this indemnification shall not apply with respect to losses arising directly from the willful misconduct of any one or more of the By The Sea Vacation Villas Parties.
---
---
---
Welcome to By The Sea Vacation Villas! We are a locally owned luxury vacation rental property management company, specializing in the immediate beach areas of Fort Lauderdale Beach, Lauderdale by the Sea, Pompano Beach and Hillsboro Shores. We offer over 50 exclusive luxury vacation rental homes and villas in our portfolio, post an A Rating with the Better Business Bureau, are long standing members with the local Chamber of Commerce and are long standing members with the Vacation Rental Managers Association (VRMA).

As a luxury vacation rental host, with over 35 years of combined experience in the luxury vacation rental industry, we pride ourselves on delivering our vacation properties as advertised and depicted. We truly believe our team will do their best in ensuring all guests have a first class experience while occupying our properties and, should a guest require any assistance, whatsoever, throughout their stay, our team is a just a phone call away. Our corporate office is located within minutes of our vacation homes.

We look forward in hosting you soon...
语言:
English、Español、Português、Svenska