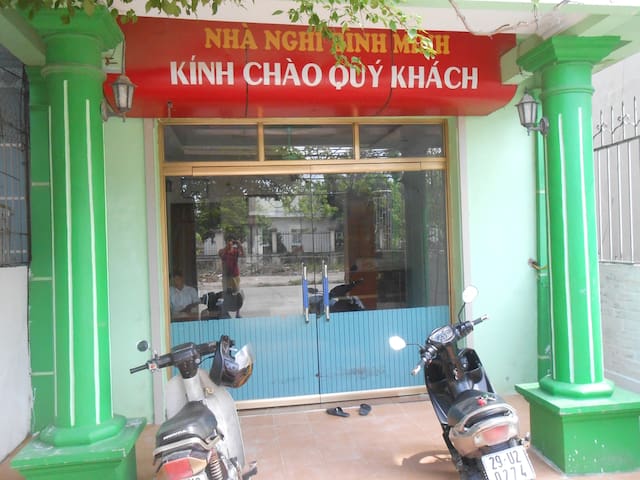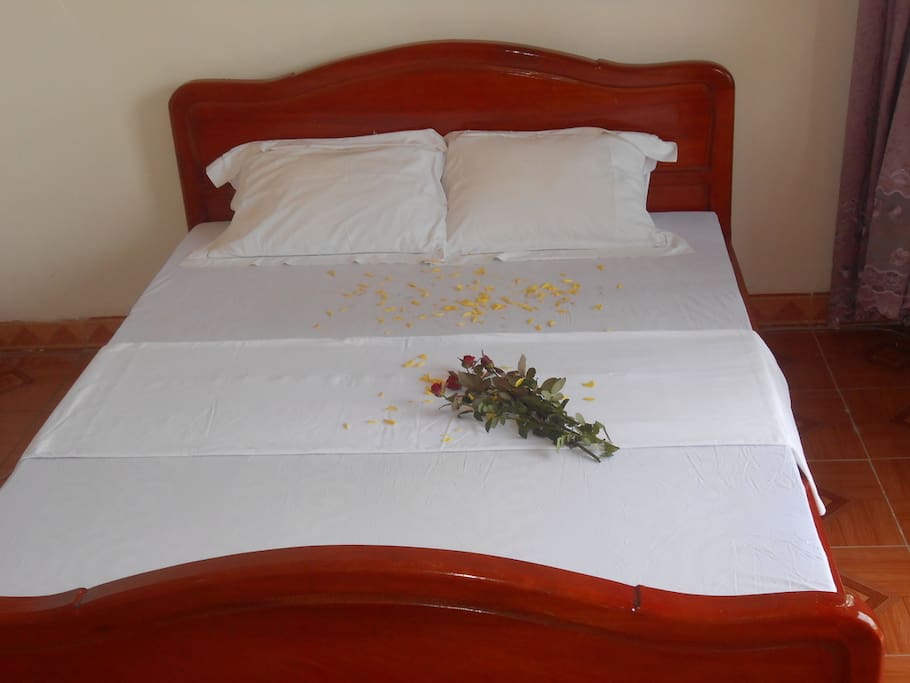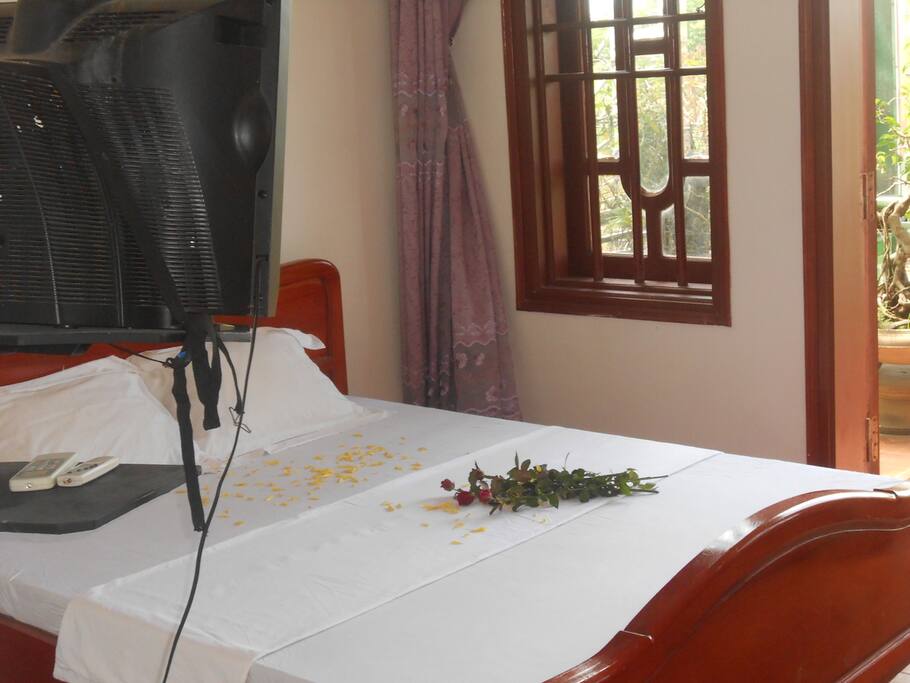 房源
when you stay here you will mingle with members of the family, the cooking, the exchange of customs and traditions of each region, the homestay owner is the person like traveling and would like to exchange experiences with guest, guests will feel like them self
房客使用权限
you will be allowed to use all the things as washing machine, kettle, some thing like that because you the member of our family
与房客的互动
we can speak your language and do not worry about this you will find out the life of local people with a morning tour by bike with the host I think you like very much and amazing ! what a local life !
其他注意事项
I am sure that you be happy with us and learn some experiences from the northern typical local family and on the way you travel you will feel our experiences before you come each area in the south or in the middle
---
This was so wonderful!!! Best homestay experience I've had in Vietnam, by far. The family was so kind and dinner was delicious. We had such fun communicating with the translator on our phones! I had a scooter to explore the gorgeous area (it's breathtaking). I thought house was better than pictures said. My bus dropped me in city center at 8:00am, I booked the homestay, and David was there 8 minutes later to pick me up on his scooter! Beyond good customer service!! I would love to come back and stay for a long time.
---
A ripoff! We were pickles up at the train station. Taken to a different place. Had a chicken salad before we checked in. Is was terrible. Unbeatable bad. We didn't eat it. We left right away. Found an other places to stay and couldn't get in touch with David anymore. He didn't answer text messages or on the Airbnb listing. A ripoff.
---
GREAT AND BEST STAY (But read the whole review for important information) Most important is that we had a great three days at this homestay 2 kilometer from Tam Coc. 1. The family is lovely. The couple speaks a little English but with (SENSITIVE CONTENTS HIDDEN) translate we could talk nice. They really care about their guests. Its also nice you will meet people from their family or their neighbourhood. 2. We had a very big clean room with two beds on the first floor. There was no tv or airco but we had good WiFi, fan and slept very good because it was zo quiet in the neighbourhood. Toilet and bathroom were shared with the family and on the groundfloor. 3. Neighbourhood is very local. It really feels like living in a little country village for a few days. And it is quiet although you hear some animals at night. From their homestay its just 5 minutes by motorbike to the Tam Coc boat ride, 10 minutes to the Mau Caves/Pagoda and 15 minutes to the Trang An boatride (must do). So this must be the most central place to visit the area. But you will really need a bike motorbike. But they can arrange that. No problem. 4. The home cooking is amazing and not expensive. If you want you can eat with the family every day and we were glad we did this. We had the best meals of our four week trip in Vietnam. Its better and more local food then in the restaurants. We loved it and would only come back to enjoy their cookingskills. 5. Pick up from the trainstation was perfect. They drove us to their home on their motorbikes also carrying our suitcases. BUT (important) 1. When writing this review in march 2017, the location on AirBnB does not match the real location. The real location is in a small village 5 km from Ninh Binh and just 2 km from Tam Coc. And believe me, you wont regret the real location because this is much nearer the hills, ricefields, caves and temples. I just donr know why there is another location on AirBnB 2. The room also is different from the pictures. Our room was much bigger and we actually had two beds (they have more rooms but I dont know what they look like). But we had no tv or airconditioning. There is a balcony. So the location and room were kind of a surprise to us, but they were pleasant surprises. I hope many more people will visit this lovely homestay.
---
This airbnb listing is FRAUDULENT, a SCAM, and the host is DISHONEST. David does not own or live at the listed property. The address is incorrect. The host is unavailable on the ph number provided. The host did not reply to multiple messages to resolve the problem. The host could have cancelled the booking to refund our money, but didnt. We had arranged to spend our holiday in Ninh Binh here. David had sent a message advising he would pick us up from the train/bus station. Unfortunately, I was violently sick on the night bus from BacHa, and spent a few hours recovering at the bus station in Hanoi. We then decided to take a private car to Ninh Bihn. The driver drove around for 1.5 hours looking for the address provided by the host. Frequently stopping to ask locals if they knew the property, and called the hosts phone many times which doesnt work. We eventually arrived at the hotel just outside of town, owned by local Vietnamese with no English. The first few pictures of the hotel are accurate, but is not owned or operated by the host. After 2 hours of saying we had a booking, trying to contact the host with their phone we decided to spend the night here. We had to pay. The host didnt even have the courtesy of replying to messages. There has not even been an apology! The situation could have easily been resloved by picking us up from the hotel. (We read later in another review that the hosts 'actual' accommodation is elsewhere). The host did not even cancel the booking to refund the money. The host is dishonest and a thief! Really dissapointing that we have this host in the Airbnb community. We highly recommend The Guest House. Family operated, english speaking, great food and comfortable clean rooms. Bicycles & motorbikes available. Can also organise all tours, private tours and transfers. I have asked them to join Airbnb!
---
Expect to stay with a local family (friends of David's) that cannot speak English and David being the guide and taking you on trips. This is what I concluded from other reviews but I had no idea what to expect actually. Luckily I soon found that the family was super sweet and made amazing Vietnamese food. Even catering to my strict vegetarian choices. The husband spoke no English and his wife very little so we used David's help when he was there or (SENSITIVE CONTENTS HIDDEN) translate to communicate.
---
Binh Minh Guest House locate at Xom chua, Thon Hanh Cung, Ninh Thang Ward, Hoa Lu, Ninh Binh Vietnam And it is near the city center just only 10 minutes walk and not so far from Tam Coc in the south And #Trang And grotto in the north 15 minutes by scooter about 20 minutes to the first capital in Vietnam & Bai Dinh Pagoda,