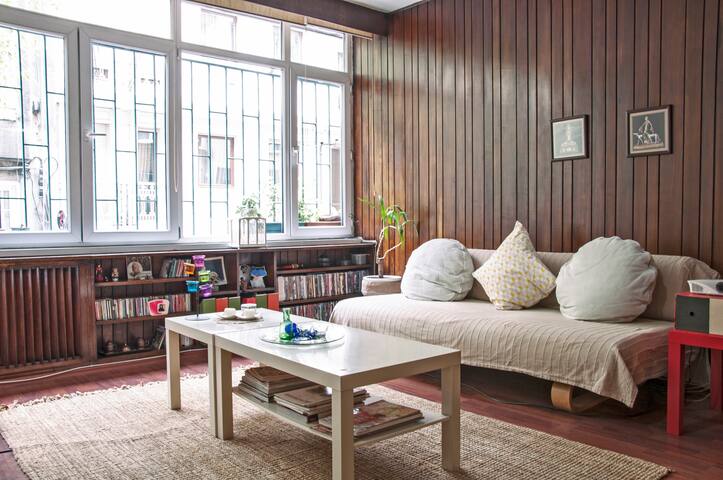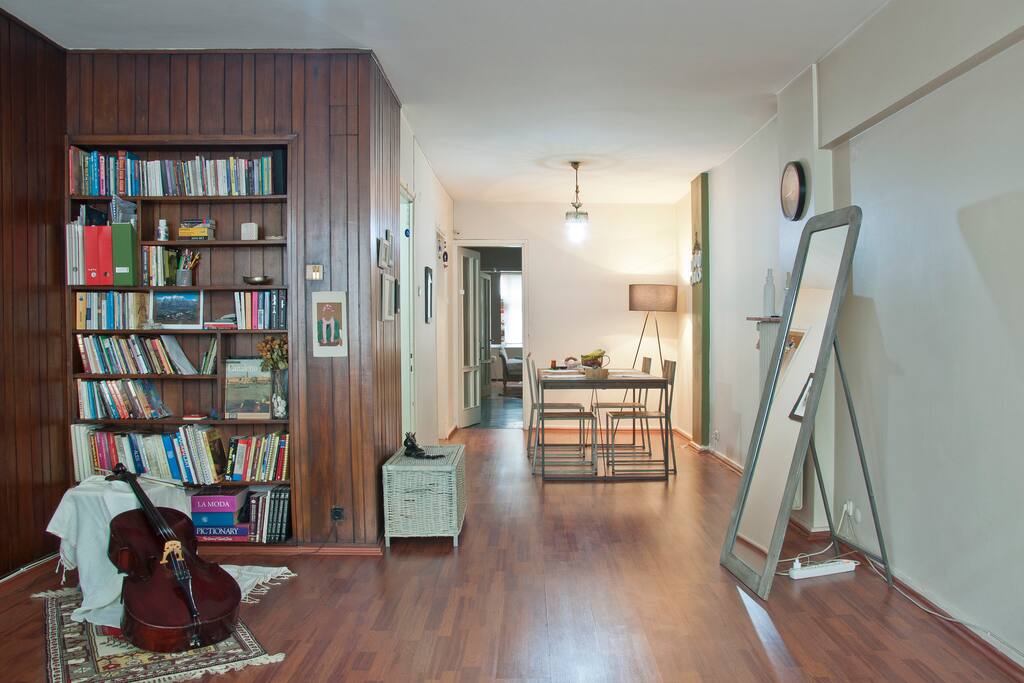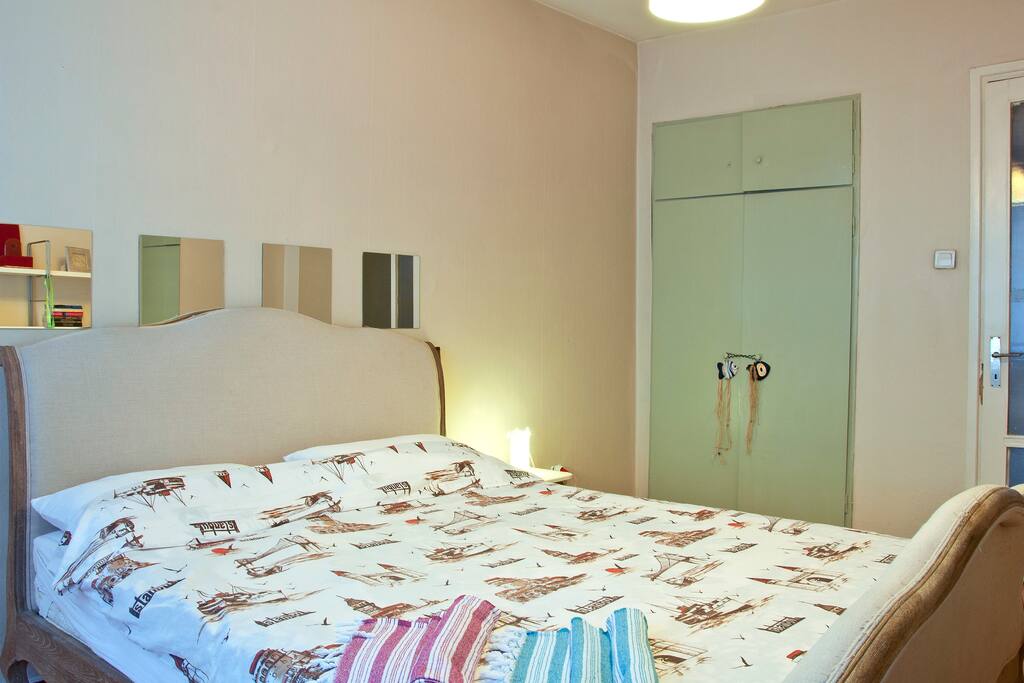 My flat location is one of the best famous area in istanbul.the name is called Nisantasi,only one metro stop to Taksim.Nisantasi is the famous area for high quality of shopping and entertainment at the same time quite,safe and peaceful.
房源
My flat location is one of the best famous area in istanbul.the name is called Nisantasi,only one metro stop to Taksim.Nisantasi is the famous area for high quality of shopping and entertainment at the same time quite,safe and peaceful.
My home comes with one resident.. me :) very friendly, and OUT FOR WORK most of the time.. SO YOU MIGHT NEVER SEE ME BUT ALWAYS IN TOUCH WITH YOU IF YOU LIKE OR NEED.
ELEGANT AND QUIET apartment located on the center of Nisantasi. Nisantasi is one of the most famous shopping areas in the europian side of Istanbul near many many restaurants and cafes, parking lots, hospitals, and public transportations. A map marked with the most important attractions and locations such as supermarkets, pharmacies, banks, hospitals, exchange offices and restaurants will be provided to the guests.

The apartment (110 sq m) is very comfortable and REFINED of an modern atmosphere, perfect for 2 peoples who like LIVING EMOTIONS AND RELAX.
EXCELLENT TRANSPORT for example 2 MINUTES' WALK FROM MY PLACE you can take DOLMUS and you can arrive to TAKSIM in only 5 minutes and TO EMINONU(OLD CITY) in only 15 minutes, also in Taksim square you have a shuttle service to the airport. .
A beautiful park (MACKA) five minutes' by walking also in the park you can get on the cableway to Taksim Square.
Please don't hesitate to contact me by mail.
THE APARTMENT IS COMPOSED BY:
LARGE LIVING ROOM, BEDROOM, KITCHEN, BATHROOM,
Price is all included (electricity, water, internet, sheets, blankets and bath towels) with environment friendly cleaning service.
EQUIPMENT:
Heating -Wifi- Refrigerator - TV - Oven - Washing machine - Kettle - Hairdryer - Linen
ENGLISH TURKISH ITALIAN SPOKEN
---
The apartment is huge and beautiful and Deyra was super accommodating. My flight was delayed a full hour getting me to the apartment at around 2am and she made sure a friend let me in and explained everything to me, even though it was very late and totally inconvenient. Great space, perfect location in my favorite neighborhood of Istanbul and great hostess!
---
Derya's place was as pretty as the photos show and more! Cozy bedroom and an inviting sitting (URL HIDDEN) have a cable TV with a projector to watch on wall as the screen. Kitchen is fully equipped and you can cook at your leisure. Sadly we could not meet Derya but she arranged everything remotely. Always available on phone or online for any queries. The location is right in the middle of the chick Nistansi district of Istanbul with beautiful cafes, boutiques around. Public transport available at a short walk-metro and dolmus. Highly recommended place to stay in Istanul.
---
I stayed at Derya's place for one week and was very pleased. The flat is well located close to all amenities in Nisantasi, as well as in easy reach to Taksim. It is very nicely decorated and makes you feel home the minute you enter the spacious living room. Derya was not home during my stay, but she was always very responsive to my emails and helpful. I would definitely stay again at Derya's.
---
I stayed here for five weeks this summer (Derya was out of the city, so I had the place entirely to myself). I really loved the apartment and the neighborhood. It is large for a one-bedroom apartment, and the decor is welcoming but spacious. Nice bathroom, nice kitchen. Bedroom is in the back so street noise is not a problem. I wished that the TV system worked and that the internet reached the bedroom better, but these are small problems in an otherwise wonderful space. I'd gladly stay here again for another five weeks! Very pleased.
---
It was very confortable to stay at Derya 's place. A very good choice ! First, she waited for us until late at night to check in because our plane was late. When we arrived, we found special fruits and loukoum for us ! She let us an extra bed and cover for our baby. She gave us advice and all information we need to discover the city. The appartement is very well located, in the nice nisantasi area, close to taskim (less than 30 minutes by foot). The room is quiete and the bed is very good, better than ours ! We had all we need for a couple and a one year child ! Thanks Deyria for all !
---
Derya was awesome to work with and her apartment was warm and spacious. I didn't realize how non-touristy the area was but despite the roadwork (which was completed by the time we left) it was a great location to see all the tourist sites, as well as hidden gems that tourist don't necessarily seek out. There were great boutiques, local restaurants, grocery stores, and bakeries within a stone throw of our front door. My friends and I were big fans of The In Bakery where we frequented on a daily basis. What was so awesome was the fact that there was a taxi stop right down the hill from the apartment and dolmus stop just up the hill from the apartment, so it's great for getting around town. Also it's easy to walk pretty much everywhere from the place if you're willing and able. We walked from the apartment to Taksim, as well as Dolmbahçe Palace and even the Galata Tower and bridge. Mind you, my friends and I were up for the adventure and didn't mind walking for long periods of time, so keep that in mind. Also you could faintly hear the prayers in the morning but it wasn't a bother to any of us, it was all apart of the Istanbul experience. There was an apartment building cat that kept us company and we enjoyed her and her fellow cat and dog mates found through the neighborhood and Istanbul. My friend slept on the couch in the front and it was great for her. There is no AC, so we left the windows open to get a breeze and air which was fine. Though sometimes the neighborhood gets a bit lively, it's primarily quiet outside of normal sounds you'll find anywhere. As for the kitchen and bathroom, they were great. The kitchen is well stocked and the bathroom is quite roomy considering and the washer was a great bonus that we took advantage of. Derya was readily available to answer my calls and even warned me about riots in Taksim Square while we were there and to not venture into that neighborhood that evening. Which was a good thing because we were planning on a hitting a club in that area that night, so naturally our plans changed with the warning. The apartment was supremely clean and tidy. The wifi worked great, though we did have one day where it went out but it turned out it was a neighborhood situation that was fixed later that evening. Overall I adored this apartment and the great memories I was able to make in the magical and mystical city of Istanbul. If ever, I get the opportunity to go back to Istanbul again I would definitely stay here. Though I didn't get the opportunity to meet Derya, I spoke with her several times and she was kind, gracious, and completely accommodating to my friends and our needs. Thanks again Derya for the great place to stay!
---
Hello my name is Derya.I m from Istanbul. I m a professional musician and I play cello in the Symphonies and teaching cello. I also play contrabass with a Jazz band. As I being travel all around word with my job and understanding different cultures,tasting different food make me inspiration of doing airbnb.
I m welcome to help and show you Turkish culture and music, food.
Best
语言:
English、Italiano、Türkçe