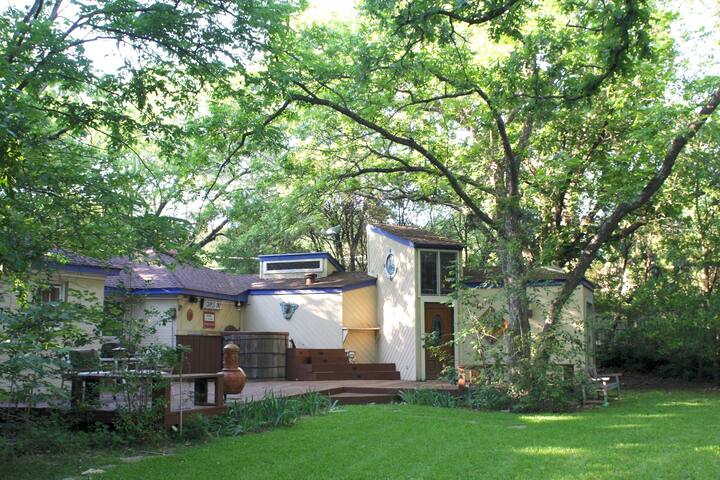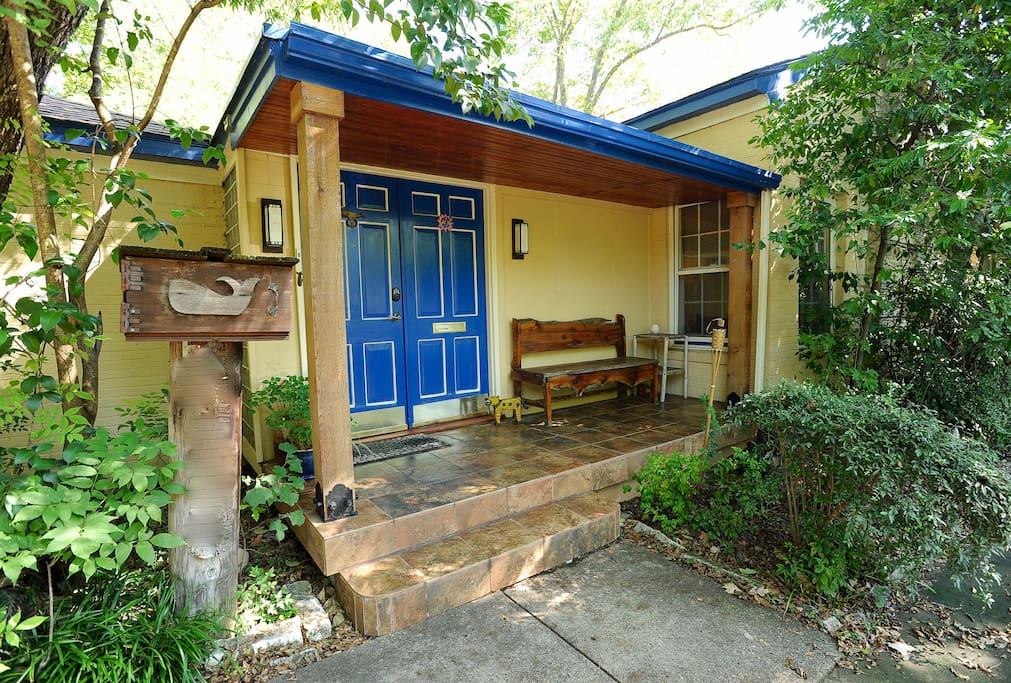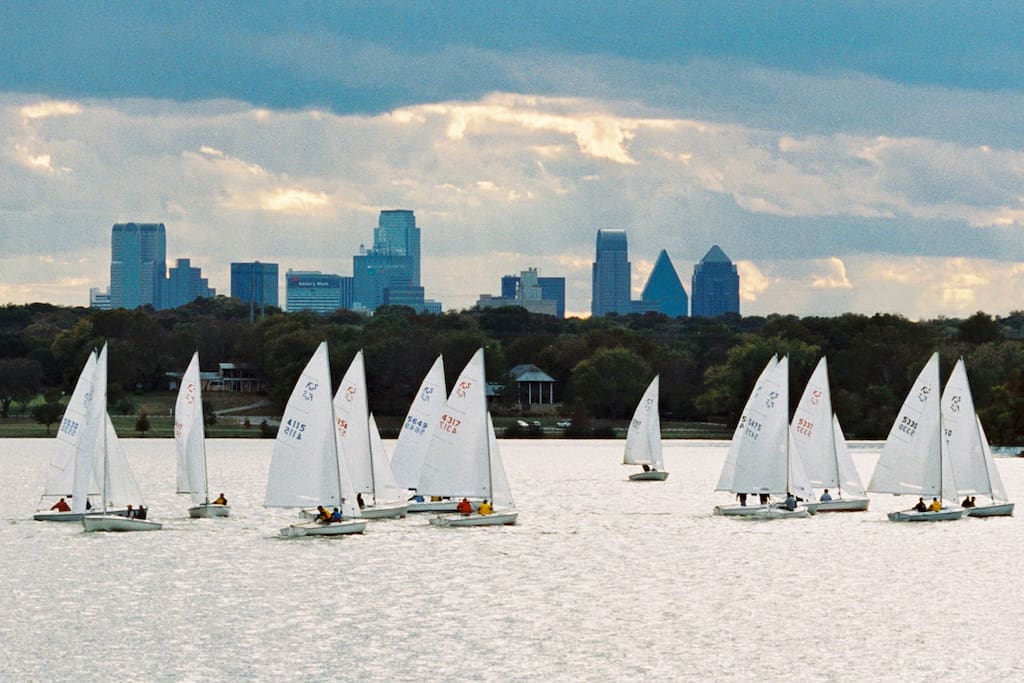 此房源的描述已由谷歌翻译从英语翻译成您的语言,但谷歌翻译并不能保证翻译的准确性。
的艺术,轻松的房子在一个大树林很多在公园般的环境中,距离白石湖和达拉斯植物园两个短的街区。徒步旅行和自行车道是慢跑者或骑自行车者的梦想!到市中心十分钟,或者到有趣的商店和餐馆下车。大国家厨房做好烹饪!红木热水浴缸在一个大户外甲板上。带家具的卧室和私人浴室位于自己的翼楼,带有巨大的淋浴和彩色玻璃窗。
---
---
---
---
不适合儿童(2-12岁)入住,或不能为儿童提供安全的住宿环境
没有蜡烛,没有香,没有火。
请挂湿毛巾,不要把它们放在家具上。
没有其他客人。
享受房子,院子里的湖泊,保持幽默感!
---
---
---
---
Staying at Marci's place has been a great experience. The rustic room sits at the end of one wing of the house so it affords privacy. There is an oversized shower just outside the room and a large comfortable den in the same wing. A well-equipped kitchen sits across the main entry hall. It's a great place to cook, eat and chat. Marci is communicative and friendly while respecting guest privacy. Her home is located a couple of blocks from White Rock Lake which made it easy to walk, run and work out at almost every day. I highly recommend Marci's place and have already booked an additional stay.
---
Definitely a 5-Star experience from me. I loved the peaceful nights at home and taking short walks to the lake and the arboretum. It was truly a getaway. I wasn't too fond of the idea of not having guests over as it made me feel trapped at home sometimes( I honestly didn't notice that in the house rules, which is my fault). Overall, I would highly recommend this home as Marci was the best host!
---
I could not have gotten more lucky than to stay at Marci's home - I stayed for 6 months! I moved to Dallas to work having never been here before and Marci's house was perfect. For me, it was important that I was close to the city as well as nature. Her home is steps away from White Rock Lake which is amazing - beautiful sunsets every night. Also right across from the arboretum, she's close to great restaurants like GoodFriend and 20 Ft Seafood Joint (Smoky Rose just opened literally across the street from the house). Marci was always communicating with me and very accommodating to everything I needed. She provided absolutely everything I needed - towels, sheets, comforter, soap, shampoo, etc. The shower is huge and I loved having my own wing where the bathroom and sink are separate. The brand new washer and dryer are also in that wing. Full kitchen with everything you need - big backyard to relax and sit outside, driveway for your car. This really was just a great experience - I didn't know what to expect, but staying here exceeded my expectations. Marci is so lovely and great to talk with and I feel sad having to leave. I would definitely come back and stay here again.
Oh Carla, thank you for your lovely words! Hosting you for the past 6 months has been a wonderful experience! I really feel like the lucky one here. From our mutual love of old cars to just laughing and talking about anything and everything, I couldn't have been happier having you in my home. You are always welcome here, and hope that your adventures bring you back this way. Happy trails and safe travels, my friend!
---
My husband and I had planned our trip to Dallas for my birthday getaway. We truly had the best weekend ever! Everything from the food nearby (I highly suggest the lower Greenville area. They have such great restaurants with unique history!) to the sightseeing of the beautiful Dallas AR-BO-RE-TUM that is within walking distance from the casa. Hands down Marci is the most amazing hostess. She really knows how to make her guest feel special. She was a delight to converse and listen to her stories, which made her very eclectic house that much more interesting. We also never felt that we didn't have enough privacy and the hot tub on her patio was very serene considering that her backyard appears as a small little forest itself. Marci was very responsive to any questions we had and was able to suggest many places of our interest. She has her own butler (Jeeves) who's very attentive and sure to make anyone laugh. The location is superb. Only two blocks from the Lake and the Dallas arboretum you can't feel any more distant yet close to such a busy city. Casa de Marci definitely beets any upscale, luxurious hotel with the hospitality and uniqueness that you will find here. We can't wait to come back again!
---
We stayed in the rustic room for a few weeks. Marci is cool and accommodating. This room is small and has little room for belongings in a long term stay. The full size bed is very springy, waking up your bed partner if you roll over. It has a double head shower which was great. The bathroom and shower are located outside the room in the hallway with the washer and dryer with access to the living room. Make sure you close the doors for privacy. Marci and other guests were cool about asking to go to the washer/dryer area to allow privacy. She has recycling and trash compactor but no true trash can for things that cannot go into the above, so it was a chore to get rid of trash that didn't belong anywhere. I would stay with Marci again knowing these things with a few changes.
---
What a wonderful experience! My boyfriend and I came to Dallas to spend time in the old neighborhood I grew up in around White Rock Lake. Her location is perfect in a beautiful neighborhood - right next to the lake and the Arboretum. I can't say enough about her hospitality, hands down one of the homiest and coziest places I've ever stayed at an airbnb. There were delicious baked chocolate chip cookies, fresh cut flowers and ice cold water in our room upon our arrival. She was extremely accommodating to our unpredictable arrival time and made every effort to make sure we felt at home. Since this is a shared space with other tenants, including herself, it is amazing how private the rustic room felt. We had our own wing of the house and felt like we had the whole house to ourselves. As a couple, this was important - at no time did we feel that we didn't have enough privacy. If you are looking for an off-the-beaten path Dallas spot, this is your place. The decor is super quirky - a latrine style outhouse bathroom (but fully equipped and modern). Hilarious outhouse/latrine, crapper art everywhere in the bathroom and hallway - anywhere your eye lands it falls upon some interesting piece of artwork or tchotchke. She's also a massage therapist - we wished that we had payed for one with her instead of our not-so-great one at the King Spa. It was my boyfriend's birthday and she made us a beautiful breakfast since she didn't have clients that particular morning including chocolate chip pancakes and this super juicy omelette with mushrooms and sundried tomatoes. Fresh squeezed orange juice....the works. She even got a little mini cheesecake for my boyfriend's birthday and put a candle in it on his birthday morning. She made us feel really special and at home. So glad we stayed here and have her as part of the memory of this special weekend. Stay here! It's SO not Dallas and in my book that's a good thing.
---
I'm a generally happy, upbeat grown-up girl who thoroughly enjoys having guests in my home. Meeting new people, making new connections, and bringing good energy into Casa de Marci give me great joy!

I can't live without family, friends, spectacular sunsets, warm chocolate chip cookies, and blues dancing. Well, perhaps I could live, but life wouldn't be nearly as much fun!

I tend to travel to the same places over and over…and my travel almost always involves visiting people who are family and longtime friends of the heart. I'm happiest in a damp redwood forest. Love the California coastline, my hometown of New York City (born on Broadway!), my growing-up town of Cleveland, and the many cities that I travel to for blues dance workshops. Doing massage on a cruise ship one week out of the year for five years allowed me to travel to the Tahitian Islands, the Greek Islands, Caribbean Islands, Spain, France, and Italy. Backpacked through Europe many moons ago for a couple of months and still have magical memories!

I love live theater, comedy, music, and movies. Would much rather go to a local one-of-a-kind "joint" than a chain restaurant. Have been a Licensed Massage Therapist in private practice for many years in Dallas, and giving massages continues to be my passion. And did I mention how much I love blues dancing?

As the founder of For the Love of the Lake, a non-profit group of volunteers dedicated to the preservation and enhancement of White Rock Lake Park as an urban oasis, needless to say, White Rock Lake is one of my true loves. Jogging and biking around the lake (not at the same time!) is always wonderful. Skipping across the street to see the intense beauty of the Dallas Arboretum or a sunset over the lake makes my soul sing.

My life motto is so corny, so overdone, so trite, written on way too many needlepoints and wooden plaques, but still absolutely true for me: Live, Love, and LAUGH!

My home is full of fun, colorful art and whimsical creations. Hopefully it will make you smile as much as it does me. As a host, am hoping that you have a terrific time in my home and in my city. I can be helpful and guide you to some of the hidden treasures of our town, or can be hands-off and let you have your privacy and discover things on your own. Either way, I'm eager to have you as my guest!






语言:
English