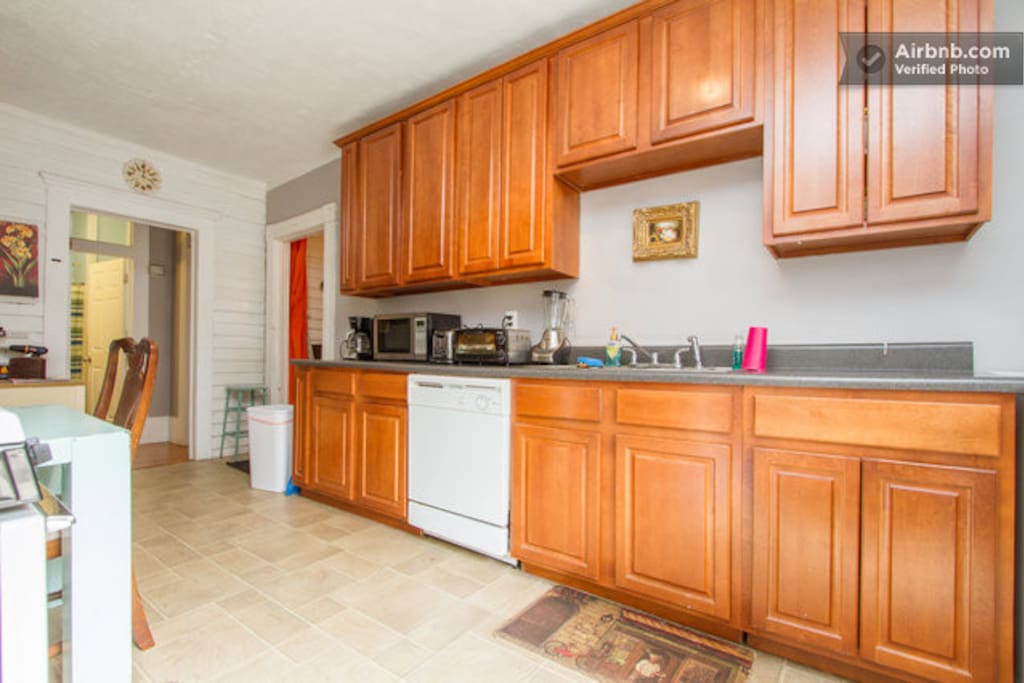 This listing is for a private room shared with guests of same gender near downtown and Marta
房源
Very cool private hostel in a shared space with cool guys and girls from around the world in this All male and All female dorms avail or if you prefer a coed dorm thats fine too. Just Let me know what you need.
This home has 4 large bedrooms 2 bath and large hostel space private rooms also available for small upgrade fee.
10 foot ceilings and original hardwoods throughout. Beautiful original fireplaces and moldings. Nice size kitchen w/ gas stove, dishwasher fridge. Washer and dryer included. Large front porch and back deck, great for relaxing or entertaining.
The house is situated in the Capitol View neighborhood, which was established in 1912 and contains a charming array of craftsman bungalows and queen anne homes. There is a private driveway for parking and a fenced backyard. Within walking distance to beautiful Perkerson park just blocks away w/ a creek, tennis courts, pavilion, playground, splash pad, basketball courts, baseball fields and a jogging track. A convenient 10 minutes from downtown/midtown or the airport, and just a 10 minute walk or 1 minute drive to MARTA.
will
All linens and towels are provided! Plenty of parking. you have Free access to all the amenities such as as hot shower wifi, laundry, arge kitchen dishwasher, internet,
---
Tim is easily accessible and was a big help to me!! When i initially booked, I didn't ask for a private room, but since I was traveling with my cat, he suggested that I should have one and gave me a great offer (since I was on a tight budget from my move). It helped out ALOT!! When I arrived, the room hadn't been cleaned from the previous person so one of the houseguests showed me where to find sheets and cleaning supplies. The only major issues I had weren't with Tim, but moreso the other houseguests....they aren't the cleanest group. The kitchen had an ant problem and (even after chemicals were put down) they continued to pile dirty dishes in the sink. Tim has one of the BEST washer/dryers (very convenient at no extra charge!!). The room was very small with a twin sized bed, small wall mounted tv and a chair (cable was a nice amenity!!). The outside of the house could use some TLC as the front lawn/landscape was overgrown (I missed the house twice trying to find it). The porch was nice with a few folding chairs and an end table. I'm a private person, so I didn't interact much with the houseguests, but there weren't any main issues to be had so it was nice. Tim is readily available for communication and drops by frequently to tend to small things that need to be fixed...but may need to spend a little TLC on outdoor upkeep.
---
I was only at Historic Charm for one night and spent most of the time away. I never met Tim but I was made to feel welcomed by the guests who assisted me with information. I arrived early in the morning around 630 am and a young woman helped get me in and settled. There were two bathrooms which was a godsend and the laundry area with all of the fresh clean towels were a godsend as well. In the community kitchen area I was able to make a quick meal before I went back out on the road. Overall the home was clean and comfortable and the guests were great people as well. I would definitely return again.
---
---
Tim's listing was all that, and more. 8 min bus ride to the train station and 2 supermarkets are in the area. His kitchen is thugged out, with a 4 top, double sink and a microwave. TWO bathrooms, always clean, with more towels than your Momma! I won't even talk about the patio, and the front area with 3 chairs if you want to sip Hard Lemonade. lol. If you want to be close to Downtown, but not that close, and don't want to pay a lot....This listing is for you! All of his guests were 100%. (He's a good screener, put your shrimp in the fridge.) Have a good visit in the ATL, whomever you choose! Marlon W. And I loved it so much, I stayed TWO WEEKS...
---
I am a very relaxed and easygoing and open minded guy looking to host people and make new friends around the world. I have always wanted to work in the hospitality industry since I was a kid it was a dream of mine to own my own b&b. I lived in my home on Tift Ave for almost 15 years. I have hosted many friends and travelers from around the world in my historic home. Now that I found out about AirBNB, I am opening my home to you. I now have five properties close to downtown Atlanta three in historic Capital View neighborhood and two in Historic Adair Park neighborhood. they are both very close to downtown and walking distance from the marta train station and bus stops so Its very easy to get around the city without the need for a car. Several of the homes also can be booked entirely for larger groups.I also have many hostel spaces available great for travelers on a budget. I have male and female dorms. I love to share travel stories drink good wine and eat good food. I like almost anything as far as food goes and red and white white alike as well as a good beer. I really don't have any major rules just be a polite guest as I will be a great host and even show you around if you need me to. I also love the outdoors and know some great places to hike in Atlanta. I also love to cook, drink wine or beers and eat good food and have a Nice large kitchen for you to make yourself at home in as well as each house has a great private backyard and fire pit and large front porches, I live on Tift Ave has 4 outdoor cats and a small dog Alvin you will love. My other properties do not have any animals unless a guest happens to have one.