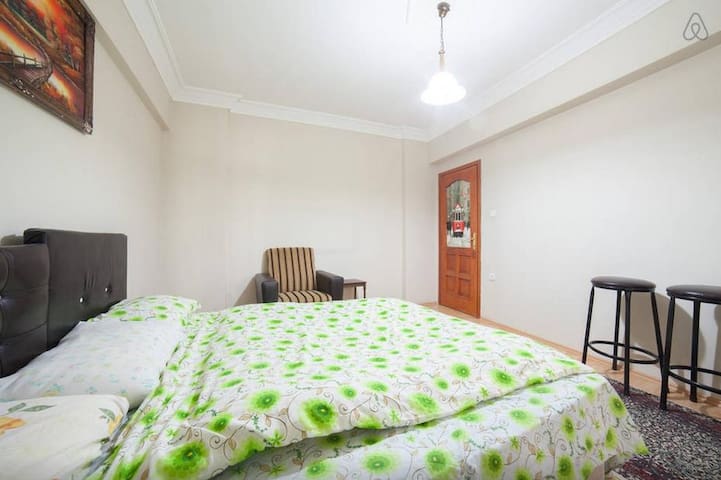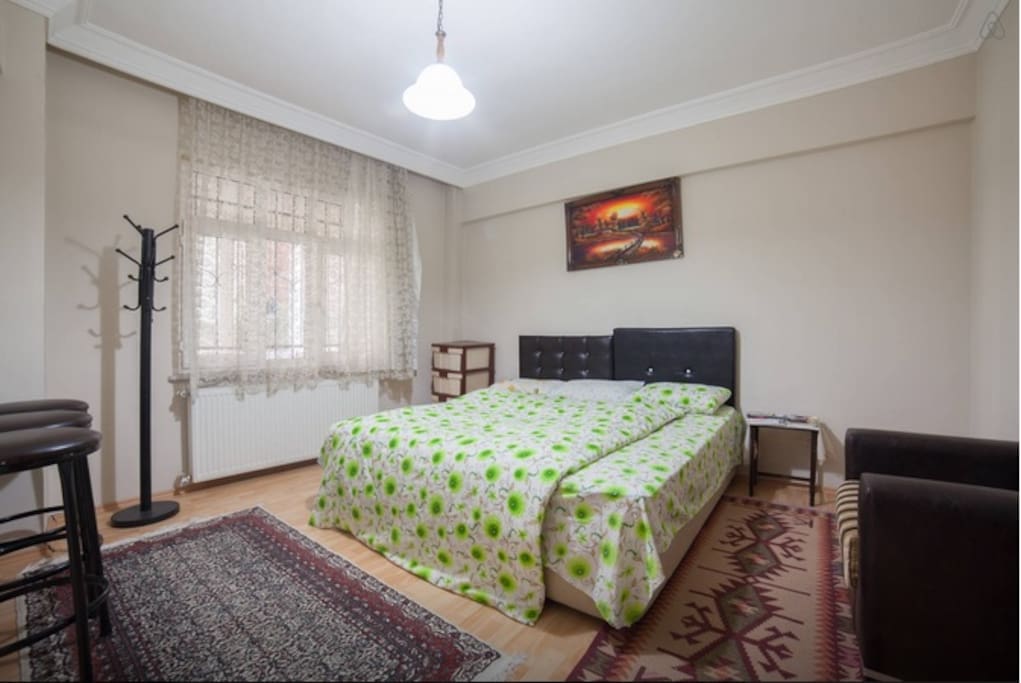 LARGE&CLEAN- wifi- With Free Guide- Breakfast
You will never forget this holiday. If you want really enjoyable holiday you should choose my home. At first read my all reviews and ask me all questions what you want to learn about Istanbul and other things. I'll help you all your travel.
房源
I tell you all the Mosques,Churches,Sinagogs,Palaces,Turkish baths, museums and how you can travel easily and cheaply. Sometimes, if you want I can joined you. I'll say you the best and the cheapest restaurants where you'll have the most delicious Turkish foods, all kinds of fish and Turkish delıghts. If you want to know more about natural life of Turkey, Turkish culture, some places of ınterests ask me.
Once you arrived in Istanbul you are in my responsibility. My home is as clean as how all girls want.
Si estas buscando un piso en alquiler, lo puedes encontrar agui. Tengo para vosotros dos habitaciones amplias. Una de ellas de matrimonio, la otra individual, el salon amplio. Un baño completo, la cocina totalmente equipada
Si quieres puedo acompañarte en tu viaje en Estambul

We would lıke to welcome you as our guest. It is our pleasure to make you feel comfortable. The apt has everything you need for staying. clean located place
Refrigerator( for you)
24 hours hot water
Bathroom with typical flush toilet (separate from bathroom)
Full-fledged kitchen
Our locatıon ıs as dıstance:
30 minutes to Eminönü-Sultanahmet( the historical sights)
30 minutes to Taksim( the nightlife and cultural events)
25 minutes to Atatürk Airport
- Wide variety of tea, coffee and some herbal crap
- Washing machine, hair dryer, iron
- Unlimited Wireless Internet
- Dishwasher, fridge, juicer, oven
-Laptop
-Free parking in front of the buıldıng (for those who come by car).
For more details contact me personally. I hope I'll be able to help you! I answer to any of your questıon. Enjoy your stayıng in Istanbul ! :)
I give you Istanbulcard for means of communıcatıon( it would be more economic for you).
-10 minutes walk to T4 metro line (ULUYOL-BEREÇ) station.
And there is a bus station in front of the apartment for Taksim-Eminönü buses.
-delicious breakfast but you should prepare on yourself because i m working :)
I have no pets but if you have, it is not a problem for me.
I'm single, I live alone, not with friends or childen.
So here is a LGBT friendly house and I am not interested in your religion :)
房客使用权限
You can stay in living room,you can use the kitchen refrigerator washing machine dishwasher ,Wi-Fi. You can sit in the living room until you fall asleep.
与房客的互动
Every night i make black tea or rosehip tea or coffee. You can eat fruits, regional Turkish foods, desert free !!
---
我一直认为对一个陌生城市最好的最快的最深入的了解,就是住在当地人家里。所以第一次的土耳其之旅,第一站我就选在了Kubi家。Kubi真的是一个非常非常nice的男生,从订房之前就开始解答我关于旅游行程的问题,在其他地方旅游的时候我有问题也依然向他咨询,他热情、耐心,帮我翻译了很多我看不懂的土耳其语。我们订了一个独立房间,结果一层楼他都给我们使用了!房间干净舒适,周围很安全很安静,床超级舒服!交通也很方便,家门口的公车站是始发点,很快就可以到各个景点。我们每天逛完景点,会在家门口的面包店和水果店买各种吃的,放在冰箱里,就像回到自己家一样。和住酒店是完全不一样的体验!It is the best department in my travel in Turkey!
---
The owner of the place is nice and quick to respond, but the location and state of the actual listing are less than desirable. The towels were a little sour and linens were sticky. The kitchen was kind've clean, the bathroom was definitely very outdated and no hot water. The location was very far from everything and if you don't speak good Turkish or Arabic you'll definitely not feel too comfortable. Okay If traveling on a dime but there are better more central places to choose from. I would not stay here again.
1- At Turkey the language is Turkish not Arabic, please read more about Turkey and i had more than 100 guests no one know Turkish but they feel very comfortable, and if the people dont know English on the street how can i educate them? 2- I was 1000 thousand km far from İstanbul when you came here but you said Kubi send me money for the shuttle ( shuttle price is only 4 euro ), and after said me to someone pick up you from the airport, if you read my page i dont say i pick up my guests from the airport, just give 4 euro and get on airport shuttle, it was very easy but you didint have only 4 euro, my guests know that money is not important for me but when i asked you the arrival time you said 4.30 pm but you arrived 02.30. And please read more about İstanbul because BORYSPIL INTERNATIONAL AIRPORT is not at İstanbul, its at Ukraine. 3-Hot water is 24 hours working but you forgot to change way of tap, every morning and every evening i send you message "do you have any problem" and you answered "no, thank you". If you said how can i open the hot water to me when you were here i said you please open the left tap:)) 4- I describe you the metro station but you went to an undergraund hamam and said to me "there arent any metro station", i dont know how i answer this thing, there are 5 sign show the metro station but you blame people on the street they speak Turkish.( really i dont understand how did you think to find metro station at an undgraund Hamam:) 5-At your room there were 8 clean towels and 4 sheets, you cant find this at 5 star hotels. 6-Why didnt you give back the Istanbulcard to me?? 7-I have all photos of bathroom, if you think its outdated why did you rent my room? 8-Please read 80 reviews, %50 of my guests turned back to my home twice so i think you have to change your mentality.
---
Kubilay is the perfect host that anyone could ever dream of! The room was clean and warm, and the bed was comfortable. Kubilay has done a great job maintaining the house! What's more, he had made my first time in Istanbul an experience that I will cherish for a lifetime! We spent nights chatting in the living room while enjoying his famous home made tea and gormet snakes that his mother made. One day it was my birthday, he met me after work for dinner and took me to his "secret base" in TakSim. The place was very nice and I bet you can never find it just by yourself. There we were enjoying tea and Kurdish music, Kubilay taught me to play Persian chess. He explained the tips and tricks carefully and patiently and now I'm addicted to it! He took me for a walk to the peak where you get to see the skyline of whole Istanbul. We sat down and enjoyed the beautiful view while tasting tea... He knows lots of places that are not written in any of the travel guides. You shouldn't hesitate to ask him for suggestion. He is more than nice and kind. To me he is more like a long lost friend. You know, when you are alone in a foreign land, a host like Kubilay would not only ease all your anxieties and bring you a sense of safety, but also make the trip a meaningful experience. He has made Istanbul my home. There is no need to mention that he allowed me to use everything in his kitchen and insisted that I didn't need to wash them after use. I would definitely come back to visit him and stay at his place again! Thank you Airbnb for giving me the chance making this life-long friend!
---
Terrific host and location. Gaziosmapasa is a fascinating neighborhood, with a very convenient and quick transport to all major Istanbul centers. The room and apartment are very clean, warm and quiet. Kubilay was a wonderful host - generous, kind, welcoming. Thank you Kubilay! Marija & Danilo
---
Our stay with Kubliay was really great.He gave us detailed directions of how to get from the airport to taksim. He then came to pick us up personally and took time off from work to get us and accompany us home and get settled. The room was clean and comfortable and every morning he left us fruit and sweets for breakfast. Kubilay was a very kind and caring host. He checked in regularly with us, gave us an Istanbul bus card, and gave us ideas of places to visit. He even accompanied us twice on visits in the town to very beautiful places in ortokoy and sultan ahmet. My mother and I really appreciated kubilay's kindness and stay. The location, while about 30-40 minutes away from Istanbul by bus, is a very animated and non touristic neighborhood that gives you an idea of real Turkish lives. We have fond memories of Gaziosmapasa and our stay with Kubilay!
---
We couldnt have asked for a better host! It was our first time in Turkey and we were pretty nervous esspecially since our flight arrived at 1 am. Kubilay met us at the Mcdonalds nearby and walked us to the apartment. We felt very safe. We wished we could have stayed longer. Kubilay is a great guy!
---
I'm from İstanbul.I'm industrial engineer at Istanbul Technical University. I like meeting with new people from different countries so I believe that sharing my apartment with my guest is a good opportunity to know more people all around the world. I like travelling.
You will never forget this holiday. If you want really enjoyable holiday you should choose my home. At first read my all reviews and ask me all questions what you want to learn about Istanbul and other things. I'll help you all your travel.
语言:
English、Türkçe