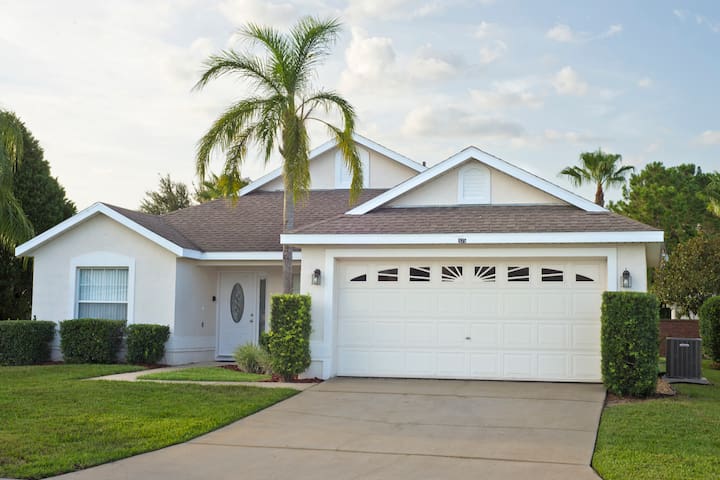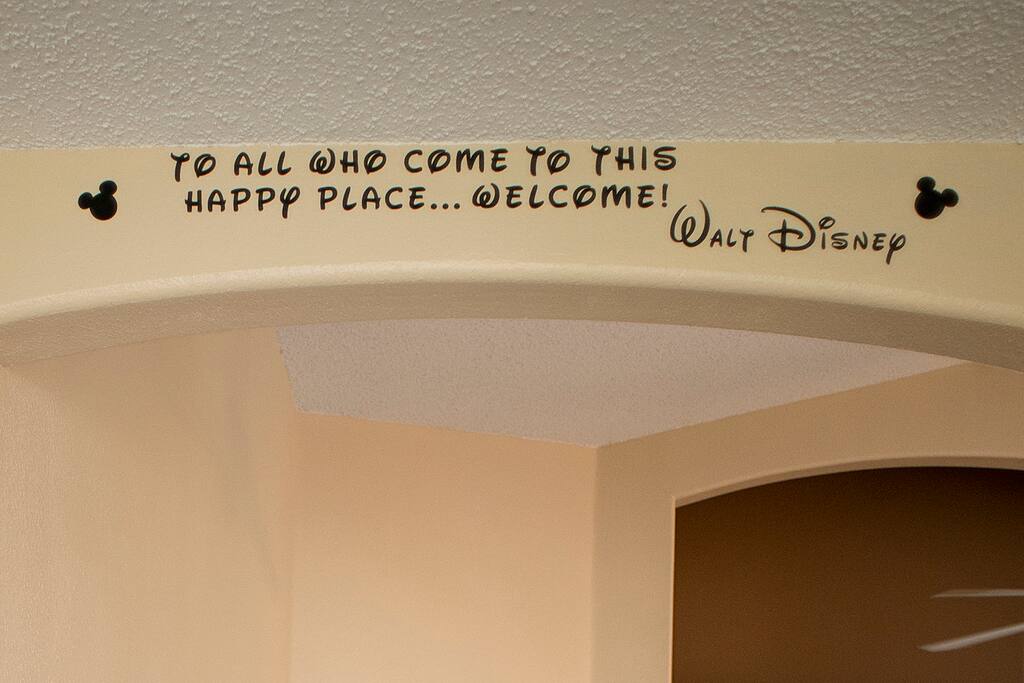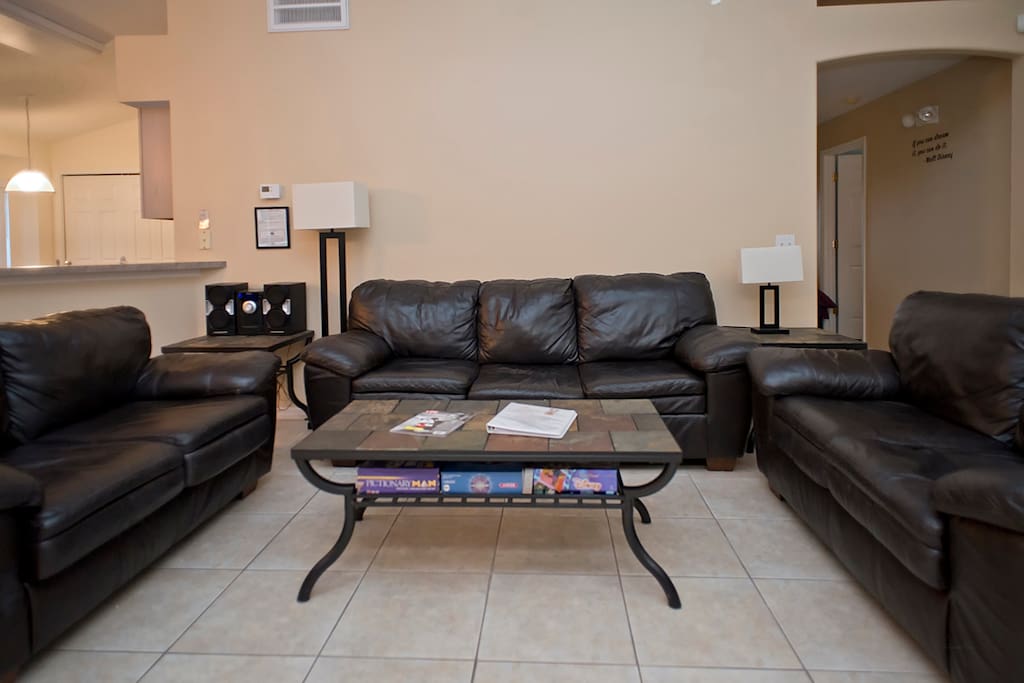 Welcome to a beautiful Pool/Spa home located on Polo Park Golf Course. Minutes from Disney with lake access for fishing too! Enjoy golf, fishing, swimming, tennis, basketball or take a leisurely stroll and relax and watch the sun come up over Old Lake Davenport. 4 bedrooms & 2 baths with spa heat included(pool heat +$10 per day). All of this nestled with your back lanai pool area overlooking the Polo Park Golf Course (the 7th hole) while still providing a quiet and very private resort feel.
房源
Welcome to Fairways Lake Putt & Parks Villa. Our Pool/Spa home located on Polo Park Golf Course.
Our home offers 4 bedrooms and 2 baths with pool and Spa-Jacuzzi style hot tub. Spa heat is included in all rentals. Pool Heat can be added at only an additional $10.00 per day. All of this nestled with your back lanai pool area overlooking the Polo Park Golf Course (the 7th hole) while still providing a quiet and very private resort feel.
Our home is well furnished, boasting a fully equipped kitchen with breakfast nook table (seats 4) and dining room table (seats 6) overlooking the pool. Cozy living room with cable TV/DVD/VCR, Stereo and WIFI internet access throughout. PS3 with games, a small video library and plenty of board games to keep the entire family entertained.
The Master Bedroom with a "Touch of Mickey" features a king size bed, cable TV and walk in closet along with a master bath suite complete with skylight and separate garden tub and shower.
The Harry Potter Retreat features a full size bed, flat screen TV with cable, PS2 and a small video library.
The Finding Dory Bedroom features friends from the movie with themed bedding and includes a flat screen TV with cable access.
Our 4th Bedroom will leave you dreaming about the Magic Kingdom as the Cinderella Castle adorns the wall with themed matching bedding complete with flat screen TV with cable access.
The recent upgrades in this home enhance your central Florida stay by helping to create the magic inspired by being only 7 miles from Disney World.
This vacation getaway home can sleep up to 10 with a queen size pull out sofa.
Traveling with small children is not an issue as we include a pack and play crib, a high chair and 3 umbrella strollers, all can be found in the master walk in closet.
Golf:
Polo Park is a fun (kid friendly) 9 hole executive course located at the Polo Park Golf Course facility in Davenport, FL. From the longest tees it presents 1,246 yards of golf for a par of 28. The course was designed by Joe Ortega and opened in 1985. Nine holes plus cart all for $18. This golf course is perfect for relaxing and perfecting your short game as well as possibly teaching your kids to golf. Don't forget to wave to the family who stayed at home as you drive by them on hole number 7 along Polo Park Drive or perhaps run in for a refreshing drink.
 
Old Lake Davenport:
Old Lake Davenport is one of the larger lakes in Polk County. Reported to be a great spot for sightseeing or fishing. Relax and watch the sunrise, or if fishing is more your idea of relaxing, the lake is all yours. Don't forget to get a Polk County Fishing License. If you decide to tow your boat or jet ski with you for vacation there are boat ramps available for lake access.
Our Home Amenities Summary:
• Brand New Air-Conditioning Unit
• Private heated spa included in your rental price with pool heat at only $15.00 per day as an add on. All this over-looking a private golf course (Colored accent lighting in the pool and hot tub for night time use)
• 4 Bedrooms (1 King sized bed, 4 single beds in 2 rooms, and a full sized bed)
• 2 Full Bathrooms
• Flat screen TVs in every bedroom
• Family game room includes foosball, pool table, darts, board games throughout and more!
• Family room that consists of new luxury leather sofas with 50' LCD flat screen HD TV with DVD, VCR, and HD digital cable with hundreds of channels.
• Wireless High-Speed internet
• Dining Room seats 6
• Kitchen dinette seats 4
• Kitchen is fully equipped with oven, microwave, coffee pot, blender, dishwasher, fridge-freezer, washer, dryer, ironing board, and a large pantry with plenty of storage space
• Rental includes all cooking/eating utensils, linens and towels
• Large wheelie cooler for day trips (Perfect for days out at Disney)
• Golf Clubs are located in the garage included free of charge.
• Home is located on a very private corner lot backing onto the Polo Park East Executive golf course
• The landscaped yard provides privacy plus a touch of Florida with our beautiful palm trees
• Alarm located on the sliding doors to the pool to protect small children
• A safe is installed for your use free of charge in the master walk in closet
房客使用权限
The entire home is yours to enjoy!
与房客的互动
Glad to have you as a guest of our vacation villa. We just completed some major renovations and we hope you enjoy your stay!
We hope that you'll enjoy your upcoming stay in our vacation home. If you need any immediate service, be sure to call our local property manager Florida Spirit at (PHONE NUMBER HIDDEN), If you have any questions or problems during your stay that Florida Spirit doesn't quickly address, please let us know and we'll make sure your questions/concerns are promptly addressed.
Finally, as we're always looking to improve guest experiences, please let us know if you have any suggestions for improvement. We'd like to hear what you think!
Mike and Gayle Pagano
((PHONE NUMBER HIDDEN) (Mike)
((PHONE NUMBER HIDDEN) (Gayle)
其他注意事项
Rental Agreement
This Rental Agreement ("Agreement") is made and entered into as of the Reservation Date by and between the person(s) or company making a reservation ("Guest") and Michael and Gayle Pagano ("Owners"), pursuant to which the Guest has agreed to rent the residence at 1175 Jaybee Ave., Davenport Florida ("the Property"), for the duration of the Rental Term. By renting the Property, the Guest agrees to abide by the following:
OCCUPANCY: Guest agrees that no more than the number of persons specified in the rental request, and never more than 8 persons without out prior written approval, shall be permitted on the Property at any time during the Rental Term, all of whom shall comply with the conditions and restrictions imposed upon Guest under this Agreement.
CONDITION AND USE OF PROPERTY: The Property is provided in "as is" condition. Owners shall use their best efforts to ensure the operation of all amenities in the Property, such as internet access, cable TV, or pool/spa. Owners shall not be held responsible for such items failure to work, but will make every effort to correct any issues as reported as quickly as possible through their local management company. Guest acknowledges that use of amenities such as pools, spas, decks, appliances and the like may be potentially dangerous and involve potential risks if improperly used, particularly with regard to children and such use is at the Guest's own risk.
Guest shall use the Property for residential purposes only and in a careful manner to prevent any damage or loss to the Property and keep the Property in clean and sanitary condition at all times. Guest and any additional permitted guests shall refrain from loud noise and shall not disturb, annoy, endanger, or inconvenience neighbors, nor shall Guest use the Property for any immoral, offensive or unlawful purposes, nor violate any law, association rules or ordinance, nor commit nuisance on or about the Property.
PROPERTY/HOA RULES: 1) no trash or garbage shall be stored outdoors except in provided trash can and recycling bin. Trash and recyclables shall be placed by the street for pick up on Thursday mornings and the trash can and recycling bin shall be returned to their storage location next to the Property's garage by Friday morning; 2) no portion of the Property's yard shall be used for clothes drying except for the fully enclosed area surrounding the pool; 3) no animals shall be permitted in the Property; 4) no business shall be conducted at the property; 5) garage door shall remain closed except when being used for entry or exit; 6) Outdoor quite time (when loud outdoor activities are not allowed) are from 10 pm to 8 am daily; 7) vehicles shall be parked in the driveway and shall not be parked on any lawn.
DEFAULT: If Guest should fail to comply with the conditions and obligations of this Agreement, Guest shall surrender the Property, and leave the Property in good order and free of damage. No refund of any portion of the Total Rental Fee shall be made. If any legal action is necessary, the Owners shall be entitled to reimbursement from the Guests for all costs incurred.
ASSIGNMENT OR SUBLEASE: Guest shall not assign or sublease the Property or permit the use of any portion of the Property by other persons who are not family members or guests of the Guest and included within the number of and as permitted occupants under this Agreement.
RISK OF LOSS AND INDEMNIFICATION: Guest agrees that all personal property, furnishings, personal affects and other items brought into the Property by Guest or their permitted guests and visitors shall be at the sole risk of Guest with regard to any theft, damage, destruction or other loss and Owners shall not be responsible or liable for any reason whatsoever.
Guest hereby covenants and agrees to indemnify and hold harmless Owners and their agents, owners, successors, employees and contractors from and against any costs, damages, liabilities, claims, legal fees and other actions for any damages, costs, attorneys fees incurred by Guest, permitted guests, visitors or agents, representatives or successors of Guest due to any claims relating to destruction of property or injury to persons or loss of life sustained by Guest or family and visitors of Guest in or about the Property and Guest expressly agrees to save and hold Owners harmless in all such cases.
RELEASE: Guest waives and releases any claims against Owners and their successors, assigns, employees or representatives, officially or otherwise, for any injuries or death that may be sustained by Guest on or near or adjacent to the Property, including any common facilities, activities or amenities. Guest agrees to use any such facilities or amenities entirely at the Guest's own initiative, risk and responsibility.
ENTRY AND INSPECTION: Owner and their Agents reserve the right to enter the Property at reasonable times and with reasonable advance notice for the purposes of inspecting the Property or showing the Property to prospective purchasers, renters or other authorized persons. If Owner or their Agents have a reasonable belief that there is imminent danger to any person or property, Owner or their Agents may enter the Property without advance notice.
---
We have just returned form staying at Mike & Gayle's villa and it was just perfect. The location is great for all the Disney attractions which are all reachable within 15-20 mins. The house is very well equipped and has everything you could possibly need. The pool is a lovely size and the Jacuzzi is nice after a busy day of sight seeing. We arrived on the 5th September 2017 and hurricane Irma arrived a few days later! Mike & Gayle kept in constant contact with us throughout as we did with them. It was an experience !!! The house is situated right along side a 9 hole golf course which was handy although there are much bigger courses within a few minutes drive of the house. Shops are all very close but you do need to drive to them. A huge Wallmart and Publix are all within 5 minutes and a handy garage on the entrance to the estate. Across Highway 27 is a nice Italian restaurant that you can walk to where we ate a couple of times . Homemade authentic food Our stay at Mike & Gayle's house was lovely. The house is decorated with bits of Disney décor which children will love. Our youngest is 19 and the oldest 27 and they loved it! All in all, a lovely, airy and comfortable house with lovely hosts. :) :)
---
Perfect place, perfect hosts!
---
Mike and Gayle have a great home! We LOVED the themed rooms and the home was spacious and clean. We enjoyed the pool and spa too. Mike and Gayle were always quick to respond to questions and requests. Very friendly hosts with a great home. Another great Air BNB experience!
Hi Rhonda and Ernie, Thanks for your kind words! We are thrilled to hear you had such a great time and enjoyed all the little Disney touches and of course the pool and the spa! Thanks for sharing your experiences and we hope to host you and your family again in the future. Mike and Gayle Pagano
---
This house was AMAZING! It was way beyond our expectations. Fit our family perfectly. Grocery stores and restaurantsin within 5 minutes. Disney was a 30 minute drive. The pool and hot tub were used by my kids non stop when we were home. I could not have imagined staying anywhere else. We will be back!!!
---
Awesome! Great place for a large family. 15 minutes from all the Disney fun! The Disney theme in the house is cute and perfect for a family!
---
We're long-time Disney fans and we frequent the Orlando area for family fun and to avoid New Jersey's cold weather. We like to stay in our villa whenever possible, so know that we expect our property manager to keep our vacation home clean and in good working order and with all the amenities of home.
语言:
English