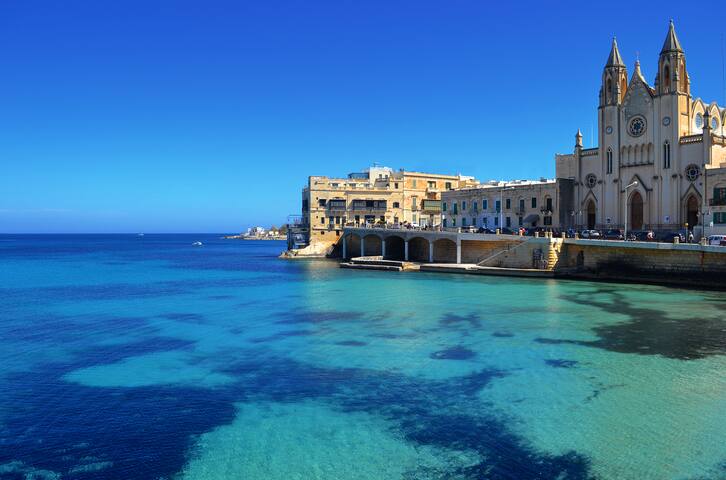 This is a lovely 3 bedroom apartment in Sliema which is located just 200m from the seafront and beautiful promenade. The apartment, which is licensed with the Malta Tourism Authority, is in a new building and served by lift.
房源
公寓距离圣朱利安斯(St Julians)的散步道仅有15分钟步行路程。 无线上网免费。 简短的介绍 公寓非常明亮通风。每个房间都有一个大窗户或一个阳台门(或两者)。公寓设有三间卧室,明亮的厨房用餐区,带浴缸和淋浴的浴室以及带洗手间和厕所的另一间客房。 (所以总共有两个厕所) 设备 这间公寓设备齐全,配有数字电视,无线上网,收音机,洗衣机,熨斗和熨板,风扇,床单,毛巾,微波炉和设备齐全的厨房。 位置 斯利马及其邻近的圣朱利安镇是马耳他最大和最中心的旅游区。距离公寓几米处有一条漂亮的长廊,从Gzira直到圣朱利安。 巴士经常经营到马耳他的所有旅游景点。公共汽车站距离公寓只有几米。 公寓距离商店,餐馆,酒吧,迪斯科舞厅,夜总会,冰淇淋亭和岩石海滩都很短。沙滩只有一公里(20至30分钟)。 另外非常接近的是Sliema渡轮,那里有几艘船沿着马耳他海岸前往一日游,探索僻静的海滩,洞穴和着名的蓝色泻湖。
The apartment is located only 15 minutes on foot along the promenade away from St Julians.
Wifi internet is included free of charge.

Short Description
The apartment is very bright and airy. Each room has a big window or a balcony door (or both). Apartment has three bedrooms, a bright kitchen dining living area, a bathroom with bath and a shower and another room with sink and toilet. (so there are two toilets in total.)
Facilities
This apartment is fully furnished and equipped with digital TV, WiFi internet, radio, washing machine, iron and iron board, fans, sheets, towels, microwave and fully equipped kitchen.
Location
Sliema and its neighbouring town St Julian`s are the largest and most central touristic areas in Malta. A few metres away from the apartment there is a lovely promenade that stretches from Gzira right up to St Julian`s.

Buses run frequently to all the tourist attractions in Malta. The bus stop is just few meters away from the apartment.
Shops, restaurants, bars, discos, night clubs, ice cream kiosks and rocky beaches are all within easy walking distance from the apartment. Sandy beaches are just one bus away (20 to 30 minutes).

Also very close is Sliema ferries where several boats depart for a day cruise along the Maltese coast to discover secluded beaches, caves and the famous Blue lagoon.
与房客的互动
我们会在您抵达时与您见面,如果您愿意,我们可以给您提供什么和什么时候看到的提示,以便您充分利用您的假期。 我们也会给你我们的联络电话。
We will meet you on your arrival and if you like we can give you tips of what and when to see, so you make the most out of your holiday.
We would also give you our contact numbers.
其他注意事项
请注意,物业效用的每周价格包括如下: 每人每周0.5立方米的水 每人每周35 KWh 每个公寓每周1个气瓶 水,天然气和电力的这些消耗量应该足以在一周内正常使用。 如果超出上述参数,以下费率将适用于额外消耗: 电耗0.38c / kW,水立方米8.60欧元。 在停留的开始和结束时注明水和电表。 关于月费,请注意,价格绝对不包括天然气,水和电。客人只会支付他们消费的东西。通常估计为每月60/80欧元。
Please note that in the weekly price of the property utilities are included as per below:
0.5 cubic meter of water per person per week
35 KWh per person per week
1 gas bottle per apartment per week
These consumptions for water, gas and electricity should be more than sufficient for normal use for a week.
If the above mentioned parameters are exceeded, the following rates will apply for the extra consumptions:
0. 38c per KWh for electricity and 8.60 € per cubic meter for water.
The water and electricity meters are noted at the beginning and end of the stay.
Regarding the monthly rate, please note that the price does NEVER include bills of gas, water and electricity. The guest will just pay what they consume. Usual estimation is euro 60/80 per month.
---
---
No pets.
Smoking only on balconies.
Monthly winter prices are applicable for a minimum stay of three months. Other prices will be applicable for shorter stays.
---
Molto gentili e disponibili, eravamo 7 amiche e l'appartamento era molto bello, spazioso e pulito, ben attrezzato per quanto riguarda elettrodomestici, wi-fi ecc...buona posizione vicina al mare, negozi e locali notturni, assolutamente da consigliare!
Grazie della recinzione. Si l apartamento e in una buonissima posizione vicino a tutto incluso il molo da dove partono le barche per una crocera di un giorno al famso Blu Lagoon (Comino) e le Caverne piu belle delle Isole Maltesi. E dal 1981 che la nostra famiglia affitta case vacanza e quindi sapiamo esattamente cosa hanno bisogio I nostri ospiti. Oggi giorno questo e il nostro mestiere principale e abbiamo I nostri adetti alla manutenzione, donne delle pulizie, personale di ufficio, e rapresentanti che vi incotrerannno agli apartamenti per darvi tutto l aiuto, informazioni e suggerimenti di qui avrete bisognio durante il vostro soggiorno. Io Neville insieme a mia moglie Ruth Galea siamo riperibili 24/7 in caso di emergenza con 2 telefoni cellulari. Durante la giornata l uffico e aperto dalle 9 fino alle 5 di sera. Rispondiamo su Whats app, email e (SENSITIVE CONTENTS HIDDEN) oltre ai 2 numeri di telefono
---
Ruth's and Neville's apartment was perfect for our needs. We came with two infants and the place felt like home. It was clean, safe and big. The place is much better than in the photos! Beds are comfy and there was big comfy blankets also if nights get cold. My personal opinion is that place is suitable for every need or any purpose you're looking for an apartment! The location couldn't be any better, quiet, near to the sea and shopping places (food, clothes, shopping mall The Point, pastizzeria's) and also a walking distance of the Paceville if you want to go to out. The Airbnb system failed the reservation days first but Ruth and Neville took good care of it and gave us a penthouse in the same building until we came to this apartment. Neville also answered our questions really fast and take care that everything is okay. You can't find any better hosts here in Malta and we will recommend this apartment to anyone who wants to have an awesome holiday in Malta. Thank YOU again! :-)
Thanks Mari, for your nice review about our apartment. We are very happy that you enjoyed your stay in Malta and that the apartment was up to your expectations. Yes as you well said the place is in a great location near the sea and interesting place. And it is suitable for every need. It is equipped with all the essentials for all the guests needs. We hope to see you in the future and be our guests once again. Thanks Neville.
---
Some things which I liked were: - very central location, close to the main attractions in Malta - the price is relatively good - the flat hosts comfortably 6-8 people - the toilet was leaking, I told Neville about it and his brother came directly to fix it Some things which I didn't like were: - even if the flat hosts 8 people comfortably, I would advise against it unless you are the very quite type of people. We got into problems with Neville because we made noise when we were preparing to go out at night (and by noise I mean laughing and a bit above normal speaking). Long story short, Neville told us that he will kick us out without giving us any money back if we make noise again, so for the rest of the stay we were trying to make extra sure that we are not making any noise by not turning the TV on, not playing music and not using the washing machine at night - another thing I didn't like was the student/touristy feel the flat had. In summer, Sliema is heavily frequented by tourists and english language students and the apartment reflected it. By this I mean that some door knobs were broken, the bathroom wall had a hole in it, the shower curtain didn't contain all of the water so you ended up with a flooded bathroom floor each time you had a shower no matter how much you try to contain it. Also the continuous advertising/suggestions for taxi services, boat trips and parties emphasized this touristy feeling All in all I would recommend this flat for the good location and the good price if you don't mind a broken door knob here and there and some advertisement/suggestions, just make sure that you are not 8 friends looking to have a good time together (in the same flat)
Thank you for your comment and glad you like the area of Sliema as it is nice and central, however it would have been more just if you stated the truth....that you made a big party in the apartment, inviting your other friends and not just prepared to go out! It would have been more fair, i am sure you agree on this one. The agreement was to rent an apartment for 8 persons and not to hold a party for over 25 persons. Re LOCATION & MAINTENANCE: Yes the flat is very centrally located and comfortable even with 8 guests. We have our maintenance department that takes care of our apartments. We wish you informed us about the knob during your stay as we could have fixed it like we fixed the leaking flushing. It needed just tightening of the screw. RE NOISE: We own all 6 apartments in this block. We rent apartments not nightclubs. Thus anyone that disturbs our guests especially after 11 pm is warned. If it persists he is asked to leave. Apart from guaranteeing clean, well equipped and well maintained apartments, We also guarantee that the apartments are in a quiet upmarket residential area of Sliema. Thus loud behaviour and parties are not allowed. When we have reports from neighbours, and other guests in the same block we issue different levels of warnings. In your case you were warned from neighbours and from police. We received calls form all other 5 apartments in the block, surrounding neighbours and also from the police. Other guests and neighbours have the right to enjoy their sleep. We guarantee it! I think you also forgot to mention that after the party with very loud music till 3 am you held inside the apartment, the party got even bigger and louder outside infront of the apartment block, still disturbing the other guests and neigbours...when finally one of the neighbours called the police force to quieten you down. You are always welcome to stay, however we remind you that no parties are allowed. thank you ruth and neville
---
Its so amazing in Malta for our trip, and the thing more wonderful than days spent in Malta is the apartment of Neville and his kinds! He gave us all good advices and help for us to take a very good time in Malta for delicious food, the diving, the taxi booking... We are so confortable to stay in his apartment because of his care. Thanks Neville, and we hope that we could have another chance to take the journey in your apartment in Malta!!
---
We were met by the host's representative who was very friendly and helpful. The flat spacious, very basic, clean but a bit worn. Some plumbing problems. It was in a good location. Good for young people sharing as it could accommodate 9 people. However, had to pay for extra electricity which was expensive as air conditioning is essential. This was not explained beforehand.
Thank you for your comments. Indeed apartment is excellently located just off the seafront of Sliema....close to all amenties like shops, restaurants, bus stops, etc.. The advert clearly states that water and electricity is not included in the price. Pls refer to other details about the apartment. thank you and we welcome you to stay again with us on your next trip to Malta.
---
Partiamo dalle notizie positive: ottima la posizione, appartamento ampio e luminoso e tanti posti letto. Quello che invece non abbiamo affatto gradito è: - il signor Neville non l'abbiamo mai visto, sia per il check in che per il check out si è presentata una sua amica - in fase di check in abbiamo anche dovuto aspettare perchè non c'era nessuno ad aspettarci - avevamo concordato due check out a due diversi orari in quanto alcuni di noi tornavano in sicilia e altri a milano...beh, appena sono andate via le persone con cui questa signorina aveva preso accordi tutti gli altri sono stati fatti uscire alle 10 dall'appartamento anche se il volo era alle 18 ed era stato concordato diversamente. Onestamente non ve lo consiglio tranne che non troviate proprio nessun altro appartamento che non può ospitare tante persone. ps considerate che in fase di check in c'è da perdere una mezz'oretta per segnare tutti i valori dei contatori di cui vi chiederanno il pagamento al check out...sarà una consuetudine là ma dopo aver pagato quasi 500 euro per un we mi ha fatto un pò pena la scena
Grazie per la testimonianza...infatti appartemento si trova in una posizione ottima per una vacanza. Appartamento e spazioso, luminoso, tanti posti lette e a pochi passi dal lungomare. Vorrei precisare che la signiorina che ha fatto il check in e check out e la nostra rappresentante che lavora con noi da un po di tempo. Noi abbiamo diversi appartamenti e molti collaboratori che ci autano a tenere in perfetto stato gli appartamenti e a garantire che tutti i nostri clienti si trovano bene all appartamento e a Malta. Noi siamo riperibili 24 ore al giorno 7 giorni su 7. La mia collega vi ha dato il nostri due numeri del cellulare e email per ogni evenienza. Nella vostra permanenza di solo 2 notti, non ho ricevuto nessuna richiesta di aiuto. Sono certo che la signiorina che vi ha incontrato era molto disponibile e educata preche ricevo tante complimenti sul servizio che da ai nostri clienti. Per l arr(PHONE NUMBER HIDDEN) ho chiesto i dettagli del volo tante tante (URL HIDDEN) questi non sono mai arrivati. Solo il giorno precendente il vostro arrivo ci avete informato che il vostro gruppo arriva in orari diversi. Al vostro arrivo al aeroporto mi avete chiamato quindi ho fatto del mio meglio per venire in solo 15 minuti. Noi chiediamo il numero del volo apena prenotate, o almeno un settimana prima cosi informiamo il nostro taxista o minibus di fiducia. Per il check out e sempre a mezziogiorno (12) questo e scritto anche sul annuncio. Voi mi avete informate che volete lasciare l appartamento alle 10, quindi ovviamente siamo venuti per fare il check out alle 10 come avete chiesto voi! Nel palazzo ce anche il ripostilio per i bagagli (luggage room), quindi dopo mezzogiorno potevate anche lasciare le valige la. Questo servizio e gratis ed era offerto ma rifiutato da voi. Mi dispiace che la vostra esperienza del soggiorno non era perfetta, ma credo che chi vi ha organizato il viaggio ha comunicato cosi diverse a noi e a voi. Questo ha fatto sia che ci sono delle piccole malintesi. Sono certo che abbiato goduto Malta e il nostro apartamento.
---
GetawaysMalta - We are a family business that offers clean and comfortable holiday accommodation in Malta since 1981. We have several apartments in Malta in St Pauls Bay, Bugibba, St Julian's and Sliema. Getawaysmalta is now run by the second generation and are full time on th…
语言:
Deutsch、English、Français、Italiano