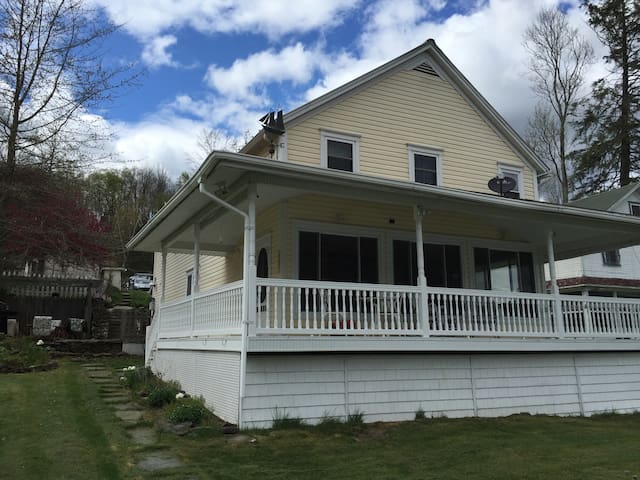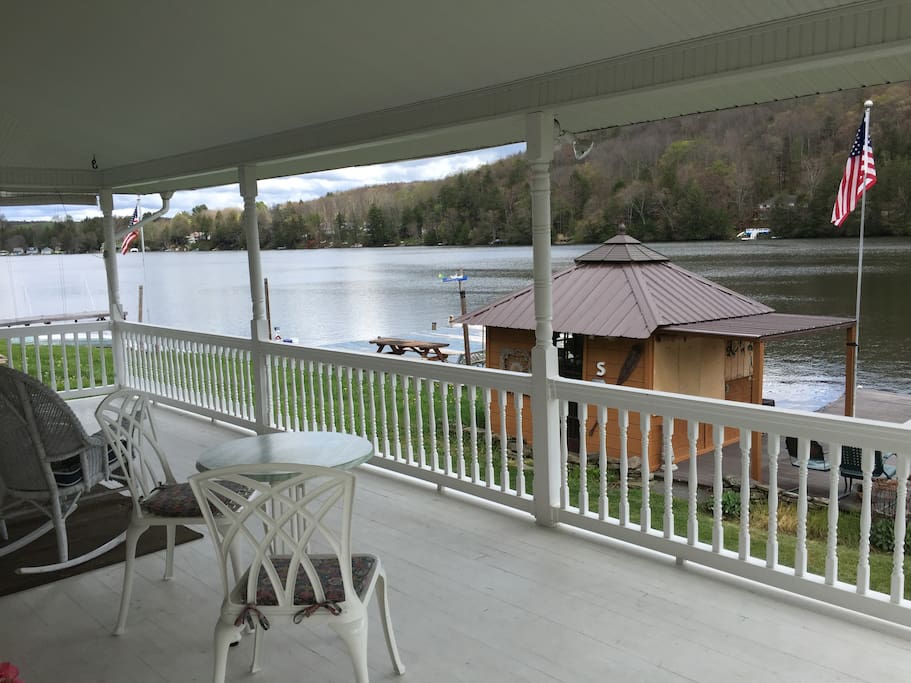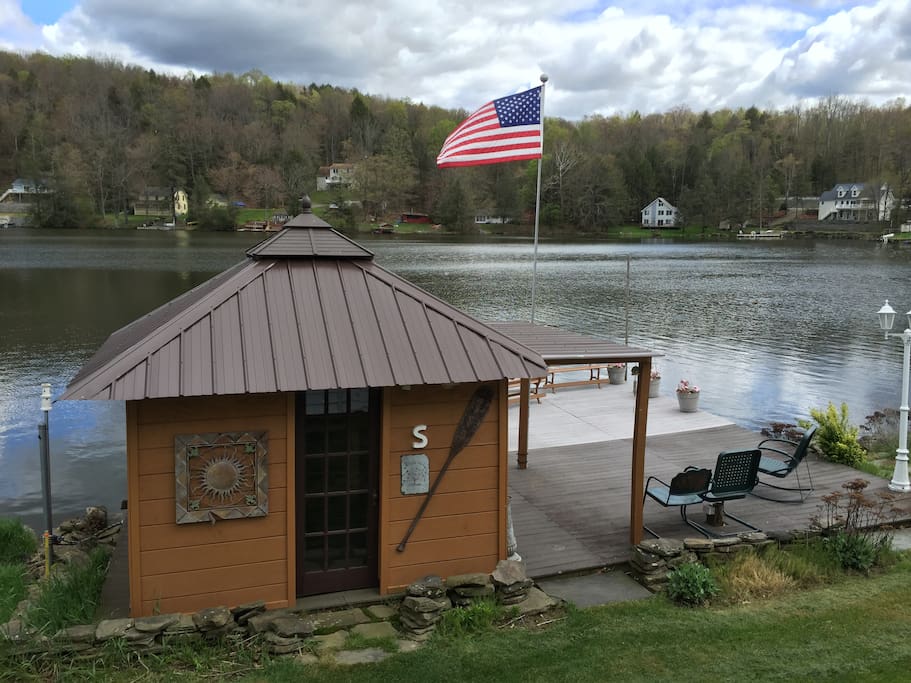 Our cottage is close to local ski areas (Elk, Montage) in the Endless Mountain region of Northeastern PA near Keystone College, and the scenic Nicholson Bridge/Tunkhannock Viaduct. Lackawanna State Park is less than a ten minute drive, and local golfing options abound. We are located within a lovely private lake community on a waterfront property with a porch, dock, sizable lawn, and outdoor arbor. It is a wonderful retreat suitable for couples, solo adventurers, and families (with children).
房源
The first floor is large and open. It is fabulous for family time, with wonderful views of the lake. Both bathrooms were remodeled in 2017 and kitchen was updated with a new fridge, floor and added counter space.
房客使用权限
This is an 8 bedroom home, and guests will have access to all but 3 of the rooms. Note that one of the double beds listed is a double futon mattress rather than a traditional double bed.
与房客的互动
We are always available by phone or email to assist during your stay. We have maintenance and housekeeping contacts on call as well.
其他注意事项
Winters can be a challenge in northeastern PA and shovels are provided, but shoveling service is not. Please plan accordingly with AWD, or 4WD vehicle options in case of snow. The lake road is fairly well maintained during snow events.
---
---
---
---
Renter must be over 25 years of age. Crib is not available on site.
---
---
---
A great space for a weekend getaway with friends! We were a group of three young couples who wanted to get away from the city for the weekend, and we loved our time at Kate's cabin. The open space on the first floor was so nice for us -- we got up and had tea and coffee as we looked out onto the lake. The fireplace was also so efficient - it kept the place nice and toasty even when it got chilly overnight! The kayaks and canoe were an added bonus. Everything was clean and comfortable. We are all students, so having WiFi was great to keep up with homework. Thanks so much for everything!
---
Our host was very gracious, accommodating and was prompt to respond to any questions or concerns we had. This is a quaint older home that has a wonderful view of the lake while inside. We also truly appreciated the special attention paid to the outside area. We loved the whole set up with the large, spacious front porch, the Tiki hut, large dock, lots of water toys, plenty of comfortable chairs, etc... My husband loved the fishing and caught several varieties of fish. We definitely plan on booking again. Thanks Kate - it was very relaxing and pleasurable. Regards, Sharon and Jerry
---
We had a lovely time staying at this lake house. All the neighbors were friendly, and it seemed that everyone knew everyone in the area. Kate was very accommodating and hospitable. The kitchen was fairly small and outdated, which made it quite difficult to cook for 6 adults and a child. The canoe was a bit unreliable and didn't really hold more than one person at a time. Only other thing was the beds were extremely uncomfortable, so we went out and bought some air mattresses. Other than that we enjoyed our stay. We enjoyed spending the days on the lake with our floats and the kayaks. During the week it was really nice and quiet. The weekends seemed to be much busier with more boats on the water. Overall I would recommend staying here!
Dear Brianna, Thank you for taking the time to write your review! Based on your feedback, we have purchased 2 new mattresses for future guests to enjoy a more comfortable slumber. Thank you for this feedback! Our kitchen is 9'x13' and all of our plumbing/kitchen floors were redone over the previous winter. There is also a new refrigerator purchased only a few months ago, and a plethora of cookware, crockpots and appliances available for use by our guests. We frequently use the kitchen to cook for 10-15 guests, so your comment about not being able to cook for 6 adults and 1 child was confusing. We've considered a dishwasher, but at present, prefer the simplicity of our home. As for the canoe, it is a 15' Old Town fiberglass canoe. This is a standard size for a canoe, and it easily holds two adults (one in front and one in back) as it was designed. According to (URL HIDDEN) "A 16 foot canoe gives adequate room for two people and gear for a week long trip." (URL HIDDEN) Ours is a close knit lake community as you noted, and summer weekends are busier than weekdays. For the remainder of the year, the lake is typically calm on weekdays and weekends. Thank you for choosing to stay with us and we hope you will visit again. All the best, Kate and Ed
---
What a fabulous find! My family had an extended stay on Lake Sheridan. Thanks to Kate, we really enjoyed our time here! The house is short on needs, I was able to cook what I needed, including a crock pot, which was helpful because we spent all of our awake time outside on the porch, the dock, or the lake. My kids are avid fishermen, they caught tons of fish, which was fun. We love to kayak, and explored all of the area, and to no surprise, found the best bass fishing areas. Being so close to the state park was another perk because we were able to hop over there from time to time to hike and see the wildlife in the area. I would highly recommend Kate as a host, she was quick to respond to any questions or concerns I had, and was very easy to work with. We plan to return in the near future, and when we do, we will be staying here.
---
We had a wonderful stay that this lakefront retreat. It doesn't have the most updated kitchen or bathrooms, but I think this is more than made up for by the location and the unique history of the home. The morning views of the lake in the snow were wonderful to wake up to and there was plenty of space for our group of 6 to socialize and feel right at home. The kitchen only has pots and pans, etc to make basic meals, but we managed to make due without an issue. The home is large and heated by a single gas fireplace, but was surprisingly cozy, just bring some layers if coming in the winter, they have plenty of throw blankets. If you are looking for a rustic getaway with a group of friends or family, I would certainly recommend their home.
---