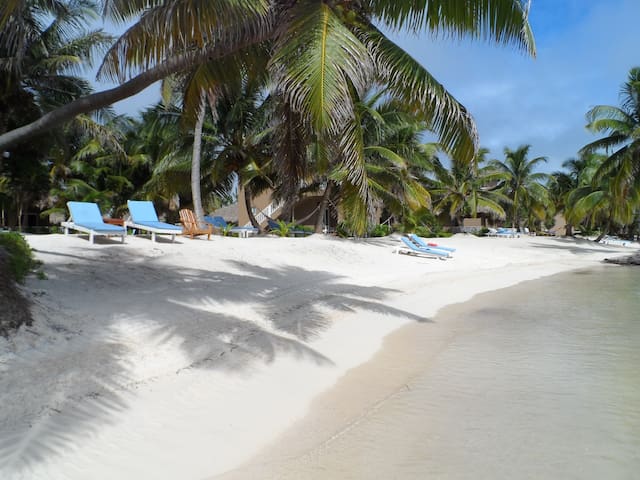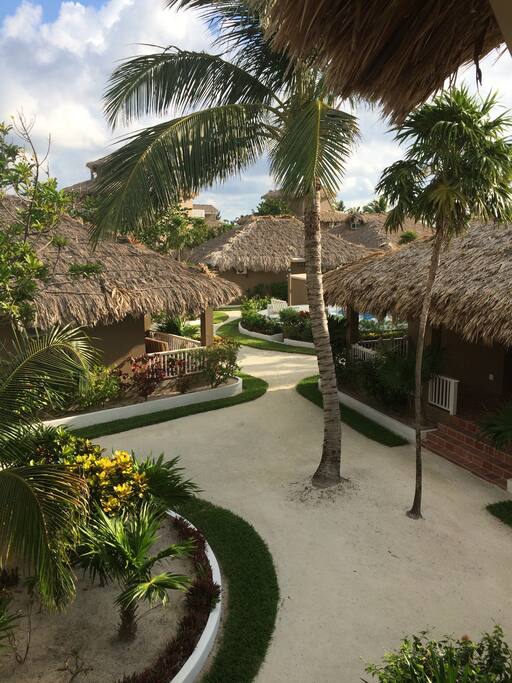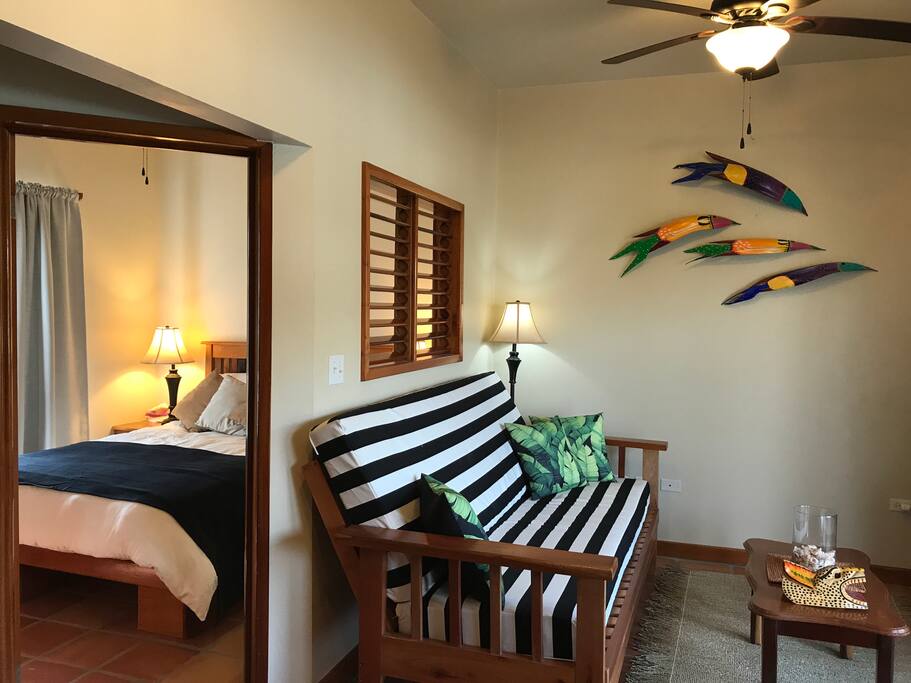 We've REDUCED our RATES for STAYS BETWEEN NOV. 1st and DEC. 15th!
Christmas & 2018 winter dates are already going fast, so don't wait and book your dream vacation!
Free WiFi, daily housekeep., bikes, kayaks, paddle boards, snork. and fish. gears!
Located 9 miles north of San Pedro, our place features 1 BR sleeping 2, a living room with a futon also sleeping 2, a fully equip. kitchen, DVD, TV, air condition., 2 fans, ...
房源
With the second largest barrier reef in the world, friendly and easy going locals, US dollar currency and English as the first spoken language, Belize is the jewel of Caribbean Sea. Belize is among the most popular countries for diving and snorkeling in the world.
Located in a resort 9 miles north of San Pedro, on beautiful Ambergris Caye, our place is exactly 100 footsteps from the beach!
3 swimming pools, a spa/massage professional service, a bar and a restaurant right on site, for your convenience. Use of sea kayaks, paddle boards and bikes for our guests, free of charge!
In a secluded and tropical decor, get away from your long days of work and live relaxation at its best!
Our fully equipped villa is located 9 miles north of San Pedro, far enough from the crowded and animated village, but close enough to enjoy all restaurants, shops, boutiques, bars and friendly locals with the island's water taxi services or our golf cart rentals.
And, we humbly think we have the most beautiful beach of the island ;-)
Activities
No worry for activities, as you'll have access to our excursion shop called No Worries, directly on site, for any type of tours such as deep diving, fishing, snorkeling, zip lining, cave tubing, Mayan ruins and more.
Note that a 9% government mandatory tax, a business tax of 1.75% and a 5% resort fee is charged directly at our front desk at arrival. This is not the most attractive information, but we want to make sure our guests are aware of this charge prior to their arrival.
房客使用权限
Our staff is amazing and so helpful; you will be welcomed just as if you were arriving at home, but this time, home is right on the beach!
Enjoy one of our three pools (or try them all! ;-)), our restaurant (their food is DELICIOUS), tiki bar and excursion shop. We have golf carts for rent on site too.
与房客的互动
Don't hesitate to contact us for any additional information you may need, we'll be glad to help and assist you!
We insist on being available for our guests before, during and after their stays, so our guests can have support and help if needed throughout their whole vacation.
其他注意事项
WiFi is available on the property.
Eating
Cook your own meals as our kitchen is fully equipped, or take a break and eat at our restaurant serving breakfast, lunch and dinner. According to our previous guests, the food is fabulous!
Again, note a 9% government mandatory tax, a business tax of 1.75% and a 5% resort fee are charged directly at our front desk, at arrival.
---
---
We would appreciate that you lower the 2 AC units at the lowest level when you are out of our condo for a few hours or more, as we try to be as ecologic friendly as possible. Please do not smoke in our villa, but know that you can do so on our balcony and in the resort's exterior common areas.
---
We had a great stay at Sapphire Resort. Place was quaint and clean. We liked the fact that Condo is walking distance to the beach. The restaurant at resort was very good as well. I liked the fact that at this time of the year it is not very crowded. It felt very mellow. We drove to town to see San Pedro, about 20' ride on golf cart. Then drove to Secret Beach and another day to Tranquility bay. It was perfect. Thank you Sophie and Anthony! You guys were helpful and on top of every detail. Will come back soon!
---
My boyfriend and I could not have asked for a better place to stay on Ambergris Caye. They were very communicative and helped with every process from getting to their facilities and off their facilities. Not only were our sleeping arrangements great, the tiny restaurant had great food, and there was a tour company on site so it made our excursions easy as you are pretty far north from town. I would definitely recommend this place to a friend.
Hello Caitlyn, thank you so much for such a great review. This really means a lot to us and to our staff, as our priority is that our guests have the best vacation ever. I hope we get the chance to welcome you and your boyfriend again in the future Caitlyn, you'll be welcomed with open arms (and a tropical drink ;-)! The owners I'm
---
We loved our stay and Sophie and Anthony's condo! Sapphire is quiet and secluded and just what we were looking for. It is a good 40 minute golf cart ride but we actually ended up loving that part of it. Strongly suggest No Worries tours. We did the all day fishing, lobstering, snorkel and beach BBQ with Philip and Matt and had a blast. Jose and Hillbert were great at setting things up for us. Leo and Tony are outstanding in the kitchen and helped us with everything we needed. We will definitely be returning!
Dear Brandon, thank you so much for sharing your esperience with us, and with the AirBnB community. Hearing our guests had fun and enjoyed their stay is like a Christmas gift to us, thank you, and Brandon, you and your girlfriend are welcome to come back, anytime. i'm sure there are still a lot of things you haven't done or seen yet in Belize and on the island, so you'll have to visit us again ;-) Thanks again, and have a pleasant trip back home. Sophie and Anthony
---
In short, we LOVED this condo and this location. The condo itself sits right in front of one 1 of the 3 pools at the resort. We were there during the off-season, so it was like the pool was our private pool each day/night we used it. The condo is the perfect size for 2 people - especially since we were enjoying the sunshine the whole time! The hosts were incredibly helpful with the information they provided, detailing how to get there, what to do, where to eat, what to bring, etc. We should have listened a little closer. We rented a golf cart, despite their suggestion of taking a boat - take the boat! The boat ride is quite lovely, and the golf cart ride is long after a day of traveling to San Pedro and dealing with luggage. The staff at the resort was amazing! We thought we would get groceries and try nearby restaurants. We didn't! We made friends with the bartender at "our" pool, and we ate dinner with him each night, right there poolside, and had breakfast brought to our room the next morning. I really felt the staff was there to ensure we enjoyed our stay! This resort is located about 30 minutes (by golf cart) out of town. I was a little disappointed at first, but in the end, I really appreciated our location. It was very relaxing without the hustle and bustle of town. Also, apparently the beach at Sapphire (and farther north on the island) is better than those beaches closer to town. So I consider it a win/win!
Mary Kathryn, thank you so much for these wonderful comments, we so appreciate it! We're so glad you enjoyed your stay and you are right, we have a great helpful team down there, Know that you are welcome back ANYTIME, we'd love to see you again (and our staff too). Best regards, The owners
---
Great place, clean and well stocked. Definitely secluded resort on far north. Staff at resort and at No Worries for excursions were terrific! Host was great on recommendations and communications!
---
A nice community 10 miles from town. That's a bit of a haul on a golf cart but many good things to do along the way. Has a restaurant and bar with some entertainment. Kids might get bored. But it is a nice newer clean place. P
Dear John, thank you so much for sharing your experience with us, we really appreciate. We are working hard right now to be able to offer ameneties for guests of all ages. We just purchased kids toys, 2 brand new paddle boards and 2 brand new sea kayaks, and these are of course free to use for our guests. John, we hope we get to see you again in the future and again, thank you so much for having chosen us for your vacation in beautiful Belize! Sophie
---