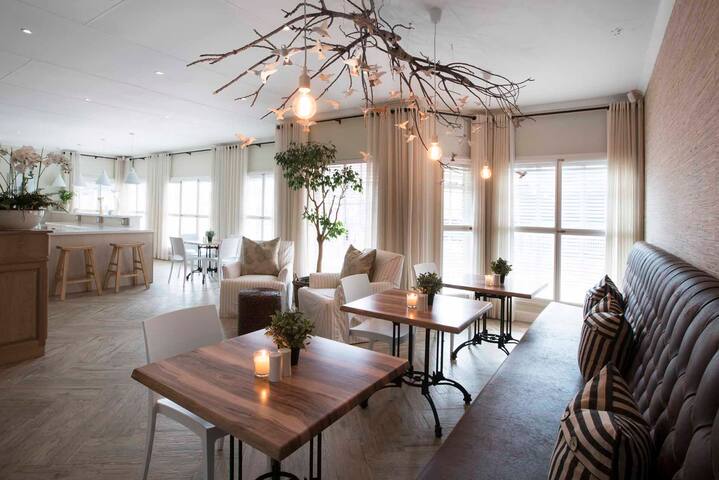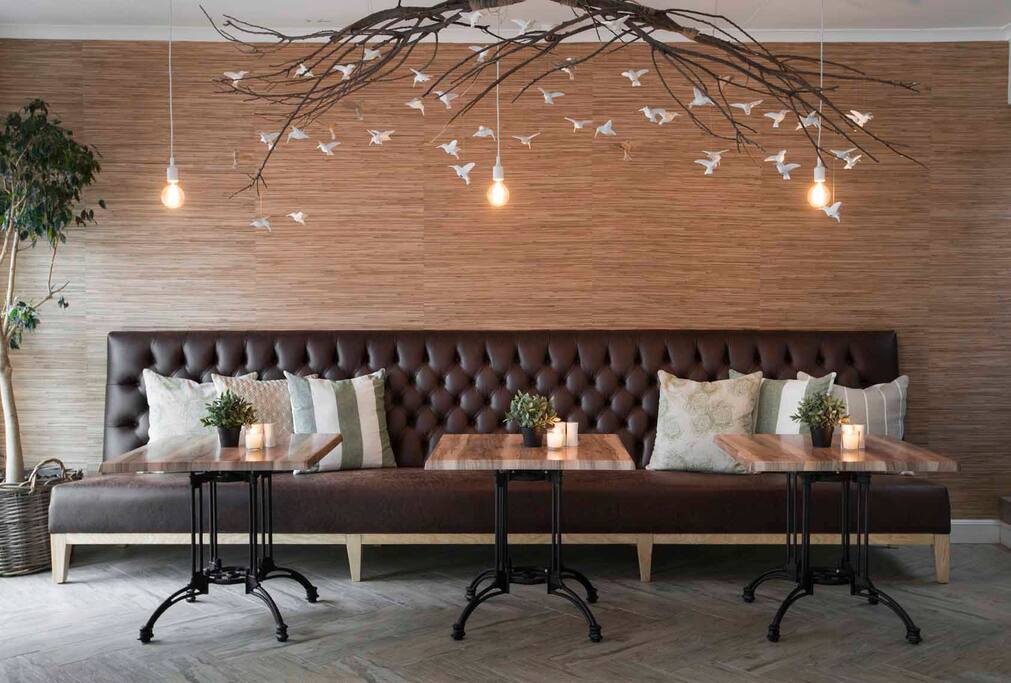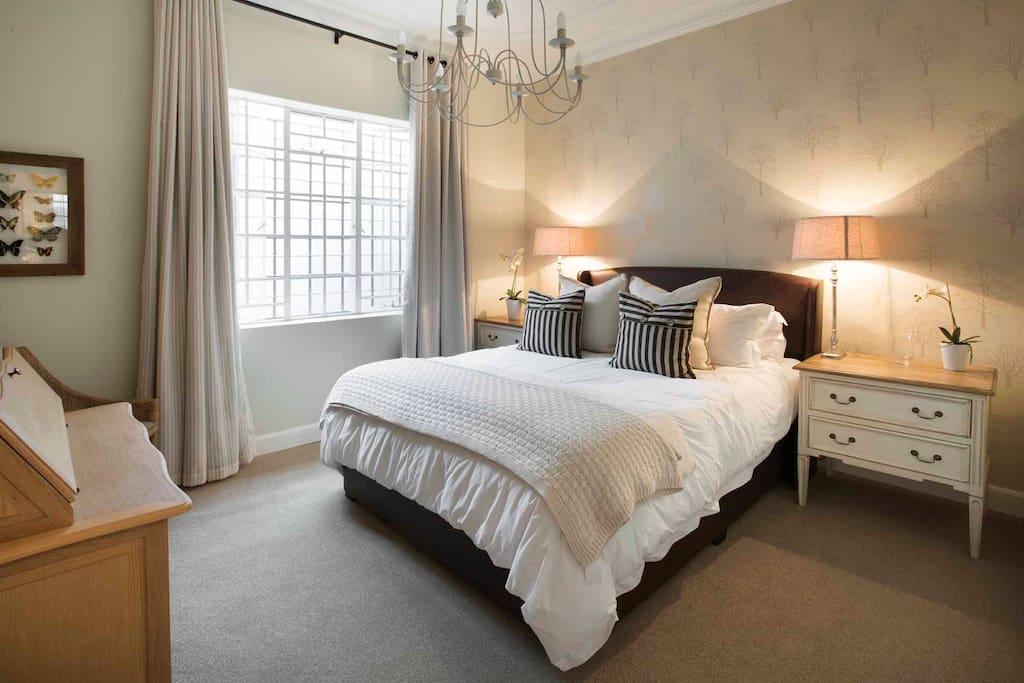 Thornton Gap Guesthouse is a luxurious, intimate hidden accommodation gem, located in the heart of the quaint and central Johannesburg suburb of Westdene.
Consisting of only four elegant suites, which can easily be converted into two roomed inter-leading family accommodation, your tranquil stay with us at Thornton Gap Guesthouse is guaranteed to have you returning to us again and again
房源
At Thornton Gap we offer you elegant designer bedrooms with comfortable beds, lots of pillows, bed linen of the finest quality and soft fluffy towels. The rooms are stylishly furnished, with the option of inter-leading suites for families. Rooms include DStv with Smart television sets, free Wi-Fi, tea/coffee making facilities, hair dryers and large mirrors.
All rooms have private en-suite bathrooms. Our rates are inclusive of a scrumptious English breakfast
房客使用权限
The dining area is where you can start your day with an appetizing English breakfast as well as a choice of cereals, fresh fruit and yogurts, served from 7am-8.30am on weekdays and 8am-9.30am on weekends and holidays, these are included in your room rate
The open plan lounge/dining area is always accessible to our guests and we encourage you to feel free to take time out and relax next our Ripaluarium watching the spectacular fish swimming by, indulge yourself with a refreshment while watching DStv on the big screen, surfing the net or reading a magazine
Our guest's comfort and safety are of prime importance to us at Thornton Gap, offering you off street undercover parking and state of the art security systems to keep you safe 24/7
All rooms are equipped with mini safes for your convenience
In the case of load-shedding/power failures we are generator powered
Laundry services are available on the premises at a surcharge
与房客的互动
I am on site 24/7 should you need any assistance - I live on the property.
---
Great interior and service. Gordon is a very welcoming host. Living areas are shared with other guests. For non-city dwellers the area may feel less than 100% safe at night (fine during the day) and parking in the courtyard is a challenge.
---
Thornton Gap is definitely a hidden gem and a great place to stay while in Joberg. Gordon was the ultimate host from pre-trip to the end. Stayed there with my family of three teenaged boys and they had their own privacy, wifi and access to foods and amenities. Each day a very nice breakfast was served at the time you want - the staff there was very friendly and accommodating. We have stayed a many AirBnB's and this was the first time we actually met the manager/staff as he greeted us and was there each day. We stayed there when we first got to Joberg and did some trips in between and the night before we left, we stayed there again. It was like coming home :) Thank you Gordon, Selli and all the staff at Thornton Gap...we will definitely have to come back again!
Adelaida..........thanks for the very kind words! You and your family were an absolute pleasure to host. The guesthouse was left clean, neat and all was in order, I would highly recommend Adelaida and her family to any Airbnb host at any time. Her three teenage sons are well mannered, well behaved and polite, most of the time I thought they were not here they were so quiet! Please come back anytime, you are most welcome here!!!!!!!
---
Thornton Gap Guesthouse is fantastic. Behind a regular looking facade and security gates lies a brilliant guesthouse that is anything but regular. The rooms are superb with all of the amenities you would hope for. En suite bathrooms/ shower rooms stocked with great toiletries. Comfortable beds meticulously turned down every day. Smart TVs with access to Netflix, satellite tuners and wi-fi. The decor is stylish and carefully thought through without being fussy or (URL HIDDEN) is unquestionably an excellent place to stay. And all that before mention of the real highlight of the place - the team. The guesthouse staff are extremely friendly and the daily breakfasts (accommodated at any time that suits the guests) were absolutely delicious. In charge of all of this is Gordon. An incredible host that went beyond the extra mile to make our stay truly memorable. Gordon is the most attentive, courteous, friendly, helpful, considerate host I have ever had. He achieves all of this without being intrusive which is even more impressive. Throughout our stay he was amazing. A real 10 out of 10 host that helped us whenever we required. There really is nothing that Gordon won't do for his guests and I cannot recommend him and the Thornton Gap Guesthouse highly enough. He should have superhost status bestowed. We will definitely be returning but until then i hope you get to enjoy this gold-standard hospitality. Dominic
(URL HIDDEN) I have already (URL HIDDEN) is far too quiet without you guys! PLEASE COME BACK!!!!!! The energy within your group is amazing. It was an absolute treat and pleasure to host you all..........very few groups of people have the wonderful synergy that you guys have. Thank you for your wonderful review and we are ready and waiting for your next visit. Cannot wait to see the final documentary that you were filming here!!!!!!!
---
Can't express enough the level of graciousness and hospitality offered by the staff at Thornton Gap. They took our 12 night stay, which stretched over both Christmas and New Year's, and turned their B&B into a home for our family during a very difficult time. We would whole-heartedly, and do, recommend Gordon, his staff and Thornton Gap to anyone remotely considering a stay in Johannesburg, whether for one night or two weeks. For brevity's sake: it's very clean, very trendy, comfortable, cozy, cost effective and fun.
---
My colleagues traveled to Johannesburg for work and stayed at Gordon's Guesthouse and they have nothing but GREAT things to say about their stay. One of my colleagues described the experience as the following: "The space was immaculately clean, decorated and furnished. It was comfortable and stylish. Our host, Gordon, showed he cared about our experience by going beyond in terms of preparing breakfast according to our preference, timing of the breakfast, recommending restaurants and other locations about town, bringing out extra adapters for our team to better work together without even being asked, and baking muffins for us when we were working together as a team all day long. The wifi was excellent as well! I look forward to returning to the location and seeing Gordon again." A second colleague describes: "Gordon's Airbnb was simply the best Airbnb experience I have ever had. I really enjoyed my stay, his excellent attention to detail, kindness and humility. Amazing breakfast, excellent wifi, and secure neighborhood for jogging to top all that. I recommend it to anyone and will definitely be back again very soon!" Thank you Gordon!! Our organization is looking forward to placing our international staff at your guesthouse in the future. We appreciate your hospitality
What can I say Jonathan? Once more I reiterate the fact that Jack, Hannah, Davis and Cassia were the most wonderful guests and I would recommend them to ANY guesthouse operator - I am just so pleased that they all came to mine! Thank you for the great words and I look forward to hosting Civicus international staff at Thornton Gap Guesthouse!
---
Gordon is a super host and what a beautiful place he has we would rate it as a 5 star accommodation, (our opinion) his attention to detail is impeccable the decor is amazing. Our room was very comfortable and absolutely spotless the lovely linen and towels were very luxurious not to forget the toiletries that he supplied. There is a tv in your room and one in the kitchen/dinning/ lounge room which is open plan and looks like it could be in a vogue magazine but is very inviting and comfortable, we spent most of our time in there. There is also security parking and is very well lit. There is a full breakfast from cereals, fruit & yogurt to a full English breakfast cooked by Gordon himself and what a delicious breakfast it was.We found Gordon to be very friendly, he immediately made us feel at home offering us something to drink and making us feel welcome, we couldn't find anywhere to have dinner that night and Gordon came to our rescue by offering us food, we decided to have takeaway and because we didn't have a phone Gordon Went out of his way to help us order dinner, he really couldn't do enough for us, he is such a lovely man.
---
I am an accomplished media professional with a proven track record of working in senior media positions across multiple sectors and disciplines. I have over the past two years broken away form the media industry and back into the hospitality industry. At present I am the manager at a guesthouse in Johannesburg, Thornton Gap Guesthouse. I have assisted in building this guesthouse 'from the ground up' and am extremely proud of my achievements in this process. In doing this I have experienced and learned every aspect of guesthouse management to the last critical aspect.

I am well spoken, a good listener and very open to new ideas and technologies. I consider myself to be an effective conflict resolutionist as well as a results driven individual.