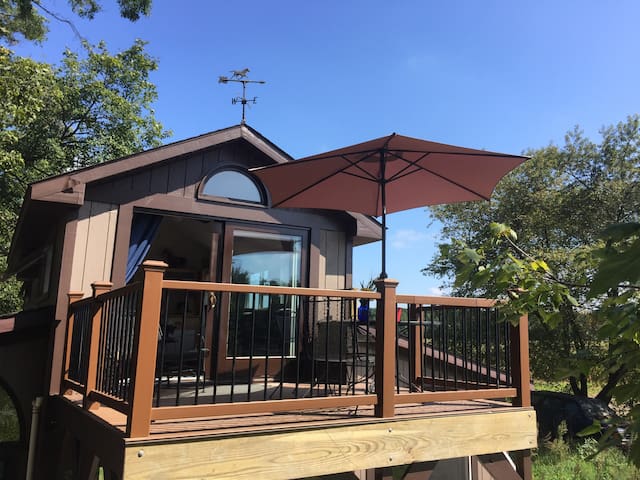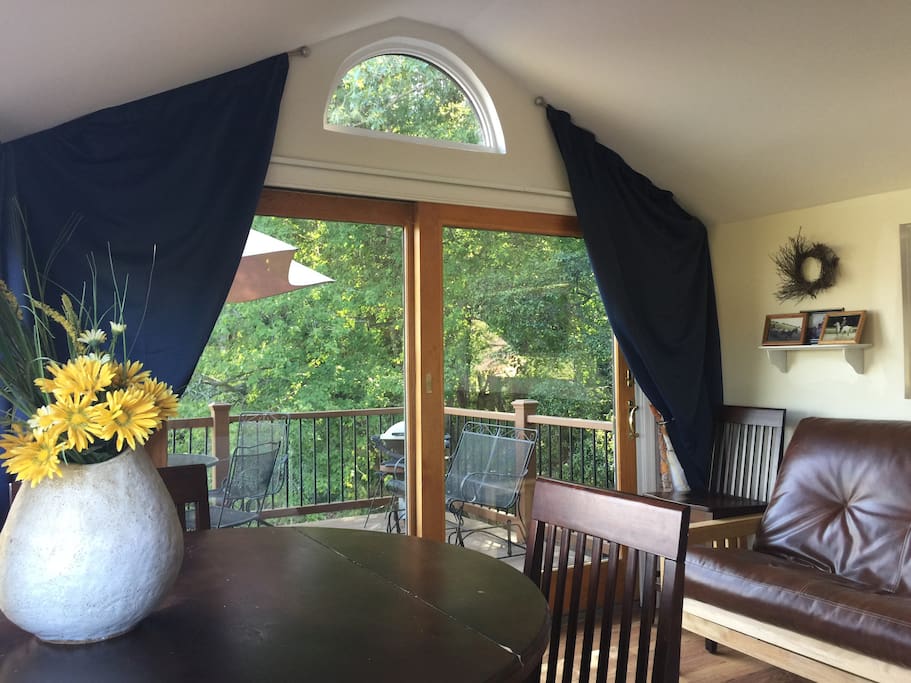 HAY LOFT 1BR APT-BeaCh&NatURe LOvErS RETREAT-H.TUB
You'll love our horse barn hay loft in the woods. Total privacy, beauty, peace and quiet in the woods and overlooking 80 acres of farmland. Extraordinary birds eye view of De. wildlife & countryside. Imagine waking up, become invisible to avoid detection, & watch wildlife around you:). Deer grazing, wild turkeys, hawks & bald eagles vying for domination...Just 29 miles to Rehoboth. Visit the beach & enjoy peaceful country evenings to make music and jam. OUtDOOR Rustic JET TuB and ShOwEr.
.
---
Great dog, less private/isolated setting than we expected, pics are a bit misleading in that sense. You're sharing the outdoor shower and tub with other guests staying in the house, as well as the indoor shower, kitchen, and bathroom (as the stable doesn't have running water.) Pleasant place overall, can't beat the location.
Thank's for your review of our partially renovated loft in our barn. Your right- you cant beat the location! Its partially in the woods and partially in 80 acres of working farmland. The views are amazing and perfect for nature watching, Its our personal favorite spot. Its rustic and quite charming. The walls are unfinished. Iit has a small refrigerator, microwave and AC. Running water is outside your door. All guests have access to the outdoor shower/tub. Heres a cut and pate of the listing discription Your stay in OWL's NeSt" "is partially renovated horse barn loft offers extraordinary birds eye view of De. wildlife & countryside. Imagine waking up, become invisible to avoid detection, & observe wildlife around you:). Deer grazing 200 yards away. wild turkeys strutting back field,hawks & bald eagles vying for domination & much more. Nestled in woods rural De on farm. Visit the beach,restaurants & shopping during day. Enjoy peaceful country evenings. OUtDOOR Rustic JET TuB and LuXuRY ShOwEr. Cozy partially renovated loft of our horse barn in rural De on an 80 acre organic farm in the middle of farm country. It is 12 X 20 with private entrance. Look out any window and will see farms, fields, woods and wildlife. Were just 3 miles off Rt 13 but the roads surrounding our home are limited to local traffic. 1-2 cars an hour and usually less. Very safe for walking, jogging and biking.The loft has 3 beds full sizeB. Also table and chairs. Main house is 50 feet away and has bathroom, laundry room, We also have a fantastic Outdoor jet tub and shower. Has A/C. Guests have access to the main house is available as needed for bathroom and laundry and as needed. The shop game area including gym, pool table, ping pong table, fire pit. The barn has a large patio with BBQ Grill.OUtDOOR Luxury JET TuB and LuXuRY ShOwEr overlooking 80 acres
---
She was wonderful, and very accommodating. The property itself is stunning, very peaceful and quiet. The real show stopper at this stay was the outdoor shower and jet tub. Both were fabulous, and had ample hot water, privacy, and picturesque views. The Owl's Nest itself was a little more unfinished than I feel the pictures show, but the host was very quick to resolve my issues. Overall, it is a wonderful location offering an experience you can't get anywhere else in the area.
Hi Lilly, Thanks for your review. We are glad you enjoyed your time here. Nothing can beat the country experience's you get here. The nor'easter breeze that blows constantly over the fields, the sound of wildlife making their beds in the evening, gazing at star filled skies at night, taking a bubble bath in the middle of the woods are just a few of the wonders you experience- if you take the time. Judging by your review, you did:)
---
agréable appartement situé dans la campagne du Delaware . panier de basket, salon de jardin pour manger à l'extérieur et chien adorable. le lit est très confortable.
Translation= nice apartment located in the countryside of Delaware. basketball hoop, garden furniture for eating outside and adorable dog. the bed is very comfortable. Hi Adrien, Glad to hear you had a great stay here. So glad we could give you an free upgrade to the apartment. The rustic room is very nice too but the apartment is great. It has all the amenities of home without having to drag your belongings with you:). Have a great vacation and lots of adventures:) Connie, Dave and Rome
---
Unfinished means -- no window in one of the main window openings -- no screens on any windows as of late August 2016 -- entry into the building is stepping on cinder blocks. The location is compelling. The difference between sleeping outside and this is there was a bed, one lamp, and one medium sized fan. Plus a table and chair. The bathroom is more like 70 feet, in the main house. There is no running water in the barn as of now. There is bottled water available in the main house which was offered. The internet never reception even logged into their wifi never got over a rarely experienced 3 bars. The photo in their advert may have been them 20 years ago. It was a surprise to see how they've aged since the picture was taken...not. Again, the location is delightful. It is rare that one can be right next to a field of soybeans and hear the real, natural night sounds of farm country. Just NB what is described above so you're ready for roughing it. I enjoyed it but was very surprised.
Hi Gaudia, Wow- we loved your review:)! It captured a lot:) and glad your were pleasantly surprised by the dichotomy of this listing. This is Glamping at its best:) Our Rustic barn is the best location on our property for county views, skies, air....- and as all realtors well know- Location, Location, Location. Yes, it has rough edges- lack of screens on the windows (lost them in the shop and hopefully they will turn up soon). Lack of running water- who needs it anyway- if your just nature watching or need a quiet, clean place and soft mattress to lay your head? Internet is Iffy there. We listened to Pandora while working there last spring- so it comes and goes. Sorry you did not get to use our unique and fabulous OUTDOOR JET TUB and LUXURY SHOWER in the woods overlooking 80 acres of fields. You would have loved it! Its just 50 feet from the Owl's Nest. Anyway -please come back and we offer a 10% discount for return visitors and 20% discount if your refer someone who books:) Wishing you many happy adventures in your travels:) Connie,Dave and Rome
---
Connie very kindly opened up and welcomed us upon our arrival. Making sure we had everything we needed, knowing where everything was, and even after that asking if there was anything further. The stay, even for one night, was well worth it!
---