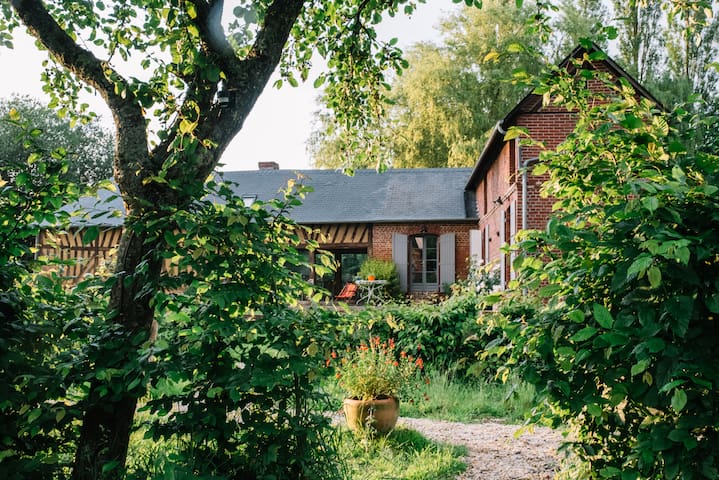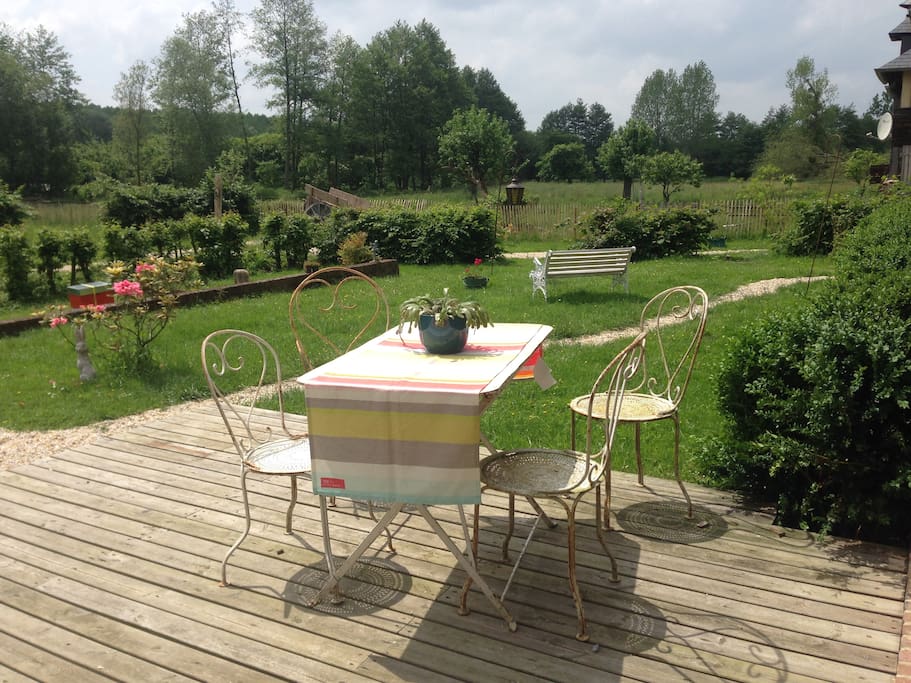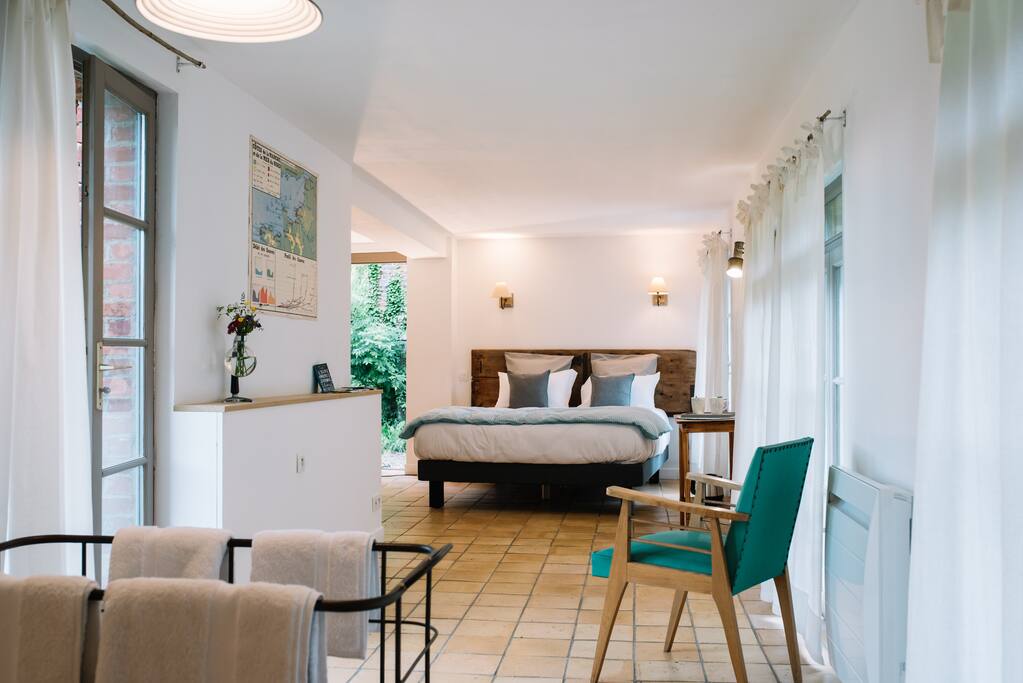 Le pré doré, Chambres d'hôtes
Trois chambres d'hôtes dans une ancienne cidrerie du pays d'auge en briques et colombages. Passez un séjour au calme au coeur de la nature normande. Le pré doré longe la rivière de la Calonne sur 3 ha de pré. A 15 min de Honfleur, 20 min de Deauville/Trouville. Tous commerces à 2 min (Cormeilles). Plusieurs randos au départ. Les chambres sont spacieuses, toutes équipées d'un grand lit double, d'une sdb, d'un coin salon. Cuisine commune à disposition. Petit déjeuner compris.
---
Staying at Florian and Aude's home was one of my favourite Airbnb stays, to date. Florian and Aude are very relaxed hosts and we received a warm welcome from Florian who kindly provided us with a map and also offered some great suggestions for places to visit and restaurants to eat at. Our room was very homely and comfortable and was decorated to a high standard. We loved being able to open the large windows onto the garden and could hear the gentle trickle of the stream running through the top of the garden and the church bells at night. Staying at Florian and Aude's felt like we were staying on a little farm; where vegetables were being grown, kittens were playing, a donkey was grazing in a meadow containing apple trees and sheep and geese wandered also. A highlight of our stay was making friends with Florian and Aude's friendly border collie dog, Jude, who we had great fun playing with. Staying with Florian and Aude certainly provided an authentic Normandy countryside experience. The breakfast was also delicious. Florian served up the tastiest apple juice you can imagine along with coffee, tea, pancakes, baguette, meats and cheeses; not to mention the delicious rhubarb jam (which we assume was homemade). Lastly, the house is situated in a very picturesque village (which has its own restaurant only a 2 minute walk from the house) and is situated perfectly for exploring the coast and other nearby attractions. I would highly recommend staying with Florian and Aude. We certainly hope to visit again when we are next in France.
---
These apartments are located in a beautiful part of France so that you are able to visit Honfleur, Deauville, Étretat and other nice places. The diversity of visiting nice old villages in combination with historical places like Omaha beach and Utah beach are making a holiday perfect. And what is better to have a great place to stay in the neighbourhood which is not crowded and relaxed on every single moment of the day. With a small farm in the back yard it's very nice to stay. The breakfast is great and the service is very personal . Details of the neighbourhood are provided with a smile and Florian and Aude are always well willing to help.
---
Nous avons particulièrement apprécié notre séjour chez Aude et Florian, qui correspondait exactement à nos attentes. Le lieu était plein de charme et bien situé. Nous y avons trouvé des hôtes chaleureux et conviviaux. Notre fille malgré son jeune âge n'oubliera pas de sitôt son séjour et tous ses moments en plein air. Merci Aude et Florian pour votre sympathie et bonne continuation dans votre beau projet !
---
The apartment is part of a three apartments at a house at a small village at Normandy. The apartment is comfortable and the house is located at a picturious villege scene. Floarian is a great host and put a lot of efforts to make the stay enjoyable. Each morning he greeted us with a great breakfast that gave us energy for the day. Equipped with tips and a map he gave us we explored for four magical days the amazing Normandy. It was great.
---
Nous avons passé 8 jours chez Florient et Aude et ce fut un séjour enchantant. Nous avions la grande chambre sous les toits, qui est tres agreable, lumineuse et spacieuse. Nous avons profité de la magnifique et grande propriéte avec ses animaux, joli jardin et une magnifique riviere a truite qui longe le terrain. Un grand merci particulier a Florient pour son accueil, sa convialité, les petits dejeuners delicieux et les bons conseils pour visiter la région. Un endroit et des hotes vraiment attachant, dur dur de partir.....
---
Florian and Aude place is perfectly situated should you like to enjoy a day in honfleur, deauville or the cider road. D day's beach are also close by (40min to sword beach). A perfect choice if you like to enjoy a true taste of what Normandie is in a peaceful place. The flat we have stayed is great. Windows opens on the nature and breakfast in the terrasse is charming. Perfect for a drink at night too (we did it all the nights in fact). In addition the owner takes great care of its guest with an everyday smile and great tips. Would definitely recommande to stay in such a charming place with so nice people.
---
Nous avons passé un excellent we chez Aude et Florian! Le lieu est idéal pour un we en amoureux, au calme entre terre et mer à 2h de Paris!! La chambre est décorée avec goût et l'accueil de Florian a été des plus chaleureux! Nous reviendrons avec plaisir!
---