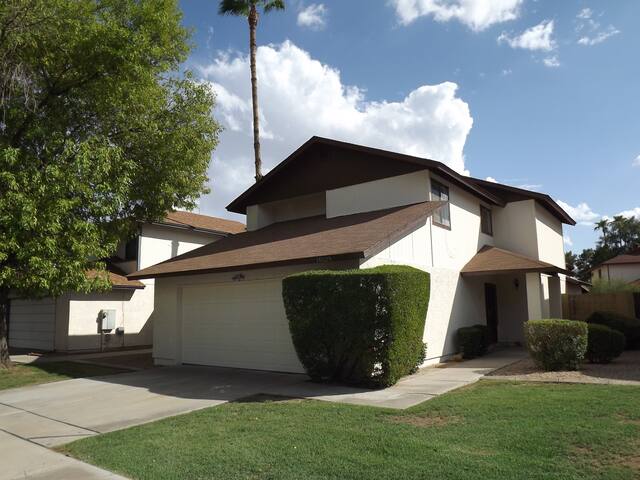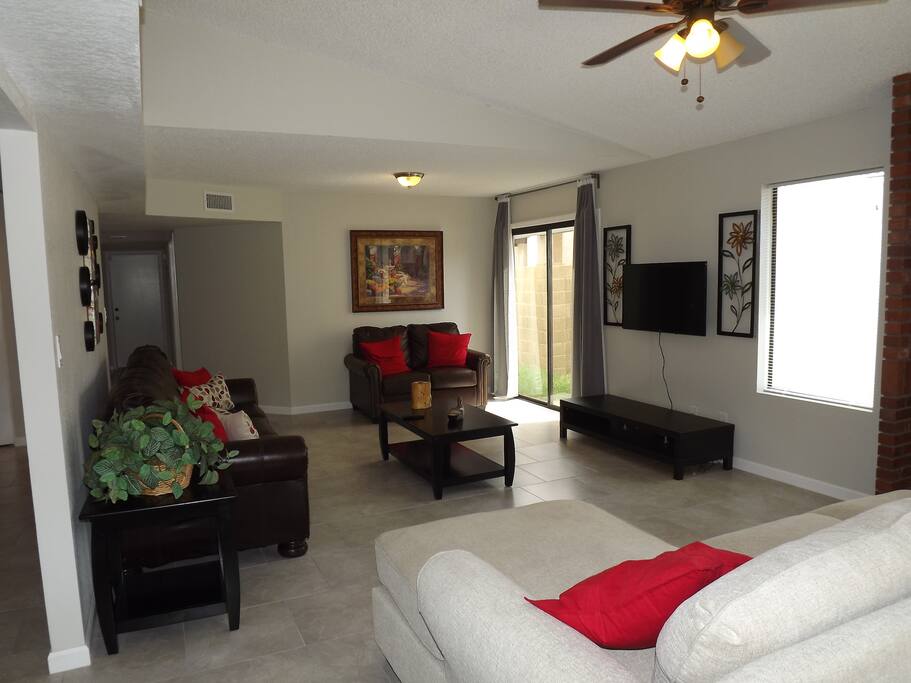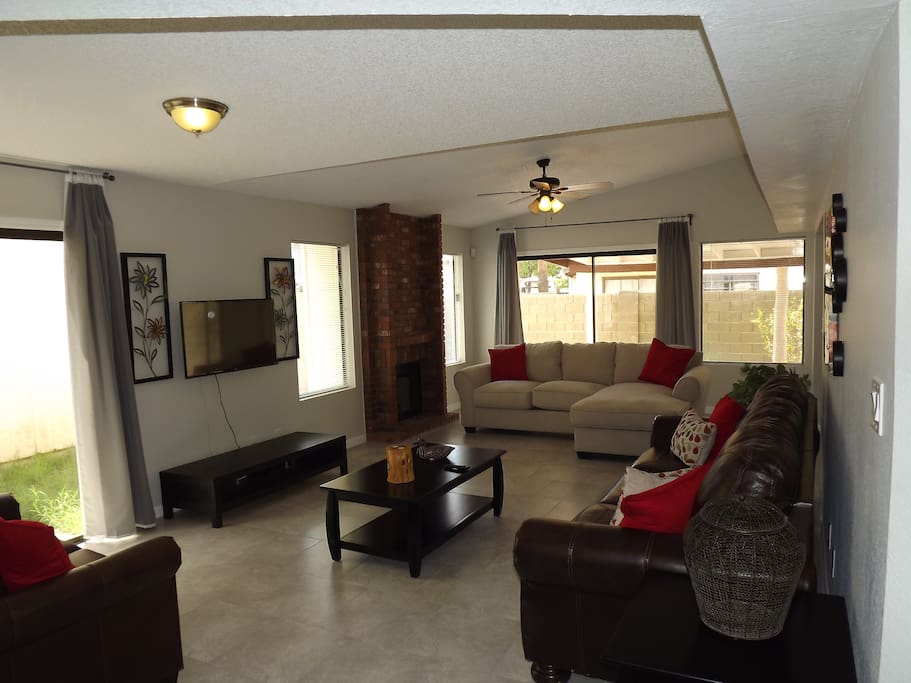 Beautiful Spacious Home Near Stadiums.
Our newly remodeled 4 bedroom 2.5 bath home is perfect for any family or large group. This house is in a very nice and quiet neighborhood that's only two miles from Westgate Entertainment District, University of Phoenix Stadium, Tanger Outlets and many World Class Golf Courses. With easy access to the freeway and only 18 minutes from Phoenix Sky harbor airport this home would be the perfect stay for you.
房源
The almost 2,000 square foot is newly remodeled and fully equipped with new furniture that will make it seem like your home away from home. With three bed rooms upstairs one downstairs and two sofa beds in the living room this space will comfortably sleep 11+. The house has access to a private gated community pool to enjoy during the hot Arizona summer.
---
---
---
---
LAURELWOOD AT VILLA DE PAZ POOL & PLAYGROUND RULES 2016
The rules and regulations presented herein are not all-inclusive and are presented as guidelines. The Laurelwood at Villa De Paz Homeowners Association Board of Directors (BOD) and its Management reserve the right to levy fines, restrict access to the pool/playground, or close the common area at any time. The Association and its management are not responsible for accidents or injuries and all persons visiting the pool/playground do so at their own risk. Homeowners are responsible for the actions of individuals using their pool keycard. Listed below are the current directives regarding use of the Laurelwood at Villa de Paz pool/playground. These rules are subject to modification without notice when required for safety issues.

SAFETY OF SWIMMERS

1. No roller-blading or skating within the pool fence enclosure. No bikes or skateboards are allowed within the pool fence enclosure.
2. No glass items of any type are allowed within the pool fence enclosure.
3. Noise level must be kept within a level acceptable to other residents and city statutes.
4. No diving or flips are allowed (due to pool depth).
5. No running, pushing, shoving, or rough horseplay in the pool enclosure.
6. No foul language [recorded media included], loud shouting, lewd behavior or spitting in pool area.
7. Maximum ratio of children under 14 to supervising adult is 10 to 1.

ACCESS TO POOL:

1. Residents must sign for and agree to comply with pool rules prior to receiving a pool keycard. Residents are responsible for their guests at all times. An additional physical key is required to open the bathroom doors. The fee to replace Lost keycards is $35 and Lost bathroom keys is $15.
2. All youth under the age of fourteen (14) must at all times be accompanied by an adult (18 years old or older) while in the pool area. Youth 14-18 must have a swim partner. No solo swimming.
3. The pool cannot be reserved for exclusive use by any resident.
4. Number of guests:
a) Normally, two guests per resident are allowed.
b) FOR POOL/PLAYGROUND PARTIES – Complete the "Pool and Playground Use Form and Indemnity Agreement". Contact AMCOR (Management) and have the form approved prior to the party. Post party details on the pool bulletin board at least one week prior to the event. This will allow your neighbors to schedule their swimming activities with your party in mind. Remember, Laurelwood residents have full rights to use the pool at any time, even during your party.
1) Pool parties must be supervised by the owner or their designated representative.
2) During scheduled pool parties, the two guest limit is waived.
3) Clean up after the party! Make arrangements to place the trash out for Friday pickup. Return the cans after pickup. Trash cans will be cleaned after pickup. Failure to put the trash cans out or to bring them back in will result in a fee of $50 being assessed.
4) Contact AMCOR or a BOD member to check the property before and after the party. Any discrepancies will be noted and appropriate action taken. The goal is to make the appropriate party responsible.
5) If CLEANUP OR REPAIRS ARE REQUIRED, Owner will be assessed the cost of materials and labor at a minimum of $50/hour with a minimum fee of $50.
6) Noise level: Between 11pm and 7 am, a noise level that results in a complaint, whether to police or to management, will result in a $75 fine and loss of pool privileges for 60 days!
7) Pool parties should be complete by 10:00 pm on weekdays and 12 am (midnight) on weekends.
5. Proper bathing attire required in the pool. No thong/string bikini's or bikini briefs allowed in the pool area.
6. All residents will produce their keycard upon request of management or any owner. Keycards are monitored electronically and usage will be tracked.
PROTECTION OF POOL and PLAYGROUND PROPERTY:
1. NO CLIMBING OVER, SWINGING ON, OR HANGING ON POOL FENCE OR GATES.

2. No using pool chairs for anything other than those activities intended by manufacturer guidelines. No lounge/sitting chairs allowed in the pool. [This damages the pool bottom]
3. No pets allowed in the pool area.
4. No throwing or kicking balls at the pool gate. No hanging on the pool gate.
5. No throwing stones, golf balls, dirt clumps or other hard objects into the pool. [It damages the pool surfaces and the pumping hardware.]
6. If you, your family or a guest causes damage or creates a situation - you are responsible and will bear the cost and consequences!
7. No cut-offs, or oils of any kind in the pool. The strings from the cut-offs and the oil damages the filtering system. No defacing HOA pool property (graffiti, carving in tables, etc.).
8. Pool gate must be kept tightly closed and locked at all times. The warning horn will sound if not properly secured. Remember: The warning horn will sound is the gate is open longer than 30 seconds.
9. Do not enter the pool when it is posted closed. Indications of the closed condition are signage and padlocks on the gates. Do not use the park or playground equipment when the park is closed.
10. Do not use the safety equipment as a flotation device! The life ring is not a toy and may be needed to save a life. Failure to follow this rule will result in fines and access restrictions.
11. If you use pool equipment to remove leaves or debris, please return them to their proper storage locations.
12. If you witness anyone damaging pool equipment; contact management ((PHONE NUMBER HIDDEN) ext 107) or a BOD member and report the incident with date, time and as many specifics as possible. A photo would be very useful! Use those smart phone cameras!
13. Use of Medical Marijuana is NOT authorized or permitted on or in any of the association's common areas.

CONSEQUENCES OF BREAKING POOL/PLAYGROUND RULES:
The following restrictions apply and will be enforced:

1. Jumping into the pool from the Ramada roof (first occurrence): $1000 fine and loss of pool privileges for 120 days. The Board does not want you injured and jumping into the pool from the roof is dangerous!!
2. Defacing picnic tables (inside or outside the pool fence): a $100 fine and repair/refinish/replace the table in question.
3. Defacing Association property: a fine and repair/replace item in question.
4. SEE SOMETHING, SAY SOMETHING! Be courteous and respectful.
5. Using the safety ring in other than an emergency - $100 fine and replacement if damaged!
6. An infraction of the published Pool Rules, unless otherwise stated: $75.00 to $500.00 fine and loss of pool privilege for 30 - 120 days for the ENTIRE HOUSEHOLD.

These rules are designed to protect Association members and their property.
Respectfully,
The Laurelwood Home Owners Association Board of Directors
---
---
---
---
We rented this home for a week. We were in town for a baseball tournament and this home was centralized to all stadiums. I wish I would have met Carlos in person, but Carlos answered every phone call and answered all my questions. Carlos made our stay very simple. His home was extremely comfortable for the two families that stood here. It was 115 degrees outside but the A/C worked perfect which made it comfortable. The beds were very comfortable. The washer and dryer worked well. The home was spacious, clean, quiet, and upgraded. We also used the BBQ grill in the back yard, which was clean. The pool is a community pool but it was clean and not crowded. I will be coming back to this home for another get away. Thank you again Carlos.
---
It was a great place to stay at went to town for a family event and was able to stay at this spacious home with my family. It was a big group of us and we all fit comfortably. Beds are very comfortable and nice kitchen to cook up anything you would like. The pool was nice and they provided us great hospitality and no problem contacting them when needed.
---