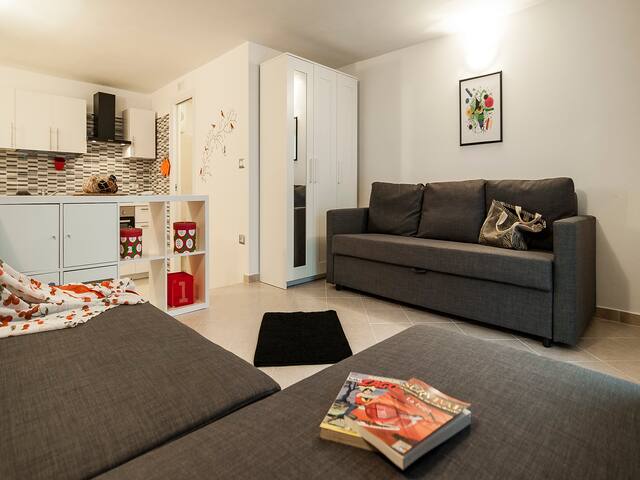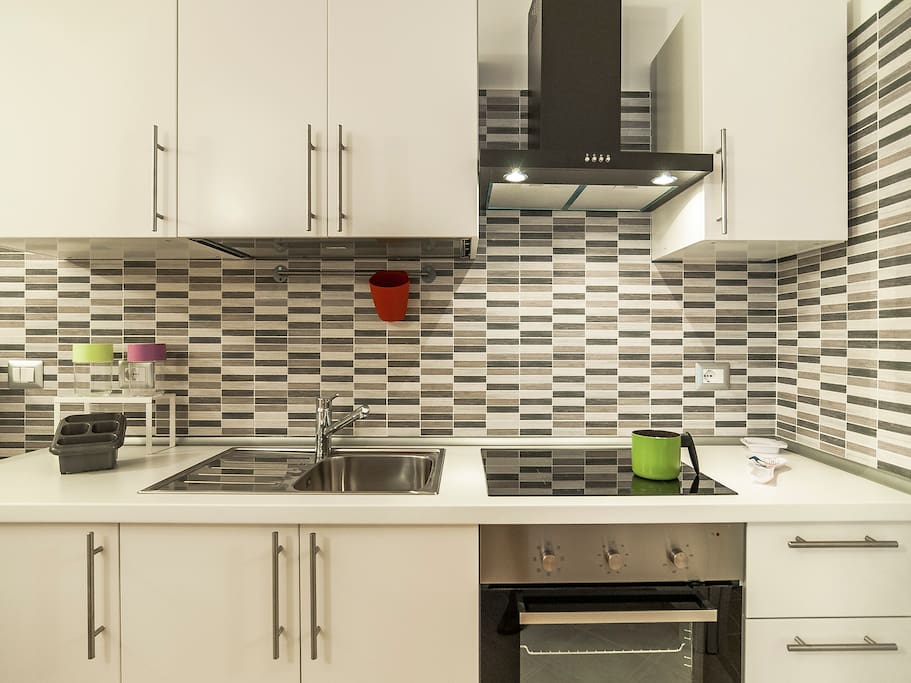 Designed to meet the need of who travels:
- Alone, or together with 3 other friends
- In pairs
- Families of max 4
• Very practical house, accessible and secure
• 30 sqm, ground floor
• Central and quiet area
• Unique space
• 1 bath
• Fully equipped kitchen with refrigerator
• Washing machine
• 6 min walk for the sea
• WiFi
• Private parking
• Beach resort included
• Welcome gift: Tyrrenian islands trip

READ THE DETAILS BELOW AND ALL YOUR QUESTIONS WILL BE ANSWERED!
房源
••• POSITION •••
Address: Via Valle n. 122
"CARIDDI Loft" is a studio of about 30 sqm very well-equipped and renovated in summer 2016. Ideal for stay also in the winter time.
It's situated in a private little crossing road of Via Valle. It has no outside balconies but inside offers useful and practical solutions for a comfortable holiday.
It's just a few steps from the sea and in the center.
The location of the loft is fantastic and just a few meters away there are the beach "La Lanterna" included in the price, the supermarket, the pharmacy, the town market on Saturday. And then a thousand other places of entertainment such as a children's playground, seaside bars, restaurants and pizzerias.
••• INTERIORS •••
It's good for up to 4 guests divided into a UNIQUE ENVIRONMENT.
It has two comfortable double SOFA BED.
Entering the house we find a large room with 2 sofas and a straight flat screen TV 32 inches.
After that, going down a step, we find a pleasant kitchen, equipped with everything you need: pots, pans, plates, glasses, cups, oven, refrigerator with freezer.
The kitchen is electrical (not gas).
Around the DINING TABLE easily find place 4 people.
There is a comfortable CLOSET with mirror, near the sofa beds.
In the BATHROOM you will find shower and every other accessory, including a washer and dryer.
The studio has a glass door in the entrance area and is a private road level.
It's equipped with air conditioning with heat / cool function.
Use of air conditioning is free.
房客使用权限
"CARIDDI LOFT" Holiday House is rented whole, as well as photos.
Guests will have full access to the entire house and all its facilities which include:
- WIFI free and unlimited 24/24
- 32 inch LCD TV
- hairdryer
- washing machine
- Iron and ironing board
- Drying rack outdoors
- Mocha coffee
- Bed linens and bath towels
- Exclusive balconies
- Car park at Via Provinciale Fondi, 59 (better to find with gps: (PHONE NUMBER HIDDEN)), where you can park your car free
- Beach resort "LA LANTERNA", Via Cristoforo Colombo, 65.
(1 umbrella + 2 beach loungers + folding chair)
与房客的互动
••• CHECK-IN •••
At your arrival, we will welcome you at the house, at Via Valle n. 122.
Here, after the initial greetings and rapid registration of documents, you will be shown the house and given the keys.
The check-in is scheduled for 15:00 but can be flexible and if the house is free from the night before your arrival, you can safely come already from 12:00. Checkin is free from 15:00 to 20:00. After that time will be applied a supplement of €30,00 for the extra time checkin.
The check-out is at 10:00.
We will try to satisfy all your needs, from arrival to departure…!
其他注意事项
★ INCLUDED IN THE PRICE ★
- The use of the facilities of the beach resort "LA LANTERNA": we have reserved for you: 1 umbrella + 2 sun beds + 1 folding chair.
The beach is situated in the central area Via Cristoforo Colombo, 65 and accessible on foot. The service is active from the 1st of April till 31st of October.

- There is a garage included in the price, at Via Provinciale Fondi, 59 (better to find with gps: (PHONE NUMBER HIDDEN)), where you can park your car.

- Final cleaning, as well as the use of community services and bed sheets/towels

- General consumption in the house

• SPECIAL WELCOME GIFT •
For each booking we will offer an excursion inshore "Sperlonga" to one member of your group. The trip will sail along the coast with slow and pleasant navigation in the Regional Park of the Riviera of Ulysses "Sperlonga area". More info at the bottom, and on c(URL HIDDEN)
Valid from June 15 to September 15.

• EXTRA CHARGES •
- Sperlonga City Tax
1 € PER day PER person (excluding children under 14 years).
Throughout Sperlonga took effect the tax to improve the reception of tourists. that we have to deposit entirely to the Municipality of Sperlonga,
The amount is payable in cash at check-in.

- Our 4-legged hairy friends are only welcome if authorized. An extra fee of € 20 per night will be required up to a maximum of € 100 depending on the extra cleaning.
We advice you that pets are not allowed in any private beach in Sperlonga.

• BEFORE YOUR ARRIVAL •
A few days before arrival, in order to better organize our meeting, please advise:
- Arrival time in Sperlonga
- Specific requirements

• HOW TO GET TO THE HOUSE •
- BY CAR FROM ROME OR NAPLES along the SR 213 (Via Flacca) that runs along Sperlonga
- BY TRAIN you have to get off at the FONDI / SPERLONGA station (or Formia Sperlonga) and then reach Sperlonga by bus or taxi.
- BY BUS
once you catch the bus at FONDI / SPERLONGA station, get off at the stop "Sperlonga Mare", in Cristoforo Colombo street.
The stop is just in front of the Supermarket named "SIGMA" (Assume it as a reference point)
From here it's only a walk to the house
- ADVICE US IF YOU WANT OUR TRANSFER SERVICE YOU TAKE IN THE STATION, AIRPORT OR ANYWHERE YOU WANT.

• ADDITIONAL SERVICES ON DEMAND •
We could provide upon request (ask for details):
- cleaning during the stay
- laundry and ironing
- baby cot (€ 30 for the duration of stay)
- babysitter
- guided tour in Sperlonga and its surroundings and tickets for the major attractions
-boat trips along the seaside and a visit of the Pontine Islands organized by our company
- organization of transfer to/from the airport

In the apartment you will find a small brochure with a detailed guide around the town and a map of Sperlonga, that will help you to organize your staying here and always feel comfortable.
---
Ursprünglich hatten wir eine andere Unterkunft in der Nähe gebucht; aufgrund von "internen Problemen" wurden wir auf diese umgebucht. Wir reisten mit dem Zug von Rom zum Bahnhof Fondi Sperlonga, um von dort den Bus nach Sperlonga zu nehmen. Natürlich hätten wir Annalisa & Paolo fragen können, ob sie einen Busfahrplan haben oder Tipps zur Anreise, aber daran haben wir nicht gedacht. Die Gastgeber kamen aber auch nicht auf die Idee, uns mitzuteilen, dass der Bus um 12.30 und dann erst wieder um 16.30 kam. (Sie wussten, dass wir mit dem Zug anreisen.) Dadurch mussten wir für teures Geld ein Taxi vom Bahnhof nehmen, um nicht 3 Stunden zu warten. Am Abend vorher hatten wir Ihnen außerdem geschrieben, dass wir gegen 14:30 ankommen würden, wenn das für Sie okay wäre. Es kam keine Antwort. Im Nachhinein haben wir gesehen, dass der Check-In eigentlich erst ab 15 Uhr möglich ist, aber wir waren sowieso erst um 15 Uhr da, weil es eine Weile gedauert hat, bis ein Taxi kam. Als wir ankamen, fanden wir die Hausnummer nicht. Wir haben anhand der Fotos versucht, das Haus zu finden und haben dann noch gesehen, dass der Check-In bei einer anderen Nummer stattfinden soll. Dieses Haus haben wir irgendwann gefunden, aber wir wussten nicht, wo wir klingeln müssen. Als wir die erste uns bekannte Nummer des Gastgebers anriefen, kam ein Signal, dass die Nummer nicht vergeben ist. Bei der zweiten Nummer ging jemand ran und sagte, er sei nicht in Sperlonga; wir sollen unter einer anderen Nummer anrufen. Unter dieser Nummer sprach man kein richtiges Englisch, aber wir konnten zu Verstehen geben, dass wir da sind, sodass jemand kam. Offenbar handelt es sich um ein lokales Ferienwohnungsbüro mit mehreren Wohnungen. Die beiden vom Büro kamen sehr schnell und schlossen auf. Bei der Wohnung handelte es sich noch mal um eine andere Nummer als online steht; wir hätten das Apartment also nie finden können. Es gab keine Entschuldigung für das lange Warten und die komplizierte Anreise, aber Englisch war ja auch schwierig... Das Appartment war sauber und ordentlich; die Couch zum Schlafen mussten wir selber beziehen. Wir waren davon ausgegangen, dass Supermärkte im Ort geöffnet haben, was leider nicht der Fall war, sodass der Gastgeber so nett war, uns zu einem etwas weiter entfernten Supermarkt zu fahren; das war wirklich nett! Ein bisschen erklärte er auch, wo im Ort was ist. Wieder zurück vom Einkaufen stellten wir fest, dass wir keinen WLAN-Router hatten. Auf Nachfrage wurde er dann am nächsten Morgen gebracht; auch wieder ohne Entschuldigung. Das WLAN funktionierte ganz okay, wir mussten es aber einige Male aufgrund von Störungen neu starten. Der Aufenthalt verlief dann ruhig; wir mussten aber selber nachfragen wie der Check-out geregelt wird. Von alleine ist nie jemand auf uns zugekommen. Die Unterkunft selber ist sauber und nett eingerichtet, aber die Kommunikation mit den Gastgebern war eben schwierig. Ich würde also eher abraten.
---
On the plus side it's a very nicely designed and fitted out modern studio only a very short walk to a lovely beach. The free beach club was a nice touch as well. Unfortunately I think we were the first to stay so there were quite a few teething issues such as no wifi. When we asked where the wifi was, a wifi router was delivered to the apartment still in the box! Also there was no private parking as listed in the description. There is also only 2 sofa beds (no normal bed) although to be fair when we looked again it did say that. Finally, it's not actually a 'loft' but a converted basement.
---
Great loft, great location 5 min walk to the beach. Very friendly owners! Me and my wife really enjoyed staying there for 8 days! Oleg
---
Considerata la definizione di "loft", quello in cui siamo stati direi che non corrisponde. Mancano le notevoli superfici (parliamo di 25mq), non c'è traccia delle tipiche grandi finestrature (ci sono due bocche di lupo che affacciano su aree interne di cui una in bagno), manca decisamente l'altezza del soffitto (si dorme in circa 210 cm), mentre le dotazioni igienico sanitarie, per quanto complete e funzionali, sono un po' strettine. Di fatto si tratta di un garage adibito ad abitazione. Le soluzioni cromatiche e di arredo sono gradevoli e funzionali. La distanza dalla spiaggia e da tutto quello che può servire è veramente minima. Anna e Paolo non abbiamo avuto il piacere di conoscerli poiché la casa è gestita da una società che si chiama CasaVacanze e che si è occupata, abbastanza sbrigativamente, del check-in mentre il check out ce lo siamo fatto da soli. Una volta avvisato che eravamo pronti a partire, abbiamo atteso una mezz'ora e alla fine, lasciate le chiavi e gli euro della tassa di soggiorno sul tavolo, ce ne siamo andati (previo sms). Onestamente 168 euro al giorno ..... Forse un b&b è più economico e confortevole nonostante il periodo e che occorra mangiare fuori.
Salve Benedetto e grazie per la sua recensione che sicuramente sarà utile per migliorarci. Per quanto riguarda la soluzione loft, abbiamo spercficato tutto nella descrizione. La società in questione è esattamente quella mia (Annalisa) e di mio marito Paolo, purtroppo non abbiamo avuto il piacere di conoscerci, nonostante facciamo quasi esclusivamente noi la parte dell'accoglienza, in quanto ci teniamo particolarmente. spero di vedervi presto in una delle nostre tante altre soluzioni saluti Annalisa e Paolo
---
Ciaoo sono Annalisa,
vivo con Paolo e i miei due figli Matteo e Flavio nell'incantevole borgo di Sperlonga.. :)

Da anni ormai ho scelto di occuparmi, insieme a mio marito, dell'accoglienza turistica in questa perla del Mediterraneo,
più volte eletta tra i primi 3 borghi più belli d'Italia.
Amo stare a contatto con le persone e penso che conoscere culture diverse dalla nostra sia un privilegio.

Ciao sono Paolo,
il marito di Annalisa.
Da sempre appassionato ed interessato al settore del turismo e della nautica.
Sono amante dello sport e della natura.

Saremo lieti di ospitarvi nelle nostre incantevoli case, potrete scegliere tra circa 20 soluzioni, tutte di alto livello e completamente accessoriate.
Mettiamo a vostra disposizione anni di esperienza nel settore e persone di fiducia alle quali rivolgervi per ogni evenienza..

Speriamo di poterti conoscere di persona,
sarai il benvenuto,
A presto

Annalisa, Paolo, Flavio e Matteo


Ciaoo I'm Annalisa,
I live with Paolo and my two son Matteo and Flavio in the charming village of Sperlonga… :)
I'm professional in tourism for several years now, taking care of tourist welcoming in one of the Mediterranean's Pearl, many times elected among the top three most beautiful Italian villages.
I love to be in touch with people and truly believe know different cultures it's a privilege and enrich our life.

Ciao I'm Paolo, Annalisa's husband.
Firmly passionate and interested in tourist welcoming and in yachting sector, always be.
Love sports and nature

We would be glad to host you in our lovely apartments, you can chose in between almost 20 different ones, all high-end solutions and fully equipped.
We will offer you years experience in this area and people you can trust, to whom you can talk for any eventually.

You're welcome
See you soon
Annalisa, Paolo, Flavio e Matteo



语言:
Deutsch、English、Español、Italiano