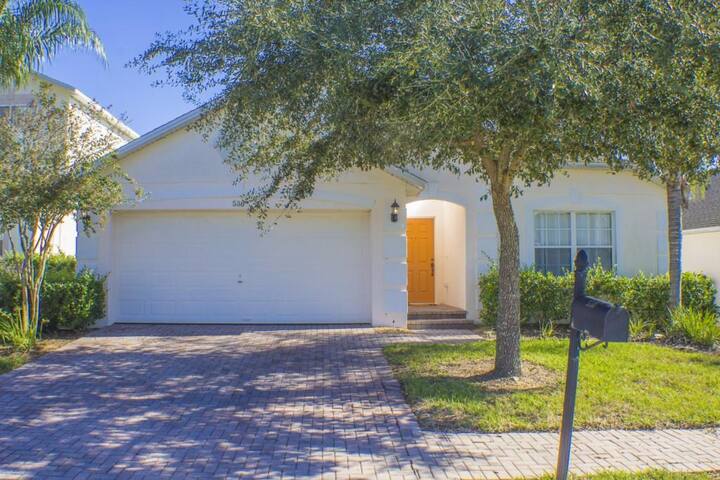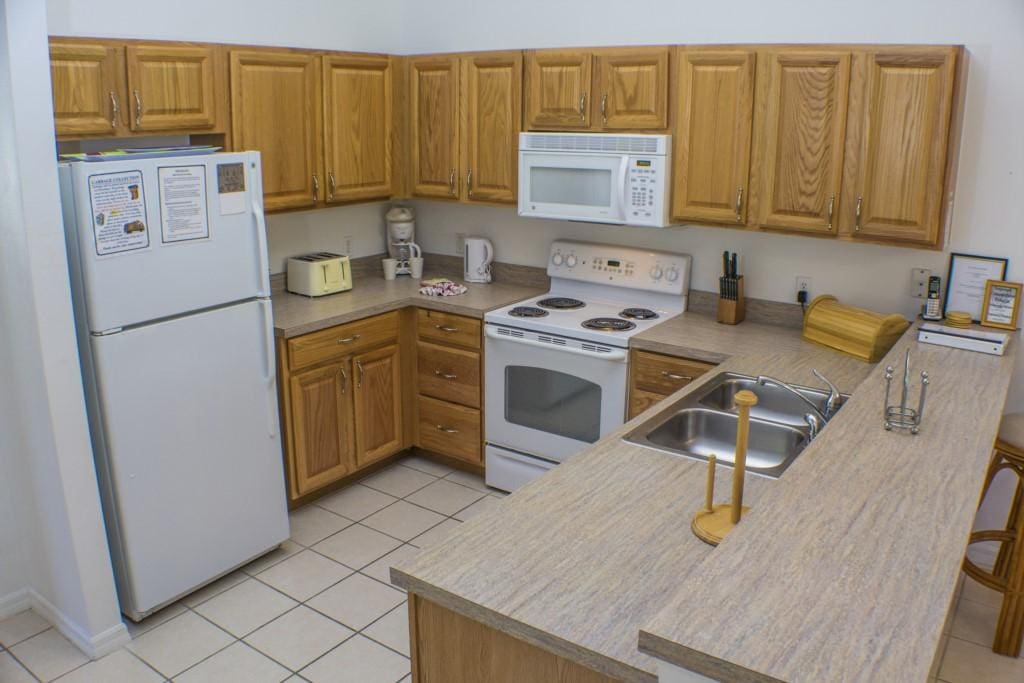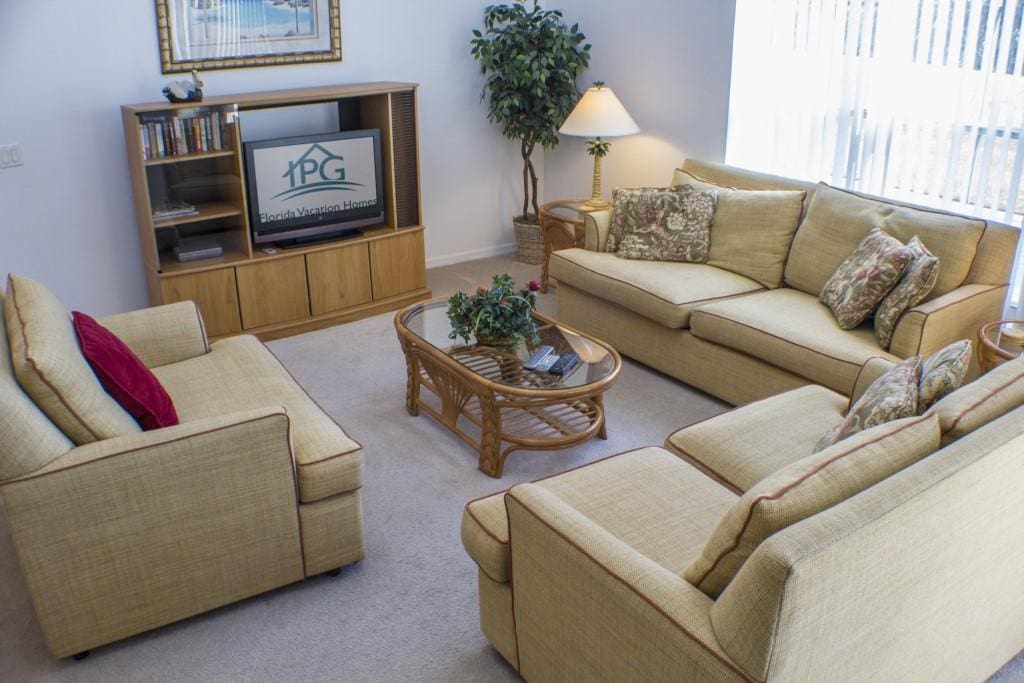 The gated community at Legacy Park has high expectations and standards, but this is one vacation rental home that exceeds them. When you arrive, you'll be impressed with the tidy well-manicured garden. This is a popular rental home in a popular area and has 3 spacious well-lit bedrooms and 2 bathrooms. In total, this quaint Florida rental can sleep 8 guests.
The light colored living room with subtle floral decorations is well-lit from the large bay windows. The 2 cream sofas are comfortable and are complemented by the matching living room furniture in wood. A number of antique style lamp shades decorate the room, creating a beautiful evening atmosphere. The second living room has 3 large comfortable sofas, creating enough space for all guests to sit. The large wooden entertainment system boasts a flat screen TV and a DVD player. You'll also be able to take your pick from the number of DVDs on offer. The adjoining formal dining area is also well-lit with the full-size window. The large lightly stained wooden dining suite seats 6 guests and there are a few subtle decorations such as lamp shades and wall paintings that create a luxurious atmosphere.
The corner kitchen area has wooden cupboards and new appliances. The corner granite top counter acts as the perfect area to prepare your meals. To the right, there's a small informal dining area that has a 4 seat kitchen table set.
The master bedroom has a country cottage feel to it from the lattice wooden headboard to the checked bed linen. The room has a comfy king-size bed with matching furniture. It also has its own TV and DVD player, allowing guests of this room to get away from it all if they wish. The en-suite bathroom in white is tiled and boasts a his and hers vanity and a large mirror. There's also a large bathtub where you can relax in the evening as you look out the nearby window and admire the picturesque view. Additionally, there's also a separate shower cubicle. The second master room is a queen size room. It's decorated with pretty and subtle details and the vertical bedside window offers guests a stunning morning view. There's also a smaller en-suite bathroom that has a single vanity, a toilet, and a separate shower. The brightly lit twin bedroom with modern bedside furniture has a large wardrobe space. There's also a strategically placed window that allows the room to catch the morning sun.
The home has a fast wireless internet connection throughout the home. Additionally, the rooms are air-conditioned, and this together with the home's high vaulted ceilings, help to main a comfortable temperature during the hotter months.
Guests will benefit from the beautifully paved patio area with its own enclosed private swimming pool with adjoining Jacuzzi. There's also a removable mesh fence that acts as a precaution, and helps to keep your children safe. Lie and relax on some of the sun loungers or choose to sit under the covered lanai area – the choice is yours, but whatever you choose to do, you won't regret staying in this home.
---
We have been in the vacation rental business for over 15 years specializing in luxury vacation homes and resorts primarily located in the Orlando, Florida/Disney area. Our mission is to service our guests and exceed your expectations in finding your perfect condo, town home, or b…