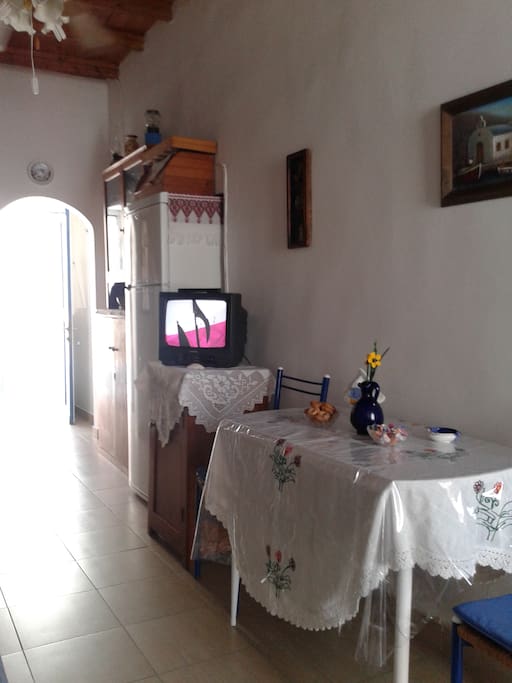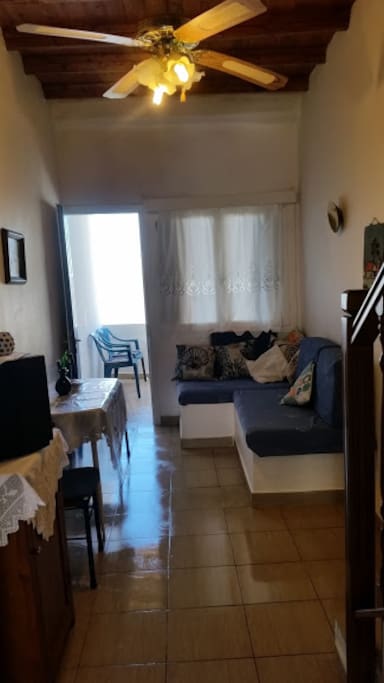 Ο χώρος μου είναι εξω απο το καστρο στο Χωριο της Κιμωλου, 1 χιλ.απο το λιμανι. Ειναι κατάλληλος για ζευγάρια, ταξιδιώτες που αγαπουν την ησυχια, περιπατητες και οικογένειες (με παιδιά). Ειναι παραδοσιακο διπατο σπιτι 50μ. Εχει 3 βεραντες οι δυο βλεπουν σε θαλασσα. Ειναι αυτονομο, με πληρως εξοπλισμενη κουζινα, καφετιερα, μεγαλο ψυγειο. Η Κιμωλος ειναι ένα νησι που ενδείκνυται για ηρεμια και ρελαξ. Εχει ηπια νυκτερινή ζωή, εστιατόρια χωρους που παίζουν ανετα τα παιδια και μαγευτικες παραλιες.
房源
Our house Located in the village of Kimolos 1000 m from the port (I ' ll come and get you) and the bus station is about 200m away
It is a traditional house only 10m out of the Castle.
It has two levels. Τhe down floor is 25 square meters. Entering the house is the front porch you see the Castle of Kimolos. The entrance has a small fully equipped kitchen big refrigerator, tv, washing machine, french coffe machine and a comfortable sofa. It comes out in the back little veranda that you can see the sea (that with the yellow table).
The up floor 25 m2 connected with an internal staircase and intended the toilet with shower. It has one bedroom with double bed who has access to the upper verandah that you can see all the sea, ideal for night of couple, (this is a bit dangerous for children because it is very high from the street, but you can lock the door. In the middle has another double bed (no privet)
Its very cool because its wall has 70cm width, but there is an air codition
Our village is small and all walking distance.
其他注意事项
(URL HIDDEN)FORTUNE HOUSE KIMOLOS
video clip with the house in you tube
---