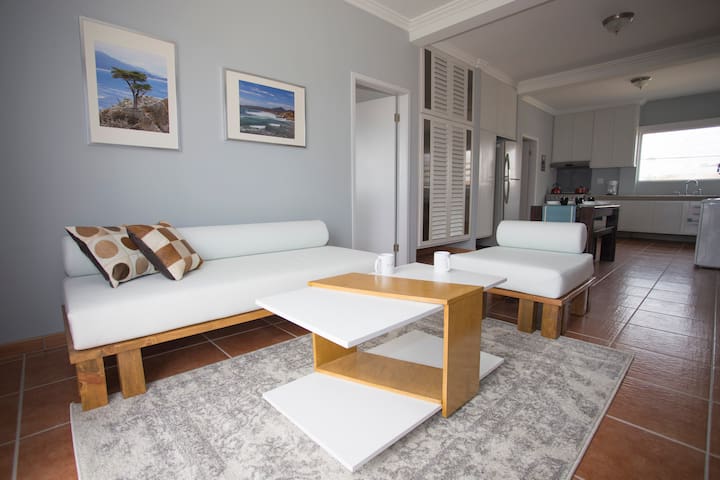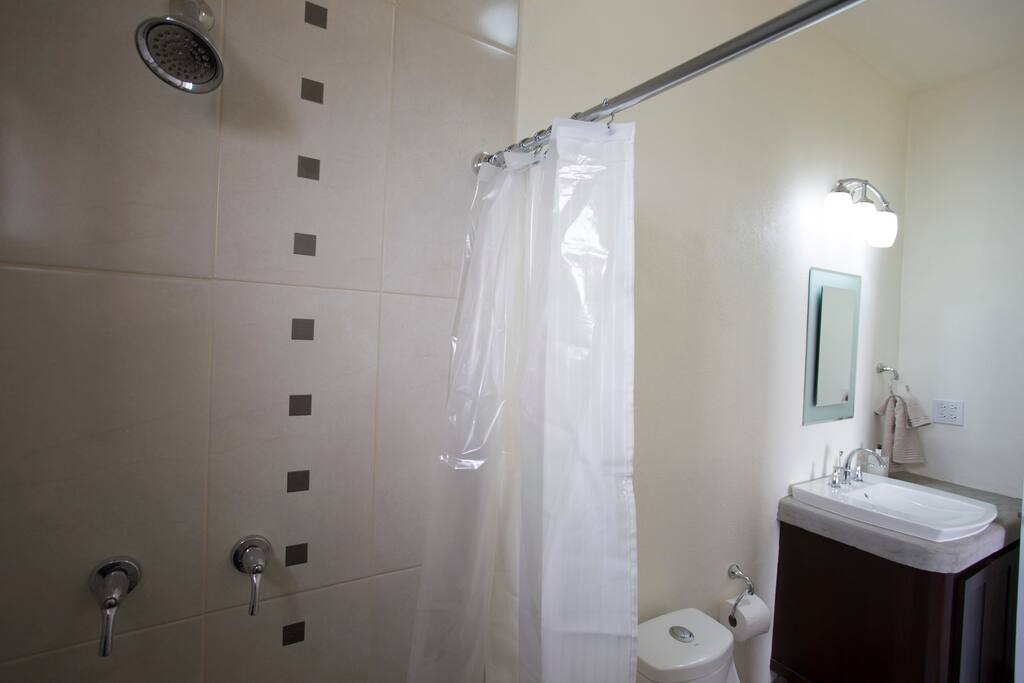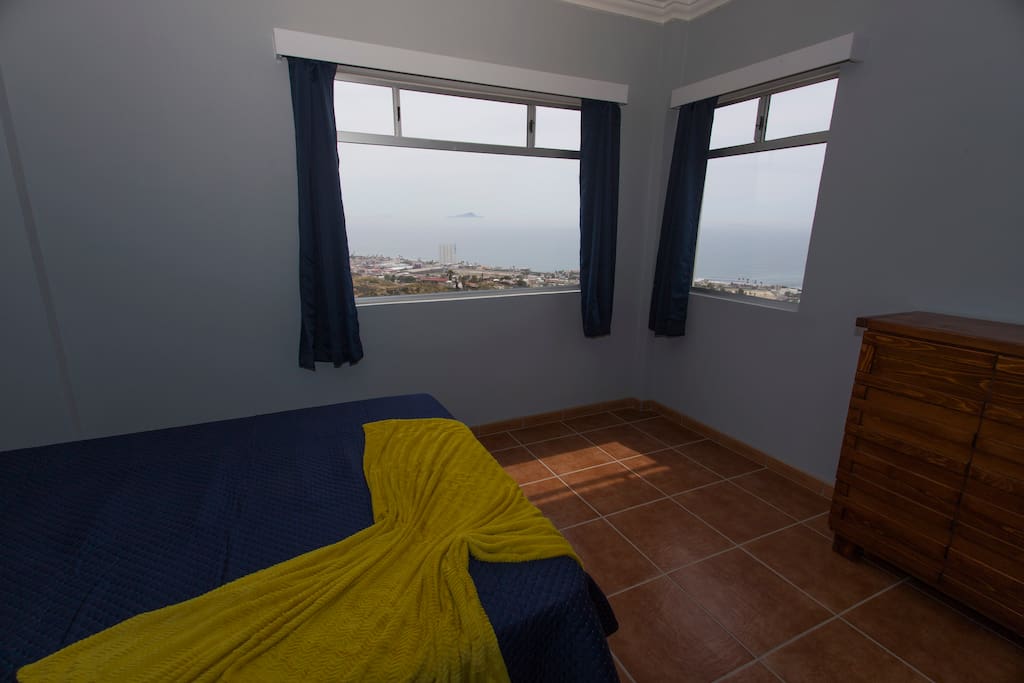 El Mirada Executive Rentals #4 First floor
El Mirada Executive Rentals #4 First floor
El Mirada complex is a gem in a working class area! Located only minutes from the famous wine country, the scenic Tijuana-Ensenada Highway and downtown Ensenada. We are on top of a hill with fantastic views of the ocean. The last part of the road is a dirt road. It is not touristy but is safe. The neighborhood is perfect if you're looking for a more authentic place. Please take a look at our pictures.
房源
The apartment is fully furnished, has equipped kitchen, washer and dryer, Internet and TV. The complex has secure parking and is monitored by security cameras to guarantee your peace of mind.
It is a place to rest after a day of sightseeing. My place is good for tourists and business travelers. 82 square meters of living space. It is located on a hill with scenic views of the ocean in a working class neighborhood.
房客使用权限
Guests have access to all features.
与房客的互动
I am available by text of phone anytime during the day.
其他注意事项
Security. Comfort. Spectacular views.
Fully furnished apartment.
---
---
---
---
---
不适合儿童(2-12岁)入住,或不能为儿童提供安全的住宿环境
- Booking Policies, Terms and Conditions Thank you for choosing to book with EL MIRADA Executive Rentals. We look forward to welcoming you to our facilities. By making this booking you are entering an agreement with us. All these terms and conditions apply to all the members of your group included in your reservation. Please read our terms and conditions of booking below. Please make note that the policies, terms and conditions are subject to revision from time to time. Price Policy The price includes accommodation only. Each apartment has a maximum capacity of 5 persons (one sleeping on a sofa bed). Internet and TV services are included in the price as a courtesy, but we are not responsible for technical, connection problems or other reception problems. Booking Confirmation & Deposit Policy All bookings require payment in full at the time of booking. A confirmation email will be sent to you if you make your reservation online, so please ensure to provide a valid email address. To secure payment for possible damages incurred by you, we reserve the right to charge your credit or debit card with a deposit, equivalent to 100% of the price per night, per each day of your stay. Such amount would be reimbursed to your credit or debit card, after your stay has been completed. Reservations and payments in cash or credit card can be made in situ at the moment you arrive at EL MIRADA. In all cases, all guest either paying in cash or with credit card, must present an official an valid ID to check in. Arrival Policy Your accommodation will be available for check-in at 4:00pm on the day of arrival, unless otherwise arranged. We will not be able to accommodate you if you arrive earlier than the agreed time. However, you may drop off your bags at an earlier time with prior arrangement. It is much appreciated if you notify us of your estimated arrival time via our website at the time of your booking. Late Arrival Procedure: Please ensure to contact us if your arrival time is estimated to be after 4:00pm check-in because EL MIRADA is an exclusive complex and occasionally our facilities are locked up. Departure Policy We respectfully remind guests that EL MIRADA Executive Rentals does NOT operate the same way as most hotels do, therefore, please vacate apartment by 10:30am on your expected departure date, unless otherwise arranged. If you need to return to your room between 11:00am and 4:00pm, to collect any belongings left behind, please let us know as we occasionally lock the facility for any length of time during the day. Keys and Remote Control: Upon your departure, it is the occupant's responsibility to surrender the keys to the apartment and the remote control to the parking lot entrance. If keys and/or remote control is not returned, you account will be subject to an additional charge of $45.00 dollars to replace such items. Early Departure Policy: Early departures will still be subject to the full stay amount. No refunds will be made. Payment Policy Payments need to be made in full at the time of the booking using our website. All credit/debit card transactions are secure and no data collected is shared with third parties under any circumstances. All transactions comply with the relevant legal requirements at the time of the transaction. If you use a debit/credit card at the time of booking, El Mirada will place a hold on your card account for the full anticipated amount to be owed by your stay, including estimated incidentals and/or damages (see damage and breakage policy), through your date of check-out and such hold may not be released for 72 hours from the date of check-out, or longer, at the discretion of your card issuer. Cancellation of Booking Policy By making your booking, our agreement is a legal contract and you agree to all our terms and conditions. We do not do money (credit card, debit card or cash) reimbursements. However, if you need to cancel due to adverse weather conditions or exceptional family circumstances, you must notify us within one week prior to expected arrival date, and we can make arrangements to transfer your booking to a future date; however, the future date will depend on vacancy. Failure to inform us of your need to cancel due to special circumstances will result in your account being charged the full booking price and the inability to book for a future date. Our Right To Cancel: We have the right to cancel your reservation at any time with immediate effect by giving you written notice (which includes email) if: •Your payment is not made or fully accredited when it is required prior to arrival ; or •You violate any of the terms of this contract between us, in any material way. If we cancel your reservation where you are at fault, we reserve our legal rights in respect of your breach of contract. Events outside our control: We may also cancel your reservation if an event outside of our control (including industrial accidents, explosion, fire, flooding, and failure of power and/or water supplies or emergency evacuation) means that we are unable to make your accommodation available to you. In this case we will contact you to let you know as soon as possible and: •If you have already paid for your apartment, we will postpone your reservation for a future date. •If you are already check-in, we will try to accommodate you in a hotel within the same price-rage, if possible. Save as set out above, we will not be liable or responsible for any failure to perform, or delay in performance of, any of our obligations that is caused by an event outside of our control. Pets Policy Sorry, we do not allow pets on the property under any circumstances. Children Policy We welcome children of ages 12 years and above only, unless previous arrangements are made. Always under the sole responsibility of the client. Internet Usage Policy IMPORTANT! EL MIRADA WIRELESS SYSTEM IS NOT A HIGH SECURITY NETWORK. TO AVOID SECURITY PROBLEMS YOU SHOULD USE APPROPRIATE SECURITY MEASURES SUCH AS A VPN CONNECTION, PERSONAL FIREWALL, KEEP YOUR OPERATING SYSTEM UP-TO-DATE WITH SECURITY PATCHES, ETC. User acknowledges and agrees that the Services are for personal use and agrees not to use the Services in a manner prohibited by any federal, state or local law or regulation. Transmission of any material in violation of international, federal, state or local law or regulation, including, but not limited to any copyrighted material, material protected by a trade secret or material or messages that are unlawful, harassing, libellous, abusive, threatening, harmful, vulgar, obscene or otherwise objectionable in any manner or nature or that encourages conduct that could constitute a criminal offense, give rise to civil liability or otherwise violate any applicable local, state, national or international law or regulation, is prohibited. User acknowledges that there is content on the Internet or otherwise available through the Services which may be offensive, or which may not be in compliance with all local laws, regulations and other rules. We assume no responsibility for and exercises no control over the content contained on the Internet or is otherwise available through the Services. User uses all content accessed or received by the User at his or her own risk, and we and our employees shall have no liability resulting from the access or use of such content by the User. The services provided by us are provided "as is". We make no warranty of any kind, expressed or implied, including but not limited to any warranty of merchantability. User understands and acknowledges that we exercise no control over the nature, content or reliability of the information and/or data passing through our network. Water Policy Due to severe water restrictions in Baja California, bedding and towels will not be replaced if your stay is shorter than a week. If you need clean bedding or towels, you can use of the washer/dryer machine inside each apartment, only if it is in compliance with the water consumption regulations of the local government. We appreciate your understanding. Use of Kitchen Policy Light cooking in the apartments is allowed but greasy cooking, take away meals and other greasy or smelly foods are not allowed as they can leave after smells and can cause staining if the food comes into contact with bedding, furniture, rugs, etc. Food such as sandwiches and drinks can be consumed in the rooms but care should be taken to avoid spillage etc. If deep kitchen cleaning is needed at the end of the guest(s) stay, a minimum $50.00 USD per day fee will be charged to the occupant's account. Any damage to furniture, bedding, rugs, etc., will be subject to additional charges required to make good or remedy such damage or loss. Smoking Policy There is a non-smoking policy enforced inside the El Mirada apartments. If either the occupant or occupant's guest(s) sets off the fire alarm due to smoking inside of the apartment, all occupants will be asked to vacate the premises and forfeit any monies paid; this is non-negotiable. Permitted smoking areas will be identified on site. Smoking on El Mirada premises outside of the designated area(s) will result in a $100 USD fine/charge. Cleaning Policy El Mirada offers everyday light cleaning service for each apartment at no additional charge. However, when heavy cleaning is needed as a result of a guest's stay, a minimum additional $50.00 USD fee per day will be charged to your account. We will provide plastic bags for the bathroom and kitchen trash. You must dispose of your trash and refuse in the bins using plastic bags. Blue bins must only be used for the disposal of recyclables. Failure to comply with all these stipulations will result in extra charges to you, of at least $50.00 USD per day. It is very important to keep the premises clean, so please maintain the apartment(s) as clean as possible in order to avoid any additional charges. Damages and Breakages Policy Damages incurred to El Mirada property as a result of apartment occupant or guest(s) of occupants, will result in fees that will be billed to the apartment occupant. Fees may vary depending upon the amount necessary to restore or replace the damaged property up to, and including, the inability to rent the apartment(s). If you or your group cause damage or loss of any kind to El Mirada, other guests or their property, you (as the person making the booking) will be responsible for that damage or loss and you shall be liable to pay to El Mirada on demand the amount required to make good or remedy such damage or loss. If you or your group cause damage to El Mirada, other guests or their property, or otherwise breach any of these terms and conditions, El Mirada reserves the right to: •Cancel your reservation with immediate effect and (if appropriate) eject you from El Mirada premises; •Retain all sums paid by you and/or charge you the full amount of your reservation; and/or •Refuse future reservations from you and/or refuse you entry or accommodation at El Mirada. El Mirada will not be liable for any refund or compensation in such circumstances. Parking Policy Self-parking is available and limited to one parking space per apartment. We accept no responsibility for losses or damages to vehicles in the EL MIRADA's facilities, under no circumstance. No moving vans or oversized vehicles are allowed in the parking lot of El Mirada. Please contact El Mirada for alternate parking needs. Noise Policy EL MIRADA is a place to enjoy and rest. It is not a place for parties. Loud noises and music are prohibited because it will disturb the peace of other guests and neighbours. Parties are not allowed for the same reason. Music and noise should be keep at minimum level after 10:00PM to avoid any inconveniences to other guests. Failure to comply with this policy will result in extra charges to you, of at least $50.00 USD per occurrence. Surveillance Policy Security cameras are located outside of El Mirada as a deterrent to crime. If any illegal crime or suspicion of an illegal crime is caught on camera, it will be immediately reported to the authorities. Guest and guest(s) of the occupants are responsible for also reporting any criminal activity being committed on the property. If the guest or guest(s) of the occupants including minors commits or is suspected of committing an illegal act, it will be reported to the corresponding authorities. The guest and guest(s) occupants will be immediately banned from our facility without any refunds. Liability Policy We do not accept any liability for any damage, loss or injury to any member of your party or any vehicles or possessions within the facilities, unless unmistakeably proven to have been caused by our negligence or that of our employees and agents. For any complain or dispute, in all cases, you agree to submit to the jurisdiction of Baja California, Mexico, and try to settle any disagreement by arbitration whenever possible, under the laws of Baja California, Mexico and renounce to any other jurisdiction.
Privacy Policy We process information about you that you provide when making a reservation and/or upon check in at El Mirada. By providing this information you consent (on your behalf and on behalf of each member of your group) to such processing and you warrant that all information provided by you is accurate. Data collected (email address, phone number, mailing address etc.) during the course of this booking may be used to contact you about promotions and offers. We will not share your personal information with any third party. Long Term Rental Policy El MIRADA apartments are available for leasing, not exceeding one year. Special deals and services for executives and corporations.
---
---
---
---
By far our worst experience. This is overpriced for the location.Would not recommend stay. GPS does not accurately give directions to this place. Its in the middle of a sketchy place where there are no paved roads. We were the only people staying there; I can see why now. Beds were very hard and no hot water. Far and scary drive from Ensenada and main streets. She ended up charging an additional $140 for "violating her rules" even though the person who greeted us did not mention a problem. Definitely not recommended.
I'm sorry you feel that way but you booked for 4 persons and ended up with 7 in one apartment. Our policies are included in our listing and we do not accept children under 12. The neighborhood was clearly described to you. Regarding the accommodations you said you all slept very well. I kindly suggest you be clear next time about the number of people you intent to have sleeping in the property and read the rules and policies of the listing. Thank you.
---