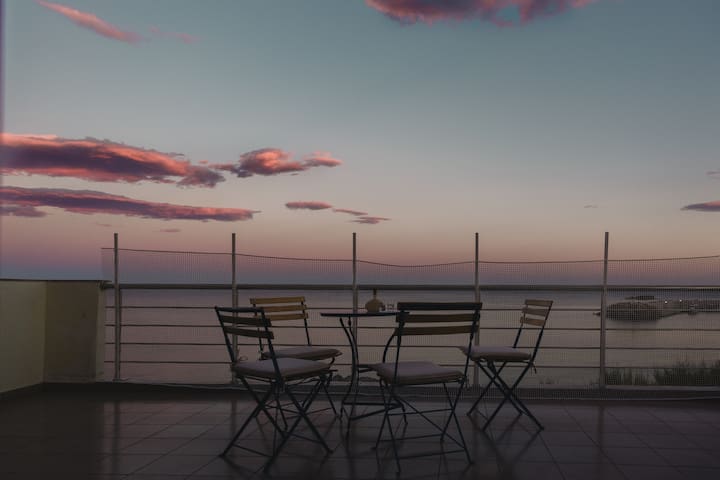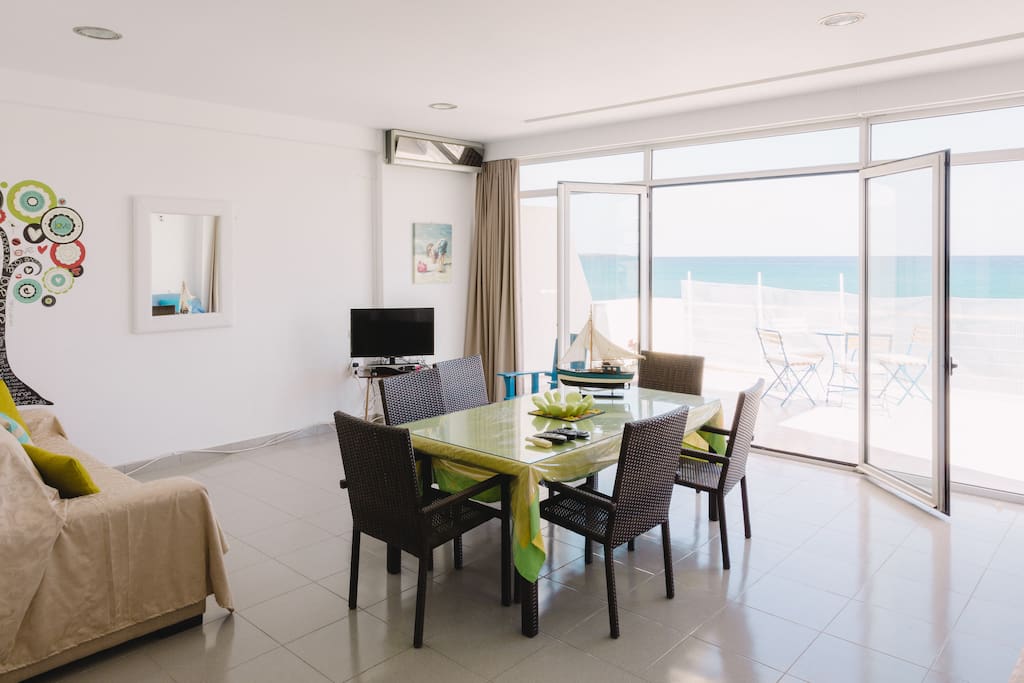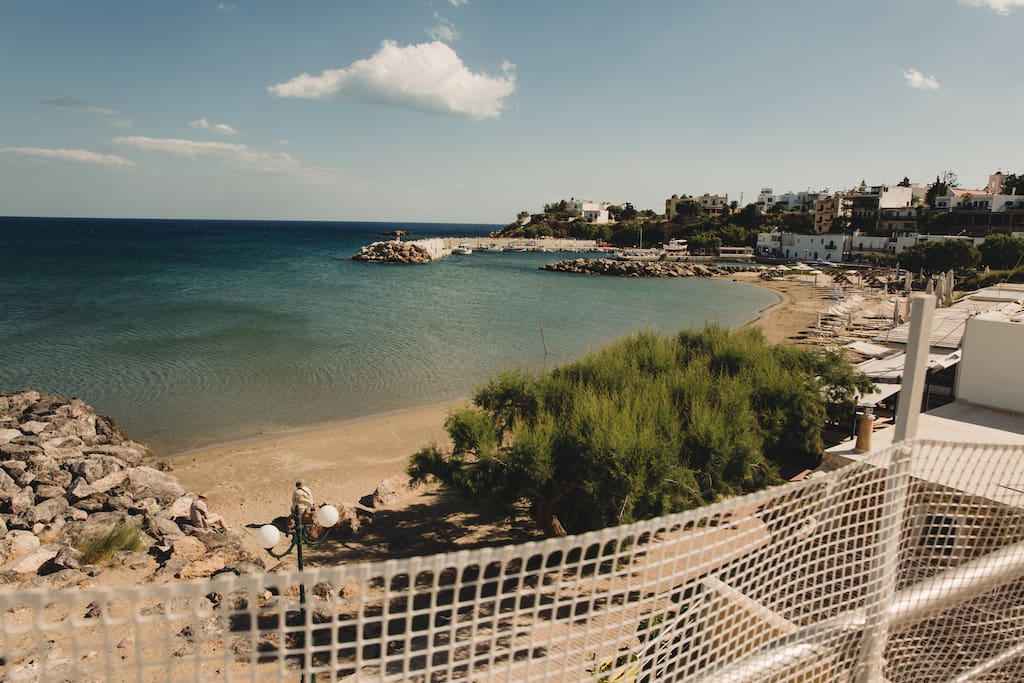 Beachfront 1st floor apartment 9meters away from the beach with the best view of Makry Gialos.
The building is new and comfortable, suitable for large families or close friends.
房源
The apartment combines the safety of staying at the centre of Makry Gialos while having immediate access to the main beach. The part of the beach, directly under the apartment, is not only perfect for swimming, but also for young children and toddlers (the waters are warm and shallow).
The place is suitable for both romantic and family holidays.
房客使用权限
In the first floor there is a common toilet for disabled. Inside the toilet you can find cleaning equipment and appliances.
与房客的互动
As your host, I will be available 24/7 through airbnb or phone. Since I am working at another area, I have selected an experienced support team, that will do whatever possible, to provide unproblematic accommodation.
其他注意事项
Our goal, was to prepare a modern place with up to date commodities, that one would choose for his own house.
Problems with the Internet, the house alarm, the tv media centre can be solved remotely without interfering with the guest's comfort.
---
You'll be "On the water"! If you like unrestricted views, super location, readily-available restaurants, tavernas, and bars, you'll be in the heart of the "local" Makrygialos scene. The property has another great amenity inasmuch as you can "shut out" the bustling beach noise, if you wish) by simply closing the excellently insulated and sound-proof terras door. You'll love it, should you decide to stay! Our best stay on the South coast to date!
---
The apartment was clean and the view from the balcony was beautiful. Nikos was a great host and the people at the cafe downstairs were friendly and helpful. We very much enjoyed our stay!
---
Appartement exceptionnel que nous avons quitté à regrets tellement nous y étions bien. Nous y avons passé 13 jours de rêve. Le balcon sécurisé est vraiment un plus et nous a permis de passer de super moments avec notre petit bonhomme de 18 mois sans craindre pour lui. La plage juste en dessous est super, les restaus aussi, le coin est tranquille et idéal pour des vacances en famille. L'appartement est spacieux, bien agencé et bien équipé, et on a l'impression d'être sur un bateau lorsque l'on se lève et que l'on voit la mer par les grandes baies vitrées. S'endormir avec le bruit des vagues... le rêve ! Nikos est un super hôte. Il nous a mis à l'aise de suite et a été très réactif à nos messages. Le service de nettoyage tous les 4 jours est aussi très appréciable... Nous avons ADORÉ et nous reviendrons avec grand plaisir si l'occasion se présente ! Merci infiniment Nikos ! Super rapport qualité/prix.
---
Das Apartment hat eine große Terrasse mit einem wunderschönen Blick aufs Meer. Mit ein paar Schritten ist man in der schönen Bucht von Makrigialos, mit feinem Sandstrand. Für uns eine ideale Lage, da wir vormittags in den Bergen wandern waren (Pefki, Moni Kapsa usw.) und nachmittags noch wunderbar baden konnten. Tavernen und kleine Supermärkte, Bäckerein alles ist in der Nähe. Das Apartment ist modern eingerichtet und es ist alles da was man braucht. Nick ist ein fürsorglicher Gastgeber und sehr darum bemüht, dass man sich wohlfühlt und ist sehr hilfsbereit. Vielen Dank noch einmal für alles Nick
---
Das Apartment hat eine große Terrasse mit wunderschönen Blick aufs Meer. Grundsätzlich hat das Apartment alles was man für einen schönen Urlaub braucht. Nick ist ein toller Gastgeber und sehr darum bemüht, dass man sich wohlfühlt und ist sehr hilfsbereit. Vielen Dank noch einmal mal für alles Nick. ________________________________The apartment has a large terrace with beautiful sea view. Basically, the apartment has everything you need for a great holiday. Nick is a great host and very concerned about making you feel comfortable and is very helpful. Thanks again for all Nick.
---
Η διαμονη μας στον χώρο του Νίκου για 3 εβδομάδες (31/07/2017-21/07/2017) ηταν εξαιρετική. Οφείλουμε να ομολογήσουμε οτι ο Νίκος ειναι ισως ο καλύτερος οικοδεσπότης που έχουμε γνωρίσει. Όλα ηταν τέλεια. Ξεκινώντας απο το σπιτι, το οποιο βρισκόταν ακριβώς μπροστά στη θάλασσα και ειχε μια απερίγραπτη θεα. Η καθαριοτητα ηταν άριστη και το σπιτι διέθετε όλες τις ανέσεις που χρειαζεται μια οικογένεια ή ενα ζευγάρι ώστε να έχει μια εξαιρετική διαμονή. Επίσης η τοποθεσία ήταν εξαιρετική διότι σου προσφέρει τα πάντα σε πολυ κοντινή απόσταση όπως: Βόλτα στη Θάλασσα, Αγορά, Νυχτερινή Ζωή, Φαγητό. Θα θέλαμε να τονίσουμε οτι η οικία ηταν ακριβώς όπως είχε περιγραφει απο τον οικοδεσπότη της στην πλατφόρμα του AirBnB. Τελος θα θέλαμε να ευχαριστήσουμε τον Νίκο, ως εξαιρετικό οικοδεσπότη, διότι ηταν διαρκώς δίπλα μας για να απαντήσει σε καθε ερώτηση η τυχόν απορία μας. Ανυπομονούμε να επισκεφθούμε ξανά την οικία του Νίκου και να απολαύσουμε την υπέροχη φιλοξενία του. Γιαννης - Βάσω - Μελινα
---