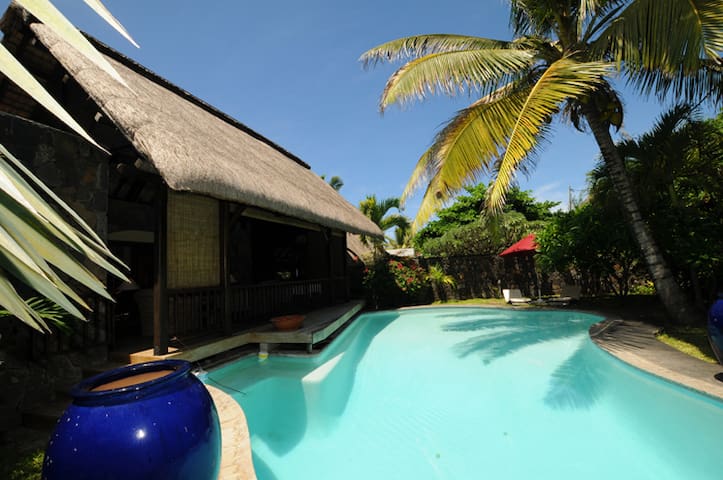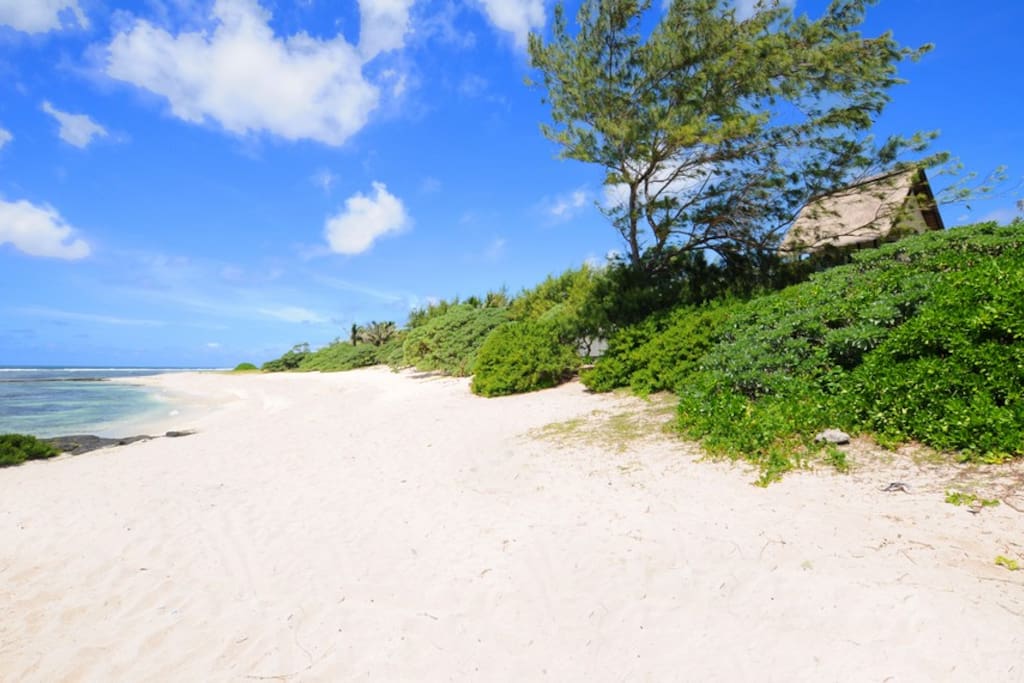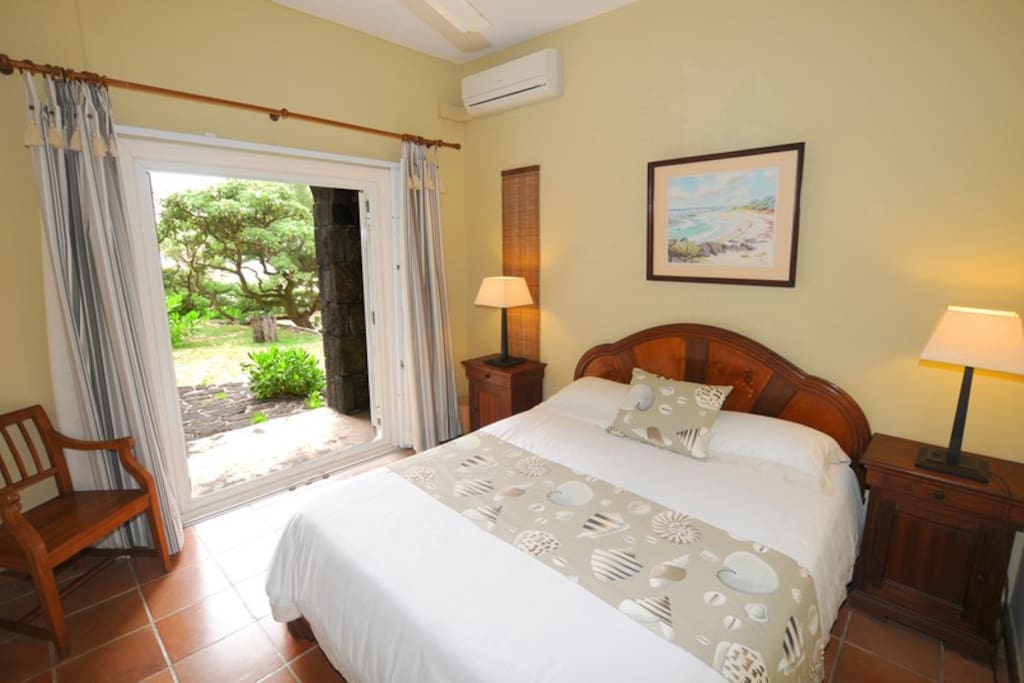 ALALILA私人别墅直接坐落于岛屿的东北部的沙滩上,带有泳池,周边环境安静并临近大自然,是情侣和家庭的理想选择。别墅可容纳8人。
---
---
始终通过爱彼迎进行交流
为了保护您的账号隐私和付款安全,请不要相信其它任何平台的折扣或优惠券代订,并始终在爱彼迎站内转账和交流。
了解更多
---
Mauritius & Villa
Arrival:
Address of your stay for customs at arrival:
Villa Alalila
route côtière,
Pointe Roches Noires,
Poste Lafayette,
Mauritius
Calling the villa: Dial ( +(PHONE NUMBER HIDDEN)
•You will find banks and money exchange at the airport. (also on Sundays or early morning).
•Guests who have booked a transfer, will be collected by Nazim Allybukus or one of his drivers who will carry a little sign with your Name. The drive takes about 75 minutes Poste Lafayette. If you desire to reserve a car please contact us.
•Pay your Transfer on your arrival at the villa and give Nazim your departure date and time for your flight back. You will need to be at the airport 2 –3 hours prior to your departure flight, so allow plenty of time.
•If you wish to hire a car, you can ask Nazim directly on your way to the villa;
•If you have booked a car with us already it will be delivered to the airport or villa as arranged.
•Directions to the house from the airport:
How to find the villa: From the airport take the motorway towards Curepipe / Port-Louis. After 20 kms at the roundabout showing Curepipe to the left, take the right exit via Quartier Militaire / Flacq. Continue straight until the traffic lights Quartier Militaire 12 kms. Turn right, cross the village, and after the bridge "Françoise" turn left towards St. Julien d'Hotman. Continue straight ahead until the crossroads St.Julien 11 kms and turn right toward Poste de Flacq. In Post de Flacq turn left and follow the coastal road. The villa is 900 meters after the hotel "la maison d'été", the last one in the row
Villa Alalila
•The Owner is Mrs. Nathalie Adam Phone. Her Phone number is (PHONE NUMBER HIDDEN)
•Key's: You will be met by the maid Madvi. She speaks French and understands English.
•VILLA ALALILA is equipped with a DVD player (no CD's). The TV receives all local channels + Satellite (French/English), sports, news. Music ect.
•Food & beverages, cleaning supplies, soap and toilet paper are NOT INCLUDED. On your arrival you will find soft drinks including bottled water in the fridge and some basic provisions as well (Salt, PEPPER, SUGAR, TEA, Coffee ETC…) ; the first meal is offered by the owner.
•Bedlinen, Towels and Beach towels are provided.
•ADLS and Wifi included.
Conditions and Agreement:
Reservations shall be for a specific number of guests as made at reservation, children included, which may not be exceeded unless it has been authorized by the owner. Additional guests will be charged in full under the terms and conditions.
According to Tourism Authority and Insurance policy, apart from you, note that no more accommodation is permitted in the villa and avoid giving access to any external person.
The accommodation provided is for the exclusive use of clients shown on the booking form or other confirmation email. Sub-letting, sharing or assignment is strictly prohibited.
Visitors are not permitted.
We are not responsible for personal belongings of Guests, including money. We strongly recommend that you keep your important items in the safe and lock all doors and windows when leaving the house.
The owner cannot be held responsible for any inconvenience caused by the interruption in the electricity supply, water, telephone and internet. No refund would be possible.
The owner cannot be held responsible for the lack of house staff (illness for example). No refund would be possible
TO TRAVEL TO MAURITIUS YOUR NEED A PASSPORT (IDENTITY CARD IS NOT SUFFICIENT)
We recommend that all guests have the required travel insurance which covers cancellation, theft, illness and accident. Please read the small print of your insurance policy before travelling to insure that you have the correct cover.
Guests can change the dates +/- 3 days. This must be confirmed at least 40 days before travelling. This is dependent on the availability of the house. The booking cannot be transferred to another person.
3.) UNACCEPTABLE BEHAVIOUR / MISCONDUCT
Air conditioning: Electricity charges are included in the rental costs. We kindly request that all doors and windows be closed when the air-conditioning is on and that the units are turned off when the rooms are unoccupied. If you wish to let the units run all day, please let us know and we will give you a quote for the additional Electricity cost which will be payable on arrival. Electricity is very expensive in Mauritius.
If this is abused, a fee will be charged on your departure day.
All guests are expected to act in a respectable manner towards their neighbor's and to ensure that they do not cause a disturbance to the surrounding Villas. In the case of any unacceptable behavior, unreasonably high noise levels or general misconduct, we reserve the right to ask clients to vacate the premises or to take action against them under the Mauritian law.

4.) CHECK IN / CHECK OUT POLICY
Check in as from 14h00 / check out at 11h00 latest.
We shall endeavor to provide earlier access and later access according to our availability. Early arrival and late departure can be secured by booking one more night.
5.) SECURITY DEPOSIT FOR DAMAGES
A security deposit of has been paid with Airbnb. This deposit will be reimbursed after your return if the Villa be found in good condition. A deduction will be made for any breakages or damage, extensive use of Electricity.
In case of severe damage to the house/property/furniture, the police will be called.
6.) SERVICES
The housemaids:
They speak French and Creole and understand English and have their own key's. Both work from 9. 00. – 13..00.
Their daily work consist of:
The do the Beds, cleaning the house, doing the laundry and ironing.
and cook lunch. Discuss the menu with her, ask for Mauritian Specialties. She will tell you what you need to buy. Food and Beverage are not included.
She doesn't attend to the shopping, but you can call the shop to deliver at the villa.
Extra hours are not included. The maid can come to cook dinner from 18 – 20 hrs for an add. Cost of +/- 150 Roupies for the evening + Transport. You can arrange with her directly your requirements during your stay.
For the laundry, put your clothes in the basket. For clothes need special care, explain to her please. No responsibility is taken for specialist laundry cleaning.
If you want to hire a baby sitter for your children, ask the maid to organize someone for you.
Personalized Service (no additional cost)
•daily housekeeping Monday to Saturday (except Sundays and public holidays)
•Cooking of Lunch
•Laundry and ironing of bedding.
•Laundry coming from previous villa shall not be washed at Villa Alalila!.
•Linen and towel change on a regular basis
Extra Services (against supplement)
•Cooking of Dinner
•Ironing of guests' clothes if additional hours
•Laundry coming from previous accommodation
•Babysitting
•Return airport transfers
•Car Rental
GRATUITIES
The service of the housemaids is included. It is the custom in Mauritius to show your appreciation with a tip, this includes Drivers, Tour Guides, Boatmen etc. …
If you were happy with the maids services we suggest 3 - 5 Euros each /day, that's the average and of course it is at your discretion.

7.) Villa Policy
•Maximum of people on reservation sheet, children included
•No Smoking inside the villa
No excessive noise
Pets are not allowed
Voltage 220-240 w
•English and continental Electric Plugs
•Only the house personnel has access to the villa (No masseuse, fisherman etc. other than permitted by the owner )
•electric devices against mosquitoes available
•There is a gate which secures the access to the pool. The pool itself is not secured and children should be under the supervision of parents or other adults at all time. Children are under your full responsibility.
•FIRE WORKS ARE NOT PERMITTED AT THE VILLA NOR IN FRONT ON THE BEACH
•Use of the barbecue on the terrace is not permitted for security reason regarding the roof made of dry sugar can leaves.

The owner reserves the right to refuse any booking, which is unsuitable for the property.
Some typical dishes to ask the maid to prepare for you.
…usually served with Rice and chutneys.
"brèdes" is a kind of spinach. You will find many different sorts of "brèdes" in the supermarket. Ask for help and do try a different type every time. You will need Ginger, Garlic, and onions.(and chilli…)
Mauritian NameIn English
Carri d'agneau, brèdes, chatiny tomate,chatiny concombre.Lamb curry (Indian)
Carri poisson, haricots rouges, chatiny tomate, chatiny concombre.Fish curry, red beans (Indian)
Carri poulet, chatiny chatiny tomate, chatiny concombre.Chicken curry (Indian)
Vindaye ourite et lentilles noir, chatiny tomate, chatiny concombre.Octopus in Safran sauce (Creole)
Vindaye poisson, chatiny tomate, chatiny concombre.Fish in safran (Creole)
Daube poissonFish in tomato sauce (Creole)
Daube boeufBeef in tomato sauce (Creole)
Salade ourite Octopus salad (Creole)
Gratin GiromonPumpkin gratin (with Fish or Meet) (Creole)
Rougail poisson salé et brèdeSalted fish (Creole)
Salade de fruit avec piment vert et selFruit salad with chilli and salt (Creole)
Poisson fritFried fish (ask the fishermen for some small "cordonniers"
Mines frites
Riz fritChinese noodles or Fried rice (full meal)
Bon appetit!
MAURITIUS PRIVATE TIPS
Groceries
We recommend that you purchase your groceries on your way to the villa before your arrival. Shops are open on Sunday morning.
Superette ADMIRABLE in Roches Noires (2 kms)
Supermarket WINNERS in Goodlands (10 Minuten by car)
WINNERS und SPAR in Flacq (20 Min by car)
Golf:
The following golf courses are also open to Non-hotel-residents.
( 20 minutes by car) Belle Mare Plage Hotel : 2 x 18 holes. Tel +((PHONE NUMBER HIDDEN) minutes by car + 10 minutes by boat) Ile aux Cerfs (Hotel Touessrok) : 1 x 18 holes Tel +((PHONE NUMBER HIDDEN)
In the south:- Heritage & Spa +((PHONE NUMBER HIDDEN)
In the south west:- Hotel Le Morne Paradis +((PHONE NUMBER HIDDEN))
Prices are around
3,000.00 to Rs. 5,000.00 per person (1Euro = 40 Roupies)

Restaurants:
Maison d'été in Poste La Fayette (5 Min) Tel. (PHONE NUMBER HIDDEN) metres from the villa. Warm Mauritian hospitality and pleasant cuisine + pizza take away)

HOTEL JALSA… 5 minutes by car.
Chez Manuel in St. Julien ( 30 Min, renowned chinese cuisine… in St. JULIEN, 15 minutes by car. ((PHONE NUMBER HIDDEN)) Call first and make an order for "Canard laqué" …
Le four a chaud-coast road, Trou d'eau douce, tel (PHONE NUMBER HIDDEN)
Le café des arts-victoria 1840, old sugar mill tel (PHONE NUMBER HIDDEN)
Resto7, Trou d'eau douce (chinese) (PHONE NUMBER HIDDEN)
Chez Tino Trou d'eau douce (creole) (PHONE NUMBER HIDDEN)

Attractions around:
Ile aux cerfs (water sport and beautiful beaches)
The Waterfalls of grande riviere sud est (by boat from Ile aux Cerfs or TDD)
Trips by Catamaran
The Water park at Belle Mare
Diving Centre
Hôtel Ambre a Belle Mare, tel : (PHONE NUMBER HIDDEN), e-mail : (EMAIL HIDDEN)

Weather
Mauritius is a year round holiday resort where the climate is fairly acceptable to everyone and the heat is never unbearable. In the summer months, from November to April, the temperature varies from 25° to 33° C on the coast. From May to October, the average temperature is about 19° t o 24 °.
The sea temperature approaches 27 ° in summertime and goes down to 22 ° in the winter.
Day light is from 5:00-19:00 in summer and 6:00 to 17:00 in winter.
To avoid severe sunburn, adequate sun care products with UVA filter agents should be used, even when overcast and cloudy during the summer months! It is advisable to wear a hat and sunglasses when in the sun during the entire day.
Clothing:
Beachwear by day and casual wear by night are the general trends. Light woollens and sweaters may be useful for the cooler evenings from June to September.
Bring along shoes for the beach.
Leave some space in your suitcase, shopping is inexpensive in Mauritius!
Topless on the beach is unwelcome.
Time difference:
Mauritius is GMT + 4 hours, three hours ahead of mid-European time (wintertime) and two hours ahead of South African time.
Money:
Mauritian Rupee
1 Euro is equivalent to about 40 Rupees. You get a better rate of exchange in Mauritius then outside the country. The Bank at the airport is open on arrivals (including Sundays and early morning) or there are banks in most villages which are open during the week. You will find credit card distributors all over the Island. Payments by credit card are accepted in many shops and restaurants except small shops and open market.

Car Rental:
This is the best way to visit the Island, discover little villages, buy some fruit on the road, take pictures, do your shopping, reach various beautiful beaches on your own and also go out for a nice dinner or Sega evening.
You can pick up the car at the airport or arrange for delivery at the house. We handle the reservation for you, payments are made directly with the the car owner by credit card.
We personally have always had a very good relationship with this private agency and to date our guests have always been very satisfied. If you have a problem, the owner will come and rescue you anywhere on the Island.
We also work with Europcar. They offer 10 % discount to our guests.
An International Driving License is not required as a European national License is sufficient.
Please make your booking as early as possible.
Mosquitoes
As in all tropical countries, there are mosquitoes. For your own comfort I would suggest a cream or spray.
You will find a electrical anti mosquito device in every room. For the outside terrace, use the anti mosquito spirals, which are very efficient! These are available in every shop.
Excursions
The best is to hire a car. You don't need a guide, you will find your way easily and people will be happy to show you the way if you get lost…
The official busses are cheap and funny to try, but not suggested for a longer trip. They are fine for a trip to the nearby villages but I would not recommend them for a journey to the north for example.
Ile aux Cerfs is nice to visit, also by catamaran, or the pamplemousse garden. Visit Chamarel and maybe Casela Bird. Helicopter flights are also very beautiful. This is however expensive.
At the Pamplemousse Gardens you can hire a guide at the entrance. Some plants are worth an explanation
We can also organise a car with driver who also serves a guide.
Bicycles
You can rent bicycles in some hotels.
You will not find designated bicycle paths and there is very little space to escape the buses and Lorries...
Deep Sea Fishing
The Southwest is well known. Good address with reliable boats and experience are in Le Morne or Riviére Noire. Minimum hire is 5 hours and boats can be shared by up to five anglers. Fishing the bait takes a while so I would recommend a full day rental (approximately 9 hours). Family member who tend to sea sickness shall prefer a beach day.
Water sports
Diving, Pedaloes, Kayaks, Water-skiing, Hobby Cats, Windsurfing, Kite surfing... at Azuri, 10 min by car.
The Mauritius Scuba Diving Association "MSDA" consists of about 15 diving centres located in most of the large hotels along the north , east, and west coasts. All of them are fully equipped with wetsuits, life jackets, compressors, regulators, etc. Aqualung diving lessons are also available in these centres. Lessons start in the swimming pool and, if one has the aptitude, quickly progress to shallow sea dives.

Map of Mauritius to buy: (URL HIDDEN)
At the end a little note, for any apartment, bungalow, villa or hotel ... As you know, Mauritius is an island situated in the tropics ... and there are some unusual features for foreigners, where Mauritians smile when mentioned. ... the call of the muezzin, the Ice seller and his music, croaking of frogs at night .... birds walking and jumping on the tin roof, the rooster crowing at 4 am , waves breaking on the reefs ( 24/24 ! ), small ants that make their way from the coconut tree to the kitchen ... the little shrew is not a mouse and is protected; mosquitoes ... the lizard or Geko who capture the mosquitoes ... and even a cockroach here and there! Spiders ... , pretty little mongoose .. these are little things that are part of daily Mauritian landscape and contribute to making its charm ...
The small creatures are not poisonous or dangerous and it might happen that you get an occasional visitor taking advantage of the open door or window. The maids do their best to keep them outside the villas.
Have a nice holiday!
---
严格
旅程开始前的7天之前取消预订可以获得50%的退款。如果在旅程开始前7天内取消预订,该预订将不可退款。
---
---
---
As a Mauritian myself I am happy to provide you with detailed information and helpful tips.
We are a group of owners renting their villas in association. Get personalized information, top service from A to Z. Only one contact person to assist you through your booking,
Staying in our villas means to enjoy a mauritian lifestyle in a private surrounding with hotel standards. Private homes mean excellent flexibility. Houses include a kitchen and a barbeque, allowing self-catering options. Besides, our villas provide you with the service of a housemaid, who is able to prepare delicious local dishes for you. This service is included in the rent.
A lot of houses have been decorated with care and personal items, enhancing your comfort.

语言:
Deutsch、English、Français