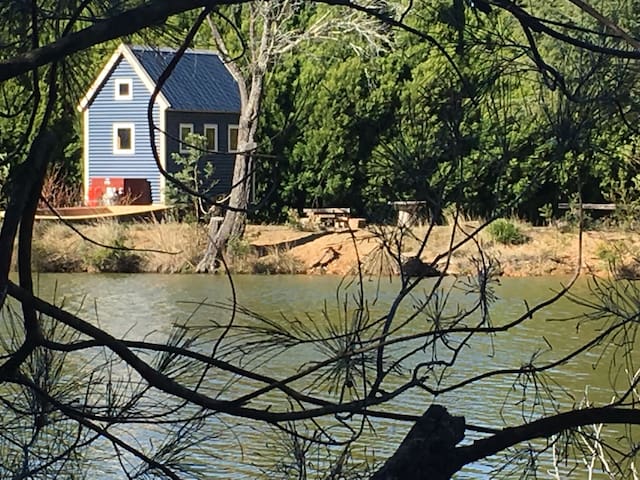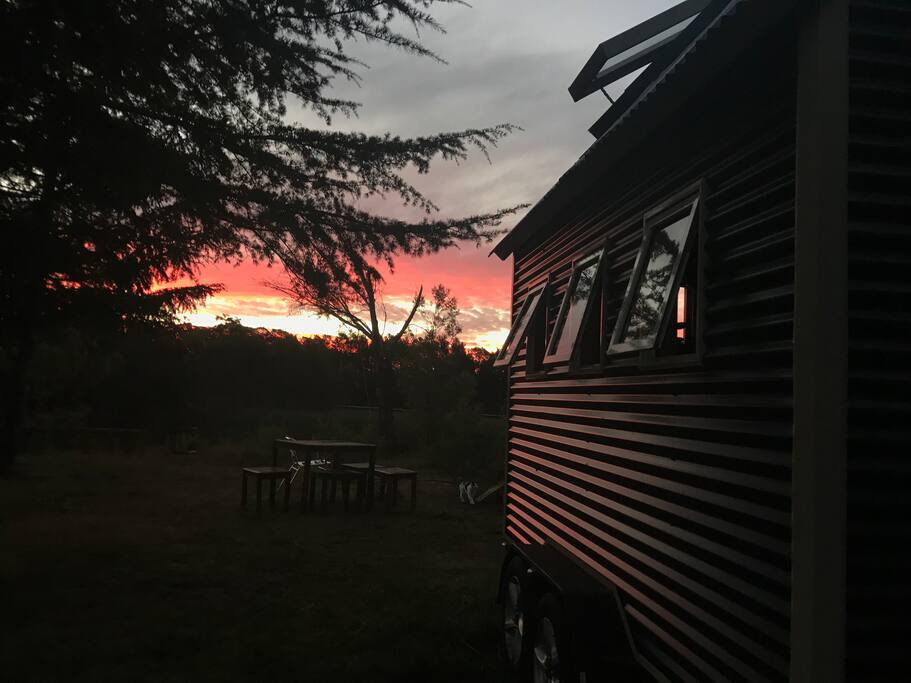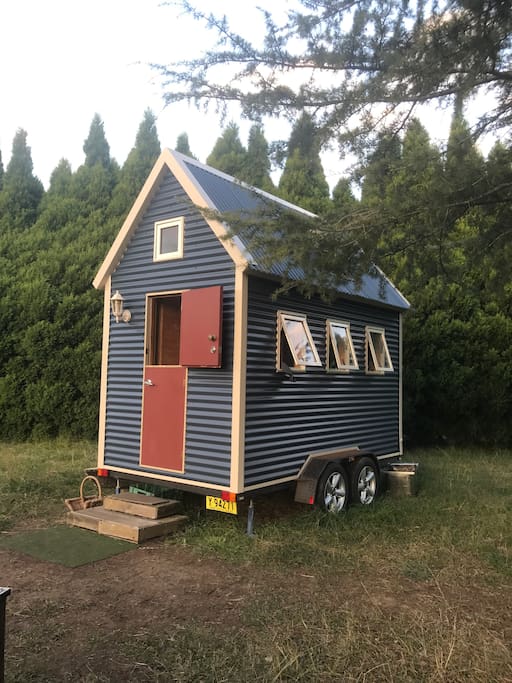 Tiny House perfect for Sydney escape.
Unique Tiny Home Experience
The Tiny Abode - your once-in-a-lifetime opportunity to stay in one of Australia's only tiny houses! This fully functional little home is only 2m by 3.6m and was lovingly hand built in Sydney by friends Beck and Reece over a period of 2 years and 2 days. It boasts a super strong steel frame clad in Australian colourbond with a cosy inside of wood paneling and steel features.

Follow Tiny on Ig @thetinyabode
房源
[This is the original listing for the Tiny Abode. It has been re-listed under the main host profile, The Savoie Family. This listing will be deactivated soon.]
The light filled space is a comfortable retreat for 2 people sleeping in the loft space but the Tiny can accomodate up to 4 using the large lounge (a touch smaller than a single bed) and a colourful Mexican hammock.
Months of research and design contributed to each "room" in the Tiny Abode and countless hours were spent mulling over each decision to ensure the house uses the small space to its advantage. We believe it has been a success and now it's your chance to try this new way of living.
Perfect for a trip away from the hustle and bustle of Sydney, Wollongong, Canberra or afar! This experience will allow you to immerse yourself in nature and enjoy this tiny space like no other.
Loft:
One of the highlight features of the Tiny Abode is the bedroom loft with an opening roof window. It has a full double bed with numerous pillows and is also perfect for an afternoon reading nook as you can comfortably tuck yourself next to the window to appreciate the last of the sun's rays.
Kitchen:
Definitely one of our more exciting achievements was completing the handmade kitchen complete with a small fridge and gas cooktop. This simple affair is all you need for many delicious meals and everything is only an arms reach away making cooking a breeze.
Bathroom:
Tiny spaces mean for creative solutions. The bathroom is a "wet bath" meaning the shower, mirror and toilet are all in together just like in a boat. This space brings the outside in by using corrugated iron in a very Australian design. The cold shower is an exciting awakening in the morning and will keep you alert and refreshed long through the day. The toilet is a cartridge model similar to those seen on caravans and boats and is bio friendly. For your convience it will be emptied for you by the hosts before and after your stay.
Living space:
This is where the Tiny excels. The great room (which is practically all the rooms) is the ideal place to unwind and relax. Two comfortable stools and a fold down table make it easy for two to enjoy a meal whilst appreciating the view. The lounge is more than comfortable for 4 people and is a wonderful spot to cuddle up on a winters day. Like hammocks? We do too! Enjoy our single cotton hammock with its funky colours as a bed or an afternoon nap spot. One of our favourite features is the front door which is a stable door so the top can move independently to the bottom.
Other:
The Tiny Abode also has linen storage under the lounge, a small wardrobe (best if you travel light), a bookshelf nested in the table and a pantry.
Utilities:
The Tiny Abode is powered using 240V mains power. Water is supplied by a custom made water tank underneath the trailer frame. Gas for the stove is located on the frame of the trailer.
Suitability:
Let's start by pointing out Tiny House living is not for everyone. Some people are absolutely horrified at the idea of trying to live in a space smaller than some peoples bathrooms. We understand some people are not excited about simple living. We get that. That's cool. This may not be your sort of thing.
On the other hand there are thousands of people interested in the International Tiny House Movement. Do you like minimalism, simple living, and looking after the environment? Great! Welcome home friend! This is for you!
IMPORTANT NOTE:
Are you and guests willing and able to:
Climb stairs in and out of the house?
Climb a wooden ladder to the loft?
Live without a heater?
Live without a hot shower?
Live without a microwave? (*gasp!*)
Live without a television? (*GASP!*)
If you answered yes to ALL these questions then this is for you! If not, then we are sorry - you may not enjoy your stay at the Tiny Abode and a more conventional Airbnb might be up your alley.
The Tiny Abode has no disability access and would be hard to navigate for anyone with low mobility.
Why stay?
This is the only way to experience true Tiny living in Australia! We cannot wait for more people to appreciate the wonders of Tiny Home living.

About the location:
Duckwood is a picturesque property located in Yerrinbool in the Southern Highlands south of Sydney. Just an hour and 20 minute minute drive out of the CBD it's close enough for a weekend retreat. If you wish to travel by train Yerrinbool has a station which is a 20 minute walk from the property. The only reminder of the city is the train line that passes close by on the west of the property.
The Tiny Abode has been placed in the best location next to the dam to make the most of the sunlight and views.
Activities:
Nearby Mittagong is a 14 minute trip by car or a 34 minute trip by train or bus.
Mittagong is considered the gateway to the Southern Highlands and offers a number of attractions including numerous award winning wineries and some enjoyable bush walks.
Bowral is a 19 minute trip by car or a 38 minute trip by train or bus.
Bowral is the largest town in the southern highlands and there is a whole page dedicated to the activities available on the Visit NSW page (URL HIDDEN)
Or just relax and spend some time without doing any activities. You may like to say hi to Crosby the resident beagle, give Belle or Lily a kitty scritch, cuddle one of the hosts bunnies or spend some time just reflecting and enjoying the space.
We cannot wait to have you stay at this wonderful property in this very unique Australian Tiny House. Don't miss this opportunity!

Safety features: Fire blanket, Fire Extinguisher
House rules: Also - must be able to confirm you have read the suitability criteria (Can climb a ladder, live without a microwave etc.)
与房客的互动
The hosts are available when needed (unless specifically mentioned otherwise), just come knock on the door of the cottage.
其他注意事项
Tiny位于靠近南部高地的火车线。有通过火车的噪音。
Tiny is located close to the southern highlands train line. There is noise from passing trains.
---
宠物所有者: Dog(s)、cat(s)、other pet(s)
---
---
---
- Are you and guests willing and able to: Climb stairs in and out of the house? Climb a wooden ladder to the loft? Live without a heater? Live without a hot shower? Live without a microwave? (*gasp!*) Live without a television? (*GASP!*)
- Pets are welcome but they must be friendly towards other animals and children. Chickens free range the farm and you need to confirm your dog will not chase them!
This is a farm stay and there are young children on the premises. If you're looking for a fancy hotel stay with all the extras, this really isn't for you.
While every effort is made to keep your area clean and tidy, when you are surrounded by nature some will make its way inside, toys will be scattered around at times.
Similarly we expect you to leave your area tidy. It's fine to leave the bed unmade, but rubbish scattered everywhere is not acceptable. If you wouldn't treat your own home in such a state, don't treat ours.
---
---
---
---
The Tiny was FUN! Our family loved it! The campfire left ready to go and the eggs offered were a lovely touch. My hubby and I found the foam mattress a little uncomfortable as we are not little people and the place could do with a general clean. The Savoie's were GREAT communicators and very flexible and willing. Definitely worth a stop over if you've got the chance.
---
Tiny was a memorable and unique stay for a night. Secluded (except for when trains come past... would recommend earplugs for light sleepers). Being winter it was also a very cold. Luckily there were extra blankets provided, but even with these plus the heater downstairs, it would pay to bring warm sleepwear/hot water bottle/human to snuggle. Jess was lovely and a great communicator!
---
The Savoie family moved out to Yerrinbool from south west Sydney in January 2017 to enjoy the country lifestyle and work toward self sustainability.
We are Gregoire (Greg), Jessica (Jess), Andre and Alienor.
Greg is French Canadian and migrated to Australia in 2010 after meeting Jess on a popular social network. We married later that year and had ceremonies in both Sydney and Montreal. Andre arrived in 2012 and Alienor (pron Elanor) in 2016. We are a 'crunchy' family. Gentle parenting, home birthing, home schooling, baby wearing, nature loving. Greg speaks Quebecois French and is an avid (ice) Hockey fan, ask him about the Habs. Jess is full time mum and ex-accountant. Andre is train obsessed and wants to be a track worker and train driver when he grows up. Alienor can say mama, dada and nana at the time of writing :-)

We have many pets. Crosby the infernal friendly beagle (named after Sidney), Belle the tuxedo cat, Lily the calico cat, two bunnies Cookie and Cream, Sylvia the nosey sheep, 12 chickens all named Thomas, fish, and whatever strays past.
语言:
English、Français