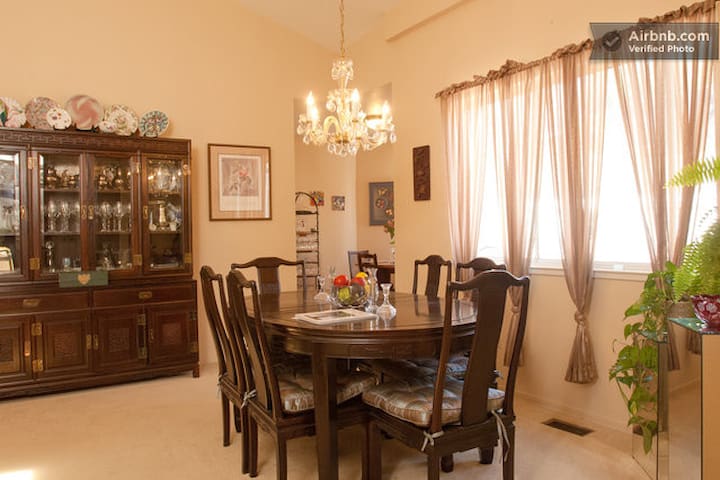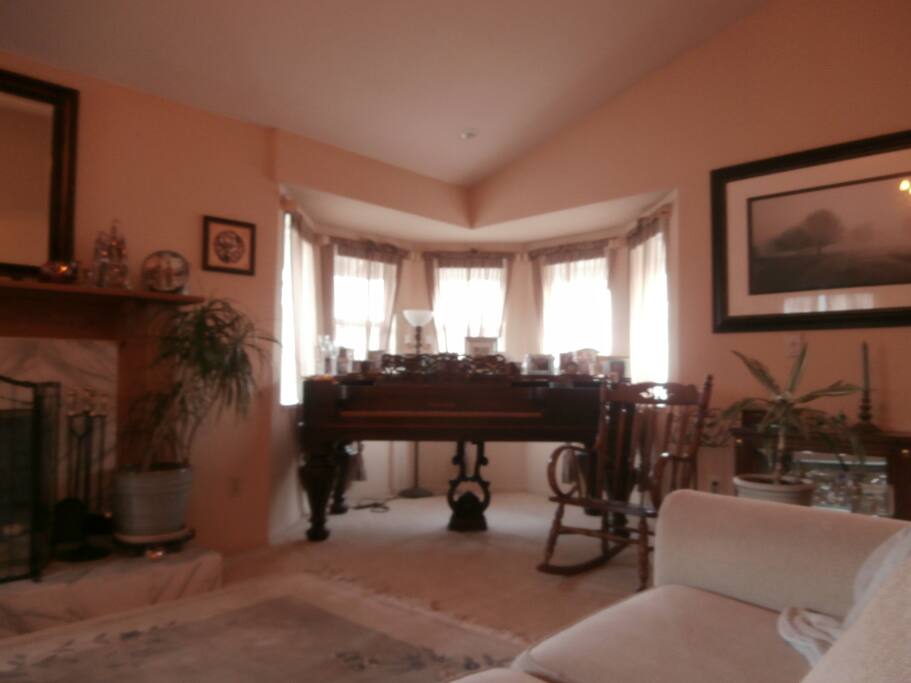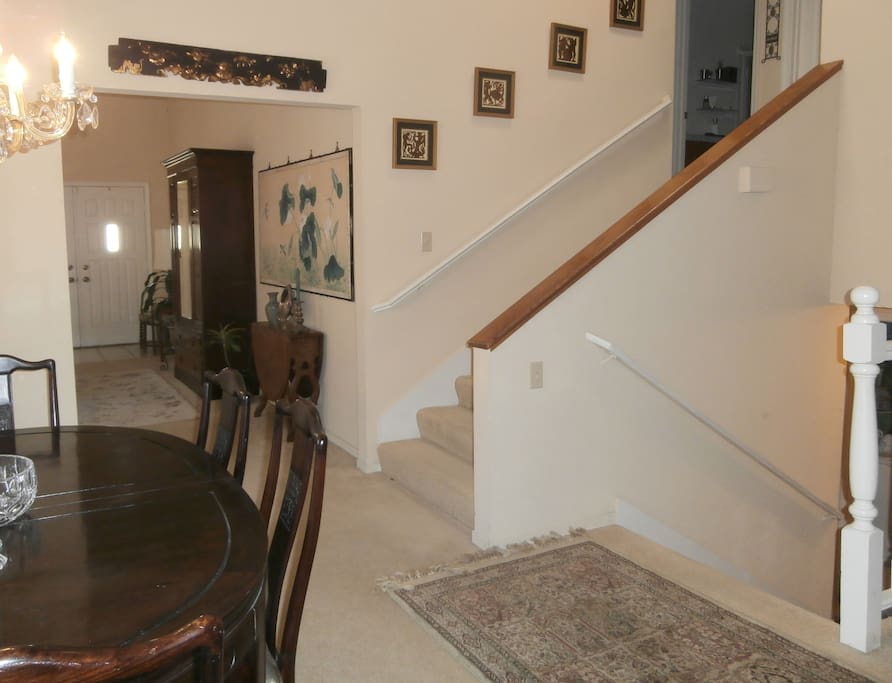 WINE COUNTRY: 2 BR + Bath n Brkfst
这些客房包括我们的WAFFLE早餐。 我们的英文玫瑰套房与私人浴室通常包括在内。 (我们保留取代非洲房间和私人大厅浴室的权利)。我们的印度或法国的房间将是您的第二个空间,取决于入住。 靠近纳帕的葡萄酒之乡,探索王国,JellyBelly,Cal State Maritime加百威啤酒和工艺啤酒! 我们有一个令人惊叹的景观,包括GOLDEN GATE BRIDGE 没有NICOTINE在过去30天内使用!请确认。
These rooms include our WAFFLE breakfast.
Our English Rose Suite with private bath is generally always included. (We retain the right to substitute the Africa room and private hall bath). Our India or French room will be your second space, depending on occupancy.
Near Napa's Wine Country, Discovery Kingdom, JellyBelly, Cal State Maritime plus Budweiser and Craft beers, too!
We have an AMAZING view including the GOLDEN GATE BRIDGE
NO NICOTINE use in the past 30 days only! PLEASE confirm.
房源
请向下滚动到"联系主机"按钮以在...内查询。 我们建议您先询问。我们不保证日历是最新的。如果您确认组中没有任何人以任何形式使用尼古丁,您还将获得更快的服务。 我们可以容纳多达12或13个组合,这个上市可容纳2到7个。 ~英文玫瑰室,一个四舍客忌的休闲别致的放纵与四柱大床,通常总是包括在这个列表中。醒来醒来,开始你的一天在一个阳光明媚的心情!浪漫的细节是其亮点。您可以享受新装修的私人浴室,包括淋浴间。 根据目前的职位空缺,我们将竭尽全力尊重您选择第二间卧室的要求。 ~印度房间:绿色和沙滩佩斯利配孔雀配件。大号床拥有豪华的床单,享有Solano和Marin县的美丽景色。房间里还有一个被褥。 ~法国印象派房间:舒适的蓝色和白色装饰和一张古董双人床。感觉放纵,放松和休息,也醒来到清晨的光。对于非常高的人(超过5 10")不是很好 ~非洲斑马客房:黑白与一张大床位于楼下。这个看法和印度的房间一样。 除了药物,过量的酒精和尼古丁以外,我们是绝对的ALMOST主机。替代LS友好。 ****我们会阅读房屋规则*** *将优先于没有的客人。
Please scroll down to the CONTACT HOST button to inquire within....
We recommend that you ASK first, please. We do not guarantee that the calendar is up to date. If you CONFIRM no one in your group uses nicotine in any form, you will also receive faster service.
We are able to host groups of up to 12 or 13, this listing accommodates 2 to 7.
~The English Rose Room, a to-die-for Shabby Chic indulgence with a four poster queen bed, is generally always included in this listing. Wake up to morning light, and start your day in a sunny mood! Romantic details are its highlight. Enjoy a newly remodeled private bathroom, including shower over tub.
We will do our best to honor your request for your choice of a second bedroom, depending on current vacancies.
~India Room: Green and teal paisley with peacock accessories. The queen bed has deluxe linens and a gorgeous view of Solano and Marin Counties. There is a single futon in the room as well.
~French Impressionist Room: Soothing blue and white decor, and an antique double bed. Feel indulged, relaxed and rested, also waking up to early morning light. Not great for very tall people (over 5 10")
~African Zebra Room: Black and white with a queen bed, located downstairs. The view is the same as the India room.
We are tolerant hosts of ALMOST anything except drugs, excess alcohol, and nicotine. Alternative LS friendly.
**** GUESTS WHO READ THE HOUSE RULES*** *will be given priority over guests who do not.
房客使用权限
我们提供真正的BnB体验。有人总是(但不总是)有人来托管和照顾你的需要。 INSIDE:您的房间,厨房,客厅,餐厅和两个浴室。提供Wifi,环绕声和洗衣服务(请求帮助!) 外: 在路边停车是丰富的。路边停车位可能会提供。请问。 我们的后院是一个正在进行的工作,但是请享受甲板和火炉,这两个都可以欣赏到城市的壮丽景色。谭和圣巴勃罗湾。 甲板上只能从家庭房间进行,而房间是业主的工作空间,而不是共同/共同的区域。照片显示了最好的房间,我们给你的通知是最"住的"房间,很少是最好的。杰瑞在工作时是社会的;杰米不是
We offer a true BnB experience. There is ALMOST ALWAYS (but not always) someone present to host and care for your needs.
INSIDE: Your rooms, Kitchen, Living Room, Dining Room,and two baths. Wifi, Surround sound and laundry are available (ask for help!)
OUTSIDE:
On street parking is plentiful. Off street parking may be available. Please ask.
Our backyard is a work in progress, but please enjoy the deck and firepit, both of which have expansive views of the city towards Mt. Tam and San Pablo Bay.

Access to the deck is only from the family room, which is owner's work space, and NOT a common/shared area. The photos show the room at its best, and we are giving you notice that is the most "lived in" room, so rarely at it's best. Jerry is social when working; Jamie is not.
与房客的互动
物业特色: 如果您觉得我们的存在是必需的,请告诉我们。我们也希望在您的面前感到受到欢迎 - 如果您沟通您的隐私需求水平最好。 Jerry将很乐意在短期逗留期间准备美味的欧陆式早餐。这包括他曾经流行的华夫饼,酸奶,新鲜水果,真正的枫糖浆和谷物,咖啡和茶。 如果您有特殊的饮食或安排需求,我们可以与您合作。与杰瑞沟通,一样。 杰瑞是糖尿病患者,吃饭时必须吃饭。考虑到这一点,做饭。 我们可以做(用Jerry烹饪)坐下来吃饭1-18位客人! (我们已经做了200多个活动!) 主要物业: 帮助自己预先做好自制的华夫饼干,谷物,咖啡和茶,甜味剂和牛奶早餐。您还可以使用调味品,香料,油和醋进行其他餐点。 长期顾客:折扣率通常不包括早餐,厨房用品的使用非常有限。
HOSTS ON PROPERTY:
If you feel our presence is required, please let us know. We also want to feel welcome in your presence - it is best if you communicate your level of need for privacy.
Jerry will be happy to prepare a yummy Continental breakfast during short term stays. This includes his ever popular waffles, yogurt, fresh fruit, real maple syrup and cereals, coffee and tea.
If you have special dietary or scheduling needs, we can work with you. Communicate with Jerry, regarding same.
Jerry is diabetic, and must eat when he must eat. With that in mind, cook away.
We can actually do (with Jerry cooking) sit down dinners for 1-18 guests! (We have done over 200 events!)
HOSTS OFF PROPERTY:
Help yourself to pre - but home made waffles, cereal, coffee and tea, sweeteners and milk for breakfast. You may also use condiments, spices, oils, and vinegars for other meals.
LONG TERM GUESTS: Discounted rates generally exclude breakfast and very limited use of kitchen staples.
其他注意事项
如果你在这里进行房屋追捕,杰米是一个REALTOR®RE / Max Gold。代表买家代理,她已经赢得了她三年来尝试的每一个多重报价比赛。 其他专业商务服务:~转录(含医疗) ~房地产贷款签约 ~一般公证 每间客房将保留100-250美元的保证金,除非有损坏或吸烟,否则将全额退还。我们想把它全部回来! 我们有玩具狗狗狗,暴雪。他表现很好。他会忽视你(除非你对他很友善),而且是HYPOALLERGENIC和跳蚤自由。 !!!!!请不要试图在前门宠爱他!给他时间给你暖暖!!!!! 如果我们要对房子进行更改,或者您有不寻常的需求,我们可以在您订阅之前,创建一个额外的合同,并超出AirBnB的TOS。
If you are here while you conduct a house hunt, Jamie is a REALTOR® RE/Max Gold. When acting on buyer's behalf she has won every multi offer competition she has attempted for nearly three years.
OTHER Professional business services available: ~Transcription (including Medical)
~Real Estate Loan Signing
~General Notarization
A $100-250 security deposit will be held per room, and unless there is damage or SMOKING, is fully refundable. We want to give it ALL back!
We have a toy poodle service dog, Blizzard. He is extremely well behaved. He will ignore you (unless you are friendly to him) and is HYPOALLERGENIC and flea free.
!!!!! Please do not try to to pet him at the front door! Give him time to warm up to you!!!!!
IF WE HAVE TO MAKE ALTERATIONS TO THE HOUSE, OR YOU HAVE UNUSUAL NEEDS, IN ORDER TO ACCOMMODATE YOU, WE MAY CREATE AN ADDITIONAL CONTRACT ABOVE AND BEYOND AirBnB's TOS.
---
---
---
NO WEAPONS OF ANY SORT!
Each member of your party will be described, if not included in your profile.
Photo ID required of each non family (unrelated) guest prior to arrival for insurance purposes. The profile guest is entirely responsible for the behavior of their entire group.
Guests must be NICOTINE FREE.
Eat and drink on the main floor only. (Except water.)
NO Shoes inside. If you need socks, just let us know. You must wear shoes outside.
Clean up after yourself immediately after your meal, to the same level as the kitchen was found.
You agree to let us know immediately if there is any kind of problem, and allow us have the chance to correct it. Especially cleanliness. (We work towards 5 stars and if we don't know there is a problem, we can't fix it.)
We take our drought seriously. Use water accordingly. Ask for details.
You are sharing the house with other guests. Clean up in the bathroom, especially the hair trap in the shower after every use.
PLEASE DO NOT FEED THE DOG ANYTHING! Do not touch him without asking.
As a general rule, Vallejo is less safe than other cities although it is getting better all the time. We are in one of the safest neighborhoods for 20 miles. We are not in the most convenient location. You understand you are trading downtown convenience for suburban safety and agree to rate us accordingly.
ABOUT CHILDREN:
It is not our job to supervise your children.
Your group must agree to parent COLLECTIVELY. It is not just your responsibility to supervise and manage any child in your group; it is that of all adults, and not just your own children, but all children.
Children standing on furniture (or doing anything else that jeopardizes anyone's safety, or even that of our belongings), will be reprimanded directly by hosts. We won't wait for parents to do their job if they are not present, or if they are present and oblivious. If children can not be controlled, we retain the right to expel the entire party.
Things we don't allow:
Jumping on beds.
Playing with chandeliers (we have high ceilings, but it's happened).
Hitting, screaming, fighting.
Running in the house, especially on stairs.
Very loud slamming of doors. (We know this happens accidentally.)
---
---
---
We really love the house of Jamie and Jerry. It's clean, quiet and has a good view. Very near to the supermarket. Jerry is very hospitality, and the breakfast is quite good. Definitely come back when visit the Bay Area again!
---
well run B&B at a comfortable price, easy drive to all Napa attractions, you won't be disappointed.
---
It was unbelievably awesome experience! Jerry and Jamie are real rockstars, who made our visit very comfortable. We really enjoyed staying at their big beautiful house. French style room with private bathroom and heavenly delicious waffles from Jerry with fruits and yogurt - those are great ingredients for a pleasant stay. The neighborhood is quiet and we felt safe like at home. I would definitely make here another stay!
---
Yes, we DO eat a lot of waffles around here!

We are a modern, married couple in a fun, stable relationship. We both work hard but enjoy skiing, dancing and travel as well. We have enjoyed hosting parties and dinners, but now we have put that aside to host travelers instead. It was good practice, though for Airbnb. Jerry likes to cook and you might be able to coax him into a delicious dinner to enhance your stay with us. Don't ask Jamie though, or you are likely to have soggy cornflakes!

Jamie comes with a small service dog, named Blizzard. He is randomly friendly (probably not at all random to him!) but don't be offended if he is stand offish. His job is to attend to Jamie.

We prefer to stay in extremely clean homes, as dust doesn't like Jamie, so we keep a very clean house. If you think something needs to be cleaner, tell Jamie, she loves learning new ways to be OCD!

We suggest that you familiarize yourself with the room that interests you, and perhaps the house rules BEFORE you contact us, They are not ALL rules: Think of the Pirate's Parley: they're more like guidelines, lol. We REALLY don't want you to be surprised by anything.

Just a little description of the photos!

1: In line at the set of Dancing with the Stars!
2: The Jelly Belly factory in Fairfield!
3: The Tea Garden at Golden Gate Park!
4: Sailing on the Carquinez Straights at night!
5: In Cinderella's Pumpkin at Children's Wonderland with our oldest grandson peaking over!
6: Blizzard saying it's time for a walk!
7: Our grandson in the Teacup at Children's Wonderland!
8: Jamie on the slide at Children's Wonderland!
9: Our tenth wedding anniversary!
10: Yacht Club, 100th Anniversary of the Titanic Party!
11: Peju Winery!
12: San Diego Zoo with our granddaughter!
13: Last New Year's at a fellow Airbnb host's party!
14: Our wedding!
15: Our honeymoon in Kawaii
16: Jerry thinking big in Las Vegas!
17: Steamboat Springs, Colorado!

On another note, if you come stay with us and need a Realtor®, Jamie is an agent with ReMax Gold BRE#


Jamie and Jerry

语言:
English