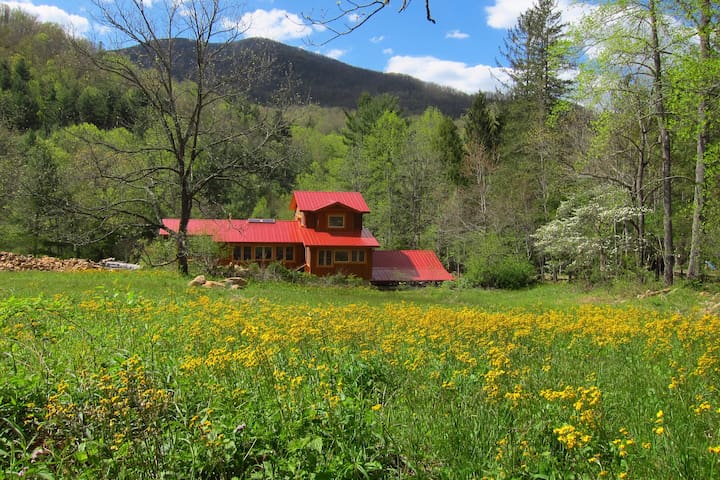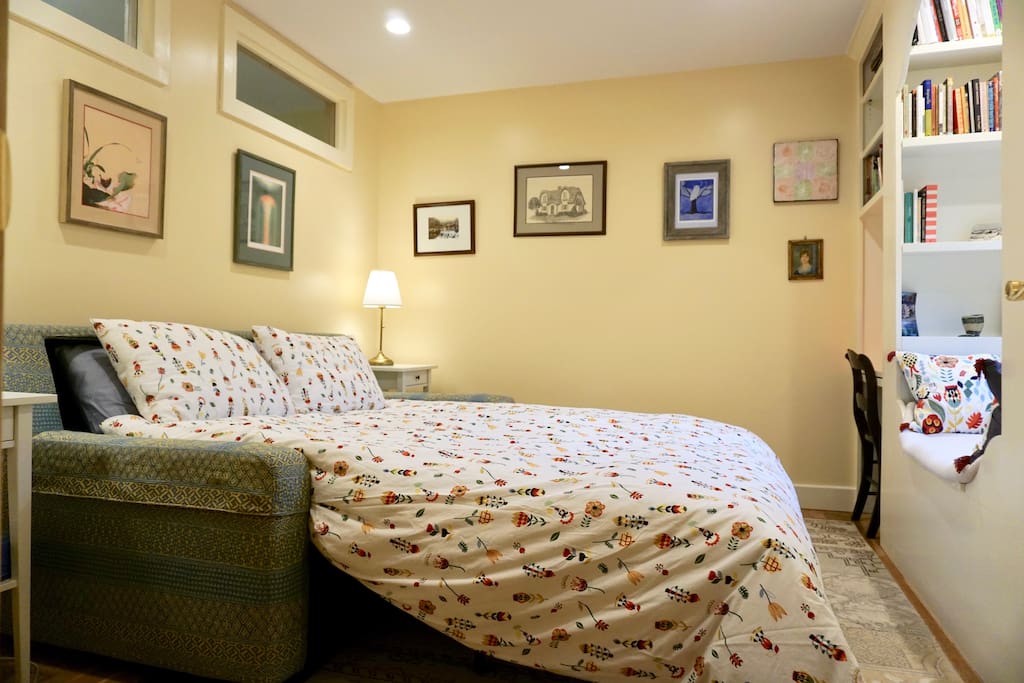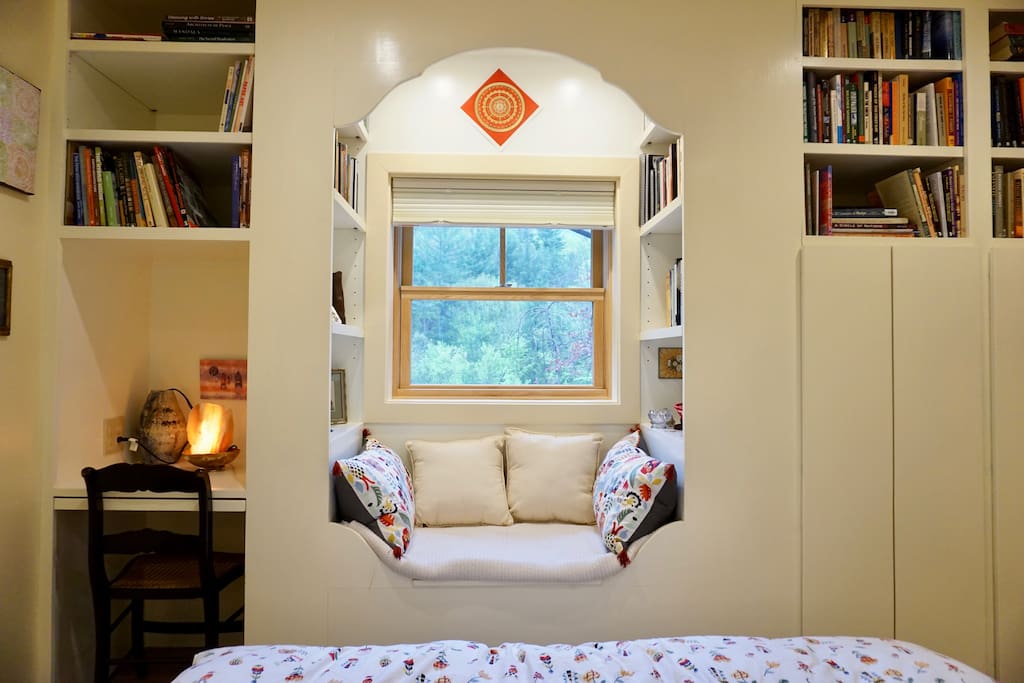 Welcome to Butterfly Farm Sanctuary, a small spiritual retreat center for people committed to their own inner transformation. Nestled on 22 acres along a river in the Smoky Mountains of North Carolina near Asheville, NC, we offer a vegetarian-only refuge for people looking to rest, reflect, re-energize, heal, create, vision, dream, or any combination of the above. We are especially interested in hosting people involved in work that is changing the planet.
房源细节
The space you will be occupying is a suite of rooms called Cocoon (bedroom, dining/kitchen/bathroom). It is entered through your own entry on the ground floor level of our home. The bedroom features a beautiful window seat that looks out upon the mountain we call Grandfather. The window seat is surrounded by bookshelves containing many books on spirituality, Native American wisdom, other international spiritual practices, as well as books on art, design, and architecture. There is also a writing desk, storage for clothes and a pull-out queen size sofa bed. This is not an ordinary - kill your back - sofa bed. It is an American Leather sofa bed which features a foam mattress with a hard-back base, similar to a platform bed. We have seen many a guest emerge much later than they intended, saying that they had not slept as well in years.
Accompanying the bedroom is a kitchenette, with cabinets; an electric, two-burner induction cooktop complete with pots and pans and cooking utensils. There is also a sink and a 5 cubic foot refrigerator. There are plates and mugs and glasses so you can prepare and eat light meals there. All cooking is strictly vegetarian with no garlic or onions (so the next guests might be able to appreciate the space as well).
This room is large and also features a dining area. Finally, there is a beautifully appointed full bath on this level which features a walk-in shower with river stones serving as the shower floor.
PLEASE NOTE: the bathroom may be shared with one to two others if we have guest(s) staying at our outdoor location (see Airbnb listing https://www.airbnb.com/rooms/15112083). We are planning a bathhouse for this listing, but for now, check with us to see if you will be sharing the bathroom. Your bedroom has a lock and will be your own secure space.
No dogs please. We have two hunting dogs that do not like to share space with other dogs. They are great with humans.
No perfumes of any kind, please.
房客使用权限
You will also have access to more than 1,000 feet of beautiful riverfront just by walking back down the main entrance drive. The mountain water is crystal clear and originates just 10 miles up in the Smoky Mountains near the Blue Ridge Parkway. It is an incredible spot for communing with yourself, writing, or watching nature as it unfolds along the river.
With pre-arranged permission, there is also available, a medicine wheel, walking paths and daytime access to Celesterra, a beautiful treehouse situated on the property. Many an hour has been passed in its loving embrace, reading, writing, meditating. Celesterra is available for an additional fee.
We also encourage working with the land while on your retreat. If you feel so inclined, we can discuss the possibility of working with us on the many projects we have in motion.
与房客的互动
Along with our beautiful coon hounds, Riga and Winston, Stella and/or Charlie will be available to greet you when you arrive. One or both of us will be on the property during your stay and will be happy to answer questions, give directions, get into deep spiritual conversations, or make recommendations of places to visit or eat, should you have any needs arise.
其他注意事项
Butterfly Farm is accessed by crossing a 1920's steel truss bridge. We love this bridge for it signifies a time to let go of the jet stream you are in and simplify your time here with the land. Just up the road about ten miles is the Blue Ridge Parkway with extensive views of the Smoky Mountain range. This is an area with more than 15 waterfalls to hike to! Also just up the road are miles and miles of national and state-maintained trails (a short 10 to 15-minute drive). The road from which you turn on to the property is a designated scenic highway and many bicyclists are seen cruising along the road. A mile back toward Waynesville is the Lake Logan Episcopal Retreat center, which affords beautiful views of the lake. There are also many available spots on the property for contemplation.
We also have another Airbnb listing that you might be interested in: https://www.airbnb.com/rooms/15112083.
- secure private entrance
- Vegetarian only
- no alcohol, drugs or hallucinogenics
Charles & Stella's Butterfly Farm is every bit as magical and wonderful as you hope it to be. Their property is truly magnificent and provides an opportunity for you to fully experience the healing aspects of nature. Charles' communication was above and beyond and welcomes you to their home as if you were a lifelong friend. Not a detail was missed when creating this sanctuary and I felt as if I were staying in a home-away-from home. My boyfriend & I hope would love to stay here each time we plan a trip to Asheville. It is private, peaceful, safe, easy-to-find, close to Asheville, TONS of waterfalls, National Forests & the Blue Ridge Parkway; meeting all of our needs. Thank you for providing the maps, books and suggestions to find all of the fabulous waterfalls just a short distance from the Farm. And most of all, thank you for your kindness and opening up your property for others to enjoy, heal and unwind.
---
The Butterfly Farm is absolutely beautiful! The land is peaceful and welcoming- home to a variety of trees, plants, and animals. Yes, there really are butterflies in the garden! Charlie and Stella have made the "Cocoon" and surrounding areas cozy and restful. Charlie was an enthusiastic and attentive host. He ensured we were comfortable - checking in daily to make sure we had enough blankets, fruit, coffee creamer, etc. I would recommend this place if you are looking to retreat into nature and disconnect for a while.
---
If you seek a paradise away from it all, then Cocoon is the place for you! It's very secluded and tucked away in the gorgeous mountains of western North Carolina, but close enough to towns like Asheville and Waynesville to anyone wanting to visit the surrounding area. The housing is big enough for anything you could possibly need in a getaway, with a great selection of books for those seeking guidance and clearing of the mind. Two of my absolute favorite things in the house was the big walk in shower, which was fabulous, and Celesterra, their treehouse on their farm, which Charlie was glad to give us a tour of. Charlie and Stella were such wonderful hosts to me and my wife, and checked in to see if there was anything we needed. They were absolute sweethearts! Their dogs were also no trouble at all, and were very friendly. All in all, we totally recommend paying Cocoon a visit, hands down the best vacation we've had!
---
When we arrived it was late and dark, but Charles and Riga (their lovebug of a dog) were there to let us in and show us where everything was. They had everything you would need, including a French press and coffee!! When we woke up the next morning we were amazed by how beautiful their property was. The steel bridge was over a gorgeous river and we watched fly fisherman at their craft - the water is so clear you can see the salmon from above! We even walked down the road a bit and were able to find a path down to the river rocks and we just enjoyed the view. Waynesville is an adorable little town just a 15 min drive away, and the blue ridge parkway only a 30 min drive up the mountain. You MUST go here, it will fill your heart and call you to come back. Charles and Stella have an amazing home and you will truly feel welcomed and loved. We especially loved the story of their home and the land, and we feel like it has become a part of us in a way. We will be back very soon!
---
We had a wonderful time at Charlie and Stella's place. They were amazing host. The place was equipped with anything and everything you would want in a cabin. Communication was very easy and immediate. Their place was easy to find. The cabin itself is cozy and beautiful. It's nestled in the woods and feels secluded; but is very close to a river, lake, and hiking trails. Within 5-10mins of driving you can be in a national forest. We had a great time and would recommend their place to everyone. We are so happy we stay here instead of in Asheville, NC. We got the well needed rest we were seeking. Thanks for the amazing time Charile & Stella!
---
Charlie and Stella are both absolutely fantastic hosts! I feel so fortunate to have visited this special piece of heaven. The beautiful Cocoon and the land provided me with so much more than I expected... from the coziest bed, creative space to read and draw, dreamy walks through the surrounding forest...and much more. I hold this place very close to my heart, and hope to return one day for continued visits, sharing and exploration!
---