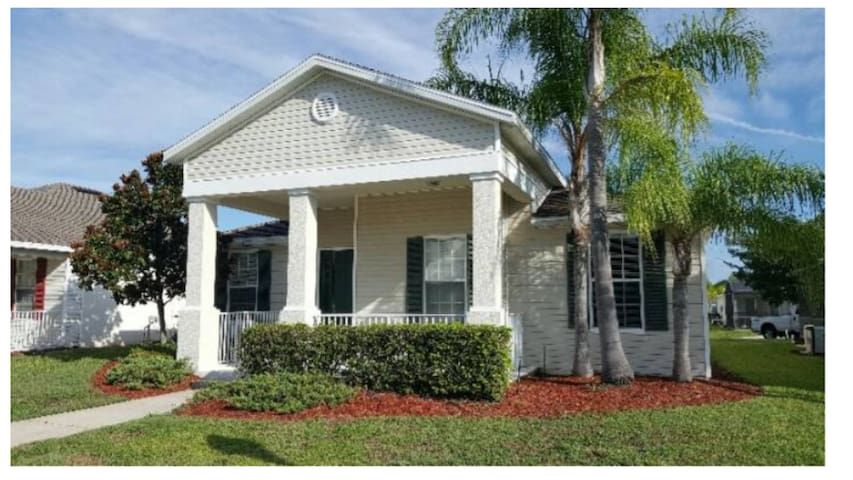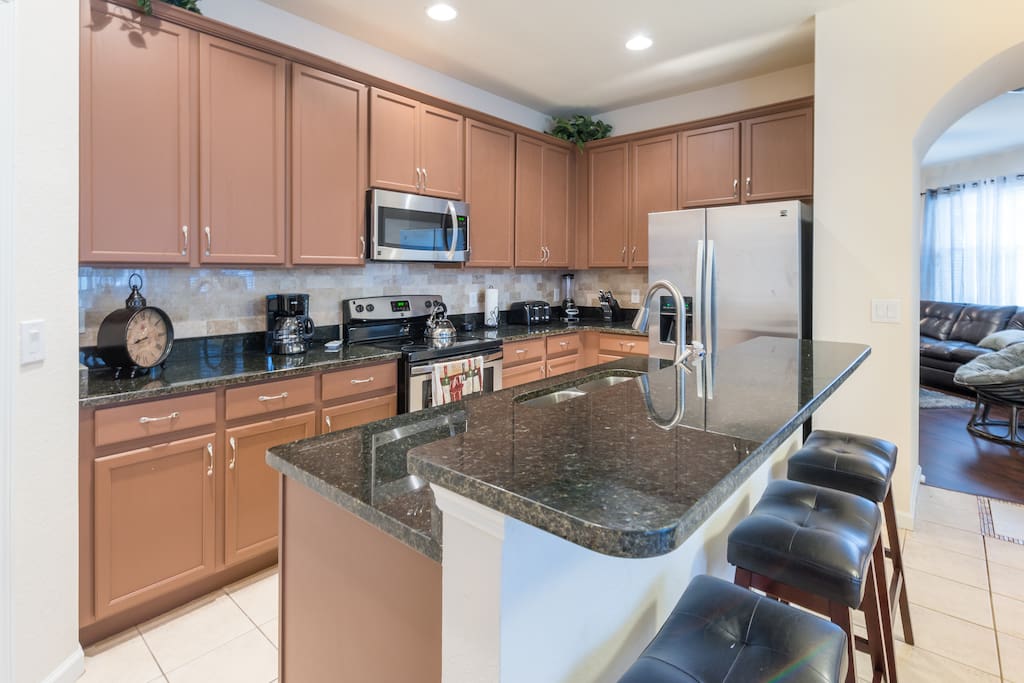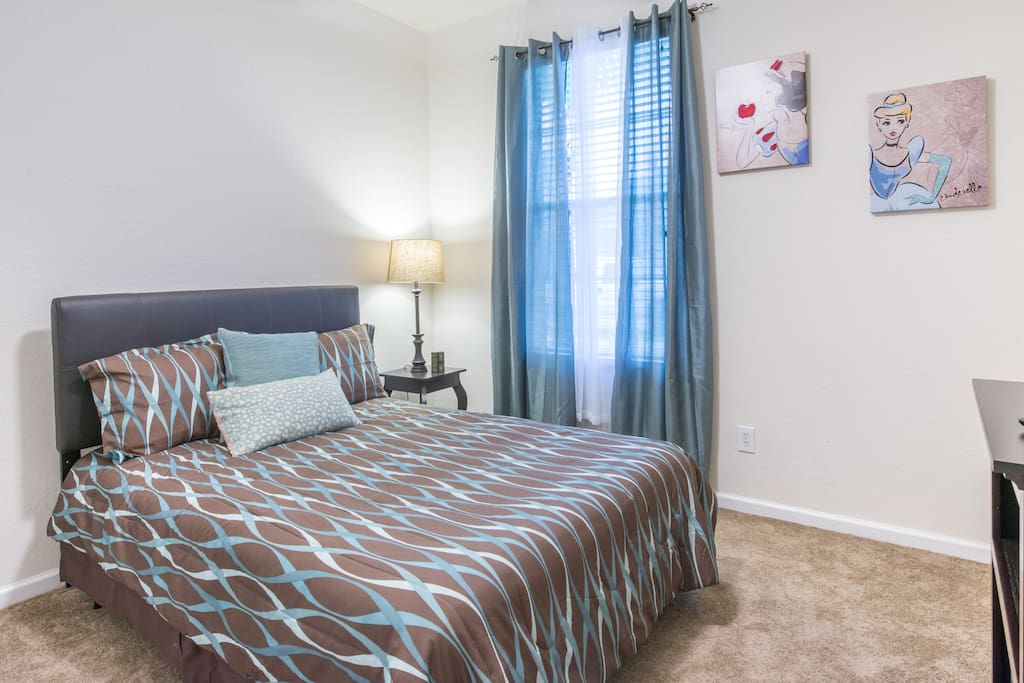 Lovely, updated Vacation Villa only a 25-min drive to Disney. Home is located on the beautiful, resort-style property of Trafalgar Village. It's your "home-away-from-home" equipped with flat-screen TVs & ceiling fans in all rooms. You can relax at the home's private pool w/spa or venture off to the clubhouse's community pool, spa, fitness center, game room, and movie theater just steps away from the villa. The home is 10mins in both directions to shops and restaurants.
房源
When children are staying in the property, please ensure that the security gate around the pool is secure at all times.
Toddler life vest provided (2)
Highchair & stroller on site
All in 1 - Pool table/ping pong/air hockey in the garage
房客使用权限
The community of Trafalgar Village provides security at the gate and the property offers a private security system in the villa.
It also has a clubhouse that includes an outdoor pool, hot tub, game room, fitness center, and movie room. The hours of the community center are between 9:00 am to 9:00 pm.
其他注意事项
Please note:
This vacation villa is stocked with most amenities; however, it is not equipped with health & beauty products, toiletries, or extra paper goods. These items will be an extra cost and need to be purchased on your own.
---
---
No more than 8 guests allowed (including children)
Quiet time 10pm per HOA requirements
$25.00 per day pool and spa heat (optional)
$15.00 per day spa heat only (optional)
$300 Damage Deposit
Any damage to the home will result in a charge to the credit card used
No glass bottles, cups, or dishes in the pool/spa area. For your convenience, plastic ware for use by the pool/spa area has been provided.
Broken glass in pool/spa can cause injuries and damage to the pool/spa. Any damage to pool/spa will be at renters expense.
---
The house was beautiful, very family friendly. This was our first trip to Florida and we stayed a week. The house was close to Disney and Universal Studios along with strip malls with a Walmart. Check In was a breeze. There was enough room for my family of six to enjoy some personal space after long days of sight seeing. I would definitely recommend the option of heating the pool/spa (we came in October) because the water was nice and warm and we used it everyday especially the spa at night after walking all day. Toni was very responsive with any concerns prior to the trip, I did not need any assistance while we were there. The Security was attentive and pleasant making us feel safe. I unfortunately did not get to go to the clubhouse because we were so busy. I would definitely recommend this home and anticipate renting it during next trip to the Sunshine State.
---
My family had an amazing time at this property. We were the first guest to stay after the devastating hurricane Irma. Eric and Toni's were in constant communication with us the week leading up to our trip and held our hand every step of the way to ensure the hurricane was not going to ruin our Disney trip. The property was in mint condition and was simply breathtaking. The home is spacious, well designed, clean, and perfect for any family going to Florida or doing a Disney/Universal vacation like we did. The parks are close by and they have a Wal-mart that is close too! The pool and hot tub at the property were awesome and so relaxing! I can't say enough good things about this property. ERIC AND TONI WE WILL BE BACK! MY family is making this property a yearly destination as we go to Florida every year for our family vacation. Thanks again!
---
Your home is beautiful. It is in a nice location too. We enjoyed ourselves and will recommend your home to others. A friend asked me what was the Services fee for I told them I didn't know. Maybe you can tell me. Also, the trash didn't go out on Monday because we got there after 4:00 and no one took it out earlier. There were 3 bags in it, already. Thanks for sharing your home. I will let you know when I'm ready to come back. So until next time. Love, Peace and Hope Bessie
---
Be aware of the pros and cons Summary: In all, I believe that this property is potentially great for families who are visiting Disney and want a quiet, modern, clean home, away from the Disney chaos, as their base of operations, rather than a hotel room. But be aware of the hidden costs of this AirBnB, as compared to both traditional AirBnB properties, and the Disney resorts. These costs are not only monetary, but also in terms of one's time and convenience. If one stays at this property, having one's own car is an absolute necessity--it is NOT located within convenient walking distance to shopping and food. Also, plan ahead to budget the time and money needed to kit out the house as necessary so that you can cook and clean for your family during your stay--NO basic cleaning supplies are provided with this property, and even basic supplies like salt and pepper will have to be purchased. Beware of the chemicals used to treat the pool, as they caused a significant allergic reaction in one of my children. Pros: --The photos are extremely accurate, and reflect what the property looks like. --The house was immaculate upon arrival. --The hosts are excellent at communicating, and in general, very responsive. --The property management firm was also very responsive. --The location is fairly convenient to the Disney parks, if Disney is the primary focus of your trip. --High capacity washer and dryer on site are very convenient. --Lots of fluffy bath towels provided. Cons: --This is less a traditional AirBnB property, in which you feel as though you are truly living in someone's home, and more of what may be considered an "investment AirBnB property," which is decorated like a model home, with all the modern amenities. Unfortunately, just like a model home, there is an emptiness when one looks beneath the glossy exterior. In particular, be warned that none of the amenities of a "traditional" AirBnB home will greet you. First, you will not interface directly with the hosts if you have any issues while staying at the property—you will interact with the property management firm. The property management firm seems pretty good, they are responsive and communicate well, but if issues arise, there is a diffusion of responsibility, among the owners and the property management firm, which will make it more difficult to resolve any challenges. The guest can feel a bit like a ping pong ball, being batted between the owner and the property management firm. Secondly, there are NO basic toiletry or household cleaning supplies, at all, provided for the AirBnB guests. Upon arrival, you will find a very clean home, but one in which the only rolls of toilet paper in the house are already hanging in the bathrooms—and some of these rolls are not even full. There are small, sliver-like bars of harsh travel soap at each bathroom sink; they last for about 3 hand washings, and barely for a full shower. The kitchen is NOT...
I would like to first thank you for choosing to stay in our vacation home during your family vacation. We do respect your comments and greatly appreciate your feedback. Just to clarify, you are right in your comments that our "vacation villas" is not like a traditional "bed & breakfast" where you are staying in someone's live-in home. These types of self-catering, vacation villas are for short-term rentals and are an alternative to traditional hotel rooms. In the owner's absence, a hired property manager is responsible for taking care of the property and meeting all guests' expectations. I am pleased to hear that my property manager was responsive to your needs. I also would like to reference your comment regarding the pool chemicals. Based on my understanding, the only chemicals used are the usual algaecide and chlorine. I will, however, address your concerns with the pool maintenance engineer to monitor further. I do appreciate the pros and cons that you have indicated and have modified the Airbnb details to reflect your concerns regarding the "extra" toiletries, cleaning products, and paper goods. Please note that while we do provide these initial items upon each guest arrival, consumption is unpredictable. Therefore, guests may need to supplement them as needed based on their group size and own usage. In addition, we also welcome all guest questions regarding the property prior to all bookings. Having guest satisfaction is a high priority for us, and we want to always ensure that every guest is satisfied with their stay in our vacation home. Thanks again for your feedback, Regards Eric & Toni
---
During your stay, you will have access to a friendly and supportive property manager that will be available to assist you with recommendations and/or any concerns or questions that you may have.
Welcome to our vacation home. We have tried to make this home as comfortable as possible. As frequent travelers ourselves, we understand what vacationers are looking for and kept that in mind as we planned to invite guest into our vacation home. Just like you, we want all the amenities to make us feel at home while on vacation. So, we welcome you to kick back, relax, and enjoy a stress-free vacation in our villa.