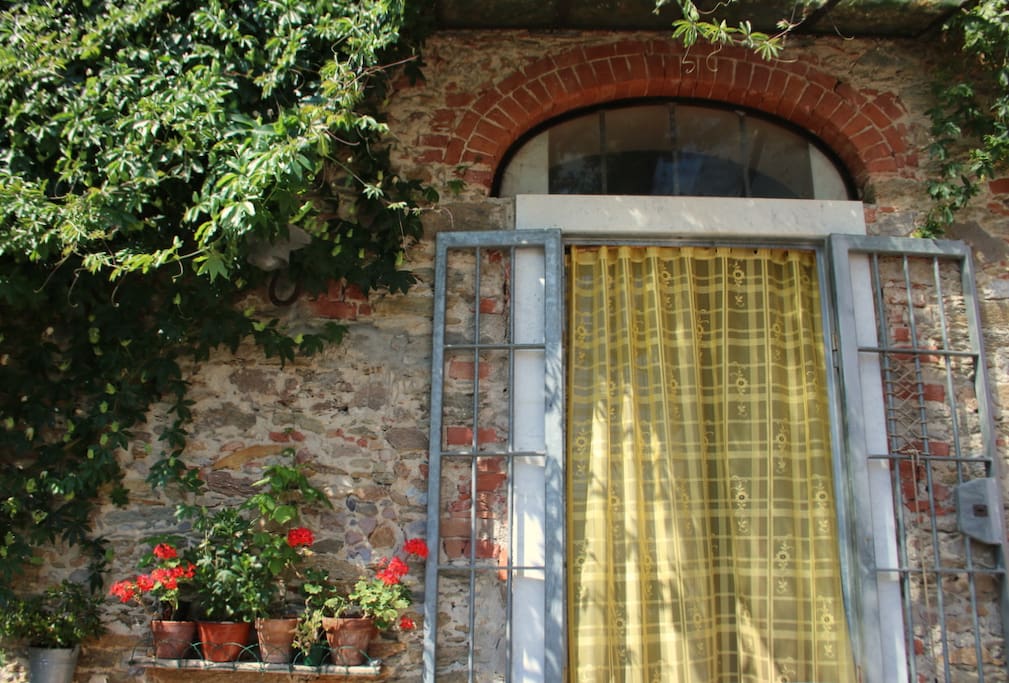 A big charming 19th century Villa only five minutes walking to the sea.
The Villa is in the little fishing town of Bocca di Magra, ten minutes by car from Montemarcello and from Sarzana, surrounded by greenery and protected by big trees which offer maximum of privacy.
房源
In the garden there is a wonderful natural cooled patio with a big marble table and a bathroom, an hammock, olive trees, roses, some organic plants of tomatoes that you can eat (and some basil and red hot chilly peppers) and a utility room where you can find a good table tennis, four bicycles and other stuff for playing...
At the ground floor there is a big living kitchen fully equipped with my stuff and a fireplace that can be used to grill fish, an under stairs utility room and a living room with sofas, tv, dvd, stereo, and an electric piano.
At the first floor there are two double ensuite rooms, one of them with a futon bed.
At the second floor there is a double ensuite room and the kids room, full of toys, with two bunk beds.
Villa Passiflora is not an empty second house, it's not a luxury villa without warmth, it's a real family dream, a family haven of rest, our place, the place where our family gathered for all the festivities and all the vacations we had in the past ten years... Then the kids grow, someone decides to live with another love, someone left the country, someone gets older...
This house has kept her arms around us all the time, in every situation, in the same way sunny and rainy days...
So we love her so much, and, according to the guests, it can be felt.
Here we are for sharing with you that luck.
房客使用权限
All the Villa and all the garden are exclusively for you.
与房客的互动
During your stay I'm 10 minutes by car far from Bocca di Magra.
---
Excellent séjour dans une maison très confortable. Nous avons occupé la maison durant 2 semaines à 2 familles (4 adultes et 4 enfants) sans jamais se marcher les uns sur les autres. Les pièces sont spacieuses, les chambres bien équipées et propres avec chacune une salle de bain. Inutile d'amener votre serviette de toilette ou draps pour les lits, tout est prévu et parfaitement propre. La maison est au calme (sauf le week-end quand Bocca est en fête, mais c'est pas gênant) et jouit d'un jardin suffisamment grand pour que les enfants courent et jouent. Le jardin est arboré et les tomates et divers aromates sont à votre disposition, c'est très sympa. Vous ne serez pas loin pour visiter l'essentiel du nord de la Toscane et sud de Ligurie, au delà de Pise, Firenze, 5 terres, ne manquez pas San Gimignano ou Volterra. Seul petit point négatif de la région en été est qu'il est très difficile de se baigner dans de belles plages et de se garer. Sinon, que dire de Riccardo ! Une super personne, gentil , accueillant, disponible, intéressant, cultivé et ouvert d'esprit, ça fait du bien de rencontrer des gens comme ça, cela devrait tout le temps être ainsi ... n'hésitez pas à goûter sa production de miel. J'ai pour ma part oublié d'en ramener... oups.
---
Ricardo's Villa Passiflora was the perfect stay we could have imagined. A lot of space, where we, 10 people in total, could move freely, cook whatever we wanted, play table tennis all day, sing songs and where we quickly reached several beautful spots. It's near the sea, near a steep hill with wonderful nature and the neighbours were lovely. A huge recommendation for every travel group that wants to relax and enjoy Ligurian's nature at the same time. Thanks to Riccardo who helped us in every way he could. He is a very friendly host
---
La maison se Riccardo est aussi accueillante que son hôte. Dans un très joli petit port qui ressemble à la Bretagne sans la pluie. La maison est grande, idéale pour une famille, la deco est authentique, du marbre partout sans doute lié à la présence de Carrare à quelques kms. C'est un très beau point de vue pour démarrer de sublimes balades autour comme les Cinque terre ou Lerici ou encore les jolis villages qui surplombent la Méditerranée . On a très envie d'y revenir .
---
Riccardo est très sympathique et nous a accueillis chaleureusement (Nous étions 5 adultes accompagnés d'un gros chien). Nous avons beaucoup apprécié cette ancienne et charmante demeure. Nous nous sentions chez nous car notre hôte n'avait pas pris la peine d'enlever tous les objets qui donnent une âme à cette maison (bibelots, beaux livres, musique... ). Côté pratique, rien ne manquait. Nous avons été surpris de trouver tous les lits faits et du linge de toilette dans chaque salle de bain. Bref, nous recommandons cette adresse où nous espérons retourner plus longtemps.
---
La casa di Riccardo è bellissima, ideale per le famiglie visti gli ampi spazi e il comodo giardino. In una posizione incantevole, è arredata con grande gusto e corredata di ogni comodità, compresi i molti giocattoli per i bambini, libri, film e musica per gli adulti. Rispecchia perfettamente lo spirito di calda ospitalità del suo proprietario. La raccomandiamo assolutamente!
---
Un emplacement calme (en tout cas hors saison), idéal pour visiter les 5 terres, Lerici, Carrare , Lucques et Pise. Une grande maison très agréable , avec tout ce qu'il faut pour passer un bon séjour avec des enfants/ados: livres, musique, jeux, cartes touristiques, et les conseils de Riccardo. Tout est parfait, la cuisine mériterait d'être un peu mieux équipée pour être parfaite pour 10 personnes
---
I always write and wrote to live me.
I was born and grew in the countryside, but not in a farmer family.
Then my parents, intellectuals, moved me in the Big City, Milano. I have lived in the city center for almost thirty long years, during which I have been a journalist, author, speechwriter and copywriter for big events.
When I divorced from my self-representation I left also the city and quitted my job: I was born again in a wood near Orvieto, living with two dogs, good food, theater and real love (those that you'll never forget)...
Then I came to Bocca di Magra, were I lived until now, with my dogs of course, and with a new kitten, that adopted us despite our tails...
Here I learn to grow tomatoes and I studied with a great Maestro the nobile art of beekeeping.

I can recognize my footsteps, between the ice and fire that drive our life: I chose the slowness of the home made bread and the speed of internet, I chose to be myself as myself, not in compair to.

I always see the beauty, 'cause I stopped to look for it.
There is no energy without awareness.
语言:
English、Français、Italiano