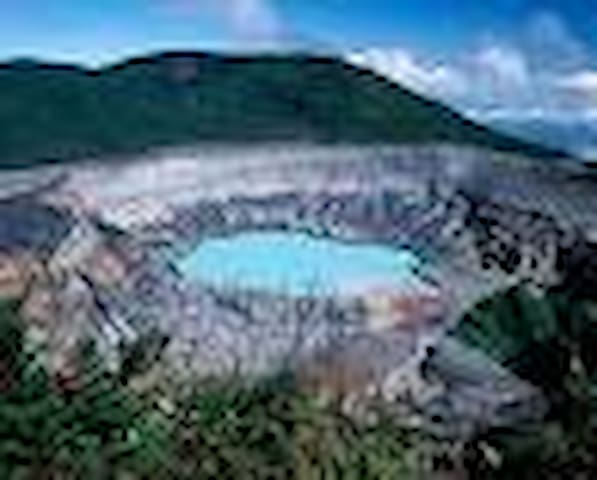 房源
Beautiful green place in the Poas volcano area big modern house open design with grate view and gardens also
47 miles and roughly an hour drive from the capitol of San Jose is the Poas Volcano.
This is one of the most visited areas in Costa Rica, and the weekends here sees a lot of tourists who come to see the streaming, sulfurous lake in the center of one of the two explosion craters on Poas. Take the highway near the airport through Alajuelas, and continue driving. You will pass through Pilas, Poasito and then you just follow the signs until you get there. You will notice that the temperate begins to drop as you drive up the smooth paved road up to the Poas Volcano National Park.
The summit area of Poas Volcano is covered with ash and has little vegetation. Explosions still occur regularly, and the activity like the steam, is often caused by the interaction of the lava with the water. While the water in the lake may seem inviting, it is extremely acidic and can be as hot as 185 degrees Fahrenheit, so it is definitely not for swimming. There is mild activity occurring frequently, and 39 eruptions have been recorded since 1828. In 1989, high gaseous emissions caused the part to shut down temporarily, but usually the eruptions are of steam and muddy water, giving Poas the distinction of being the world"s biggest geyser. There is an animal that is unique as well. It is the Poas yellow-green squirrel, and it is only found here in the part. Aside from this 79 species of birds live here, like hummingbirds and the resplendent Quetzal.
Aside from the visitor center and the wooden viewing platform, there are trails in the forest that lead to the craters of Poas. The main one is the 750-meter Crater Overlook trail. It is paved, and goes around and directly to the crater. A side trail will take about half an hour to hike, and takes you to Botos Lake. Another 30 minutes hike is the Escalonia trail, which winds through the forest. The combination of cool temperatures and humidity makes dressing comfortable a must. Solidly built comfortable shoes are suggested, as well as a sweater to keep you warm and a raincoat to stay dry.
The blue lake that used to be here drained away in 1989. What remained was the first scientifically observed sulfur pool on the surface of this planet. Io, Jupiter"s moon, has sulfur volcanoes. So you can visit this otherworldly setting and experience something that is truly out of this world. Reflecting the climactic diversity of the rest of the country, a number of different habitats are within the Poas Volcano National Park. There is a cloud forest, a stunted forest, and inhospitable areas with little vegetation due to the acidic rain.
The nearby Poas Volcano Lodge is a comfortable place to stay while you visit the volcano and the nearby Las Paz waterfalls, which is only 20 minutes awa
---
此房源没有收到任何评价。如果您选择入住此房源,您的评价将出现在这里。