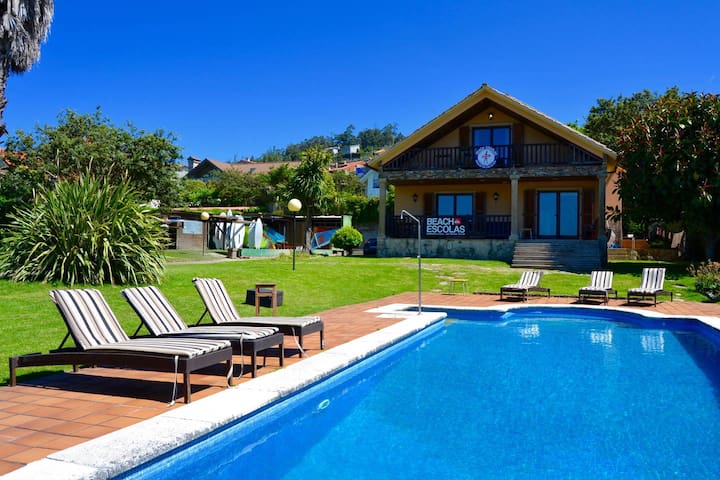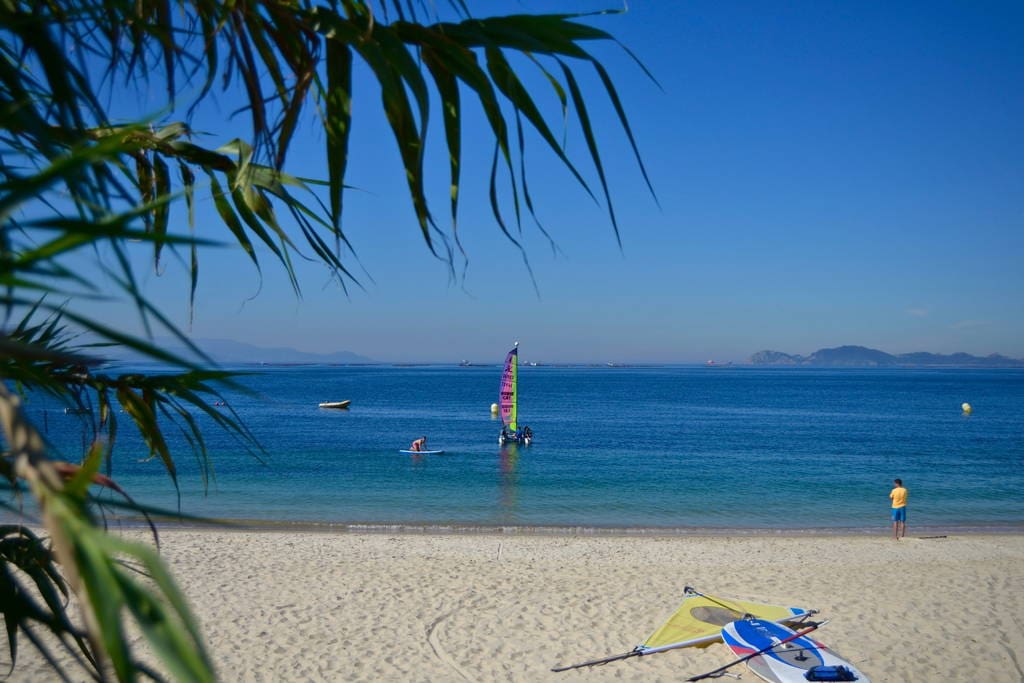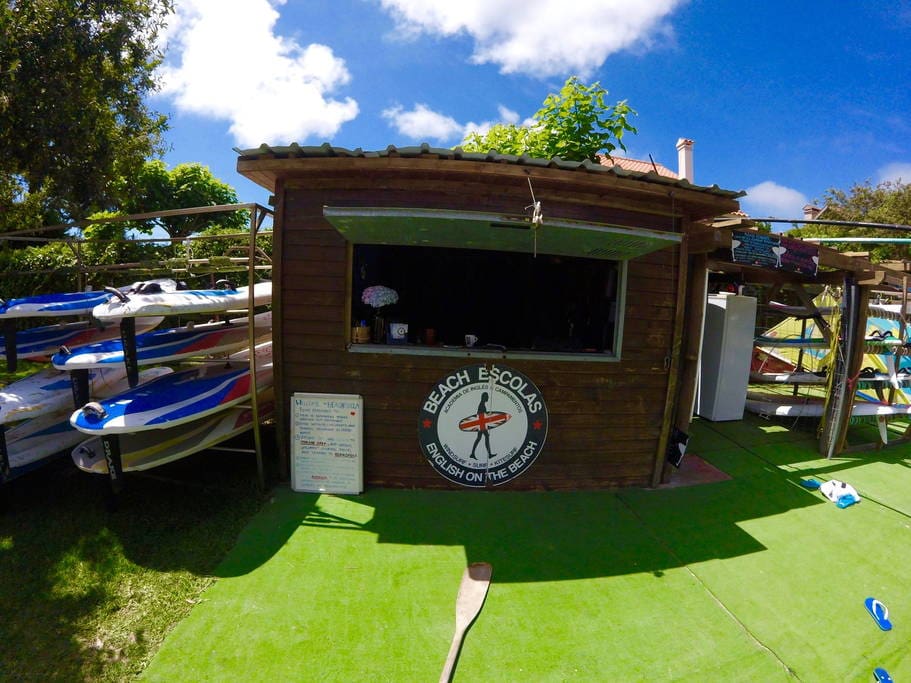 Windsurf House -Private 4 Bed Dorm
Beachescolas Windsurf House is the ideal hostel for travelers or groups of friends who want to spend their vacation on a gorgeous beach with a relaxing surfer atmosphere. Our house has all of the facilities to make your stay wonderful: a swimming pool; chillout zones; slackline; & basketball goal. We also offer rentals and courses of windsurf, catamaran, SUP, & kayak.
---
Se trata de una propiedad increíble a diez metros de una playa igualmente espectacular. Tiene zona de aparcamiento enorme, un jardín muy bonito con piscina y tumbonas y una zona común semicubierta con una cocina (un tanto desordenada), mesas y una bancada de palets que estaría genial si le pusiesen unos cojines para poder sentarte por la noche. Dentro también hay una cocina, un poco desordenada, una sala con sofás en forma de U muy poco acogedora y luego las habitaciones, con más o menos literas. Desde mi punto de vista es un sitio perfecto para chavales que vayan a hacer los cursos de surf/windsurf pero resulta muy caro (por falta de orden, comidad y detalles) para alguien que vaya de vacaciones. De todos modos, insisto, es una propiedad increíble en un sitio espectacular. Y el propietario es un chico agradable.
---
While the home was a fun, almost college-dorm'esque atmosphere and we enjoyed a big pan of paella with other guests on the evening of our arrival, we did have a few suggestions on how the listing could be improved. First, unless you have some super mega strong cellphone or laptop, I don't think I would put the internet down as "continuous." We could only access it sporadically and even then, the signal was hardly strong enough to actually load a webpage. Two in our group needed to book their next leg of the trip and had to struggle with the internet for hours trying to load and reload pages. Second, I'm not sure if this is an option from AirBnb when creating a specific listing but I would make sure to say that the bathrooms are shared. When you look at a listing and see that the room is for four people and includes a bathroom, it makes it seem as though it's a private bath. Not a huge deal as we were all familiar with hostels and shared bathrooms but we did go in with the expectation of having a bathroom IN the room. Third, the description said a fully stocked kitchen but when we checked in, we were told it was more for staff use and that we could just put some things in the fridge. Again, a non-issue for us since we hadn't brought food in need of preparation but just a heads up in case you do need to cook a meal. Lastly, the description says that towels and linens were included. We didn't ask and I suppose we should have but half of us needed towels. Bed linens were provided automatically but no mention was made for towels or the location of them. Other than those issues, the room suited our needs. Austin was friendly and had great communication throughout the booking process.
---