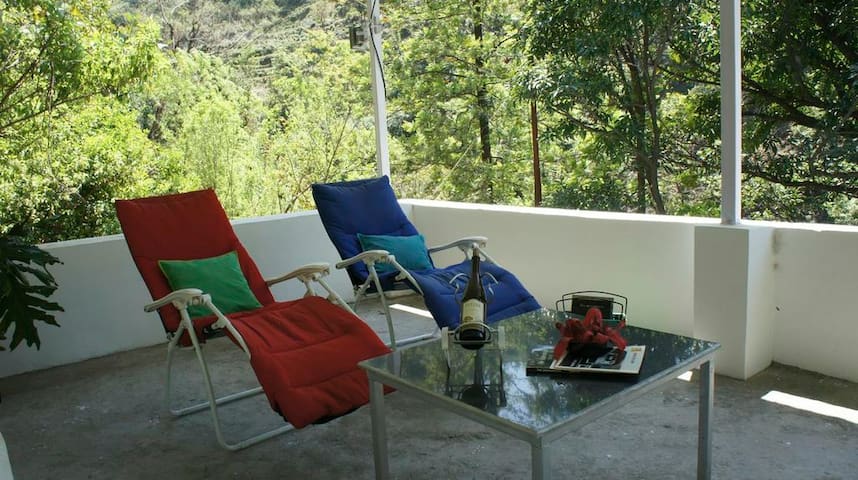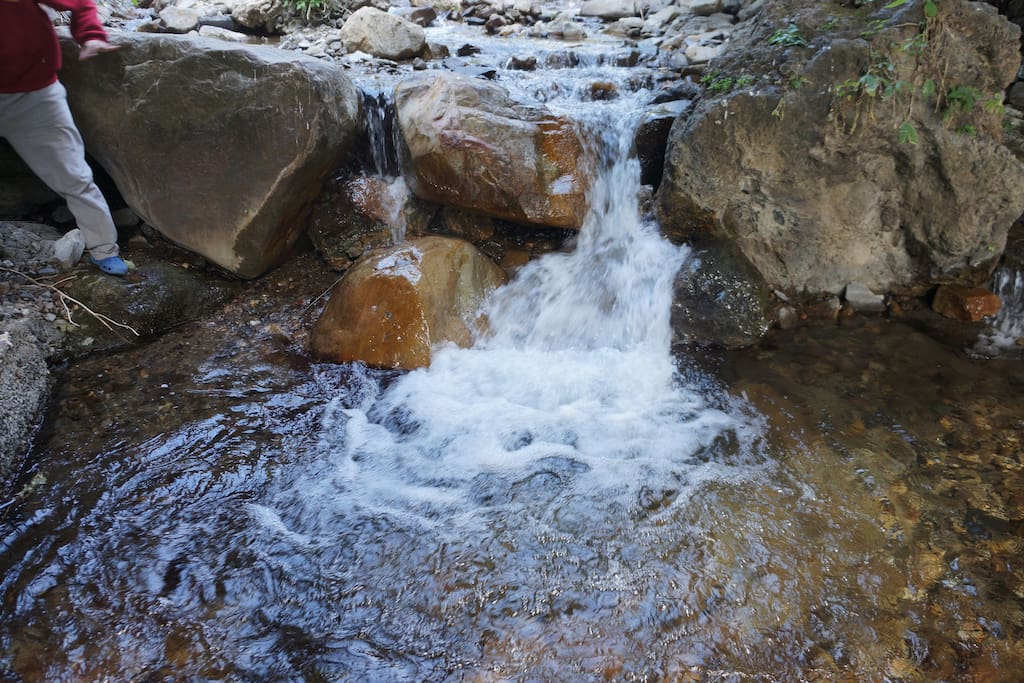 Sadhana Forest Villa is located 22 kms away from the hustle and bustle of Doon city.
You're sure to love our amazing mountain views, with lots of greenery, crisp clean air & clouds that you can almost touch.
We also have a small bubbly stream that likes to sing at night & disappears into the thick jungles.
Guests love our warm cozy kitchen with all the modern amenities they need as well as our home cooked food and hospitality.
We treat you as family.
房源细节
Our place is a great fit for couples, solo adventurers and backpackers, families (with kids) and even small groups.
We don't have WiFi here, but you could just take a break and connect with nature instead :)
The space is a quiet, green villa with 2 bedrooms with direct stream access to fresh water to splash around in.
房客使用权限
Guests can access all of the property.
与房客的互动
We give you all the space you require, but I am always contactable on my personal number at any hour of the day. In addition I will supply you with at least 2 more backup mobile numbers that are willing and able to help at any given notice.
其他注意事项
FREQUENTLY ASKED QUESTIONS
------------------------------------------------------------------
Q. How far away from Dehradun is the property? How will I find it?
A. We are 22 kms away from Dehradun City Center - its a bit of a drive but its worth it.
Once you reserve, its not uncommon for us to send an escort out to you to Dehradun, who will take you all the way to our property, should you require that assistance.
Q. I know that we get breakfast for free. What about other meals?
A. We are more than happy to provide you with veg/non-veg home cooked nutritious food cooked right in front of you, for the nominal charge of Rs 300 per person per meal. (Rs 350 for Non-Veg).
Got any special dietary requirements? Craving that special dish? Let us know ****** 24h in advance******. We always accommodate your needs.
Q. What's included in my booking charge?
A. Here it is:
- Stay for the number of nights you've booked - the whole property is yours to enjoy
- Free breakfast for all the guests, every single day. Veg/Non-Veg needs are accommodated.
- Clean, potable RO filtered water is available 24 hours a day for your needs.
- Unlimited tea & coffee for you as you lounge and enjoy nature!
- Towels, linens, shampoos, soaps, toothpaste - need anything during your stay? Tell us! We're happy to provide.
Q. Is the property safe? What kind of emergency services do you have access to?
A. The property is completely safe with no safety incident records, ever. We take your security and safety very very seriously. There is a police station and hospital 5 kms away and First Aid kits on the property premises. In addition to this, we have best practices that we will brief you about when you arrive at our property, keeping your safety in mind - for example - not venturing outside the premises or accessing the river stream past midnight.
We have a caretaker round the clock, equipped with everything you need in the unlikely event of issues.
Q. Are their restaurants nearby?
A. No. There is nothing to stop you from driving down 22 kms for a pizza though.
Q. Are there places we can go for sightseeing nearby?
A. Yes! Narayangarh, Mussorie, Dhanaulti and other beautiful places are very accessible from Sadhana Forest Villa.
Q. Do you have WiFi and cellular receptivity at the property?
A. There is no WiFi at the property. Cellular connectivity is limited and IDEA and VODAFONE have reasonable connectivity here.
-To enjoy the scenic beauty of the place ,pl arrive before sunset !
I had booked this place for my sister - pasting her words for Sadhna's place : "When things are meant to be, everything unfolds effortlessly. Even though it's a philosophical statement, that precisely describes our stay at Sadhna's forrest home. Right from the booking till the moment we left Dehradun airport, it was a beautiful experience, meticulously supported by Sadhna. We were traveling with very small kids , Sadhna helped to plan everything well in advance to make it a comfortable experience for all of us. She offered to help me with planning itinerary before travel, complete with minute details of what to pack for picnic :) She helped me with booking taxi, recommendations for local experiences and visits. Throughout she was very sensitive about the fact that we were traveling with small children, and went out of her way to stock up the kitchen with soup, milk, fruits, cheese, pasta etc for them, setup a hammock, a swing, tree ladders and also pitched a tent, which the children thoroughly enjoyed. All these speak volumes of her hospitality. I wish I could say in words the warmth that Sadhna and her home brought into our lives. The house was exactly as described on photos - two tastefully done rooms, simple yet tasteful,two spacious bathrooms, a beautiful verandah with a swing and chairs, a terrace, an airy kitchen and never ending green terrains with a roaring brook at the edge of the property. The caretaker was always available for any service, and the cook made homely meals. Even though it sounds cliched, Sadhna felt more like a dear friend than anything else towards the end of our 5 nights stay. She sent across trusted people from her team to take us around - which is above and beyond her call of duty. She even accommodated my sister's ( who was communicating from Seattle) request to organize a surprise Mother's day celebration, which she executed flawlessly - taking care to select my favorite flowers for the bouquet, and a cake from the best Baker in the town. We spent the days unwinding, hiking, reading, painting on the verandah, bird watching, crossing the brook a million times, chasing goats, watching rain, watching sunrise, watching sunset, listening to birds singing .... Do you need more? And yes, she has a lovely collection of books. I would recommend this listing to any family like us who have small children, and who love to be amidst nature. Yes, there's a commute from the town, but that's the price you have to pay to breathe fresh air :). "
---
This lovely place has been on my wish list for long and boy it surpassed my expectations. If you are looking for a great hostess,a tranquil and beautiful place and delicious food, this place is your answer. It gives you a perfect pause from the addictive digital world, lets you sit back and rejuvenate. There is beautiful stream adjoining the property. The sound of gurgling water is therapy in itself. The caretakers are helpful and go out of there way to take care of you. I'm definitely recommending it to everyone and coming back in the future :)
---
Finding the place can be a little tricky, communicate with the host or the caretaker beforehand (before you leave Dehradun, network issues) so they can guide you precisely. But once you reach, it will be worth the journey no matter where you are coming from. The place is beautifully nestled in the mountains with a view that you can never get enough of. And yes, you will have a fresh water stream flowing through your backyard; quite refreshing that! Plan your commute for sightseeing in advance because the place is a bit far from the urban center. Also, please book this place only if you are going to have a vehicle at your disposal 24*7.
---
I and my wife stayed here for a day, the place is best we ever come across. Well-placed in mountains, very peaceful. Ms. Sadhna is an excellent hostess, received a quick response on booking. Caretaker Hemu is an excellent cook and takes care of all queries. We had a wonderful stay and will definitely come back.
---
This place is exactly what it calls itself - A perfect weekend getaway. It's nestled in the hills and nothing for probably a km on either side. A refreshing retreat and escape from usual city life. There were majorly 3 parts to the stay: Reaching there: Reaching to Rajpur was easy and from there to LaalPul was kind of easy too. But that was just the beginning. Folks who aren't familiar with the landscape should definitely know that the place is quite far up (~5 Km) hill road. There was some gap in communication regarding locating the place which was quite a problem given 2 things - 1. We were driving ourselves 2. No signs on the road for Sadhna's while there were the same for other places farther up Check - In: Once we finally reached there, the helpers were waiting outside to receive us. The place was exactly as in pictures if not better. It was neat and clean and right on the hill. You look down the balcony and you won't find anything but vast space of land and hill. Stay: The helpers were good and well, helping. They catered to all of our requirements. Considering we almost live on tea they prepared that for multiple times a day. The food home cooked and we ate to our heart's content. The only sound you'd hear would be birds chirping or the stream just a couple of meters down. Sadhna proved to be an amazing host bar the initial inconveniences. She kept on checking on how we were doing. And when we faced problems going back to our place due to some unrest in the area, she even offered to extend the trip herself. Given a chance, I'd definitely come back.
---
The property was beautiful and scenic, and Sadhna was a wonderful host to us. She gave us very specific and to the point instructions. The place was excellently set-up, and we were well taken care of, and the guys who manage it make excellent food. The chai is particularly tasty, and the vegetables are fresh and organic. The views were spectacular, and there was a river within the property where you could just sit and relax. The interiors were amazingly beautiful, and the lack of cell phone connectivity was for me a huge plus. I'd definitely visit again, and I'd like to make another shoutout to Sadhna for being an incredibly gracious host, and giving us a little tour of Dehradun herself as well. Thanks a load for this memorable trip! :D
---
I own & run Sadhana Forest Villa. I treat the guests at Sadhana Forest Villa as my own family. I am always accessible to my guests 24x7 for any help they require to make their stay a memory they will cherish for a lifetime.
语言:
Deutsch、English、Hindi、Punjabi