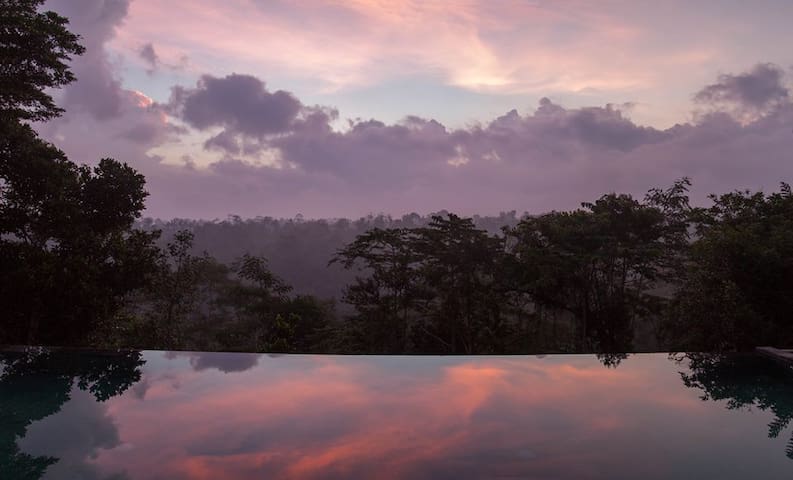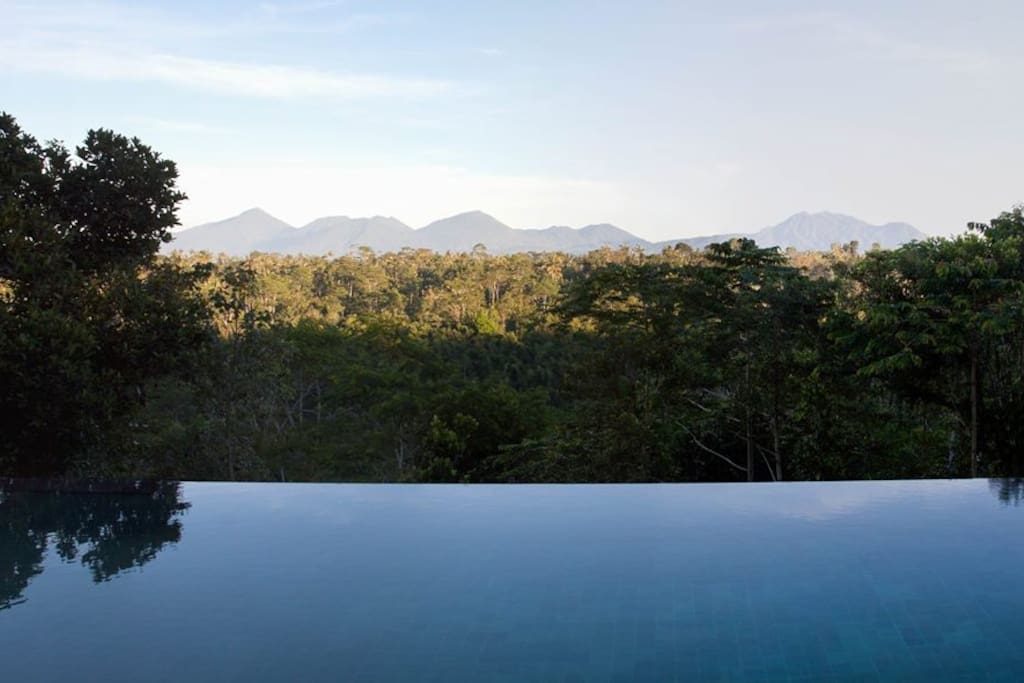 "Griya环Tegal",一个宁静的村庄的新别墅,一个凉爽的海拔900米,俯瞰着一个山谷。乌布(30分钟)和金塔马尼(Kintamani)火山(15分钟)之间的主干路上,坐落在一条果园内,享有迷人的森林,享有山景。 15x5m无边泳池,凉亭,鱼池,开放式客厅/餐厅,现代宽敞的厨房,3间卧室的空调,电视室配有全套国际电缆,免费高速无线网络,洗衣机。距离寺庙3至30分钟,壮观的露台,大象野生动物园(Elephant Safari Park)。纯粹的幸福
"Griya ring Tegal", a new villa in a tranquil village, a cool 900m above sea level, overlooking a valley. Stunning forest, mountain views, nestled in an orchard on main road between Ubud (30 min) and Kintamani volcano (15 min). 15x5m infinity pool, gazebo, fish pond, open living/dining room, modern spacious kitchen, 3 bedrooms w A/C, TV room with full international cable, free high speed WIFI, washer. Just 3 to 30 minutes to temples, stunning rice terraces, Elephant Safari Park. Pure bliss.
房源
当我们不在巴厘岛时,这是我们的家,每年共享几个月。位置靠近一个迷人的村庄,距离迷人的金塔马尼火山(Kintamani Volcano)和北京米屋(Ceking rice padis)仅有15分钟的路程。家是在一个非常传统的村庄,邻居们会欢迎你体验印度文化。客人可以在森林景观,蝴蝶,燕子和鹰,避难所从阳台,亭子和无边泳池,漫步在花园和橙色果园,或者旁边的咖啡种植园/咖啡馆附近的邻居。我们的厨师/女仆,勤杂工和巴厘岛女主人将确保您的安慰,并作出一切安排,探索巴厘岛的魔法。 我们的管家也是一个优秀的按摩师,可以以合理的价格在别墅内提供按摩和皮肤清洁。
This is our home, shared for a few months a year when we are not in Bali. Location is near a charming village just 15 minutes from the stunning Kintamani Volcano and the Ceking rice padis. The home is in a very traditional village where neighbors will welcome you to experience Hindu culture. Guests can find refuge in the forest views, butterflies, swallows and eagles, from their balconies, the pavilion and infinity pool, stroll the garden and orange orchard, or visit neighbors at the coffee plantation/cafe next door. Our cook/maid, handyman, and Balinese hostess will ensure your comfort and make all arrangements to explore Bali's magic.
Our housekeeper is also an excellent masseuse and can offer massages and skin cleansing in the villa at a reasonable price.
房客使用权限
整个家庭对客人开放,包括厨房和所有的电器和器具。只有一个小小的研究,我们保留我们的文件和书籍被锁定。如果你没有任何东西,只要告诉女主人或者给我们发邮件。
The entire home open to guests, including the kitchen and all the appliances and utensils. Only a small study where we keep our papers and books is locked. If you lack anything, just tell the hostess or e-mail us.
其他注意事项
别墅靠近大自然,所以有昆虫,特别是在晚上,几乎都是屏幕和玻璃门。如果夜晚门打开,昆虫和偶尔的青蛙就会进入。 互联网对巴厘岛来说很快,但别墅远离互联网供应商,依靠天线(因此,屋顶上的高塔),因此在大雨或风中,可以褪色和流出。当这种情况发生时,我们通常可以依靠供应商在一天内进行调整。只要告诉管家或经理,如果互联网不工作或很慢。如果互联网延长一段时间,我们将为您购买一张卡,通过手机上的3G访问互联网。 家庭空调舒适的客人,但我们从不使用空调。晚上几乎总是很酷,可以在毯子下偎依。 我们的两只猫非常友好。他们不咬或刮。如果你不喜欢猫,管家可以把它们保留下来。
The villa is close to nature so there are insects, especially at night, which are almost all kept out by screens and glass doors. If doors are left open at night, insects and the occasional frog will enter.
Internet is fast for Bali but the villa is far from the Internet provider and relies on an antennae (thus, the tall tower on the roof), so during heavy rain or wind, can fade in and out. When this occurs, we can usually rely on the provider to make adjustments within a day. Just tell the housekeeper or manager if Internet does not work or is very slow. If Internet is out for an extended period, we will purchase for you a card to access Internet via 3G on your phone.
The home is air conditioned for the comfort of guests but we never use air conditioning. Evenings are almost always cool enough to snuggle under blankets.
Our two cats are very friendly. They don't bite or scratch. If you don't like cats, the housekeeper can keep them out.
---
---
---
不适合儿童(0-12岁)入住,或不能为儿童提供安全的住宿环境
- Host is responsible to report all guests to local authorities for their own safety, so will require photocopy of passport or ID on check-in.
- Villas has two security cameras. One outside the front entrance and one facing the kitchen. To protect guests privacy, the indoor camera will be disconnected when guests are in the home.
- There are few mosquitoes and no malaria or dengue in this area. Since this is rural area, there are insects and frogs, which can be kept out by closing glass doors and screens.
- Lodging includes a hot cooked breakfast. Drinks are always available. Lunch and dinner can be ordered from nearby restaurant with 1 hour notice.
- Swimming pool is not fenced or guarded. For this reason, home is not listed as child friendly. Children may not use the pool without adult supervision.
- Host can arrange for tours and to rent car and driver for the entire day or part of the day at a very reasonable cost, or for guests to rent cars or motorcycles to drive themselves.
- A part-time Balinese manager who is fluent in English will greet guests soon after arrival and visit from time to time to take care of all requests. The housekeeper/cook who is almost always at home does not speak English. A handyman also lives in the home.
- Guests are asked not to stain linens and towels with makeup or other grease based substances and to not wash towels and linens themselves. Guests will be charged for linens and towels that have stains which cannot be removed. Cotton balls and special towels are provided for cleaning make-up.
- The two resident cats are very friendly and ensure that there are no mice. They are kept out of the bedrooms and are trained to not sleep on the furniture.
---
---
---
The place looks amazing with every detail in every room and it was very spacious. The infinity pool with a panoramic view of the jungle is simple yet so beautiful. It's a bit secluded but if that's what you're looking for, this is the place. The rooms are spacious and includes a bathroom for each room, which was more than what we needed (there were only two of us). The staff were amazing especially Nor who was so sweet and such an awesome cook. It never felt like she was in our space during the times she needed to be there. Although her English was limited, it was never an issue as she used an app to translate what she wanted to say and the same for us. My friend and I wished we had stayed longer!
---
Villa Griya Tegal is ideal fir those seeking serenity and tranwuil environment, yet not too far from Ubud center. Its proximity to mount Batur facilitated a day trip to experience sun rise from Mnt. Batur. Stanley (Henney's husbabs) was very helpful and provided all the information we needed prior to booking the villa. Communicating with him was easy and efficient. The house keeper (Nur) was very polite and helpful and waited for us to provide her services. I recommend villa Griya Tegal for families as well as groups of couples or friends.
---
This is the perfect stay for exploring the mountains of Bali. The view is breathtaking. The location is within easy distance to a lot of sights by car or scooter. It is rurally located away from the crowds of Ubud. Nur, the cook, is fabulous. She is meticulous about her craft. I found everything, was cooked to perfection! I really mean it. The right amount of brown, crunch and tenderness. It was a real treat having her to cook for me. She does not speak English but we were able to manage pretty well with communication. The pool is amazing and if you are a swimmer this is a good one. I am a pool swimmer when the heat forces me into it and that did not happen more than 2 times while I was there. Another factor that contributed is that I came during the "cool" season - not that the temperature changes much in Bali but sometimes that couple of degrees will make the difference. I found the mountain temperatures to be perfect. Perhaps a little cool in the evenings and mornings but I tend to run cool in general so I think its worth noting that. I did watch the sunset often from many different places as well as the sunrise every morning. They were all spectacular and when it is clear you can see the sunset behind the mountain ranges nicely. The house has ample space and is well appointed. The pictures on airbnb are not as good as they could be. I stayed at the villa for 2.5 weeks, much longer than most would stay to see the sights but I wanted a retreat in the mountains before and after a hot spell at the beach. Because of the length of my stay I would have liked it to be either just a little closer to Ubud or a little farther off the main road. The villa is located down a drive far enough from the main road that the noise is not an issue. You are surrounded by the captivating noise of the jungle in the evenings.
---
This is the best Airbnb we've stayed, hands down, for many reasons. It is beautiful, clean, and in an amazing location in the cool hills above Ubud. I swam laps in the pool everyday...15 Meters is great for that...with swallows dipping in as I swan. Surreal experience. The host wrote a wonderful book on Indonesia that you can find in the library, and Stanley and Henny were so responsive to all of our needs. But the biggest delight was Nur, the house keeper and cook. Wow, what a gem. She is so attentive to guest needs, has a delightful personality that takes a bit of time to learn, and if you have (SENSITIVE CONTENTS HIDDEN) Translate on your iPhone, you can have fun communicating with her. We hope to keep in touch with all of these wonderful people: Nur, Melly and Nyoman (the latter drives us everywhere is so reliable). Our friends we traveled with want to add to this as well, as they hiked to the volcano from the house (using back roads as well as main road, villages along the way great to visit). We visited the Elephant Reserve which is a mere 15 min away and assure you it is not just for children. We LOVED it. The Villa is a wonderful respite from the busy craziness of Ubud, but close enough for a dinner out. Just know we extended our stay 2 nights and had Nur cook for us instead of traveling to town. Couldn't get enough of the experience. Thanks Stanley and Henny for offering this to others. Sally
---
我们通常不在巴厘岛,当家庭出租,但会随时监控电子邮件。此外,巴厘岛的经理和女主人说英语,会在客人到达时不时向他们致意。客人可以随时拨打电话号码,并可以随时从管家的手机拨打电话,她会快速回复。 女主人也可以安排您需要的所有物品,从摩托车或汽车和司机出租,请从Puri Sebatu别墅一分钟的五星级餐厅点餐,或在该酒店进行瑜伽课。
We usually are not in Bali when the home is rented but will monitor e-mail at all times. In addition, the Balinese manager and hostess, who speaks English, will greet guests when they arrive and check on them from time to time. Guests will have her phone number and can call from the housekeeper's cell phone at any time, and she will respond quickly.
The hostess can also arrange for all you needs, from renting a motorcycle or car and driver, so ordering meals from a five-star restaurant just a minute from the villa at Puri Sebatu, or taking yoga lessons at that hotel.
I am an Indonesian, with a masters degree in literature from University of Michigan, who built this villa in Bali as a getaway home in for my family. We are sharing it with guests during some parts of the year. I am fluent in English and familiar with cultural attractions of Bali and many parts of Indonesia. Either my house manager, Meli, a Balinese who is fluent in English, or I, will make sure that you feel at home and give you tips to explore Bali's rich culture and stunning nature.
语言:
English