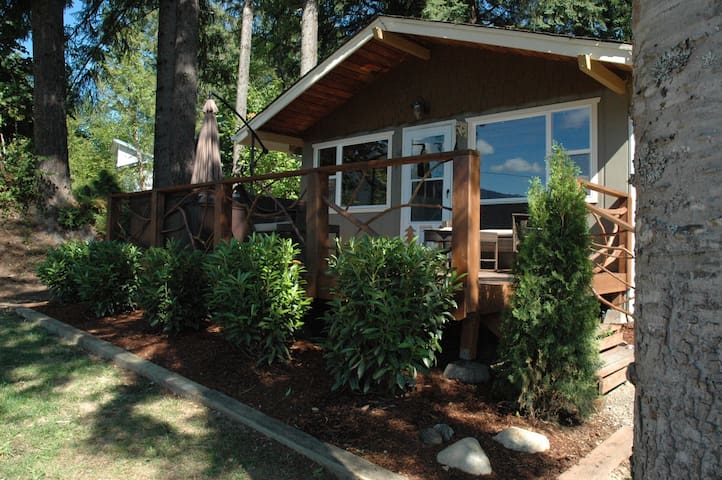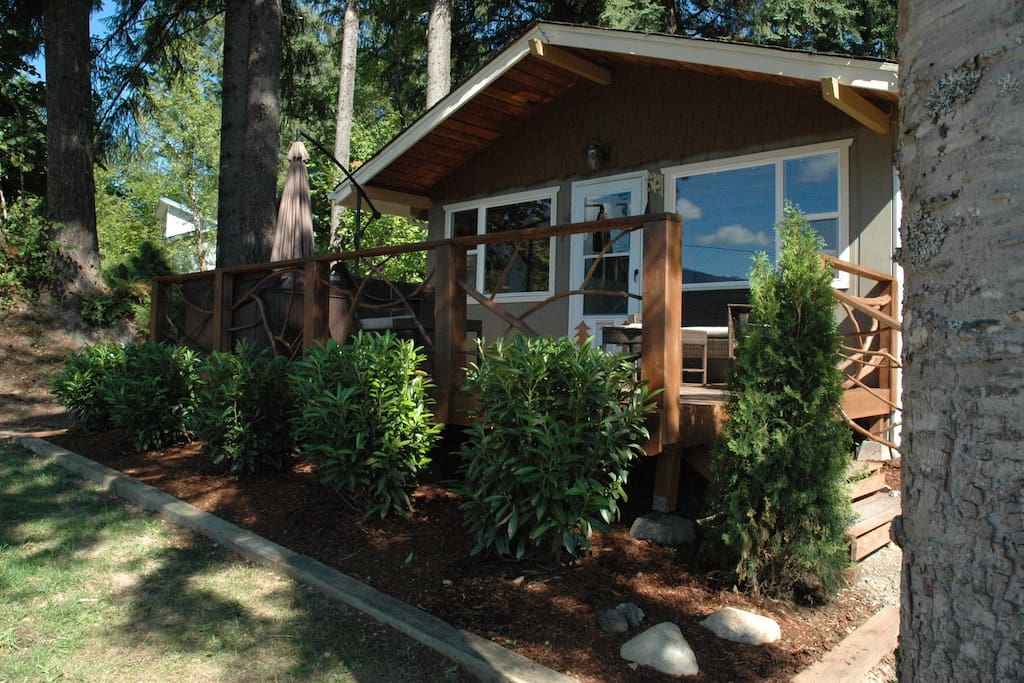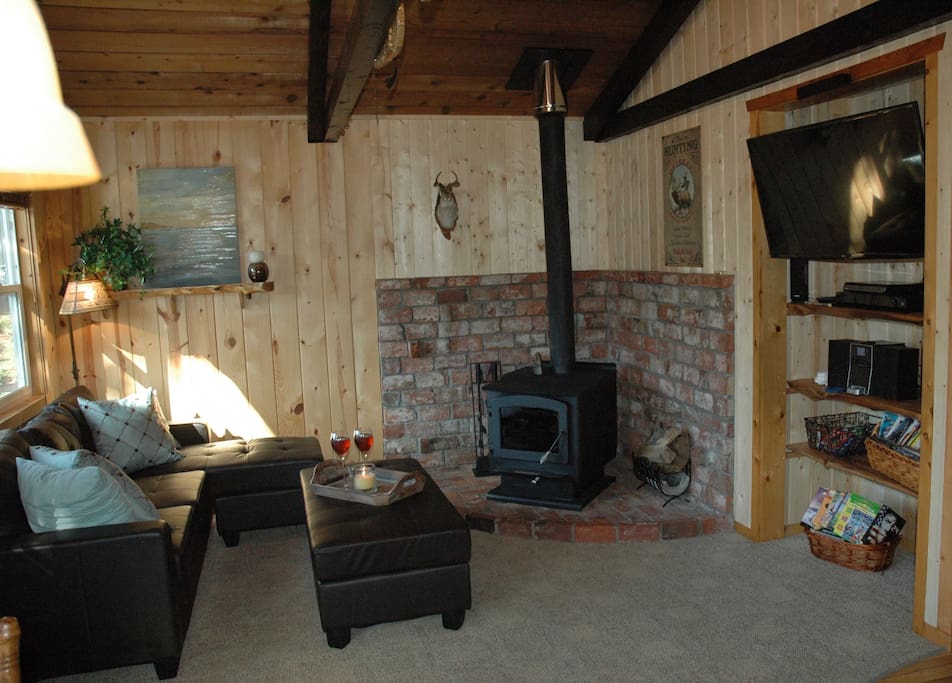 欢迎光临Maison de Montagne,我们位于山脉的迷人小屋;在那里你可以远离这一切,并拥有这一切,在同一时间。令人惊叹的景观,一条汹涌的河流,高大的树木一个舒适的客舱,交流电,高速互联网,数字电视,新床上用品,新的皮革家具,新电器,燃木炉,热水浴缸,火坑,燃气烤架,前后甲板漂亮的家具,用于存放户外玩具的覆盖木棚,还有更多的提及。
Welcome to Maison de Montagne, our charming little house in the Mountains; where you can get away from it all and have it all, at the same time. Breathtaking vistas, a rushing river, tall trees a cozy cabin with AC, high speed internet, Digital TV, new bedding, new leather furniture, new appliances, wood burning stove, hot tub, fire pit, gas grill, front and back decks with nice furniture, a covered wood shed for storage of outdoor toys, and too much more to mention.
房源
我们在Cowlitz河上方一条可爱的林荫道上,距离Packwood仅2-3分钟路程,距离White Pass 20分钟,靠近Mt.雷尼尔国家公园。距离远足径,钓鱼,接近滑雪,滑雪板,雪地摩托车和Mt.入口附近几分钟。 Rainier Nat.Park。 我们储藏丰富的厨房包括全尺寸的水槽,咖啡壶,微波炉,电器,锅,菜肴,银器,玻璃器皿,储存香料架,餐具。所有的设施,你需要享受度假。
We are on a lovely wooded lane above the Cowlitz River, just 2-3 minutes from Packwood, 20min from White Pass, near the entrance to Mt. Rainier National Park. Minutes from hiking trails, fishing,close to skiing, snowboarding, snowmobiling and near the entrance to Mt. Rainier Nat.Park.
Our well-stocked kitchen includes full size a sink, coffee pot, microwave, appliances, pots, dishes, silverware, glassware, stocked spice rack, utensils. All the amenities you need to enjoy a getaway.
---
---
---
- Pets are not allowed
- Guests pay 100% to book. Guests receive a full refund if they cancel at least two weeks before check-in.
- Smoking is not permitted within 15 feet of the dwelling.
- No one under the age of 25 is permitted to rent the cabin.
- The use of fireworks are strictly prohibited on the premises.
- If the Tenant or any member of his party violates the terms of this agreement, Owner may terminate this lease with no refund and enter the premises to remove the tenant, his party and their belongings acc. to Vacation Rental Act.
---
There are multiple locations on the property to enjoy the beauty of the outdoors. Our favorite spot was the hot tub with the view of Mt Ranier. We stayed at the property in the fall and used the wood burning stove to keep warm and relax by. It really added to the charm and ambiance of the cabin. This host goes it if her way to make sure anything you might need for day to day living is accessible in this rental. We wanted for nothing. If we did need food items or wanted to eat out there were restaurants and a grocery store less than five minutes away. The host was accessible through text throughout our stay and was quick with a response if we reached it to her. The linens were high quality and there were plenty of DVD's and games in the house to provide entertainment on the quiet nights. It was truly a relaxing experience. We would definitely stay again if we are ever in the area. Quite the bargain as well.
---
Maximillia was great in communicating to us throughout the whole process (this was our first experience using airbnb). The cabin was just as the photos displayed and was very clean (and no trace of animals which was great for my allergies). We used the grill which worked well and appreciated some kitchen appliances like the blender. Really nice having a hot tub as well to unwind after hikes. The beds and pillows were comfortable. And of course the location was unbeatable only a few minutes from the park. All in all we had a great time.
---
This is the perfect cabin to rent for four people or less close to Packwood, Wa. with Mt. Rainier and the Goat Rocks nearby if you hike like we did. The Cowlitz River is within walking distance with eagles flying over, views of the Tatoosh Mtn. range and Mt. Rainier from the front. Enjoyed the hot tub and wood stove. Kitchen is well stocked with all you will need. Gas BBQ on the back deck ready to use. I only wish there was a light to see better. We used our headlamps.
---
Awesome cabin! Loved enjoying coffee to the morning views of mt rainier peaking out between two nearby peaks and elk getting a drink at the river. Great base camp to exploring mt rainier NP. Extremely clean and welcoming cabin. Hope to stay here again on future rainier visits. Only regret is not staying longer.
---
Maximillia's cabin is the perfect getaway. The cabin was perfect for us. So cozy, clean, quiet and what a view! Sitting in the hot tub at night looking at Mt. Rainier was the best way to end the day. So many stars! We had everything we needed and three slept very comfortably. Thanks so much!
---
Hello, my name is Maximillia. I LOVE to TRAVEL, can't think of something more exciting than going somewhere that I've never been. I love the mountains, the beach, and cities too, the Hawaiian and Greek Islands are my current favs. I love NYC and Washington DC for touring, and th…