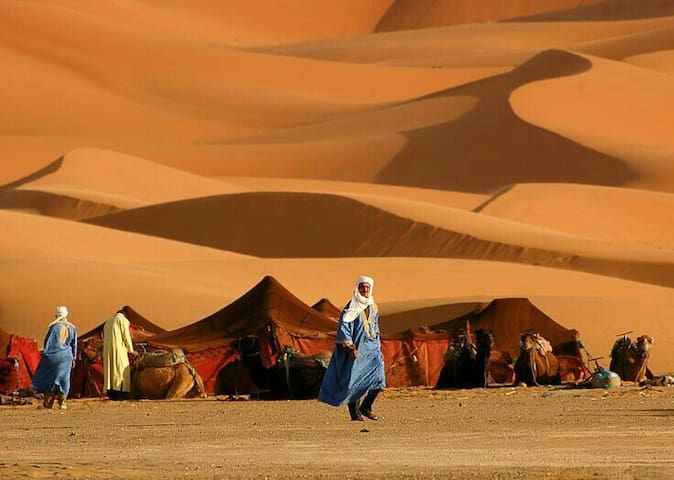 What an incredible trip! Experiencing the Sahara desert with Mohammed was an experience I won't soon forget. He was super friendly and helpful and took care of all our travel needs in ever way! The camps in the desert are so breathtaking and scenic! It was an incredible trip thanks to Mohammed! Thank you so much!! Everyone should book this trip at some point in their lives! Also thank you to Rachid for driving us across the country!
---
Mohammad's charm can only be outdone by his hospitality. Going to the desert for an overnight was an important part of our Moroccan trip and after reading two of Mohammad's reviews we were sure he was the right fit for us. He communicated with us right away, sent gps location and when we got there brought us to his lovely Basecamp. We were welcomed with tea and soon set out on our camel ride to the desert camp site. The tent is spacious and clean and has lighting. We enjoyed a festive night filled with listening to Mohammad and his team sing tribal songs, preceded by delicious food. He is charming and attentive and certainly a safe bet when traveling to obscure regions of Merzouga. We highly recommend Mohammad and his service!!!
---
Aw, where to begin and how to describe what no words can do justice to what we experienced thanks to Mohammed!!! In traveling the world for more than 10 years, nearly full time, the experience my husband and I enjoyed in the Sahara Desert because of Mohammed's devotion to and passion for his work is one of the most wonderful, extraordinary and memorable adventures of our life! Camping in the Sahara Desert in Mohammed's Desert Camp was truly life changing! And to think that companies like Airbnb is what makes it so easy to connect with people like Mohammed. Really, it is so fantastic! Mohamed and his Berber staff are absolutely the very best! They're authentic, genuine and amazing! They're friendly and caring individuals and they clearly put their hearts into what they do for their guests -- their kindness and smiles are heart warming and wonderful to be the recipients of. From the moment we arrived in Merzouga, which was our gathering point, to the moment it was time to leave camp to go back to Merzouga, we received so much care and attention that it makes five star resorts seem like amateurs by comparison. The kind of hospitality they offer to their guests in the middle of the Sahara Desert is formidable and admirable. It takes a lot of time, effort and coordination to make it all happen so flawlessly for their guests. And the fact that this all happened during Ramadan, when they were working on an empty stomach with no food or even a drop of water under the hot sun of the Sahara Desert, it makes it all that much more formidable and meaningful. I don't know how they do this -- fasting for more than 16 hours per day, yikes! And all the while smiling and radiating happiness! They leave me speechless -- almost. :) The camel rides were an absolute thrill and couldn't have been more picturesque! After about 45 minutes on the camels, we stopped to climb a high sand dune to enjoy one of the most stunning sunsets I have ever witnessed -- and believe me -- I have enjoyed many in some of the most amazing corners of the world. The dinner they made for us is the best we've ever had in Morocco in the three times we've been to this country and traveled extensively. We were surprised to be served such an amazing and delicious meal, which made our night even more magical. Mohammed and his crew are amazing people. They even serenaded us by dropping some sick beats with drums and entertained us with their goofy sense of humor after our incredibly delicious dinner under the Saharan sky. We chose to sleep outside and they set up a comfy and warm bed for us under the stars. Oh my goodness. Neither words nor pictures can convey what that magical night was like for us. We saw more stars than we have ever seen. We saw dozens of...
---
This was hands down one of the best experiences of my life. The activities--camel riding, sand boarding, and camping under the stars--were unique and unforgettable; however, the thing that set this experience apart was Mohammed, himself. Right from the beginning, he was incredibly responsive especially considering that he spends most of his time buried in the Sahara desert where cell service is few and far between. He also had no problem speaking to us in English. My friend and I were concerned about finding the location for this reason (neither of us had data in Morocco and didn't want to get lost in the desert), but Mohammed sent us very specific coordinates, which we were able to follow with the gps on our phone without having data. He also offered personalized help with transportation from Marrakech to Merzouga, which we had already arranged for, but in hindsight, we wish we had taken his offer, as it is great value for the service. Upon arriving, he offered us tea and helped us fashion our scarfs to protect from the sun before going to meet the camels. He did not hesitate to take a ton of photos during our camel ride to the campsite. Mohammed was clearly very knowledgeable about the dunes and the camels, and we felt safe with him the whole time. Dinner and breakfast were included in the price, and we ate with other visitors at the campsite, which was beautiful, spacious, and very comfortable. Who knew sleeping in the middle of the desert could come with so many amenities? It was apparent that the campsite was a product of his hard work and unwavering dedication to customer satisfaction. When it came time to ride the camels from the campsite back to the car, my friend and I were sad to leave. It was truly such a beautiful, valuable experience. You would be crazy not to try this excursion if you have the opportunity. Thanks again for everything, Mohammed!
---
我们的传统柏柏尔帐篷由当地柏柏尔游牧民族编织的骆驼毛制成。我们的营地由当地的柏柏尔家族经营,提供独特的撒哈拉以南的经验。在营地,您还可以享受骄傲的当地人提供的传统美食和音乐。
Our traditional Berber tents are made from camel hair woven by local Berber nomads. Our camp is run by a local Berber family and offers a unique Sahara experience. At camp you can also enjoy traditional food and music provided by proud locals.
房源
我们的营地提供10个帐篷,每个帐篷最多可容纳4人。我们采取小型或大型预订,并可根据需要举办活动。 在营地,您可以享受热水淋浴,可冲洗的厕所和舒适的床。但是,如果您愿意,我们鼓励您在星空下睡觉,欣赏壮观的景色。 我们也鼓励您在营地尝试乒乓球,无需额外费用。 营地的价格还包括一个一小时的骆驼大篷车往返于日出和日落的营地,还有通过沙丘的短途4x4车程。价格还包括传统的晚餐和每天使用新鲜的当地食材烹制的早餐。 如果您愿意,我们还可以在摩洛哥的任何地方安排4x4的私人旅游。只要和我联系,我们就可以安排时间表和谈判价格。 请注意,价格是每人,而不是每个帐篷。
Our camp offers 10 tents, each able to accommodate up to 4 persons at a time. We take small or large bookings and can host events if required.
At camp you can enjoy a hot shower, flushable toilet and comfy bed. However, if you prefer we encourage you to sleep out under the stars and enjoy the spectacular view.
We also encourage you to try sandboarding whilst at camp at no extra cost.
The price of camp additionally includes either a one hour camel caravan to and from camp at both sunrise and sunset or a short 4x4 drive through the dunes. The price also includes a traditional dinner and breakfast prepared daily using fresh local ingredients.
If you desire we can also arrange private tours in our 4x4 from any where in Morocco. Just contact me and we can arrange a schedule and negotiate a price.
Please note that the price is per person, not per tent.
房客使用权限
☆开车到Mezouga 如果您开车到Merzouga,请与我联系,以便我可以给您GPS坐标或安排一个会议场所。我明白,通过我的村庄导航有时候对旅游者来说是困难的,因为我们的街道没有被命名或结构与以前一样。别担心我在这里帮忙,并提供大量安全的隔夜停车位。当你在营地时,你不用担心车子。 但是,如果你是在你的车停在哪里的地方,或者你在哪里。我非常接近摩洛哥国家4×4博物馆,大多数互联网地图搜索显示。 ☆巴士到Mezouga Supratour巴士公司每天清晨(早上七点左右)或深夜(约晚上八点半)将人们送到Merzouga,具体取决于您从哪里旅行。请让我知道您的到达时间,以便我们安排接送和住宿。 ☆出租车或私人司机 如果您乘坐出租车或私人司机到达。请与我联系,我将与您的司机安排一个下车点。
☆ Driving to Mezouga
If you are driving to Merzouga, please contact me so I can give you the GPS co-ordinates or arrange a meeting place. I understand that navigating through my village is sometimes difficult for tourists as our streets aren't named or structured the same as you are used to. Don't worry I am here to help and have plenty of safe overnight parking available. You don't need to worry about the car while you are in camp.
But if you are after a general area of where your car will be parked or where you are headed. I am very close to the Morocco National 4×4 Museum shown on most internet maps searches.
☆ Bus to Mezouga
The Supratour bus company delivers people to Merzouga daily either early morning (around 7am) or late at night (around 8:30pm) depending on where you are travelling from. Please let me know your time of arrival before hand so we can arrange pick up and accommodation.
☆ Taxi or Private Driver
If you are arriving by taxi or private driver. Please contact me and I will arrange a drop off point for you with your driver.
与房客的互动
在我的家人,朋友和我喜欢与我们的客人互动。晚饭后的每一天晚上,我们都喜欢玩传统音乐,教客人关于我们的文化和沙漠。
At camp my family, friends and I enjoy interaction with our guest. Each night after dinner we enjoy playing traditional music and teaching guests about our culture and the desert.
其他注意事项
正如我们所在的穆斯林社区,我们要求你尊重我们的文化,并注意我们的习俗,因为我们将是你们的。
As we are located in a Muslim community, we ask you to respect our culture and be mindful of our customs as we will be of yours.
---
I am a traditional Berber man born here in the Sahara Desert. I most enjoy spending time with my family and relaxing with freinds. I also love my job as it allows me to meet with new people and share their experiences.
语言:
English、Español、Français、Italiano、Polski、العربية