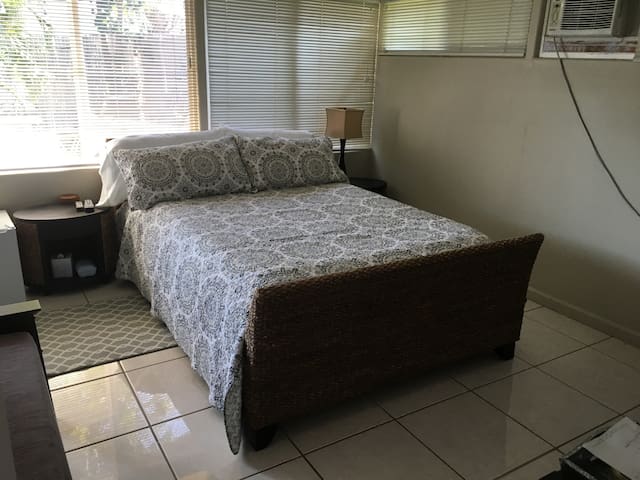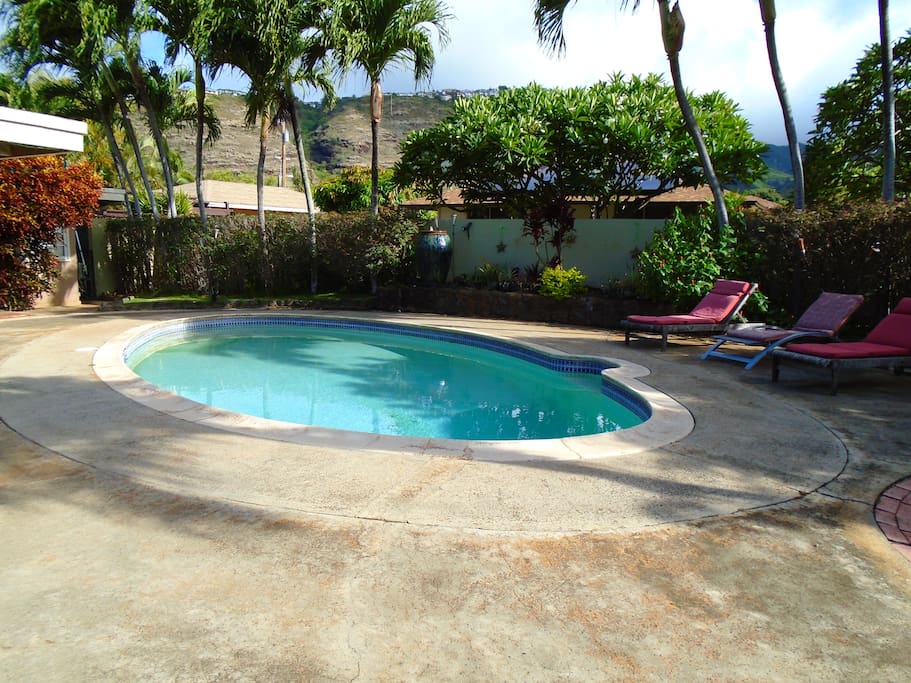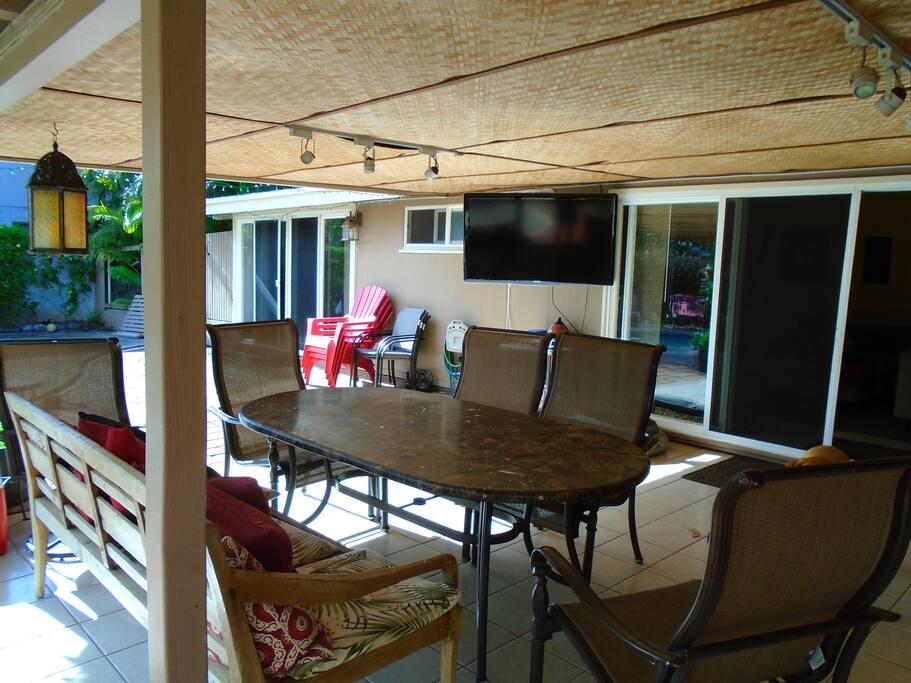 Private Bedroom with Pool & Patio
Our home is close to parks, restaurants, shopping malls, dining, and the beach. Although the city bus runs in front of our home, we recommend renting a car.
Parking is included in your stay. Please note, we have a large dog and 2 cats who are indoor/outdoor pets.
房源
The private room has a queen bed, cable tv, lots of storage, air conditioner and small fridge. The guest bathroom is adjacent to your private room.
与房客的互动
We are more than happy to recommend places to see, hike, shop and eat!
其他注意事项
We have a large dog and 2 cats who are indoor/outdoor pets.
---
Lani (and Mike and their adorable dog, Bear!) were wonderful hosts. They offered suggestions, helpful tips about the island, and amazing hospitality! They made us feel so welcome and more like friends, and Lani thought to go above and beyond with things like beach towels we could take with us to use during the day. Their home is located really close to different beaches and highways, too, which was really helpful when you're trying to see a lot of the island in your trip. I would really recommend staying with Mike and Lani, especially on a first trip to Oahu!
---
Lani, Mike and CJ where exceptional host first time I have stayed in an airbnb as in private room and they made me feel at home as soon as I arrived house is in a great location with an amazing semi secluded beach across the way. (Every time I was there was only one other person there fishing) I will be definitely be staying at Lani's place next time I'm in Oahu by myself.
---
Incredible hosts! Mike and Lani are extremely welcoming, friendly, and warm hosts who provided exactly what my wife and I were looking for during our move to Hawaii. They offered advice, made great reccomendations, and went out of their way to make sure we were comfortable. I'd absolutely reccomend staying there if you want a nice air conditioned room, comfortable bed, and the ability to relax in their incredible back patio/pool area! Also, did we did mention their loveable pooch, named Bear, or the private bath? All around great experience.
---
Lani and Mike are the perfect hosts; friendly, helpful and knowledgeable about the places around. We simply had the best 4 days of our vacation staying at their place. Lani's place is located at the best spot, 15 min drive from Waikiki and 10 min drive down to Hanauma Bay. We had rented a car and that made it even more convenient. The private room and bath were very comfortable and ideal for the two of us. Lani's pets, Bear and the cats are very friendly. Being pet lovers, we had all the more fun. The pool and the patio are the best places to hang when you need some rest from all the running/swimming around at the beaches. In short, we loved it! And Lani - Thank you ! We are definitely coming back some day :)
---
Lani and Mike were great hosts, they provided everything we needed to have a wonderful time on Oahu, beachtowels, cooler, chairs.... The room was very clean and comfortable with a private bathroom next door. Their dog bear and the two cats were really cute and the place was great for traveling throughout the island!would definitely stay there again! Mahalo
---