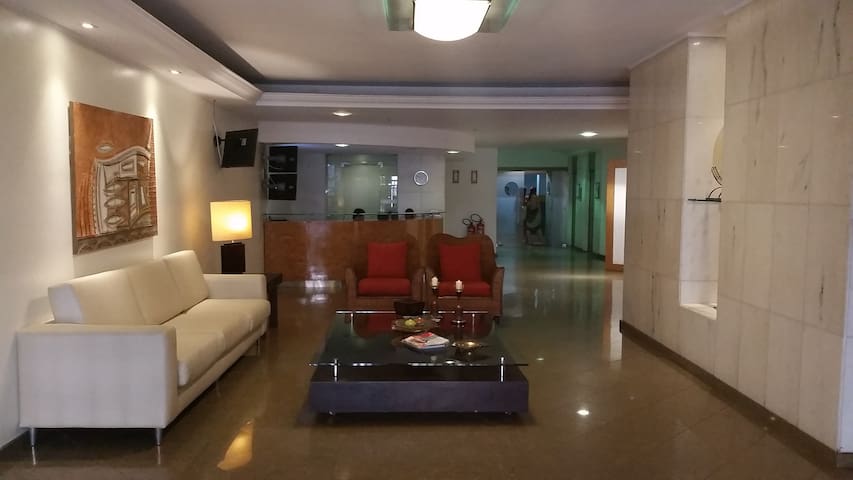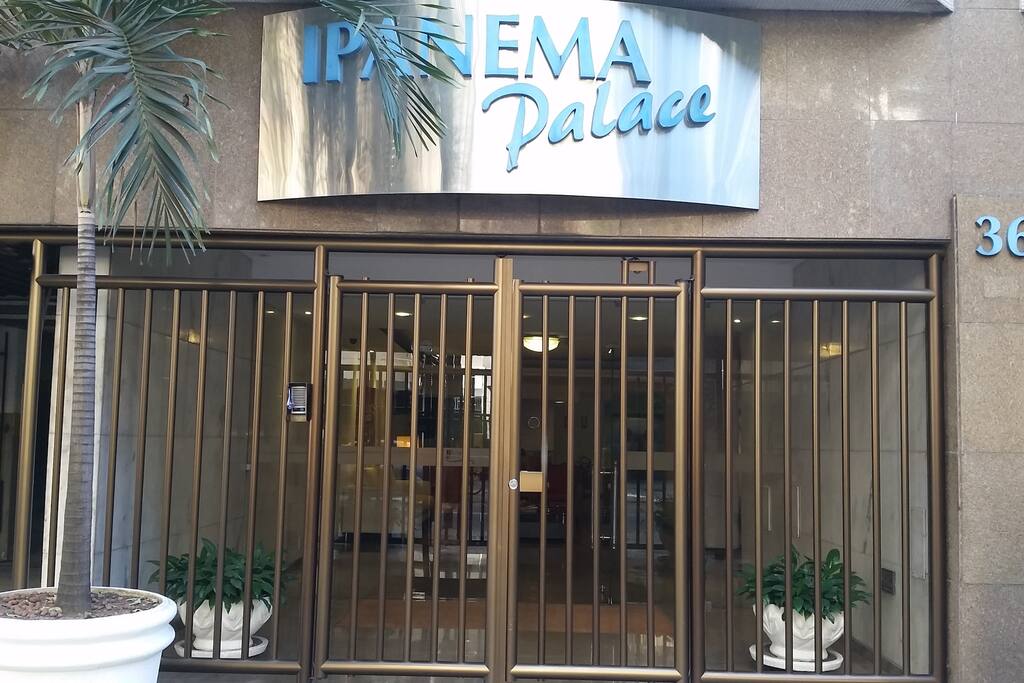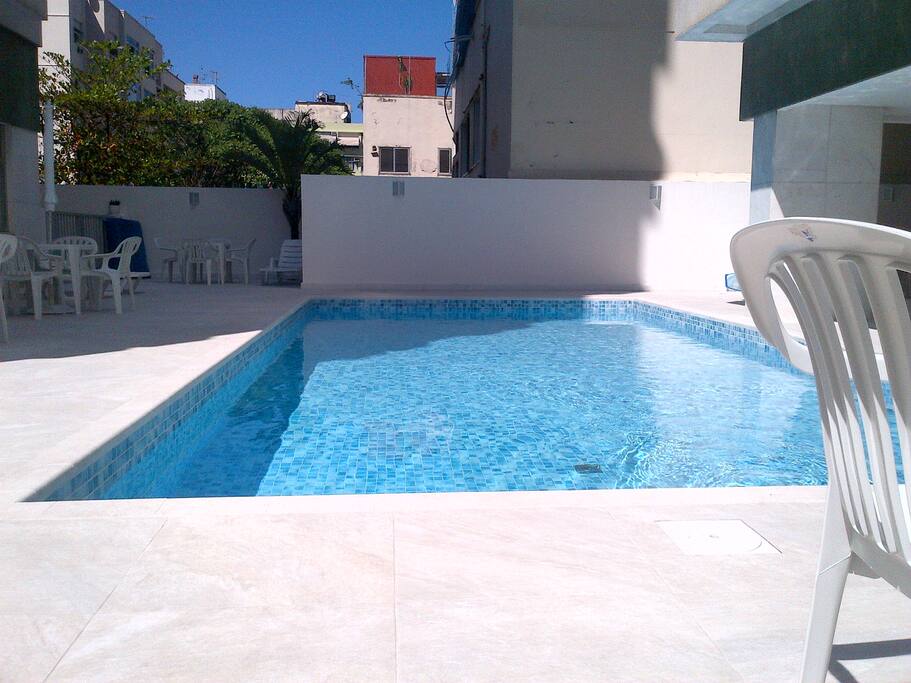 LOCATION, LOCATION!
Flat close to Posto 9, Ipanema Beach.
Apartment with 2 beds, 2 baths, kitchen and living room. View to the Redeemer Statue.
2 bedrooms for up to 6 persons in the heart of Ipanema.This apto is located on Prudente de Morais Street in the Ipanema Palace condominium, which has two entrances.
Internet Wi-Fi
房源细节
Suite: full size bed + ac + tv + closet + full bath
Guest room: sofa bed + single bed + ac + closet
Living room: sofa bed + tv + fan + ac
Kitchen with all that is necessary for a good stay
房客使用权限
Access to all that is available
与房客的互动
I am always available but during night hours.
其他注意事项
Additional cost: ELECTRICAL ENERGY, electricity consumption on the Check Out day, which is measured on the clock. If you turn everything off when you go out and be conscious, there won't have problems to worry about. Electric Power Consumption: on the clock
Gas bill + Cable TV and Wi-Fi : will be charged for those staying 30 or more days.
AVOID PAYING UNNECESSARY PENALTIES
It is forbidden to exceed the Number of People Allowed in The Property: If you exceed the limit of people allowed in the apartment, a penalty fee of R$100 per day and per person will be charged. This works only on a regular day and not for big holidays such as Carnival, New Year's Eve, and Big Events. In this case, the penalty fee will be 30% of the daily rental.
Don't Stain Bed Linen & Towels: Please do not throw towels and bed linen on the floor and avoid dirtying the towels with make-up, ink, cigarette ash, WINE or BLOOD. If you are careless and stain the towels and / or linen, a fee of R$400 will be charged. However, we can always check online the price of the same product or one with similar quality.
FURNITURE DAMAGE: Please do not sit on beds, chairs and sofas wet or dirty. If you DAMAGE the chairs, sofas and / or beds, and furniture in general because you chose not to be careful, a fee of R$2.000 will be charged.

Dirty Dishes and Unclean Utensils: are not included in the cleaning fee. Please wash and clean everything and put them back in the same place or R$5 per piece will be charged.
WASTE: Please remove all your waste/garbage/rubbish from the property or you will be charged a fee of R$20.
Door key: If lost or robbed, the penalty fee is R$10 for each one lost
NO pets are allowed! Fee of R$500
Toilet: Please don't discard used toilet paper or any type of object in the toilet or a fee of R$200 per toilet clogged will be charged as repair costs. There is a small trash can for that.
Please don't let hair run down the sink or shower as this will clog the pipes. If this happens, a fee of $100 will be charged.
Walls: Please do not defile the walls or a penalty fee of R$1000 will be charged.

SMOKING is not allowed inside the apartment. A penalty fee of R$100 will be assessed for the bad smell of smoke inside the apartments in bed lines, towels, and environment in general.

For any type of damage caused by cigarette ash, ink pen, mark of hot iron or anything else on the floor, furniture, sofas, beds, and walls, a fee of R$2000 will be charged. We just ask you to be careful.

When leaving the apartment close all doors and windows. If any damage occurs, whether by wind, rain, theft, etc., on the property because you forgot to close the windows and doors, a fine of R$ 2,000 will be charged.
DÉCOR: Please do not change the decor or if you change it, return it to the same place or a charge fee of R$10 per piece for changes of home appliances, crockery, furniture, chairs and curtains will be charged.

PARTIES ARE NOT ALLOWED! Respect Your Neighbor: Please talk in a tone of voice that doesn't bother the neighbor. Respect the law of silence. It is strictly forbidden to make any noise between 9 pm to 9 am, hold parties in the property or play loud music. Clients should conduct themselves in a polite and proper manner, being responsible for the conduct of the people accompanying them. In the event of any improper, irresponsible or anti-social behavior, we reserve the right to ask the client to vacate the apartment without any financial compensation. If the tenant disobey the rules of the condo and informal or formal complaint is made to the owner or agent, a fine of R$ 500 will be charged for the first complaint. The second complaint, tenant will be asked to leave without any financial compensation.

Problems on the property during your stay will be solved with urgency. But if they occur during the middle of the night, and/or weekend, and/or holiday when no one can be found to fix the problem(s) or the commerce is closed and there is no way to buy what is necessary to repair the problem (s), the client should be patient and wait until the next business day for the problem to be solved. No complaints or appeals to get discount will be accepted! Our team doesn't work during the middle of the night, and we ask you to respect our business hours. If you are living in the apartment over three (3) months, it is necessary that you wait the professional to fix the problem for you. If the problem is maintenance, we fix it! If you caused the problem for misusing any type of equipment, tenant is responsible for the repairing fees. Example: if tenant got the apartment with all light bulbs working fine, but tenant did turn them on forever and they get burned out, tenant is responsible for buying new ones and paying for fees. The same happens for everything else, like TVs, ACs, and etc.

SAFETY: We care about your security but we are not responsible for falls on stairs, flooring, bathroom and terrace. Be very careful with your physical safety and here are some suggestions for you:
1. Do not let anyone unknown to you into the building. Be aware of any strangers around the corridors in the building.
2. Be careful who you invite back to your room. Remember that YOU are the responsible for the apartment!
3. Keep your apartment locked at all times.
4. Close windows, particularly on ground floors when you are not in your room to prevent opportunistic theft.
5. Don't leave keys in your door for others to see.

An inventory list and photos will be available when tenant enters in the property. The inventory is in Portuguese but if anything happens during your stay, we ask you to contact the agent before the check-out. Also, if you have to pay for any type of damage, we will translate whatever is necessary in real time in front of you. Each object has its own price and picture. However, IF YOU TAKE CARE OF THE APARMENT, you won't have problems to worry. All we ask for is that you return the apartment the same way you received.
Please make sure all persons sharing the apartment read this contract.

I read, understood and agree to all the terms above.