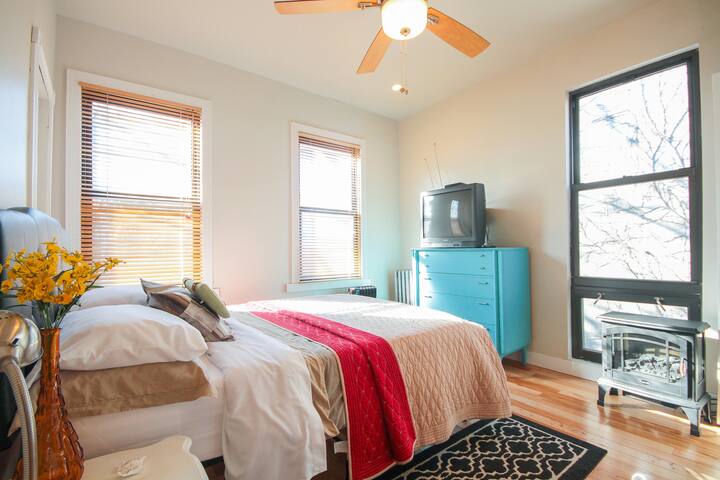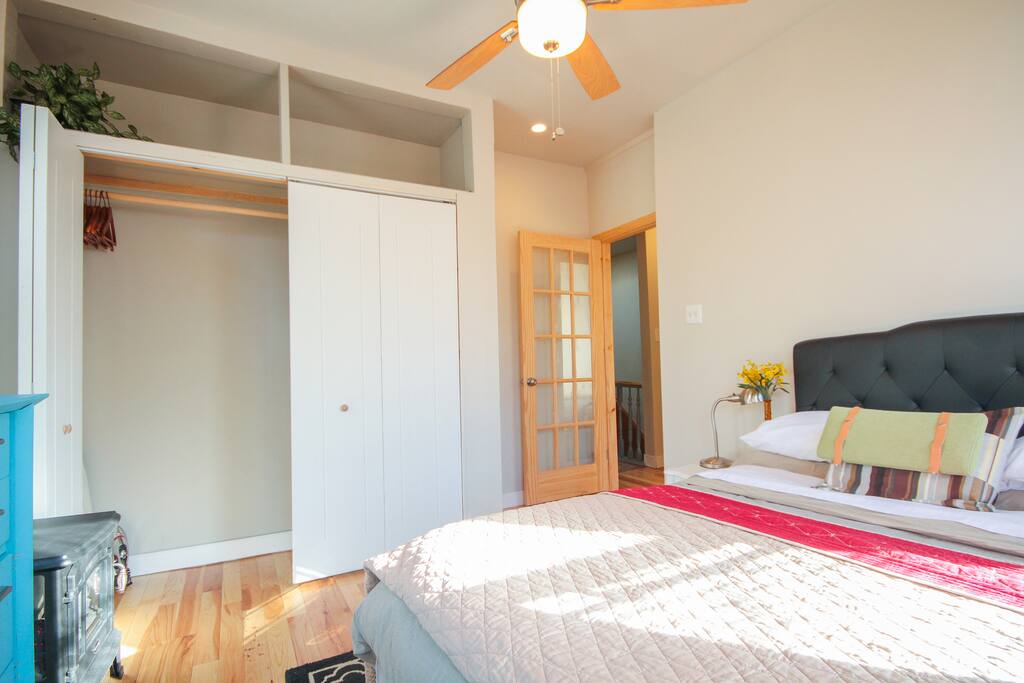 Stylish 3 Bedrm, perfect for groups
Come Join Us!
*Friendly Location & Accommodations
*Hip & Historic
---
*Flat price: No cleaning fees; No extra person fees
---
(4 stops Manhattan)
Subway access to 2, 3, B and Q trains, as well as several bus lines & accessible highways. Also easily connect to the Atlantic Terminal/ Barclay's station for a plethora of commuter trains/ transportation options.
---
**If this 3BR listing appears booked, we can provide a grt referral for a 2BR listing (same location), just ask.
房源
3BR Oasis, within a private home. Location: Prospect Hghts, Brooklyn ;-)
**Great for singles, couples or groups**
Early Bird SPECIAL, priority acceptance for extended stays when booked early (closest available dates, preferred)
Business Travelers: the 24hr check-in amenity feature, means you still Need to pre-arrange for an agreed check-in/ check-out time (in Advance).
* Book monthly & get even deeper discounted rates. Discounts reflected once you enter your dates.
**No extra charges; No cleaning fees; No extra person fees, arrival/ departure time fees, "this & that" fees!!
Breakfast frequency: We provide continental breakfast options in the refrigerator & pantry, on your arrival day!
________________________________________
________________________________________
ENJOY...
The big apple is waiting for you to take a bite. The hustle and bustle of the city is right there beyond the doorstep of this beautiful 3 bedroom, 2nd floor apartment ( within a private home) close to conveniently located stores, restaurants, and transportation in Brooklyn's Prospect Heights neighborhood.
The Brooklyn Museum is up the street, as are the fantastic Botanic Gardens and the Brooklyn Central Library, and at least 3 metro stops/subways leading in practically every direction. Bus stops are on the corner. Concert seekers or sports fans, just blocks away from the Barclay's Center/ Brooklyn Nets. Yelp will tell you about the many top-rated restaurants within a 3 block radius of the apartment.
The wing apartment is completely renovated, with three bedrooms, a modern kitchen and bathroom, and lots of sunlight. The apt has a 3BR historic wing layout, meaning the apt's common area is the Eat-in kitchen. Please note that there is an event-sized side garden with deck (available via separate booking). It is one of the rare properties in the city where there is a view of a side garden that will immediately transport you out of the noisy bustling city, into a calm, and peaceful oasis.
________________________________________
________________________________________
房客使用权限
The apartment is separate & private ( within a house).
Each bedrm is private with its own door & window.
* Grocery store is across the street. (Whole Fds also nearby if using a push cart or car)
* 24-hr large laundry facility with free wifi next door/at corner
* Linens, towels, sheets, iron /board, eating utensils, pots/ pans, kettle, manual coffee filter/maker, microwave, toaster, and blender provided.
* Continental breakfast options in the refrigerator and pantry on your day of arrival.
* Ceiling fans in each bedroom (A/C in summer)
* Sizable closets/storage
* 9-10ft  ceilings
* New hickory hardwood floors
* Recessed lighting
* Hallway skylight
* French doors throughout
* Neutral/modern paint & custom wainscoting
* New eat-in kitchen with pantry
* Exposed brick
* Bathroom with tub, window & exhaust
* Outside yard/private garden is seasonal & OK for sizable events ( via separate booking)
* FREE street parking (willing to add driveway and private parking on premises for long-term smart car & motor bike owners (separate booking)
* See tab above for other amenities!
________________________________________
________________________________________
与房客的互动
COMFORT, CONVENIENCE...
As fellow travelers, we're sensitive to the needs of travelers and make sure to do our utmost to make you feel comfortable away from home. We also speak French, Portuguese and just a bit of Spanish. We're available to help or advise on any local activities.
________________________________________
________________________________________
其他注意事项
BOOKINGS...
Can also do monthly or longer-term rentals - just ask. If 1 month or less= 4 persons OK. For bookings 4+ weeks, we recommend a maximum comfort capacity of 3.
*Specific Off-peak/ Winter seasonal Only: 4 adults for a specified extended period is sometimes possible (rare: yet inquire for details/ limits)
** Please kindly submit an inquiry to us to confirm our availability (prior to booking). We do our best to update the calendar, yet sometimes a current guest may extend their stay or bookings are processed elsewhere. We want you to be satisfied with your reservation and aim to reply promptly.
TIP: Serious inquiries would have their Airbnb ID verifications in their profile -or- plans to complete them. (Tip: if you already have at least 1 review, it can count as "on-line ID". ( IF u need special help w/ the on-line ID requirement, we can assist). We do Not require Profile photo, but Airbnb might ask.
Learn more here: www.airbnb.com/verify
See you soon!
________________________________________
________________________________________
---
---
---
---
---
House Rules - all guests will sign acknowledgement upon check-in. Non-compliance with house rules can lead to early termination of reservation.
•We welcome you to treat the apartment with respect and cleanliness.
•Any bookings greater than 3 months will be entered as separate reservations to equal the overall requested stay. (Example: a 4 mth booking will have 2 separate (sequential) reservations= 3+ 1). It is very simple & we'll guide you through any questions)
• Extended stay/ Long-term reservation guests should obtain traveler's insurance to protect their cancellations & alterations, including Airbnb's extenuating circumstances policy.
• If a guest alteration is entered (shortening a stay), special promotions entered for the booking will be reversed (retroactively charged at the standard rate). Monthly rates are also promotional rates.
•Please let us know your check in & check-out time, as early as possible. Both Check-in & Check out details: a week in advance of your arrival is ideal, and any alterations to check-out time: at least 2 days before your departure is requested. Providing flight, train or bus arrival (and) departure ticket times simultaneously after booking is most useful.
•Report any maintenance issues, immediately.
•Do not remove, add, alter the apartment or any property inside, without prior consent.
•No outside guests allowed to stay overnight. >(possible exceptions for Long- term bookings, ask for specifics)
•There will be an onsite apartment maintenance check 1 - 3xs during your stay, ( 3 for longer stays). We will arrange a mutually convenient time. We ask that you tidy up, so there's no clutter, areas blocked from view.
•During your stay: do not leave dirty dishes piled Very High in sink; Upon checkout: do not leave Any dirty dishes remaining
•Do not pour cooking grease/oil down the sink
•Do not allow hair to pile or clog tub or sink drains. A hair guard should be used over drains at all times and hair should always be removed from drain cap.
•Maintain a clean apartment regularly to prevent mildew, mold and pests. If lack of cleanliness/ guest actions lead to physical damage to the property, guest/tenant will be responsible for the repair.
•Keep noise to a minimum; no loud music.
•No parties inside property. Event yard can be rented for gatherings.
•Be mindful of utilities: ( ie, turn off electricity when not in use, do not allow water to run un-attended or with disregard).
•No smoking of any kind in (or) near the property.
•No candles/ no open flames.
•No pets allowed on property.
•No bikes allowed inside the property (bike racks located along street or our onsite storage unit can be rented). Exception: folding bikes allowed, only if collapsed= bike wheels 20" or less.
•Do not flush anything but toilet paper, into the toilet.
•Brooklyn observes strict sanitation rules:
•Household trash should be placed in [black opaque trash bags] and put out in front of the property (at the curb) on Tuesday night, Thursday night, or Sunday nights.
•Recyclable trash (plastics, glass, metal or paper/cardboard) must be placed in [clear/ see-through bags] and placed in front of the property (at curb) on Sunday nights (Paper/cardboard go in its own separate clear bag ).
您还必须确认以下情况
需爬楼梯 - Stairs: The 3BR wing apt has 1 straight (standard) flight of stairs (13 steps) to the 2nd FL. The online photos show both the house & also the stairs.
---
---
---
---
I stayed in this apartment for 4 months with a colleague while doing medical school rotations in Brooklyn. The apartment is exactly as described and shown online. The living space was clean, comfortable and had all the necessary items for a great stay. There are 2 large bedrooms, 1 smaller bedroom, a full kitchen and updated bathroom. The apartment is in a very safe neighborhood with a grocery store and laundry mat across the street and many great dining options nearby. This location is also very convenient with many subway stations approx 10 min walk away including the C, 2, 3, 4, 5, B & Q subway lines. There are also many bus lines, but I never used them due to the proximity of multiple subway stations. Hosts Zoesarah & Anu were very friendly, accommodating and promptly available if we ever needed anything. I would highly recommend this apartment and would certainly stay here again when traveling back to Brooklyn.
Kyle & Tom stayed the 3BR apt for 4 months in Bklyn, New York, while completing their rotations. They are welcome back anytime. It's always nice to have guests who are considerate, mature & who've had prior "real life" experiences as residents/tenants. We're also glad, we were able to provide a nice apt & location that accommodated their needs. ----They were friendly, self-sufficient/ low maintenance, and provided streamlined communication. We value our professional guests. We also look forward to accommodating future medical students, while working in our local hospitals in Brooklyn, a very popular location.---- It was great to get a reservation from Connecticut (having also studied there, it has special significance!) Thx again for booking your extended stay at "Prospect Garden". All the best & Cheers!
---
The house is a little bit small for four people, but it is comfortable enough. The location is good, and it costs 10 minutes to walk to the subway station. The host is really nice. I had a very happy vacation on New York.
Jessie and flat-mates stayed at the 3BR apt in Bklyn, New York over the holiday season. They were a polite group of high school students from Maine. We anticipate their communication regarding timing & adjustments will improve with their booking experience. We maintained a clear path of contact with them and made unique adjustments, including their "emergency" request at check-in for party of 5 (rare!). So it's interesting to read about our Apt size in relation to 4 guests. We've hosted very satisfied parties of this size for a mix of periods= short & extended. -- Jessie's group traveled to Bklyn before, so they knew how to get around the city. They left the apartment tidy and organized. Thx again for booking your stay at "Prospect Garden".
---
Anu and Sarah were gracious hosts. From the moment we booked, they were very accommodating. At check-in they provided us with snacks, things to do in nyc, and house rules. Throughout the summer they were available if there was ever any issue in the apartment. I would highly recommended staying here if you need temporary long term housing in new york. And be aware, NYC mail is tricky so keep that in mind if you need to receive any packages during your stay. Prospect heights, where the apartment is located, is a great location to explore Brooklyn and the rest of new york city. My group highly recommends!
Phoebe, Janae & Sosena stayed in our 3BR apt for 2.5 months in Bklyn, New York, while completing some very impressive internships. It was nice to have a group all from different parts of the world. We were happy to learn that our apt accommodation was mentioned in a final work presentation. ----Sharing our guidelines early & throughout the stay was important, and we appreciate their positive & proactive responses when we addressed challenges w/ respect to house rules. They were a polite group who are clearly on their way towards successful careers. We wish them continued success on their trajectories. ----It was great that the apt & location met their needs and distance to work. Thx again for booking your extended stay at "Prospect Garden". We look forward to future visits in their areas in the U.S., Europe, East & West Africa! Cheers!
---
My agency sent three trainees to Sarah and Anu for the duration of two months. They have been really helpful in advance and during the stay. They successfully tried their very best to make my colleagues feel comfortable at their place. Furthermore, the cozy house is located in a great neighborhood in Brooklyn and the connection to Midtown was uncomplicated and easy to reach. We would definitely book this place again. All in all a really nice and comforting stay with caring hosts! Thanks, Sarah and Anu!
Julia booked our 3BR apt in Brooklyn, New York for 2 months for her work associates (Tobias, Doreen & Marco). It was an excellent reservation! We are huge advocates of international professional work exchange programs and it is great to host & learn about such clever individuals. ---Julia was very professional with organizing the booking, and we look forward to working with their Human Resources Dept again. Our 3 guests were delightful, professional and a joy to host. They were respectful of the house rules/residence and very appreciative. We value our professional travelers; we'll remember our good conversations and we'll miss having them here. Also we thank you again for your referrals. ---We've traveled to Germany in past and another trip may also in the making! If you need accommodations for any of your associates in the future, definitely contact us. Best wishes & Cheers!
---
Zoesarah and Anu were very delightful to rent from- they met us late at the flat to check in and gave us a handbook on the apartment. I LOVE when hosts do this- keeps things organized and tidy! There was food in the pantry and in the fridge as well- that was such a nice touch since we got in so late and we were really hungry! The space is comfortable and easy to stay in. The kitchen functions well for cooking meals and the beds were extremely comfortable. The place is well taken care of and in a great location, lots of restaurants, coffee (sit & wonder is EXCELLENT), and bars. Laundry is literally around the corner, and Subway access is easy as well. The only small downside of this flat is that there really isn't a communal room to hang out in (it's a kitchen, bathroom, and three bedrooms), we didn't know this when we rented it, but I think that you are generally not going to hang out a lot in the apartment anyway so it may not matter. I would recommend this highly to anyone looking for a safe, comfortable bed in Brooklyn and I would rent it again.
Missy & family of 3 stayed at the 3BR Apt in Bklyn, New York during March - glad to have a friendly, and courteous family with us. It was the first time to NYC for 2 out of 3. The good news is that they have definite plans to return to NY again. It's also great that the apt & location met their needs. -----Regarding Apt layout: We provide to all our guests a detailed description of the apartment layout in our our very first communications: "The apt has a 3BR historic wing layout, meaning the apartment's common area is the Eat-in kitchen, rather than a living room... It is on the 2nd floor of a small house, and has 3 Bedrooms, an Eat-in kitchen and 1 bathroom. The middle-sized room is next to the kitchen and can function as a TV or living room." We are big advocates of accuracy. Happily the layout has been suitable for our past guests (a majority extended-stay/ Long term= who are home quite often). We value learning from our guests, as much as we like to provide hospitality, and appreciate the household tips & local recommendations they shared ----- It was fun to get a reservation from Denver, CO (one of our other favorite "Western" locations). Thx again for booking your vacation stay at "Prospect Garden".
---
Amazing experience at this airBnB. A+++++ Hosts Zoesarah and Anu were extremely welcoming. They provided us with lots of info on the neighbourhood and made it really easy for us, even following up with additional tips and reco's for weekend fun. The apartment itself is very private, and perfectly comfortable. We loved the ability to regulate our temperature perfectly with the heaters throughout and the apartment is extremely clean, well appointed and in perfect working order. Its so nice to have faucets that work great, a nice big tub, hot water, great garbage/recycling system, comfy beds, big closets etc. Our hosts even left the fridge well stocked for our arrival which was over and above thoughtful and they also worked with us on our special requests. The location is absolutely ideal. We loved the proximity to the subway, great restaurants, grocery stores, laundry, the park, a playground etc. We will definitely be back!
Another former Brooklynite returning home for a nice stay! Jenna & her business colleague, Anna, were a pleasure to host. They reserved the 3BR in Bklyn, New York for their business trip. We also very much value having business travelers, and look fwd to the opportunity to host them again! -----Having lived in our neighborhood, Jenna shares our love for the area. It's awesome they have a base here, so a greater chance of a re-visit. They were self-sufficient & appreciative - it's always nice to have guests who express value in the experience & efforts you've made as a host. We were able to accommodate their separate arrangements & the alternating travel schedules of their extended party: kids, babysitter, etc. -- Jenna & Anna's friendly visit was one we look to repeat in the future. --------Portland, OR is also one of our favorite West Coast destinations as well ! Thx again for booking your business stay at "Prospect Garden". We'll keep a V.I.P. spot open for you, family, & all your business associates here on the E. Coast/ US or the Caribbean/ JA. Cheers!
---
We were three friends living in Anu and Sarah's apartment for approximately four months as part of an exchange stay in New York. Overall, we had a very nice and comfortable stay. At arrival Anu welcomed us to the apartment, where the hosts gave us a quick tour. Not only was the host very welcoming and friendly, but the host had also ensured a full fridge and a small guide of the surrounding areas. Throughout our stay, we were always met with the same friendliness. If we had any problems with the apartment or we needed help they were available to help within short notice. The apartment was situated in Prospect Heights, a very nice part of Brooklyn with a lot of green areas (including Prospect Park). What we especially loved about it as well was the many restaurants and shops just a stone's throw from the apartment. Though we were very happy about both hosts and the area, we were somewhat disappointed with some parts of the apartment itself. First of all, the apartment was smaller and darker than what seemed to be the case on the pictures. We further experienced issues with the apartment being either too hot or too cold – probably due to bad isolation. Also there was a lot of noise from the street at night, which can be a bit annoying if you are a light sleeper. Other than that, we really recommend Anu and Sarah as hosts, and the apartment is perfect for a family vacation in New York.
Simon and his flat-mates (Maira & Yasmin) stayed in our 3BR apt for 4 months in Bklyn, New York, while working/studying in their internships or university foreign exchange. We're glad we were able to provide an apt & location that accommodated their needs. They stayed in communication during the stay and we went the extra mile providing extra accommodations, exceptions, provisions, and resources. ---So we are surprised to read about the noted challenges, most of which we could have dealt with very quickly had they been communicated. This is the 1st time that we were notified of comfort regarding thermal temperature. As a standard, we routinely ask how everything is going. We are able to adjust the brand new central heating system to suit guests needs. Guests are also given the opportunity to further control the temperature themselves using individual room heaters. In the summer, guests also have new individually controllable A/C units provided in each room. --- With regards to size & lighting, images posted are Airbnb are verified images of every room, taken by an Airbnb photographer, and we are big advocates of accuracy ( see previous reviews), and we also include size dimensions in our correspondence (prior to booking). We've hosted satisfied guests of various sizes, families, business, in all seasons in of the year, with prior guests noting there was plenty of sun-light. As a host, you learn to expect varying perspectives. We care about both the minor critiques & the major praises. ---Lastly, with regards to sound, we are located in one of the most active cities in the world, so sound is variable. We've been told that the apt can actually be quiet for NYC standards, to the point that you hear birds singing in the morning in our unique side garden. --- In the end, we are glad to have hosted Simon's group, and earned their positive recommendation & ratings. Simon was very polite, respectful, and a warm spirit. With family in Norway, we also plan to visit their area in Denmark soon for our tour of Scandinavia.
---
We live both in Brooklyn, New York (for generations & with great pride!) and just outside Philadelphia in quaint township in Pennsylvania, U.S. and love to travel and learn languages.

Work as an independent consultant, and property administrator.

* Likes *
Trying new foods
Learning languages
Volunteering on projects
Living basically - living out loud using basic ingredients!
Thinking

We like to travel to places where we can walk (& walk!) and explore and see how people live and communicate - can't wait to discover more places.

We're mostly vegetarian and try to eat mostly organically. We like to cook, and when home, hardly eat out. We like all different types of music - but mostly like musicians who don't follow the mold...across all genres.

Current motto is: Live and let love!
语言:
English、Français、Português