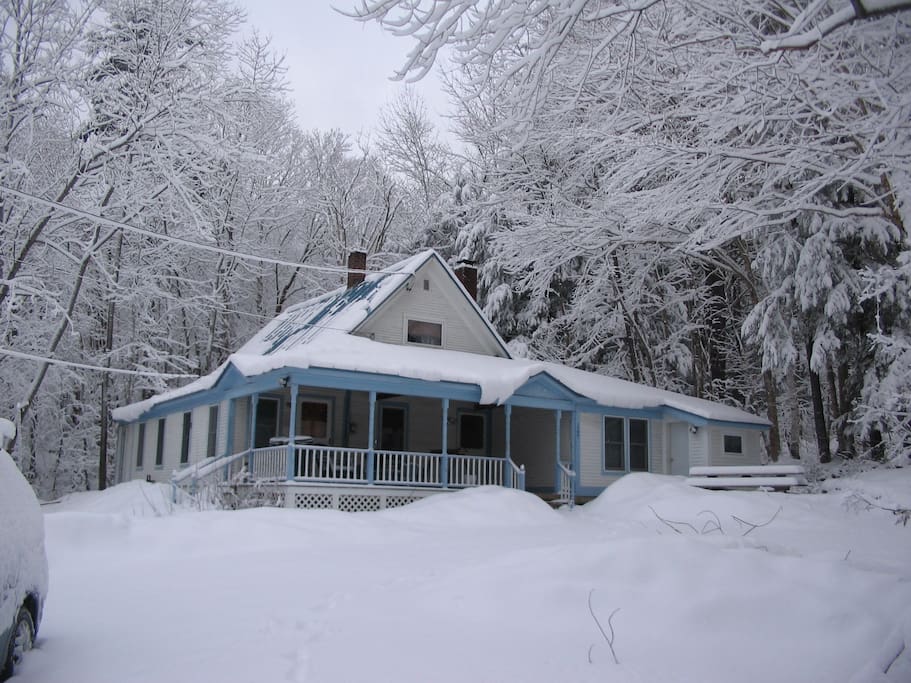 Looking for the perfect summer getaway for your group in Central Vermont's lakes region? Little Brook House at Echo Lake – a spacious, non-smoking, five-bedroom retreat with hot tub, Jacuzzi bath and loads of amenities -- is perfect for large families, reunions or groups of friends! The house's proximity to Echo Lake Inn (a two-minute walk) makes it a great place to stay during a wedding weekend.
房源
The house sleeps 13 (including two sofabeds). Enjoy an exhilarating day swimming, kayaking, fishing, hiking, golfing or bike riding, then gather in the hot tub on the back deck that overlooks state forest land listen to the babbling brook. Enjoy the fireplace, hot tub, outdoor fire pit, horseshoes, cornhole, badminton, volleyball and more.
The house is centrally located to access Ludlow, Woodstock and Rutland.
LITTLE BROOK HOUSE IS NOT LITTLE
Little Brook House at Echo Lake gets its name because Little Brook flows just behind it. Three miles up 2,320-foot Tiny Mountain, you'll find Tiny Pond, which makes a great day hike – look for the moose who live up there!

HOUSE HISTORY
The house has an interesting history – it actually started as a chicken coop over 150 years ago! Over the past century is was built upward and outward, so that today it's a spacious, comfortable home perfect for large families, reunions or groups of friends. Some of the original wood remains around the fireplace, and the built-ins limit the size of the flat screen TV in the living room, but you should enjoy the rustic ambience.

ECHO LAKE AND THE BOAT
Little Brook House is a five-minute walk from Echo Lake, where a two-person kayak is docked for your private use. The Black River is across the street – both the lake and the river offer excellent fishing. Need more boats? Tyson Village Store, across the street, has boats and stand-up paddleboards available for you to rent at very reasonable prices.
(The address is 1785 Rte 100 North, just south of Echo Lake in north Ludlow. NOTE THAT THE MAP places this house at the wrong place. We are actually across the street from this location: (URL HIDDEN)
9% VT lodging tax and $200 cleaning will be added to total rent, as well as a CSA travel insurance payment.
WINTER -- Little Brook House is just 3.5 miles from Okemo Mountain Resort and 11 from Killington Skyeship. It is available as a winter seasonal rental, or for winter weeks and weekends.
房客使用权限
Te entire house is yours, including yard and hot tub.
其他注意事项
We have volleyball, horseshoes, cornhole, a hammock, a fire pit, a brook to play in right off the back deck, and hundreds of acres of wilderness area just behind the house. Holiday weekends have three-night minimums and premium pricing.
---
---
---
Pets allowed with deposit.
No drugs. No smoking.
9% VT lodging tax will be charged separately. Cleaning fee includes hot tub.
Contained in Lease:
(1-5 will contain address, dates and rates)
6. RESTRICTIONS. No smoking. No pets without prior arrangement.
7. UTILITIES. The landlord will provide water, heat, electric, cable television service and local telephone usage. Lessee is responsible for all long distance calls made during tenancy. A phone card must be used. LESSEE is responsible for separating trash and recyclables, which will be disposed of by the building manager.
8. RESTRICTIONS: NO SMOKING. NO PETS without prior arrangement.
9. ACCOMMODATIONS: Three queens, one double, two single beds, two sofa beds, one pack-n-play crib. Linens and towels are supplied.
10. MAXIMUM NUMBER OF OCCUPANTS: The house is to be occupied by no more than TEN (10) persons, plus crib.
11. LESSEE assures the LESSOR that the tenants will observe all conditions and terms of this lease as to maintaining the premises in good order and appearance and will conduct themselves in a manner inoffensive to neighbors.
12. LESSEE assures the LESSOR that any tenant who violates any of the terms of this Lease shall be immediately denied occupancy and shall remedy any damages or other expenses caused by the tenant and/or the tenant's guest(s).
13. LESSEE agrees that any tenant who is found using drugs or allows others to use drugs on the premises will be immediately denied continued occupancy at these premises.
14. LESSEE and/or their guests shall not disturb, annoy, endanger, or inconvenience neighbors, nor use the premises for any immoral or unlawful purposes, nor violate any law or ordnance, nor commit waste or nuisance on or about the premises.
15. LESSEE agrees that during the term of this lease and such further time as he/she occupies the premises, he/she will keep the leased premises clean and free of trash, garbage, and other waste; and all pipes, wires, glass, plumbing and other equipment and fixtures in the same condition as at the beginning of, or may put in during the term of the lease, reasonable wear and tear and damage by unavoidable fire and casualty only exception.
16. LESSEE agrees to indemnify and save LESSOR harmless from all liability, loss or damage arising from any nuisance or harm made or suffered on the leased premises by the LESSEE, tenants, or guests or from any carelessness, neglect, or improper conduct of any persons entering, occupying or visiting the leased premises.
17. LESSEE agrees to indemnify and save LESSOR harmless from all liability, loss or damage arising from any nuisance or harm made or suffered on the LESSOR'S boat, creeks or hot tub by the LESSEE, tenants, or guests.
18. LESSEE agrees that he/she shall not paint or make alterations to the property, including changing existing locks or adding new ones, without the LESSOR'S written consent.
19. Upon not less than 24 hours notice, LESSEE shall make available to LESSOR or his agent for the premises of entering to make necessary or convenient repairs and to show the premises to prospective tenants. In an emergency, LESSOR or his agent may enter the premises at any time without securing prior permission from LESSEE.
20. LESSEE may not let, sublet or assign this lease for all or any part of the premises without prior consent of the LESSOR.
21. If LESSEE abandons or vacates the premises, LESSOR may at his option terminate this lease, enter the premises, and remove all property.
22. In the event that any action shall be commenced by either party arising out of, or concerning this lease or any right or obligation derived therefrom, the prevailing party shall be entitled to receive attorney's fees as fixed by the Court in addition to all relief at law or equity.
23. Either party may terminate this lease in the event of a violation of early provision of this lease by the other party in the manner and as provided by law.
24. LESSEE assumes full responsibility for fulfilling the terms of the lease for the period stated and assure the LESSOR full recourse for the payment of any amount outstanding from the total amount due in accord with the terms as stated above including any outstanding or unpaid charges that are the responsibility of the LESSEE.
25. In the event of cancellation of this contract, refund of the advanced rental deposit will be made only to the extent that a tenant can be found to occupy the vacated time reserved under this contract.
---
---
---
Little Brook House was a wonderful home for a holiday weekend. It accommodated our group of 12. The brook behind the house was beautiful and made the hot tub that much more relaxing. It is located very close to Okemo, and there is a nice corner store conveniently located across the street from the house. I would highly recommend a stay here.
---
We had a wonderful time at the house. Great location near beautiful hiking trails, lakes and mountains. The house was just as described and accommaodated all 13 of us very nicely. We especially appreciated how well organized the host was in putting together materials for things to do in the area and expectations outlining how to care for the house. Thank you!
---
I had a little trouble with Airbnb while trying to book this house, and Lisa was a true fighter for the cause! We were able to communicate easily and work with Airbnb in order to secure the booking for the appropriate days. As other reviewers have noted, the house is dark and outdated, but we were here in August and spent most of our time outside in the yard, enjoying the hot tub and brook, or exploring nearby swimming holes and gathered inside mostly in the kitchen area, which is spacious and comfortable. Bring your own toiletries, sheets for the pullout couches, and extra towels if you plan to go swimming, but otherwise the house had everything we needed and Lisa's comprehensive guide to the area was excellent. She was a pleasure to work with!
---
Communication was easy, Lisa sent a comprehensive house manual with instructions on gaining access well before the trip. The house is set back from the road a little bit, but not very private. You can see the house next door from the porch and hear cars going down the busy main road at all hours. When I arrived, I immediately noticed the strong smell of gasoline and had to open all the windows to comfortably breathe. It was easy to reach the property manager by phone, but when I spoke with him, he told me that there had been an earlier incident with the boiler, and that he had laid down some sort of odor remover, so the smell would only get better. Unfortunately, it did not. Me and my group could smell gasoline in every room all weekend, and it got worse when we turned up the heat. The house was also very dirty. I expected the house and its fixtures to be old, worn, and even run down. In some cases, I find those attributes charming. However, this property had stains on the carpet, dirty silverware in the drawers, and cobwebs in every room. There were also some black spots on the kitchen ceiling that looked like either smoke damage or mold. Combined with the gasoline odor, it was difficult to focus on the positive attributes of the house during my stay, which include a large hot tub, a very effective washer and dryer, separate thermostats for many of the rooms, and plenty of firewood. The house is about a twenty minute drive from the main Killington ski area, which was perfect for our needs.
We did have a problem with the gas line early on the morning that this guest arrived. Our staff brought someone in to fix the problem and did everything they could to remedy it. The guest never once complained to us about it or asked for help, but chose to suffer in silence and complain publicly later. There is no mold in the house and there has not been a fire. It's true that the house is old and has a rustic feel, and many of the furnishings are Vermont antiques.
---
Our property manager, Keith Hawkins, lives nearby and is available to help as needed, though guests must be patient with spotty cellphone service in the area and should leave a message if they can't immediately reach him.
Likes:
Exploring, Theatre, Birdwatching, Travel, Singing, Running, Photography, Trail running, Movies, Biking, The arts, Hiking, Camping, Fishing, Kayak, Skiing, Graphic design, Nature