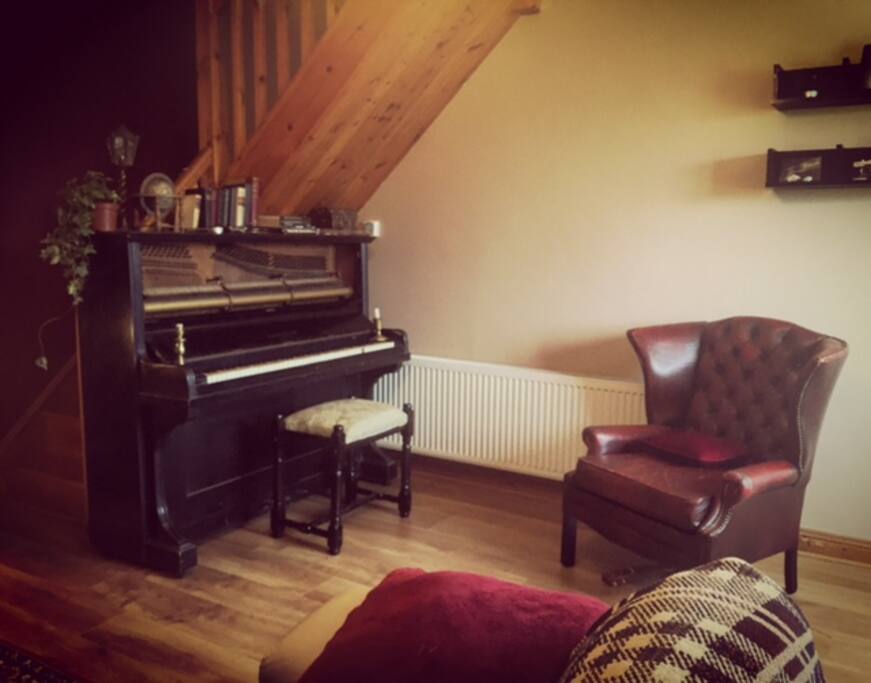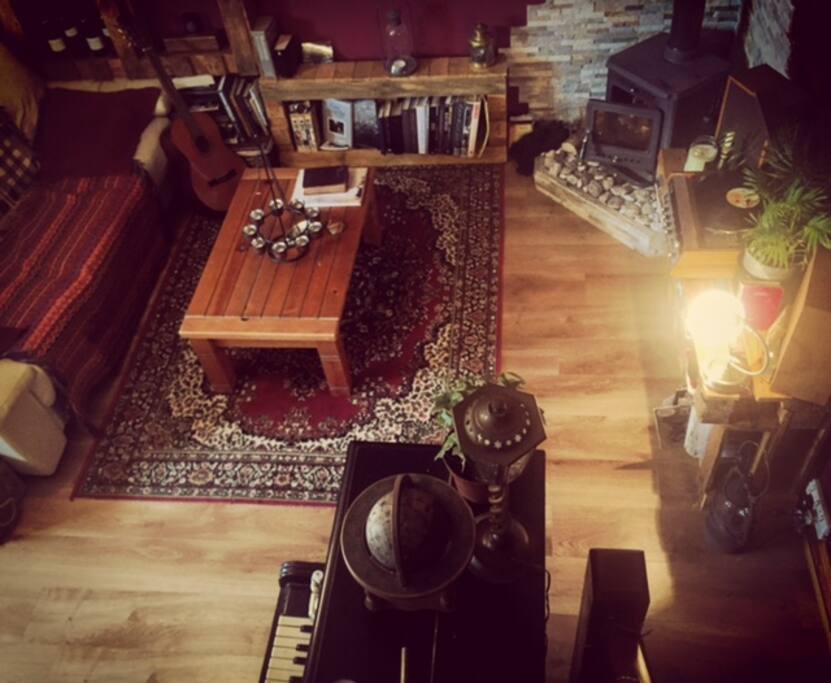 Creative getaway near the beach & forest!
Welcome to our daughters creative, 2 bedroom annexe! Equipped with your own kitchen (including washing machine) & living space , bathroom, plus 2 bedrooms (one twin and one double room) Would appeal to musicians/ artists/writers/walkers/nature lovers etc.This property is not suitable for younger children.
Close to beaches, the ancient Raven Forest & lively Wexford town where you can find great Irish pubs & restaurants.
More info in the description below..
---
Eamon and Ann were brilliant hosts and we had a truly wonderful weekend in their Wexford hideaway. Quirky decor, a wonderful selection of instruments and vinyl record, a perfect location and a fridge full of breakfast supplies on arrival - from start to finish we had a great trip. A particular highlight was the bowl of freshly picked cherry tomatoes Eamon left at our door on Saturday! If you're looking for a tranquil getaway, close to the beach and away from the madness, this is the place for you.
---
Beautiful little cottage in the heart of Wexford countryside. Well equipped but a few things which need mentioning. (1) The nearest beach is nearer 3.8km away unless we didn't find the beach 1km from the house. (2) The upstairs doors are all loose within the frames which means they constantly rattle if the windows are open. Easily rectified by strips of draught excluder on the insides of the franes. (3) There is no 'on demand' hot water supply. The water is on a timer, 2hrs morning & evening. Inconvenient having to ask for hot water at other times, even more so if theres no-one home. (4) There is a strict no pets policy, which I know at first hand is understandable, however while breakfasting on the patio, my travel companion was greated by a fairly whiffy dog. On investigation, he is the neighbours and as part of his morning routine he wanders in to this garden and makes himself at home. He even walked in to the cottage through the open door. I would be fairly cheesed off if I had booked a break and was afraid of dogs only to find one wandering through the accommodation. (5) There is a considerable lack of privacy, with no screen or barrier between the main house and the annex which is just 20 ft away. The false courtyard created means that voices and conversations echo around the rear of the garden. Probably wouldn't use this property again for the area.
Hi Paula, we always do the best we can for our guests and it is a shame you felt let down by those points. I suspect a lot of your criticism is based on the fact we were unable to accommodate your cat in accordance with our no pets policy which you only raised with me on the morning of your arrival via text. We have not received any complaints regarding the rattle on the door before so did not know about this, but can easily rectify this as you mention We unfortunately do not have control over our neighbours dog. Sometimes, dogs tend to take matters in to their own hands in the Irish countryside and walk themselves! However this particular dog is a small, 10 year old with arthritis so he is of no threat, we can assure you, which i am sure you will understand The building is listed as an annex so although it is not attached to the house, it is in the grounds but we do give our guests all the privacy they need and it has never been raised as an issue with previous guests There is a map below the listing that shows you where we were in relation to the beach. Regardless, we thank you for your stay and do hope you return to Blackwater sometime Thanks Eamon
---
Eamon and Ann were absolutely fantastic hosts. They are so friendly and warm and went out of their way to make our stay so enjoyable and went above and beyond our expectations. The area is just beautiful with so much to see and do. Could not recommend Eamon and Ann highly enough. The accommodation was fantastic. Thanks for a brilliant stay.
---
Eamon and Ann's place was very lovely, clean, unique, quiet, welcoming and very close to the most beautiful beaches in Ireland. It is a perfect place to spend a couple of days for two adults and two children! We had no problem finding a good restaurant in the area when we arrived in the evening. Eamon suggested a great restaurant for dinner near by and drove halfway ahead of us to make sure we found it. Eamon and Ann are great hosts who always have their tea, maps of the area, chocolate muffins and a great conversation ready for you to make your stay perfect!
---
We had a lovely weekend break with our two children (8 & 11). Quiet, with access to a lovely garden. Close to wonderful beaches and an easy drive to Wexford town. Eamon made us feel very welcome and checked in with us to make sure we had everything we needed for our stay. Would highly recommend.
---
We had a wonderful time. The annex had lots of books, records, games, instruments, etc. Blackwater was a cute town with groceries and a couple pubs. Nice hike/walk to the beach. About an hour from activities on Hook Peninsula. Eamon was a great host. He showed us around the local area, recommended sites, and even gave directions on which roads to take. It was a lovely time. We highly recommend.
---
We are a retired couple who have moved from England over to beautiful Ireland to get some peace, tranquility and return to our Irish roots.

We enjoy walking the long, white sandy beaches near by, playing golf, going to see local bands play in Wexford, dining out, good wines!


We are very welcoming, but also respect our guests privacy. If you need anything we will always be happy to help!