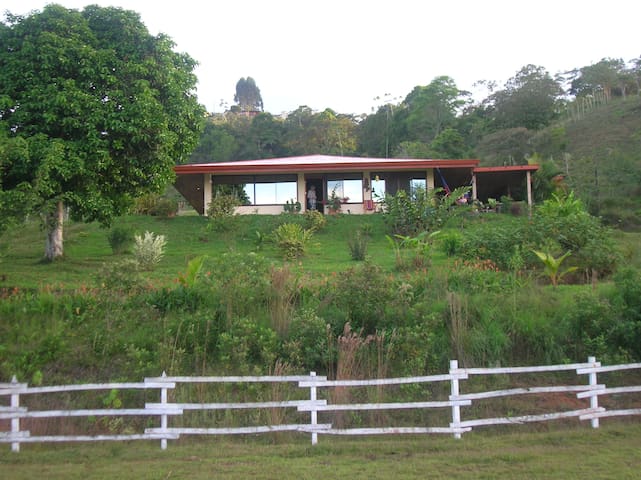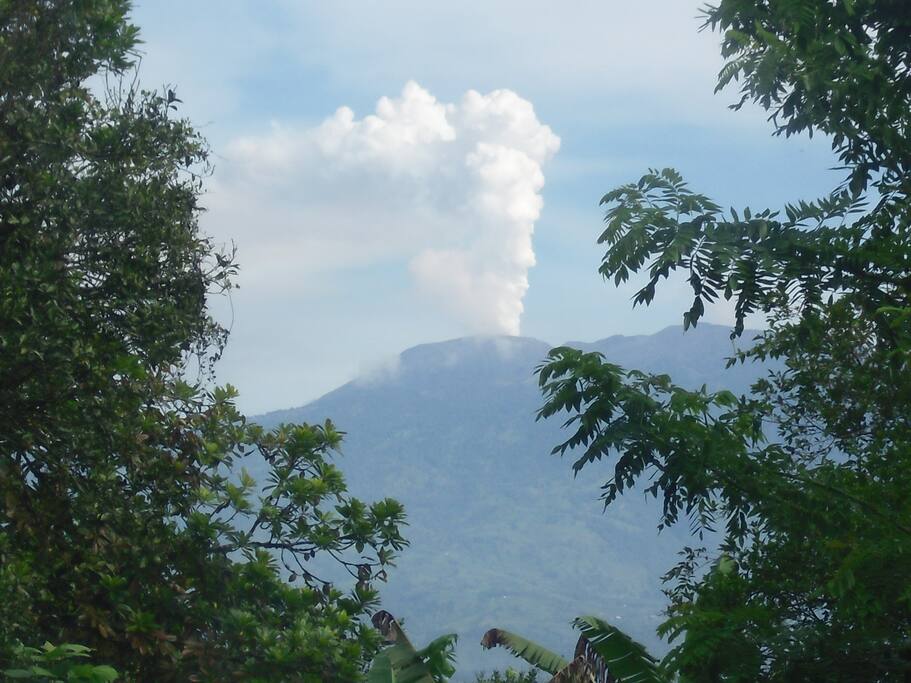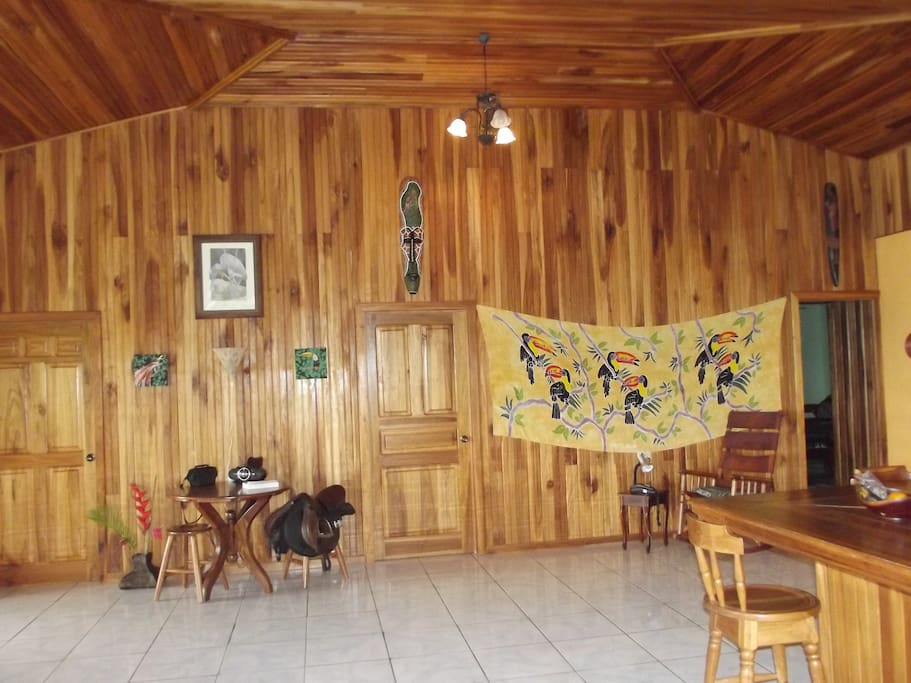 Villa Luz de las Nubes is perched on the side of a mountain overlooking the valley of Turrialba and facing (at a safe distance) the Turrialba Volcano. The view is spectacular. The house is very comfortable and spacious,with everything you will need to feel at home. The nearest village is Tuis (about 2 kilometers)the next larger one is La Suiza which has a bank, stores, restaurants. The major city is Turrialba and it is about 35 minutes away. The area where the farm is is strictly rural.
房源
The house is spacious. The huge windows create an incredible natural ambiance. The three large bedrooms sleep seven and air mattresses are available if you need them. The kitchen is large and well equipped. We do not have heat or air conditioning. You won't need it. The windows are screened and I choose to leave them open both day and night.
房客使用权限
Guests may wander the entire farm if they choose. There are wonderful spots for photography and birdwatching. They can help care for the animals or learn to milk a cow!
The horses are available for lessons or a guided tour. Please make yourselves at home. Mi casa es tu casa!
与房客的互动
Our wonderful caretakers, Yenory and Alfredo, will be your hosts. They live in a separate house on the finca and will be available 24/7 to assist you. Housekeeping, laundry, and cooking can be arranged but are not included in the rental price.
其他注意事项
Be sure to bring your camera, good hiking shoes and a sense of adventure!
---
---
---
Everything in the house is at your disposal. Please feel free to enjoy my library of books and videos. Please don't take any souvenirs. Take only pictures, leave only footprints! We have four well-behaved and child-friendly dogs. They serve as the security system. If their barking bothers you at night, the caretakers can lock them up. Please, no smoking in the house.
---
---
¡Pura Vida au Costa Rica! Nous avons passer 3 nuits dans la maison, nous aurions voulu rester plus. La maison est très belle est grande. La vue du volcan est magnifique. Les matinaux seront récompensés car les oiseaux sont très beau, de très nombreux colibris tournent dans le parc. Il s'agit d'un ranch avec des chevaux, des vaches. Les employés Yenory et Alfredo sont très présents et très gentils. Ils s'occupent du parc et des animaux. La route n'est pas aussi mauvaise que ça bien que le 4x4 soit judicieux, certains locaux sont moins bien équipés voir la font en moto. La maison est dans une réserve naturelle, nous avons aperçu des Toucans et des vautours. Turrialba est un endroit super, de nombreuses activités sont possibles. Nous avons visité le site archéologique à 1h de route de la maison. L'endroit est bien pour un long séjour et pour rayonner au Costa Rica. Cerise sur le gâteau pour les enfants, il y a une belle cabane dans un arbre qui s'illumine la nuit grâce aux lucioles.
---
The description says the property is near Turrialba. But it is in fact two towns further down near Tuis. A 45 minute cross country drive from Turrialba. It was a challenging drive, we had an accident on the road to the property trying to negotiate a small bridge. The property itself is large, big enough for a family escape. I think that is what this property is best suited for. We were warmly welcomed and shown around, knowing just a few words of Spanish will help you here a lot. We like dogs, but not borderline starving ones. The black and white springer spaniel looked gaunt. The other two fawn dogs looked in much better health. All the dogs are very placid and lovely, it was a shame to see one chained alone, howling while the other two were not. Once you do reach the property the views are uniquely spectacular. Also there is wildlife in the area such as birds and toads which you can watch from the home. Aside from the travel and the dog which we think needs more tlc the property and host are good. It just wasn't for us. The journey up killed it for us, luckily we had insurance. Few other things. The toilets often didn't flush. The windows don't close tight so make sure you use the mosquito net. My wife fell onto it and the string holding it up broke, apologies I didn't fix it I wasn't tall enough to re-tie it.
The description says that the property overlooks Turrialba, which it does. In fact it is quite an amazing view. The location is considered Turrialba as the other nearby villages are very small. When someone books a stay at a farm they should not expect to be in a city nor did I represent it that way. I'm very sorry that Ty drove off of a bridge. I've negotiated the same bridge in a much larger vehicle about a thousand times. In fact cattle trucks use the same bridge at times. This is Costa Rica. The roads are narrow in places, especially in the country, in the mountains. The black and white dog is thinner than the other two. In fact he just arrived last week. I have seen pictures of him and he is not unhealthy. Apparently this couple is not the adventurous type.
---
We were welcome by Alfredo and Yenory. They were very nice and helpful poeple The house was as discribed by Jacquelyn and was very confortable. If the notice for using the Washing machine were posted that would have been great. We would not had to wait for someone to show us as this Washing machine is Well different for the one we use here in France
I'm sorry that you had trouble with the washer and the shower. In the future I will emphasize to ask for help from Yenory as both units work quite well; it is simply a matter of understanding how to operate them. I thought I had explained thoroughly about operating the shower. It is tricky but it does the job. Costa Rican plumbing is challenging! Oh, well, I certainly hope it didn't ruin your trip...
---
I purchased my farm in Costa Rica in 2005 and the cabin on the Hillsborough river in 2015. I've really enjoyed sharing my good fortune with other people through Airbnb.

语言:
English、Español