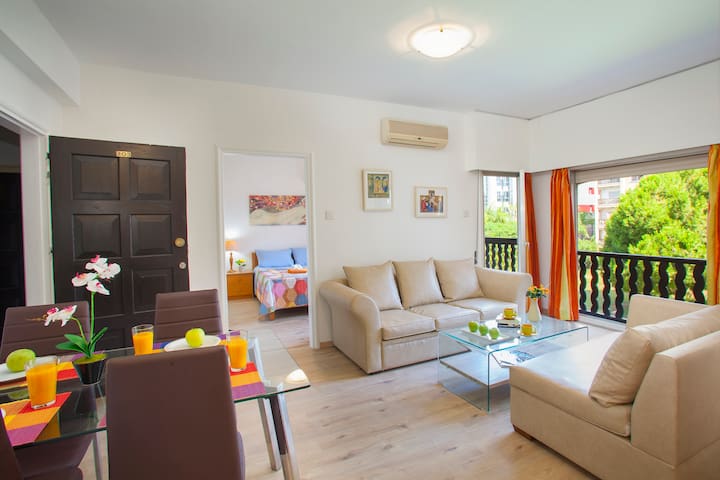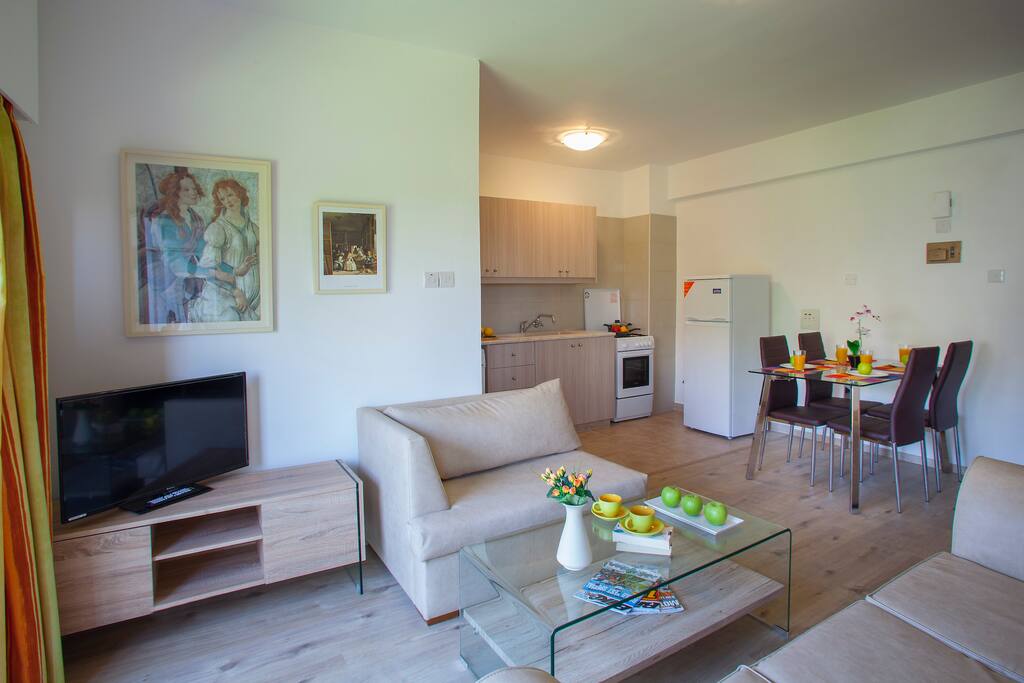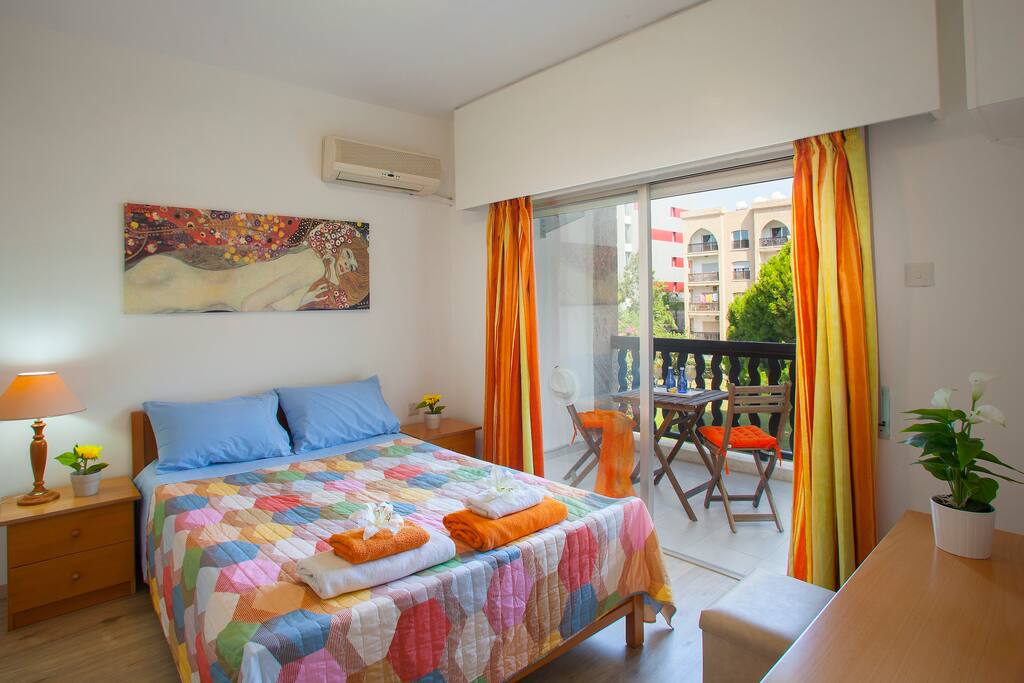 Castle Holiday Apartments, Flat A203
My place is close to the beach (only 50 meters away). The self-catering apartment was renovated in June 2016. It is spacious, colorful and comfortable, with plenty of shops, cafes, bakeries, supermarkets, bars, clubs, restaurants and taverns around the complex. The Yermasoyia tourist area is only a few minutes walk away. You'll love my place because of the location, the views, the ambiance, and the people. My place is good for couples and solo adventurers. Great value for money!
房源
My place is unique because of its location - right in the heart of Yermasoyia area (tourist destination, finest part of Limassol). It is also right across the beach. One needn't take a bus, taxi, or drive in order to have a swim or walk the lovely sea side promenade. "Castle" is also synonymous to hospitality as we've been in this business for the past 30 years.
房客使用权限
The guests can have access to the garden which is right in the middle of the complex.
与房客的互动
We are definitely supportive hosts, we can offer recommendations and assistance when it comes to your holiday plans. We will try to make your stay as enjoyable and trouble free as possible.
其他注意事项
The apartment has a solar panel since one of attributes Cyprus is well known of, is the sunshine. The solar panel ensures the electricity consumption is greatly reduced. However, there's also a heater switch outside the bathroom for the few cloudy and rainy days.
---
---
---
- Electricity consumption is offered free of charge up to 50KW. Any usage over and above is charged with EUR0,20 per KW.
- Smoking is allowed on the balcony.
---
---
---
---
All was very good and clean, easy to check-in/out . The apartment has everything what is needed for good living. Thank you .
---
Отличный район, недалеко детские площадки, лунапарк, море. Доброжелательные и внимательные хозяева. Чисто и уютно. Хорошо подходит для проживания 1-2 человек. Из минусов - были шумные соседи, но это как вам повезет.
Dear Lolly, your positive comments and constructive feedback are highly valued and taken into great consideration. I am very glad you've enjoyed your long stay here with us. I wish you had mentioned the noisy neighbor issue earlier because we'd certainly do something about it. Have a great winter!
---
Жили с мужем и 10-месячным ребенком неделю, очень приветливо встретили, предоставили кроватку для ребёнка и даже небольшие подарки для малышки. Нас встречал управляющий апартаментов Олимбиос, по всем вопросам можно было обращаться к нему.Расположение квартиры очень удачное! Не солнечная сторона, пляж есть через дорогу( небольшой, но даже мы с коляской спускались по камням), пляж детский в 5 минутах при выходе на улицу налево, а самый классный пляж-эвкалиптовый! Для мамаш с колясками просто супер! Но идти минут 15. Мы ездили на машине, самую дешёвую нашли возле бургер лаб, 25 евро в сутки с креслом. Единственное, что смущало-чёрная пыль от вулканического песка, ребёнок ползал и был весь в ней, пол мыла раза 4 в день, но она все было бессмысленно... Я бы взяла тапочки) а так-квартира замечательная!
---
Замечательные апартаменты для пары на отпуск) Находятся на второй линии от моря, недалеко от благоустроенных пляжей. Рядом множество кафе и пабов, магазинчиков сувениров, еды и фруктов. В 8-10 мин ходьбы большой супермаркет и вкусная пекарня. Сами апартаменты находятся в жилом комплексе, видно что после ремонта, чистые и уютные со всем необходимым для отпуска. Отмечу также вид на садик, что приятно. Все полностью соответствует описанию и фото. Хозяева были очень гостеприимны, дали всю необходимую информацию по лакации, угостили приветственным коктейлем, сделали презенты, все как в лучших отелях! Нам понравилось, обязательно вернемся)
Dear Anna, many thanx for your positive review and kind comments. We do enjoy being in the holiday industry and I am very happy to hear you have had a great vacation! I have already purchased a rug for the shower (although we usually put an extra towel to step on, perhaps we missed that part during the housekeeper's check
---
Здравствуйте! Квартира полностью соответствует описанию. Плюс что квартира находится в теневой части дома, дом имеет архитектурный вид. Хозяин квартиры моментально реагировал на все обращения. До ближайшего пляжа 1 минута ходьбы. По всему побережью много хороших пляжей, один из них находится на против "ЛунаПарка", там есть надувная горка для детей. За отелем "Лонда" хороший пляж и пристанью для прыжков,на территории отеля можно принять душ. В пешей доступности магазин "Метро". Единственный минус это маленькая душевая кабина и отсутствие коврика возле неё. Габариты квартиры небольшие, но для двоих вполне нормально.Еще, хотелось бы повесить тюль на окна и поменять входную дверь, но это уже мелочи жизни)) Мы путешествовали на машине по острову и были счастливы ( машину арендовали " privilegerentacar", они не требуют денежный залог). Мы рекомендуем эту квартиру!
Dear Anastasia, I do thank you very much for your positive feedback and constructive comments (although I am not sure I understood what you are saying about the door, I assume it is hooks you are referring to). About the rug, we are providing a towel to step upon getting out of the shower, but a rug is indeed a good idea and will see to it immediately, as well as the hooks. I would also like to thank you again for being such great guests, polite, quiet, cooperative and your daughter for being such a good and disciplined girl. We sure hope we see you again and count on your recommendation to friends and positive word of mouth. I bid you and your family good health.
---
Very nice cozy apartment, just renovated, tidy and modern. Here you may find everything you need for comfortable stay. Also quite good location: close to the beach, tourist area, bus stop, super markets e.t.c. Very friendly owners, easy to contact, check -in and check-out, always ready to help. Would definitely recommend this apartment
Dear Inga, thank you for your positive comments. It was a pleasure to meet both yourself and Alexander. You have been very accommodating, clean, polite, civilized and quiet. Thank you for leaving the apartment in a pristine state. I definitely recommend you as a guest and hope to welcome you again in your next visit of our island!
---
The apartment was literally new! Am proudly the first one been there, everything was in nylon and 100% new/never used. Io and Olympios (her father) were so helpful, check-in/check-out was smooth, everything went better the expected. Since the apartment was new, the Wifi wasn't there yet, they did their best to make it ready in a timely manner. The apartment is really clean, modern yet the bed is small a bit, and the building is old, but this the least i can care about.
---
Hello there! My name is Io and I am a married mother of three wonderful girls, aged 11, 9 and 6. I've studied international hospitality management in Switzerland. I then acquired a BSc in Financial Management from the University of Manchester as well as a professional qualification from the Chartered Institute of Bankers. Finally, I obtained an MBA specializing in Human Resource Management. I worked for Alpha Bank Cyprus Ltd for 19 years and left in March 2016 grasping the opportunity of an early retirement plan in order to occupy myself with our family business. So, here I am, at the onset of a second career, endeavoring to upgrade and modernize our business.

In my free time, I engage in all sorts of outdoor activities with my family, such as water and snow ski, swimming, hover boarding, roller blading, biking or simply relaxing and enjoying each other's company.

Each year's highlights are the experiences we gather through our travels. We visited theme parks in Europe and the States, a farm / children hotel in Austria, we swam with Dolphins in Dubai and relished the sea of several Greek isles. Thankfully, we eat not just to sustain ourselves but for pleasure, so culinary experiences wherever we go, help us get to know a bit more about a place's culture as well as its people.

I always believed that life on earth is a huge learning camp, so I aim for new adventures, strive to be close to good energy and connect with positive people. I want to learn a few things, so that I eventually grow spiritually.

Here at Castle Holiday Apartments, we aim to please and we honestly value your feedback, as our goal is to continually improve and develop.
Hope you enjoy staying at our property as much as we love having you!

语言:
English、Français、Italiano、Ελληνικά