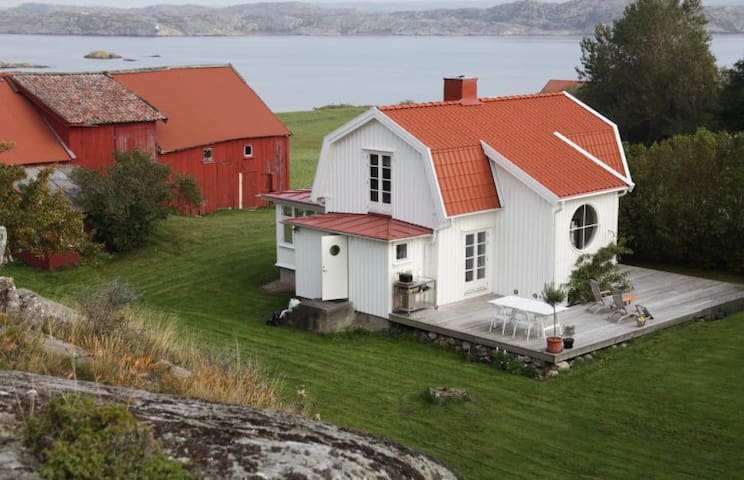 Beautiful house in the Swedish archipelago
Wonderful summerhouse with a large garden, sea view and privat dock situated on Härmano close to the beautiful sea village Gullholmen.
The house is situated a 10 min bike ride from the Gullholmen. The house lies approx. 100 meters from the seaside where a refreshing morning swim kan be indulged from a privately owned dock.
To reach Härmanö and the house you can take the ferry to Gullholmen or use a private boat.
The house is only rented out to non-smokers and minimum 1 week.
---
We enjoyed every minute on this wonderful car-free island. The house is awesome and the garden is really beautiful. There is even a guesthouse that can host another couple with up to two kids. We have been 4 adults and two slept in the main house and my wife and I slept in the guesthouse. The kitchen is very well equipped. From the main house you can see the sea. It is very quiet on the island and there is a lovely cafe just 150 metres away from the house. The cafe Wintervallen has a great terrace next to the sea. Good cakes and coffee. Very basic but lovely! The house and the island is something for people who want to relax. There is no wifi or TV in the house but we did not miss that at all. We have been hiking a lot on the island from the south to the north, to the west and the east. It is a fantastic spot. All four of us would immediately travel back in time to enjoy this great week on Hermanö again. We will be back! Thanks also to Peter and Benedicte who have been great hosts. They have been very supportive. They even picked us up at the pier in Tuvesvik with their boat. That was a short but fun boat ride. The house has its own mini pier. Very great. A small boat would have been great if included in the price but we came along with the bikes Peter and Benedicte provided to us. It is a 3km walk / bike ride to Gullholmen, a beautiful fisher village with a supermarket and a bigger haven. I want to thank again Peter and Benedicte for their hospitality. Its been fantastic on this quiet and peaceful island. Even in August - prime time in Sweden - there was not much going on, not very crowded but that was exactly what we needed to come down and to chill a whole week. I have to admit that another reason why the 4 of us are so happy that we chose this house is that the weather was awesome. Blue heaven, 24 degrees celsius, always a breeze. The perfect weather for hiking and relaxing. 5 stars for this experience. C u soon!
---