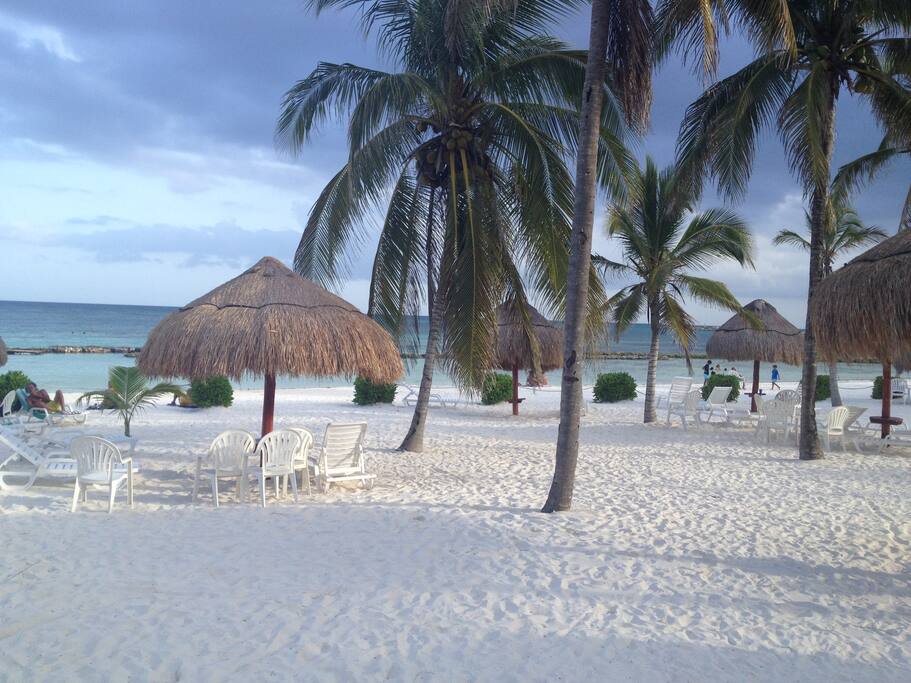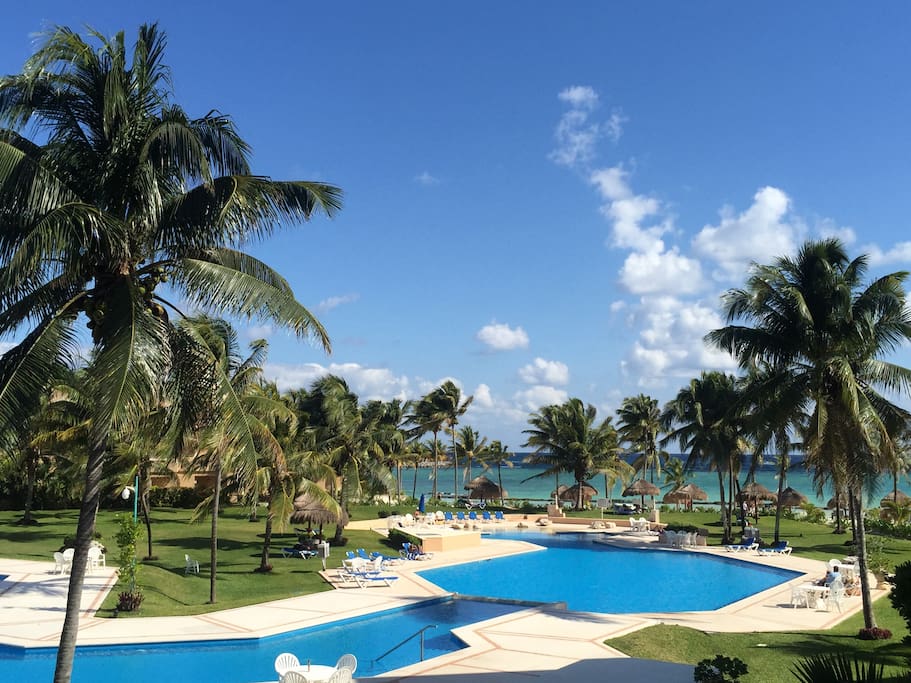 Open your eyes in the morning to see the beautiful sunrise over the pool and Caribbean from the King size bed in the master bedroom suite! Prime location located next door to the center of Puerto Aventuras with shops, dinning, dolphin experience, scuba diving, marina, golf and tennis. 15 minutes from Playa del Carmen. take ferry to Cozumel. 25 minutes from Tulum. Minutes away from many advertised excursions. Perfect location to enjoy all that the Riviera Maya has to offer!
- Since Villas del Mar is a private and very desirable condominium complex, we work hard at maintaining our exculsivity. The security personnel generally recognize the owners, but a s a new visitor you will be asked to identify your self and family by showing a residential numbered blue card that is assigned to the condo you are renting. we also ask that you refrain from inviting non-Villas del Mar friends from joining you. Anyone unable to identify themselves as a resident will be asked to leave. The horseshoe design of our complex that surrounds our common area helps maintain our privacy. Although, at the same time, echoes and amplifies sound. Villas del Mar in general is a very quiet place although when large families arrive often times they are not aware of how this sound carries. RULES: no pets No smoking in the condo maximum occumancy is 6 Please do not compromise the natural beauty of Villas del Mar by hanging towels on porch railings or littering common areas. Noise must be reduced on terraces and in the common areas after 11:00 pm Do not store or leave items in common areas Only one car per condo is permitted in parking lot Do not park in roadways or access roads POOL/BEACH RULES: The use of the pool and beach is exclusively for the owners and guests statying at Villas del Mar To use the beach and pool chairs it is necessary to show a VDN blue card. No lifeguard on duty. Swim at your own risk. The maximum depth of the pool is 3.5 feet - no diving No glass containers Children under 10 must be accompanied by an adult. No running in the pool area Music equipment and stereos may be used with individual headphones only. No lounges or chairs in the pool No noise in the pool between 8:00 pm and 8:00 am Guests are no allowed to invite friends or family not staying at VDM to use the facilities. Please respect the responsibilities of our security personnel who act in the best interests of all of us.
The condo is even better than described with a perfect location to explore the Riviera Maya coast. It was easy to find when we arrived with taxi and the guard explained how to find the right apartment. All pre-information from Kenneth was perfect and even if we never met we felt very welcomed. There was good space and the kitchen was well equipped if you like to make your own meals. We only did breakfast since there are many good restaurant within a couple of minutes walk. We give our warmest recommendations to Kenneth and his apartment and we would gladly come back.
---
This was our second visit to Puerto Aventuras and we found Ken's condo to be just what we were looking for. The location is very central. There is a view of the ocean from the terrace, a great pool and super beach with plenty of lounge chairs and shade. The condo was well-equiped, clean and really ideal for a family of 4. The building and grounds are very well kept and parking was always available. It's right on the beach and just a short walk to the centre of town. We can highly recommend Puerto Aventuras and this property for a great, relaxing beach vacation.
---