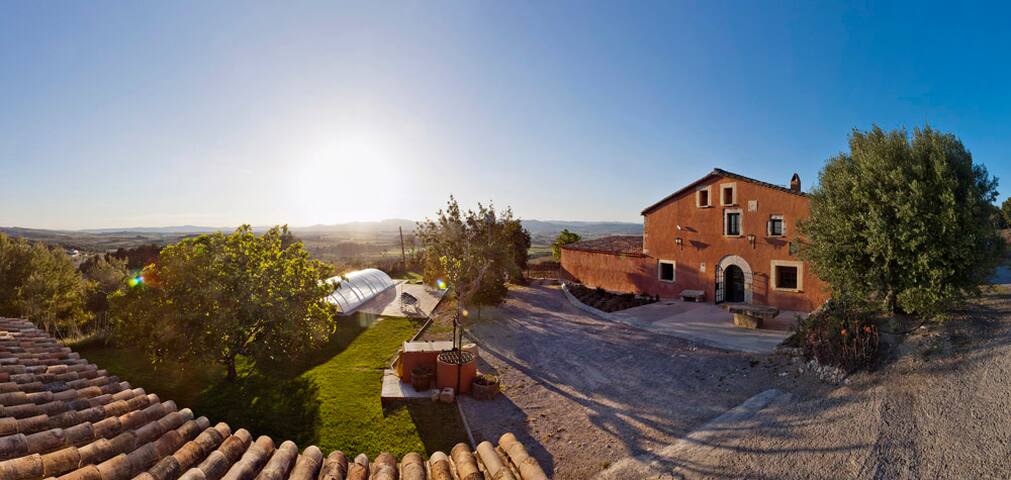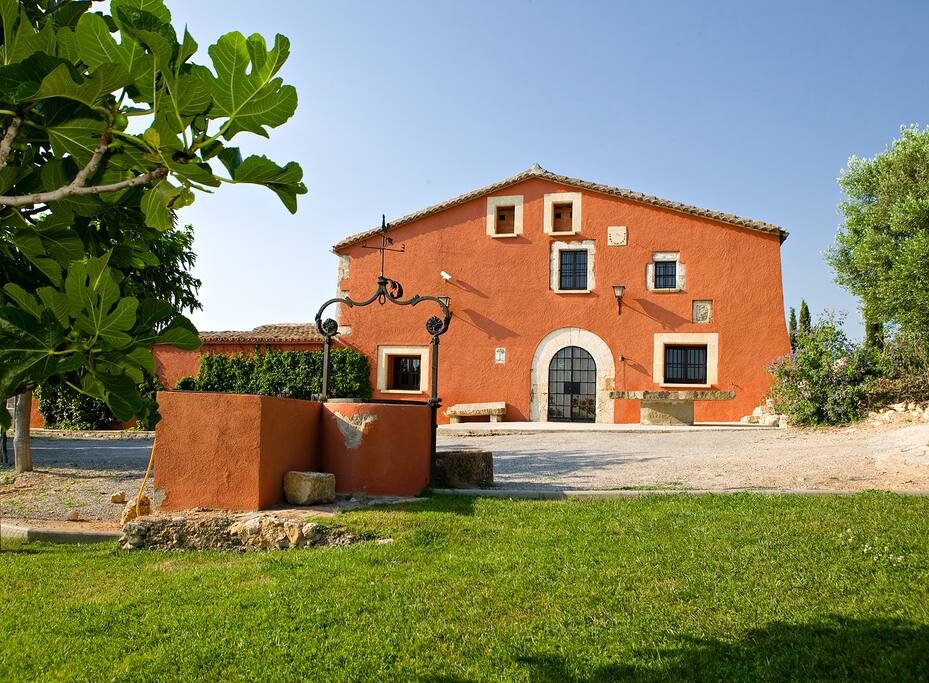 Wonderful Masia near Sitges&Barcelona
Mas Pigot, a more than hundred years old masia in the heart of Penedès, one of the most important wine areas. It is located on the top of small hill, from which guests will enjoy of unrivalled views over the vineyards with a cup of cava
---
Before Arrival: we got great support from Carme to have a simple and easy arrival. She helped with directions, activity information in the area and was very flexible with the arrangement for key hand over and explanation of everything in mas pigot. Location: Mas Pigot is just outside of Vilafranca and not too far from Sitges and Barcelona what makes it a perfect location for remote location but easy access to entertainment and shopping. around the house are just wineyards and the villa is in a dead end - no walking or driving people around. the house itself is huge. we have been 14 people and everybody had spacious room and each room had its bathroom. kitchen is fine with everything setup, one extra fridge is in a seperate room for larger groups. the BBQ grill was amazing, we had a great time grilling vegetables and meat and had just a fireplace sit around the second night. one thing was limited wine glasses for 14 people with red wine, but all other dishes was enough. towels, dishwasher soap and everything you need to self supply was there. before we departed we arranged a meeting to get back the keys and Carma was very helpful with questions for our departure. If possible, we will come again. next time we will take more usage of the pool and the very nice layout of the yard and surrounding area. definately a perfect location and things have been as described if not better.
---
Tout à fait conforme à nos attentes la magnifique maison de Carme nous a comblée en tout point. Notre hôte nous a accueilli avec bienveillance, gentillesse et courtoisie ainsi qu'avec deux bouteilles de Cava local !! Maison extrêmement paisible, parfaite pour les grandes tribus comme la notre, chacun ayant sa chambre et sa douche wc. La piscine est très agréable ainsi que tous les petits recoins de la maison jusqu'à la table de ping pong. Il faut grimper avec la voiture sur un chemin de terre pour y arriver (pendant 5 minutes) mais une fois là haut, quelle récompense. Merci donc à Carme et je recommande vivement cette maison.
---
If you are looking for a remote, relaxing, and comfortable place to stay for a large group, Mas Pigot is perfect. Located 45 mins from Barcelona Airport, 30 mins to the coast, its easily accessible, but nicely cut off. You will definitely need to hire a car as the house is located up a long track off the main road, and is about 10 - 15 mins from the nearest big town Villafranca. Carme is really helpful and is always at the end of the phone if you need advice on restaurants, or places to go. I really can't recommend Mas Pigot enough!
---