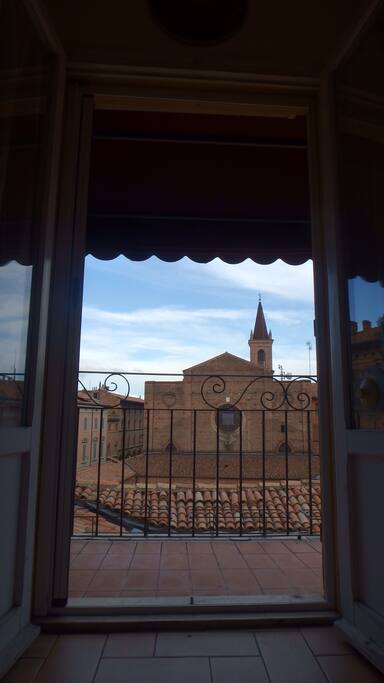 楼位于博洛尼亚市中心一座历史悠久的建筑中(Palazzo Murri,属于博洛尼亚着名医生,其家族历史由导演Mauro Bolognini在Catherine Deneuve和Giancarlo的"Fatti di gente per bene"中叙述。贾尼尼)。有趣的迷人的气氛,靠近餐馆,博物馆,文化景点和活动的家庭,夜总会和公共交通工具。适合夫妇,单身游客和旅行者。
The attic is located in a historic building in the heart of Bologna (Palazzo Murri, it belonged to the famous doctor from Bologna, whose family history was narrated by the director Mauro Bolognini in his "Fatti di gente per bene" with Catherine Deneuve and Giancarlo Giannini). Interesting for charming atmosphere and for its proximity to restaurants, museums, cultural attractions and activities to the familiars, nightclubs and public transports. Suitable for couples, singles and travelers alike.
---
Ottima permanenza. A due passi dal centro e da ciò che può interessare in due giorni a Bologna. Sobria e funzionale. C'è tutto, anche musica e tanti libri interessanti. Se sei claustrofobico/a, evita di usare l'ascensore, meglio le scale ( con calma).
Sono davvero felice che il soggiorno sia stato di vostro gusto. E mi fa molto piacere che abbiate gradito anche i libri (presto ne porterò altri). Per l'ascensore posso capire, ma essendo uno palazzo storico protetto dai Beni Culturali è già un miracolo che si sia riusciti a installarlo. Cmq almeno per far salire le valige è utile e le scale in fondo non sono faticose. Grazie mille ancora e alla prossima!
---
Sara's flat is completely delightful. It has all the facilities you could wish for and is charming and welcoming. The location is terrific, just a very short walk from St Stefano and Piazza Maggiore as well as Teatro Communale and the University area. There are dozens of great restaurants, cafes , bars and food shops within easy reach. If you arrive by train , it is an easy walk from the station. We will return to the flat with pleasure .
---
Lovely apartment, would stay again if came back to Bologna ever. Excellent cooking facilities - we cooked ourselves steak and tortellini one night- and the washing machine was really handy as it was hot outside!! Air con worked really well and the fan was handy too. Thank you for a lovely stay :)
---
Very tidy and friendly host. Great terrass with Nice view and 5 min to centrum. Taxi from airport cost 16 euro for us. Bus blq one person is 6 euro then you must take another bus or taxi so much better to take a taxi directly in my opinion. Cozy flat only down side is the tent bed/ extra bed and that is not a real bed that is comfy and large. Little small for my taste but ok for short stay with my back pain.
---
Bologna è la mia città e sono molto orgogliosa quando persone da tutto il mondo desiderano conoscerla. Dopo aver vissuto in Argentina, Spagna e Messico, mi dono stabilita a Roma. Ospitare e accogliere le persone in viaggio è un altro modo di viaggiare!