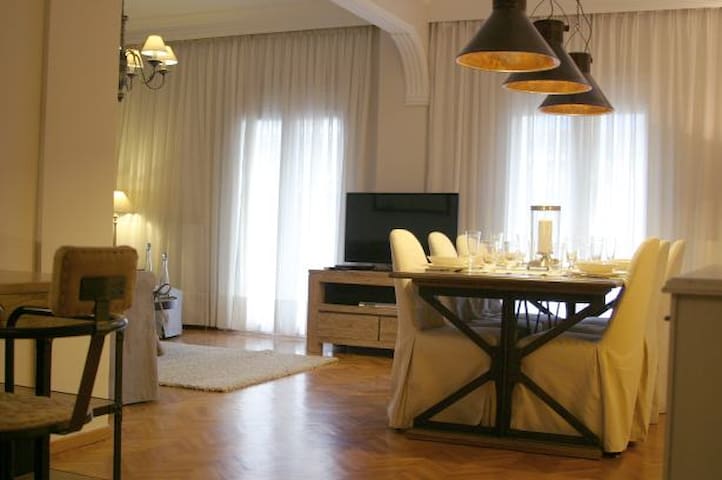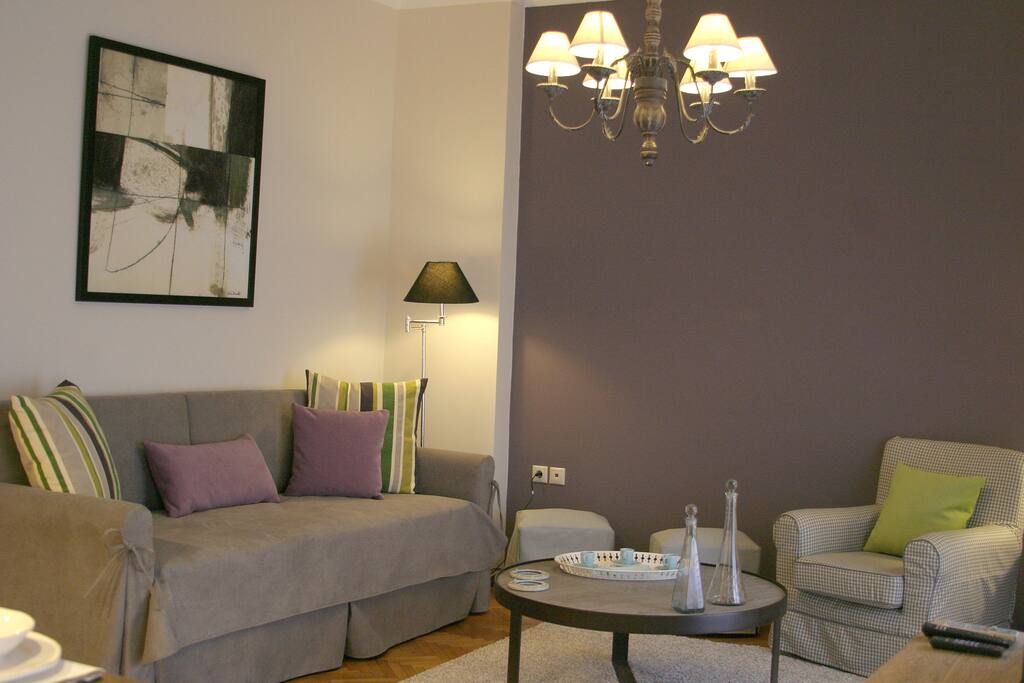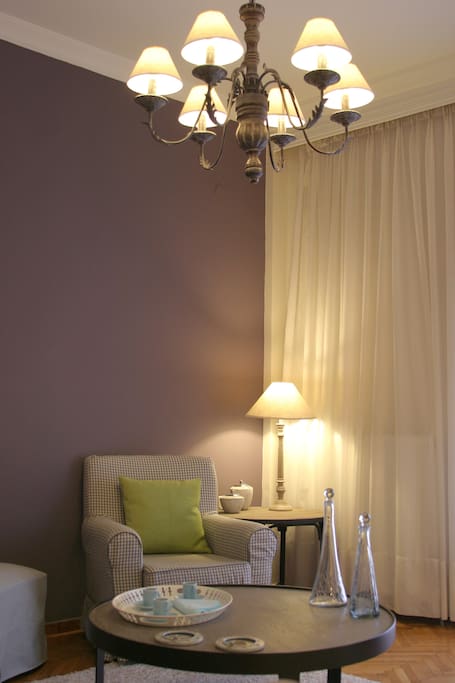 房源
The apartment is located in the city center, in front of the Gallerius Arch (Kamara). It gives direct access to the commercial area of the city and to many bus lines. The main nightlife spots of Thessaloniki, such as restaurants, cinemas and theaters, the International Fair of Thessaloniki as well as the campus are in a few minutes walk. The apartment is in the area where are located all the churches, museums and the White Tower.
房客使用权限
Accommodation comfortable and quiet, ideal for families or group of friends.
与房客的互动
Always at your disposal 24/7 if you have any problems, treat yourself to an unforgettable holiday and without problems.
其他注意事项
Amenities:
The apartment is fully furnished and equipped. Is sunny, quiet and very comfortable.
It is composed by:
• a bedroom with a quality queen bed (160 x 200 cm / 63 x 79 inches)
• a bedroom with a quality single bed (110 x 200 cm / 43 x 79 inches) + extra single bed
• a living room with sofa - quality bed (110 x 200 cm / 43 x 79 inches) + extra single bed
• a dining room
• an office
• a kitchen
• WC + shower
• 2 balconies
In the apartment you can find:
• electric stove with with an oven
• fridge freezer
• cookware
• all kind of dishes
• set of cutlery and culinary tools
• espresso coffee machine
• kettle
• washing machine + clothelines for the laundry
• 42-inch TV with home cinema & bluray
• vacuum cleaner
• iron and ironing board
• hair dryer
• fax
• printer-scanner
• two air conditioners
• Internet (WiFi + ADSL ethernet cable)
• a land line with free calls to 43 countries:
• central heating
• lift
PLEASE NOTE:CITYAPARTMENTS provides with reception/departure service between 9:00 am and 5:00 pm, from Monday to Friday. For every service before or after this time schedule, an extra sum of 20 € will be charged.
PLEASE NOTE: that for over 4 people that will be using the apartment (5th person and over) there will be an extra charge of € 5.00/ person.
---
---
---
In general, it would be great if you could check in from 3pm and check out until 11am. Of course you can ask me if you have any other request and I will see what can be done! Thus, I would appreciate if you could send me a brief email or SMS precising your arrival time, for example the day before you arrive! Please avoid the unnecessary waste of energy, such as turn off the lights and the airconditions after use.
You commit yourselves to respect quiet times and to refrain from actions that harm neighbours' tranquillity between 22:30 and 8:30. It would be also nice if you respected the tranquillity between 15:00 and 17:00 when people in Greece usually take a nap!
For further questions, I am at your disposal!
---
---
Stayed here for 3 days with my family. The apartment was beautiful, very well appointed and even bigger than it looks in the pictures. Lena was extremely helpful, very responsive and a pleasure to work with. The apartment is centrally located near the University and has a spectacular view of the Kamara arch in front of the building so there is always a lot of action on the street below. I would very much recommend staying here as I plan to the next time I'm in Thessaloniki.
---
We had stayed in this apartment from April 4th, 2014 to April 12th, 2014. The apartment is generally nice and on a very good location. It looks the same as it is presented on the available photos. Functionality wise only problem is the bathroom which is to small. But, the only real problem that we had during our stay, actually was the attitude of the owner of the place. I am not actually sure whether Ms. Angela Papanikolaou is the owner or just designated representative of the owner, but she has been the one that directly has communicated with us upon our arrival and has given us the keys and initial instructions regarding the apartment usage. On the last day of our stay we were supposed to leave the apartment at 8,15 am and leave the keys inside the apt. since Angela could not make it and also that instructions we have received from her over the phone the night before. After we have left the apt.we have stayed at Thessaloniki for some business reasons several hours more and then around 1 pm have decided to go back home straight to Belgrade by car. Around 1,15 pm and after a fifteen minutes' drive on a highway to Serbia, we had received a call from Ms Angela. Her tone was to say the least, or to put it mildly inappropriate for the business related communication. She was yelling at me and my colleague. She claimed that she could not return the bed mechanism in the initial position although she had opened it the first day and during our stay we had not touch it. It was used only for sleeping purposes, of course and throughout our stay there we behaved in the apt.like it was our personal place. Angela had used the word broken several times during the conversation and consequently in order to avoid any extra charges we had to go back to the apt.to visually check her claims. Of course her first reaction was that she was really surprised to see us at first and then she started screaming and yelling even harder and louder. The reason behind her hysteria was the fact that the bed was actually in its initial position, without any kind of malfunctions. After several minutes of unpleasant discussion she has admitted that she has used the word broken by mistake and her poor English knowledge. One I am sorry I have heard at the end of the conversation. Still I do not understand her motives behind the whole story, was her intention to charge us for the broken bed or just her panic since she could not operate with her own bed in her own apt. while new clients were about to enter the apartment in few hours. That is the mystery to all of us, but the bottom line is that she has organized a real inconvenience to us without any sense at all and acted far beyond a decent business practice.
---
I absolutely adored my stay in the apartment! It is perfectly situated next to Kamara, just in the center of the city so all the main touristic places are by walking distance. It is very cosy, nicely furnished with all necessary equipment. Not to mention Lena herself, who took care of my comfort and stayed disposable and flexible. I cannot possibly imagine anyone regretting staying there ;)
---
H κ. Λένα είναι ένας πολύ φιλόξενος και εξυπηρετικός άνθρωπος. Από την πρώτη στιγμή σε κερδίζει και την εμπιστεύεσαι. Το δε διαμέρισμά της ΑΚΡΙΒΩΣ όπως το βλέπετε στη φωτογραφία. Ένα πολύ όμορφο και περιποιημένο διαμέρισμα με όλες τις ανέσεις και σε πολύ καλή τοποθεσία, με υπέροχη θέα! Ανεπιφύλακτα το συστήνω σε γνωστούς μου με την πρώτη ευκαιρία που θα ανέβουν Θεσσαλονίκη! Εγώ και η οικογένειά μου προσωπικά, δηλώνουμε ότι στην επόμενη μας επίσκεψη εάν υπάρχει διαθέσιμο αυτό το διαμέρισμα ΟΠΩΣΔΗΠΟΤΕ θα επικαλεστούμε τη φιλοξενία της κας Λένας! Ευχαριστούμε πολύ για όλα
---
Awesome apartment with top location. Perfect for 4 (2 couples). Lena was so nice, helpful and responsive. I definitely recommend the place - it is just like home. Very cozy with everything you might need - for cooking, relaxing. Very nice terrace just above the Egnatia street. Lena was prepared with all the small details like very nice olive bath stuff (shampoo, body milk and shower gel), and sleepers. Plenty of clean towels. Confy real beds. Everything was just perfect. Thank you.
---
Ευχαριστουμε πολυ την Λενα που μας εδωσε αυτο το ομορφο σπιτι να μεινουμε στο κεντρο της θεσσαλονικης. Το σπιτι ειναι ανετο και ακριβως οπως το βλεπετε στις εικονες. Παρειχε τα παντα απο αυτα που περιμεναμε και σε πολυ καλη ποιοτιτα οπως ανετα κρεβατια, θερμοσιφονα οπου ειχε γρηγορα ζεστο νερο και αρκετο για ολους. Το προτεινω ανεπιφυλακτα σε οποιον θελει ενα διαμερισμα κοντα στο κεντρο της Θεσσαλονικης με αρκετα ωραια θεα την υπεροχη Καμαρα.
---
We are Cityapartments team @ Thessaloniki!
Our intention is to fulfil the needs for a functional accommodation!
We provide to our guests comfortable,equipped and furnished apartments respecting a charter for quallity, in the center of Thessaloniki.

As our logo says..
Away from home.. Feels like home!

Best
Lena
语言:
English、Ελληνικά