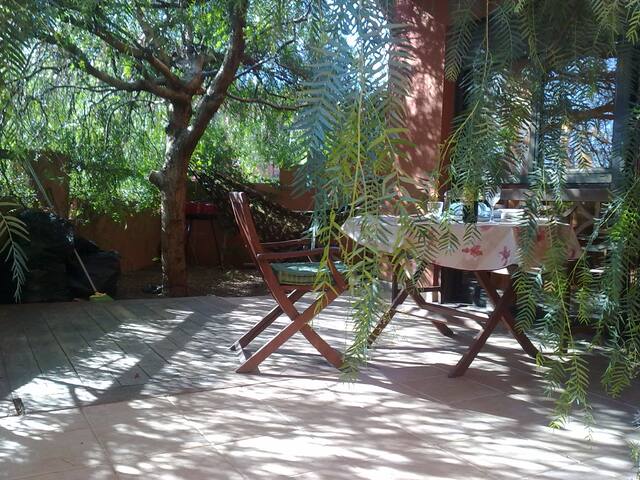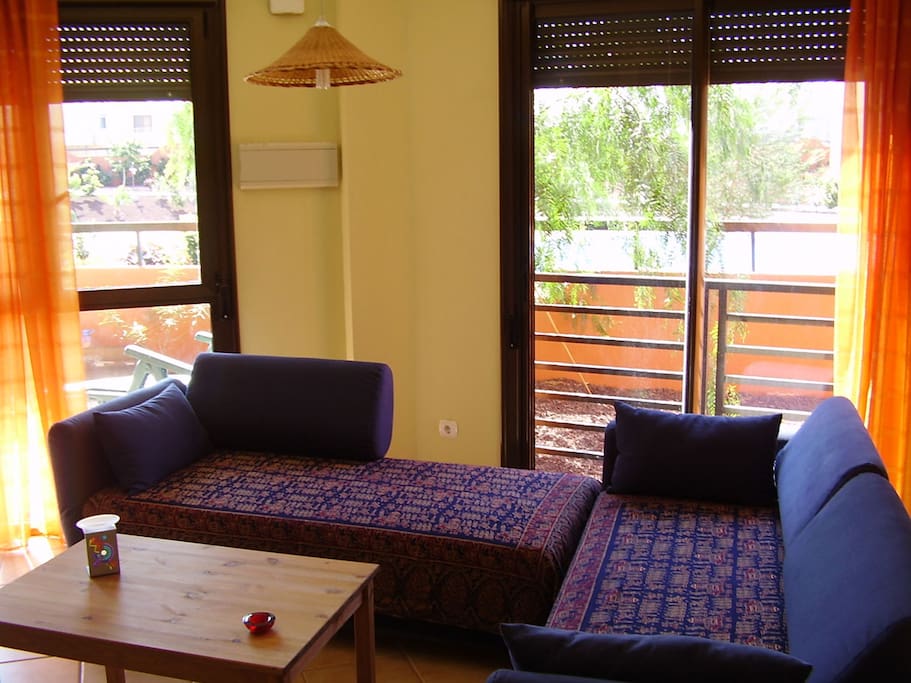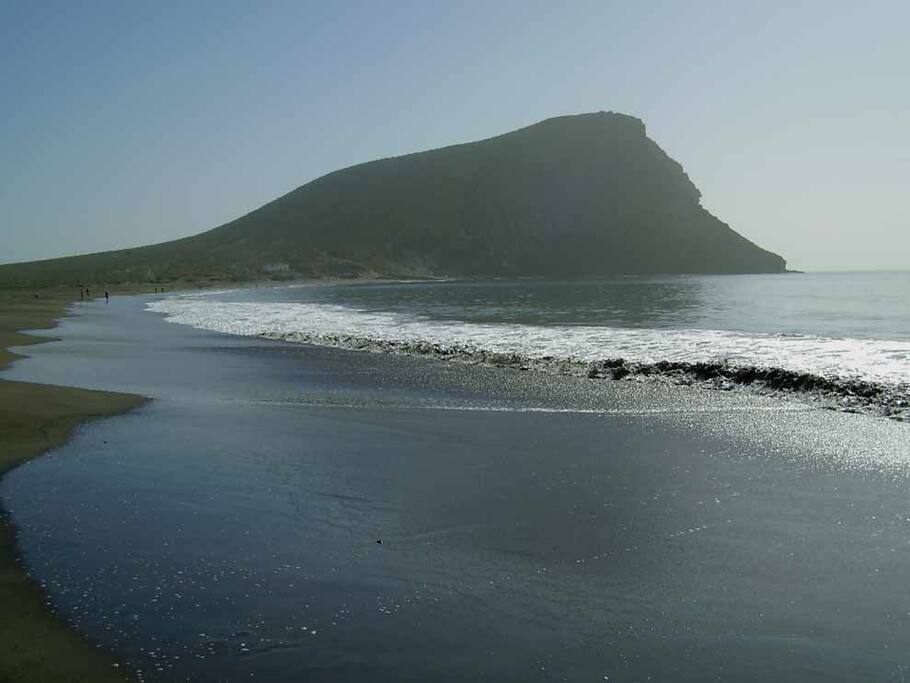 房源
Hello.This is an apartment 64m2, bright with large windows, double bedroom (not studio) and private garden, fully equipped as it is a second home and in front of the pool that usally it,s not too full since the beachs are 4 minute walking. We are in the conservation natural area of ancient extinct volcano Montaña Roja. and Playa de la Tejita an area still safe from mass tourism.
It is a non too much urbanized area and therefore quiet, but a 5 minute driving you have restarants supermarkets ...and all you can need. Public transport stop is in the door of the complex.
---
---
---
The deposite is 120€.(150 if there are children) The owner not always can chek the apartment inmediatily after the departure so it should be payd by cash at the arrival and will be returned by bank transfer 48 hours after leaving.
-Not animals allowed
· - Some of the kitchen cupboards and one side of the room closet is locked with the owner belongings . Anyway there is enough space to the visitors.
We don,t get paid for cleaning if the apartment is found at the end in similar conditions than in the arrival. If not, 30€ should be paid for cleaning from the deposite.
The wifi is comunal for all the residencial area. The owner is not responsable about it.
---
---
Das Appartment hat eine gute Lage in der Anlage. Es liegt windgeschützt, was in der Region sehr wichtig ist, und es hat einen tollen Terassengarten der auch an sehr warmen Tagen durch den Bewuchs Schatten spendet und es erlaubt draußen zu sitzen. Der Gastgeber ist sehr Hilfsbereit und umsichtig.
---
We spent a great time on the island enjoying the sun,ocean and sea food! The apartment is located close to the airport but we did not here the airplanes taking off or landing at all, maybe once. Very silent and nice place, close to the not crowded beach. The apartment is clean with fully-equipped kitchen, very comfortable bed and a small but nice terrace under the trees. Thank You Manuel for being a great host and for sharing the information about places and restaurants to visit
---
This is a fabulous ground floor one bedroomed apartment with its own small private garden. It has everything you need except pool towels. The pool is just outside the apartment garden. It is 15 minutes from the airport. If you don't want to whizz around the island then you don't need a car. The supermarket complex is 3 minutes walk away. There are a variety of good cafes, restaurants and shops in the complex. The beach is a further 2 minute walk. The beach is large and sandy. You can walk either way along the coast 40-60 minutes to the towns of Los Abrigos or El Medano where there are more restaurants and shops. There did seem to be a regular bus service but we didn't use it. We did rent a car and explore. It is a fascinating island with plenty of places to see away from the main tourist places.
---
The host was nice, flexible and easy to reach on phone/(SENSITIVE CONTENTS HIDDEN). Apartment was clean and comfortable, but I don't think you can sleep more than 3 people there since the sofas where quite small and more suitable for one grown up if put together. The only major complaint of the apartment was the kitchen equipment was very worn out and not everything was working. The complex was calm, beautiful and felt safe. The garden was not really a garden more like a patio with a tree over and not very calm and private with people passing by just outside the fence. Nice still. Also not quiet because of ongoing b ig constructions just outside the complex. Extremely cold pool (in january) even for swedish baders, and the beach close us very windy. Area around was not very beautiful, dry desert, and no place to take walks except for the beach and mountain. Still good location cause it only costs 16 euro taxi from airport, new shoppin(SENSITIVE CONTENTS HIDDEN) with well equiped supermarket (tourist and allergy- friendly foods) only 3 minutes walk, easy to take bus to cosy El Medano. Over all very happy with our visit!
Thankyou for your coments. I,ll try to improve all that you mention eventhough in private. I,ll will sharpen the knives and kitchen scissors. Yes we have host but is our house. Of course i can,t change the kitchen equipment with every host but to say that is worn out simply is not true. Maby is not new but we change de pans twice a year. About the garden or patio it has 40 scuare meters and is in the description of my page. Please if somebody read this, take a look of the photos and get conclutions. Yes the garden finish and out is the ways of the complex. I don,t know to much gardens that don,t finish in a street. But in this case is only the pathways of the complex. Usually pass one or two maybe 3 peope per hour...sorry if it disturbe to much . And about the construcction, be honest, is in the back of the complex and from my house is not heareble at all. About the "dry desert" only to say that is a pity you don,t apreciate the desert landscape but if it is a natural protected area(every one can check in internet>) maybe is because our institutions consider that is a nice place. The south of Tenerife ist not green except the artificial golf camps. If it would be green maybe we would have the same climate that in your country. And good bye the sun!! jeje In happy because at the end you enjoyed that is the important. Regards
---
The appartment is located close to the huge tejita beach witch is the biggest natural sand beach on tenerife. We enjoyed our vacation. The appartment is equipped with everything you need and even a baby bped was supplied by the kind host Manuel. The check in was without problems eventhough we had a little delate. I can recommend the appartment and the host.
---
Our host Manuel was a helpful and very friendly person and responded quickly. The apartment was very nice as described with a combined kitchen + living room, bathroom, bedroom and a terrace. Allthough the apartment was located in bigger housing area it was quite. The swimming pool is just 20m away and will be cleaned every day as well as the garden area. Perfect for swimming - but not often used. The Beach La Tejita is really just 5min walk away and if you want to do wind or kite surfing El Médano and its beach with lots of Surf Centers are 5min away with car or 30min to walk. The supermarket is 2min walk away and has also some restaurants (indian, thai, italian food) or visit Puerto de los Abrigos (5-10min away with car) with lots of fish restaurants. We travelled a lot with the car (recommended) to visit Masca and the Teide volcano - our highlight was a boat trip in Las Galettas (20-30min per Car) with MustCat. We saw a lot of dolphins and pilot whales. Some words about the airport - if you check (SENSITIVE CONTENTS HIDDEN) maps the airports ist just above La Tejita. But La Tejita is not in the start or landing zone. I absolutly recommend the apartment - it is perfect located to join the beach and on the other hand a good starting point to travel around the island with a car.
---
Ein sehr gemütliches Appartement in einem typisch-teneriffischen Appartmentkomplex mit Swimmingpool. Die Anlage ist gepflegt und familienfreundlich. Die Ausstattung des Appartements ist funktional und alles Notwendige vorhanden. Die Terrasse ist nah am Pool gelegen, jedoch durch die Pflanzen und Bäume vor Einblicken und direkter Sonneneinstrahlung geschützt. Der perfekte Platz zum Entspannen und Verweilen. Der Ort beginnt zu wachsen. Seit diesem Jahr hat dort ein kleines Einkaufszentrum mit Supermarkt, Restaurants und Waschcenter. Der fußläufige Strand ist teil windgeschützt und hat eine Bar sowie Toiletten. Würde immer wieder kommen
---