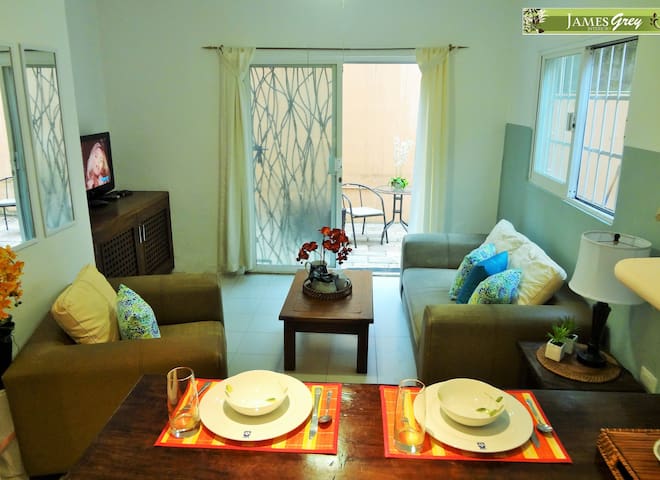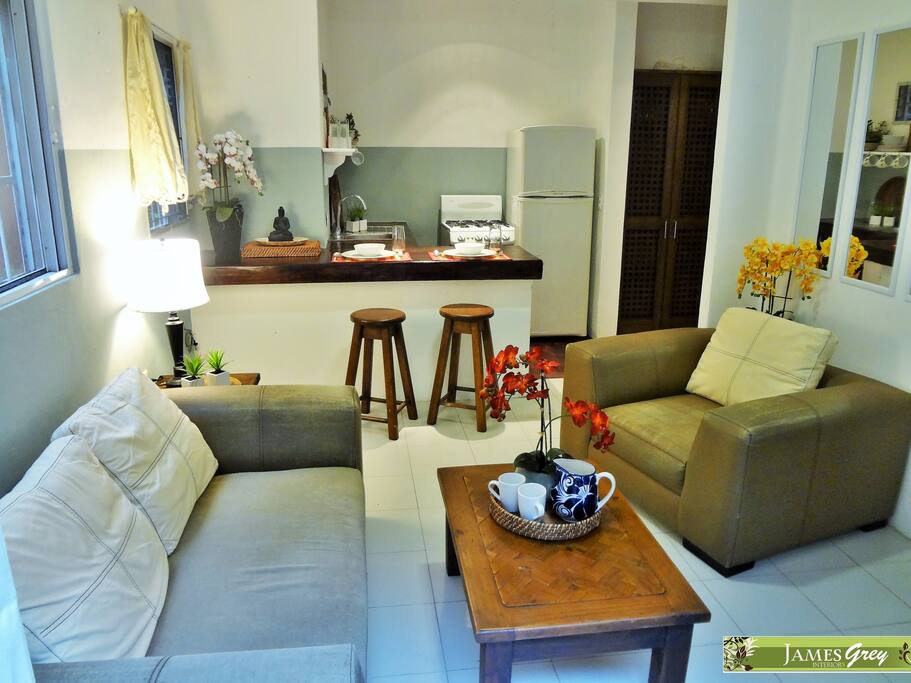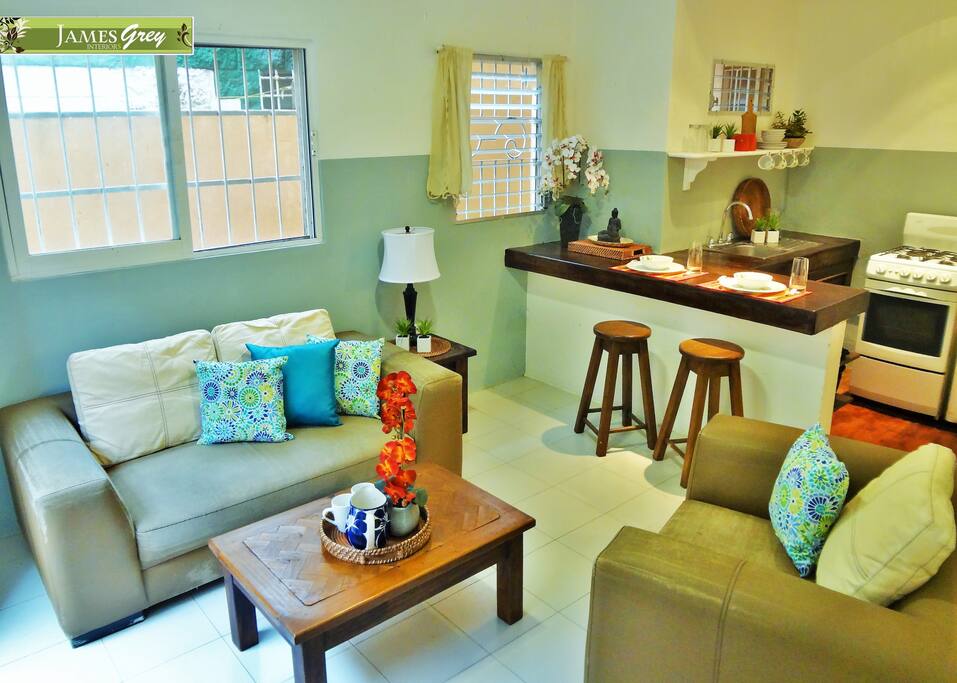 Private 1-BDRM Courtyard Casita, 5-minutes to Famous 5th Avenue...
Offering the MOST CONVENIENT location in Playa.
Located in DOWNTOWN PLAYA, situated right on beautiful Calle 38.....
FIVE minute walk to the famous 5th Avenue,
TEN minute walk to super posh MAMITAS BEACH,
CONVENIENT to bars, club, restaurants, grocery stores, shopping.
房源
Details:
-Your Private Casita is the perfect one-bedroom, one-bathroom unit.
-Your Private Bedroom is nice and fresh space with king bed, nice view of the your private courtyard.
(includes fresh bed and bath linens).
-Your Bedroom also has ceiling fan and remote controlled air conditioning unit from your climate comfort.
-Your Bathroom is clean, and nicely appointed with lovely fixtures and great lighting.
-The main sitting and dining area and kitchen are very Warm and Inviting, and truly a Beautiful space to be in!
-Nice big lounge seating is the perfect place for those lazy days you wish to sit back and relax and watch TV
(full cable TV service included)
-You have direct access to the your private courtyard, perfectly set with a lush tropical foliage and intimate bistro dining space....
-Located within your exclusive, privately guarded community, there is a wonderful lush tropical central garden park, with large, beautiful, mature trees and foliage, absolutely wonderful for an evening stroll.
-From Your Condo, everything in Playa del Carmen is conveniently and easily walkable....
However, if you do choose to have a car during your stay, there is Parking directly in front of the building for you and your guests.
...the place is VERY CLEAN, WELCOMING, and WONDERFULLY DECORATED, it truly feels like a lovely elegantly livable condo getaway!
与房客的互动
We are conveniently located just one block away, so if you ever need anything, our door is always open and we are here to help!
---
Excellent location. Four blocks to Quinta Avenida, beach is about a 7-8 minute walk. 30th Ave (transportation artery, street with lots of inexpensive and very good restaurants, bike rentals, supermarkets, Walmart, Mega) just one block away. Nice quiet gated complex with older custom homes. Dog next door yappy at all hours of the day and night but bedroom was away from that side and we could close the door at night an not hear him (her?). AC in bedroom worked well, and combined with ceiling fans (one in bedroom, living room and bathroom) as well as a portable fan we brought with us made unit very comfortable. Kitchen had basic equipment, but missing a few essentials. We brought some more kitchen stuff from another apartment we rented the previous month in Tulum and left if there. Nice big refrigerator and appreciated the microwave. I was a bit concerned because after we already booked the place, another guest posted a review complaining about the smell of cigarette smoke. Because of my asthma, I made a special trip up to see the place a couple of weeks before I planned to be in Playa Del Carmen. Cigarette smoke was not an issue at all for us when we visited or during our stay, so seems like this complaint was a one-time problem. Internet was unreliable. Sometimes worked great but other times could not access or I was dropped repeatedly. I was there on business and there was no good place to use the lap top (e.g. no dining table or desk). There was a breakfast bar but the stools were hard and it really wasn't conducive to working. Furniture and furnishings a bit worn and the apartment had a bit of "cobbled together" appearance. Apartment was advertised as having a private courtyard out back, and it was indeed private but not at all attractive (no plants), facing an ugly concrete wall, and clotheslines. However, there is a very attractive courtyard out front with two sets of tables and chairs and we had our evening drinks there and got to meet the neighbors. Jonathan did provide an excellent binder with all sorts of information for the visitor, which was very helpful. Also, he offers "al a carte" services for extra fee, such as housekeeping, airport transportation and beach packages (e.g. umbrella, insulated bag for food and drinks, beach towels and chairs). If I was here solely for pleasure and planned to be out most of the day, the place would be fine for us. For us, it ended up being a bit small and difficult to work in (primarily because of the internet issue). So if I return on another "working vacation" I probably would not stay here again.
---
The location was perfect! Just far enough from 5th avenue so we could easily walk to food and drinks, and also felt secluded from the business of the tourist strip. Jonathan was great with communication and giving us transportation information details. The condo was on a nice quiet street in a friendly neighborhood.
---
Everything is as advertised for Jonathan's place. Very spacious one. Edition with cable TV and located in a private little community with security at its entrance. We walked 10 min to the beach and famous 5th Street. His place is right on 38th Street, home of Cueva de Chango - a great place to eat. He provides a booklet of tips, and useful info about the entire Yucatán peninsula. Very great host!
---
Description Hello, Allow me to take a moment to introduce myself. I am Jonathan, the design director of James Grey Interiors, an internationally acclaimed local design firm based in Playa del Carmen and working throughout Riviera Maya. Allow me to share a little bit of infor…
语言:
English、Español