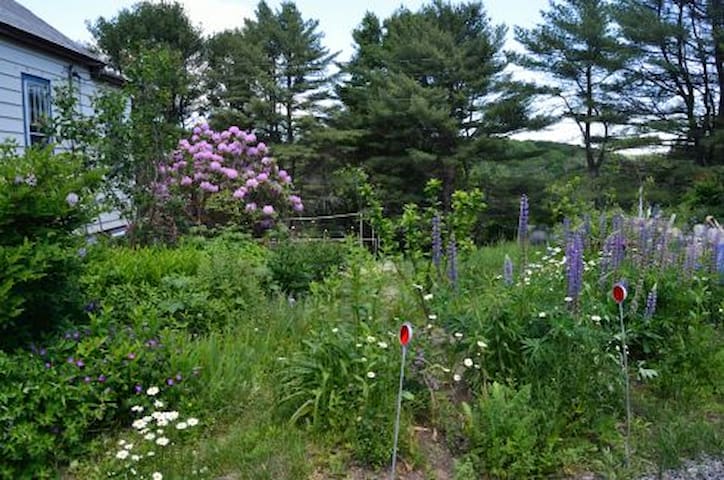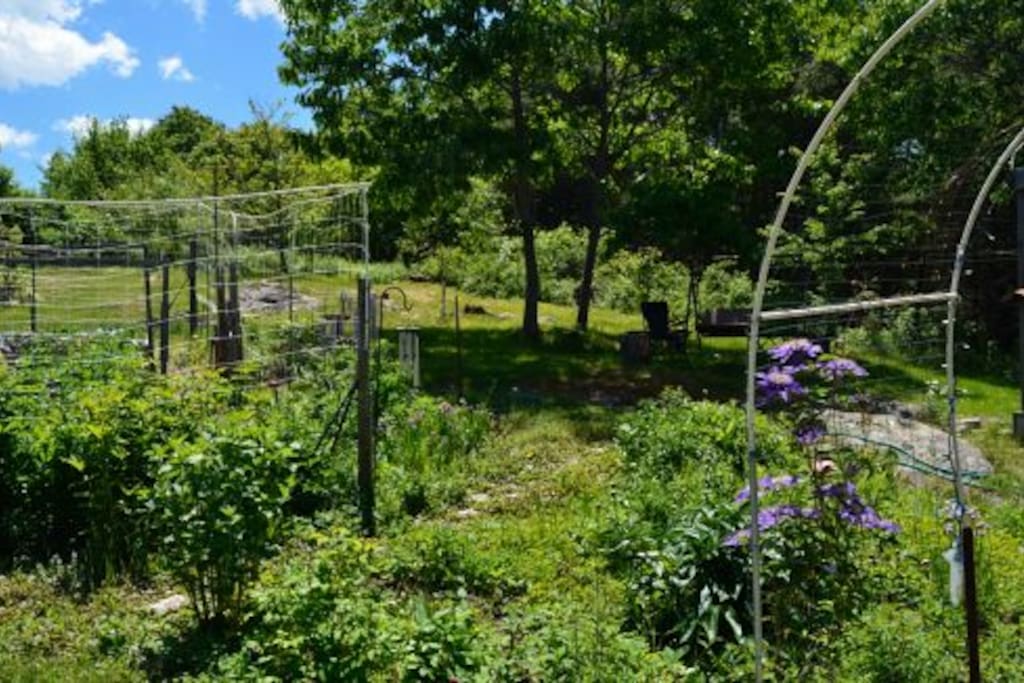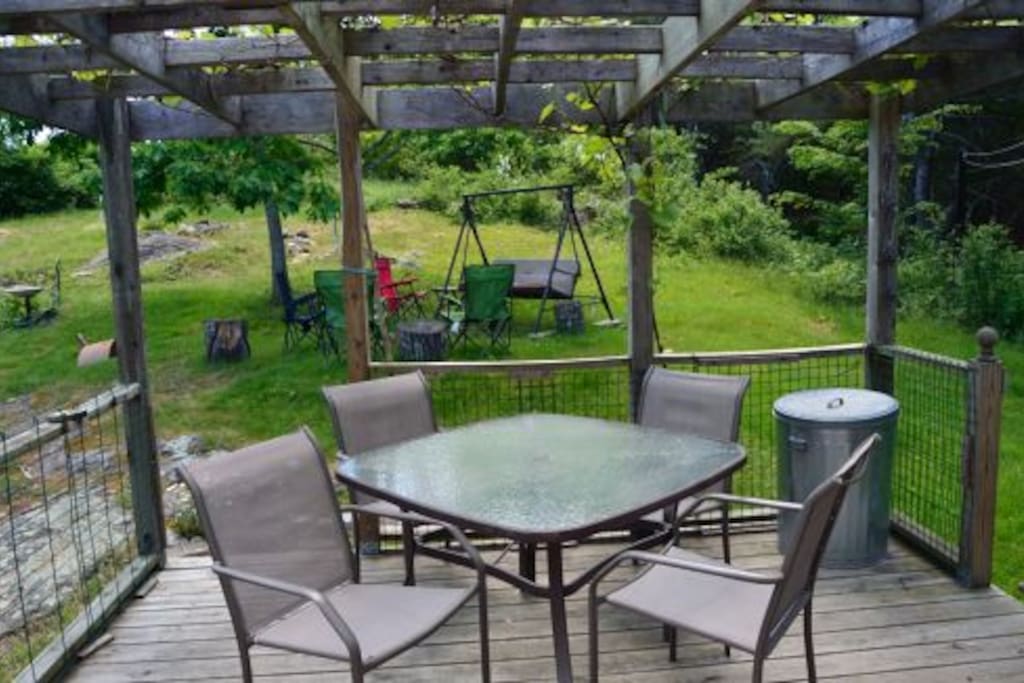 我们距离巴斯市中心有10分钟路程,那里设有一流的餐厅,当地艺术和文化,其中包括特殊的海事博物馆。距离我们门的23分钟是波帕姆州立公园的海滩。我们距离城市公共小船2英里,将其运送到新梅多斯河的潮汐水域并出海。在附近的乔治敦是雷德州立公园的海滩。您将会喜欢我们安静的乡村环境,您舒适的客房,宽敞的小屋花园和我们喜欢的松树林的隐私。
We are 10 minutes from downtown Bath with its great restaurants, local art & culture, including the exceptional Maritime Museum. 23 minutes from our door are the beaches of Popham State Park. We are 2 miles from the town public boat launch into the tidal waters of the New Meadows River and out to sea. In nearby Georgetown are the beaches of Reid State Park. You will love our quiet country setting, the privacy of your cozy room, the extensive cottage gardens, and pine forest we enjoy.
房源细节
二楼的房间很私人,与房子的其余部分隔绝。设有独特舒适的内置双人床以及内置抽屉,小型冰箱,电动茶壶和毗邻的私人浴室以及淋浴盆。我们提供反渗透过滤的饮用水,厨房里有一个水龙头,如果你需要更多的话可以提供。 这所房子最初建在巴恩的肯尼贝克河上,并搬到了这个地方。我们怀疑它是由造船厂建造的,因为这些空间很紧。到房间的楼梯狭窄而陡峭,就像一艘船或一座古老的殖民地房屋。欧洲客人评论说,这个空间让人想起欧洲的房子。
Your room on the second floor is quite private and secluded from the rest of the house. It has a unique, cozy, built-in double bed as well as built in drawers, a small refrigerator, electric teakettle, and an adjacent private bath, with shower-tub stall. We provide reverse osmosis filtered water for drinking and there is a faucet in the kitchen that provides it if you need more.
The house was originally built in Bath on the Kennebec River and moved to this location. We suspect it was built by a shipbuilder, as the spaces are ship like tight. The stairs to the room are narrow and steep like in a ship or an old colonial house. European guests have commented that the space is reminiscent of European houses.
房客使用权限
欢迎您到户外玩耍,上下花园和果树,房子后面的松树林和甲板上的户外休息区,滑翔者俯瞰上部花园。 欢迎您在靠近道路的独立建筑中欣赏我们的地球圈美术馆。展览是三代的工作:我的水彩画,我的儿子布莱恩·范汉(Brian Gehan)对大自然的亲切和广阔的观点的摄影,是他的脚步声,是孙女黛安娜·葛汉的作品。她有一个特别的眼睛,用摄像机捕捉美丽。还包括布莱恩爸爸丹·汗汉的雕塑工作。
You are welcome to enjoy the outdoors, the upper and lower gardens and fruit trees, the pine woods behind the house and the outdoor sitting areas on the deck and the glider up the hill overlooking the upper garden.
You are welcome to enjoy our Earth Circle Art Gallery in a separate building near the road. On exhibit is the work of three generations: My watercolors, my son Brian Gehan's photography of intimate and expansive views of nature, in his footsteps is the work of granddaughter Theona Gehan. She has an exceptional eye for catching beauty with a camera. Also included is the sculptural ceramic work of Dan Gehan, Brian's dad.
与房客的互动
如果我们都有时间,但也乐意给你空间,我们很乐意进行社交。有些时候,我们可能会太年轻的孙女,或在花园,工作室和艺术画廊工作,进行社交活动。但是,如果您需要任何东西,或者有任何方式我们可以得到帮助,请告诉我们。我们提供有关当地餐馆,远足径和当地其他景点的信息,也乐意回答您可能遇到的任何问题。
We are happy to socialize if we both have time, but are also happy to give you space. Some of the time we may be too occupied with our young granddaughters or work in the garden, studio, and art gallery to socialize. But please let us know if you need anything or if there is any way we can be of assistance. We do provide information about local restaurants, hiking trails and other local attractions in the room and are also happy to answer any questions you may have.
If you are out after dark, when you return please turn off the outside lights we will leave on for you. The switch for the deck light is just inside the door on your left as you come in. The remote switch for turning off the arch lights over the walk will be left on the kitchen table.
A great place to stay slightly out of town! You will be greeted upon arrival and shown around. You have the upstairs to yourself, with internet, bed, chairs, bathroom, and other amenities. We loved having the filtered drinking water up there, provided in mason jars. And also where the bed was placed, inside its little nook. The space is a lofty and cozy, treehouse-like getaway, if you will. We found the experience to be fun, with the possibility for a hint of childhood imagination and adventure, like climbing a narrow corridor up a castle tower, or lighthouse, for a merry meeting. There are a couple things to note if you have trouble walking up stairs, or have particular bed/sleeping needs—the stairway is narrow and steep (but with a railing), and the bed is low to the floor. The bed is firm with a solid base and soft cushion over it, and may be a little creaky if a light sleeper.
---
Lovely host, no heat upstairs on a cold night but was plenty warm with door open. Stairs were very steep.
---
A cozy, comfortable, simple and lovely rustic space with privacy and quiet, in a lovely rural location amidst a down-to-earth garden with apple and pear trees.. The double bed is comfortable, the private bathroom is great, the room has a couple reclining "zero gravity" chairs and a small fridge, artwork by Maryanna on the walls, and the hosts Maryanna and Peter are really nice. Easy scenic ride to downtown Bath and spots on the Phippsburg peninsula such as Popham Beach.
---
Maryanna and Peter were great hosts. The room was clean and organized with little pieces of art from the host scattered around. They give immense information on the local places as well as in Maine. They also lended us their iron, truly appreciated their hospitality and the comfort at their house. It is a great place for solo travelers and for two, as well.
---
Both Peter Dennett, my beloved husband and I are hosts for Airbnb. So expect to be greeted by both or either of us. We are both here to make you welcome. We love working out of doors. Peter is the amazing supportive fix-it man, and I am the fanatic gardener who he supports. We love the wind and fresh air. I have the care of two beautiful granddaughters a couple of afternoons and sometimes one or two mornings a week. But generally, it is quite quiet hereabouts. When not in the garden or with family or clients, I can be found working on my book, currently entitled The Power of Conscious Love or in my art studio. The building to the left of the driveway as you drive in is in the process of being converted to a gallery for my artwork. You are welcome to take a peep inside. Along with the transition mess, you will find blank cards with images of my work available for purchase. Enjoy!