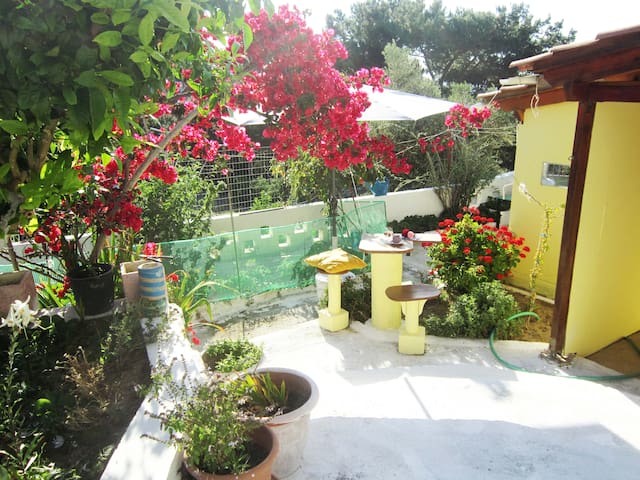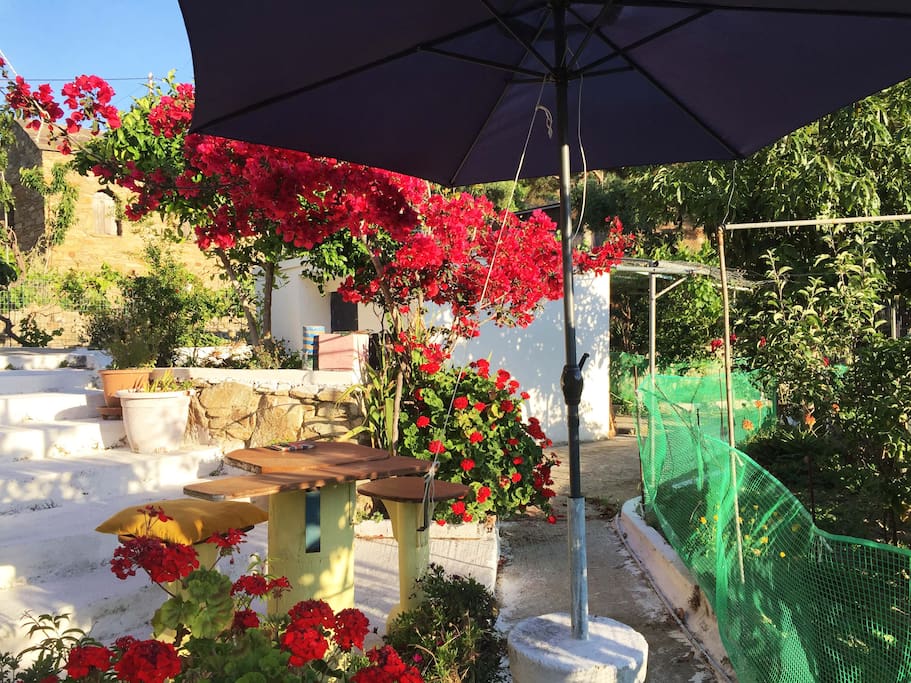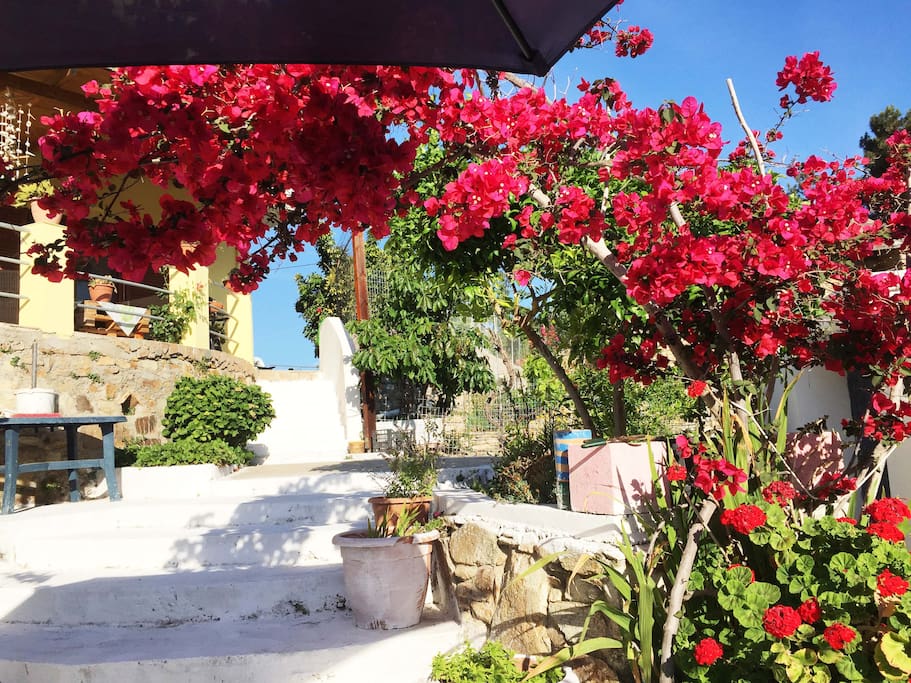 Studio apartment in Ikaria
Our place is located in the village Avlaki, which is between the touristic village of Armenistis (4 km) and the port of Evdilos (4 km),in a very convenient spot,yet very tranquil and quiet. It's just a 3 minute walk from the main road too, where the public bus passes by. If you like being surrounded by trees, flowers,and nature it will be the perfect relaxation hideout for you.
房源
The place has basically one common space for kitchen/living room, one separate bedroom, a bathroom and a very large veranda with an outside sink even. In the living room area we have a singe bed which can be used as a bed if there's an extra guest.If not used it serves as a comfy sofa.
房客使用权限
The entire apartment will be free for you to use. Plus you can have access to the upstairs veranda too. Oh and yeah, there're always fresh eggs on the chicken pen so feel free to go ahead and get some for your breakfast if you'd like..!
与房客的互动
We can always help you out with tips and recommendations about getting around the island and all that you will need to get the full ikarian experience.
其他注意事项
It is recommended,for any visit in Ikaria,that you consider renting either a car or a motorbike. The distances between villages are big, and not easy to cover on foot.
---
---
---
---
- Our only request is that guests respect quiet hours during noon and night-time so as to not to disturb the neighbouring households
---
---
---
---
Εξαιρετικός και πολύ ζεστός χώρος με μια πανέμορφη αυλή. Το σπίτι βρίσκεται σε πολύ καλή τοποθεσία και είναι ιδανικό για ζευγάρια και οικογένειες. Η Λουσια και η οικογένεια της ηταν απο τους καλύτερους οικοδεσπότες που έχουμε συναντήσει και οταν ξαναπάμε σε αυτο το μαγευτικό νησί σίγουρα θα επιλέξουμε και πάλι το ίδιο σπίτι
---
Το Σπίτι είναι πολύ καλύτερο απο ότι φαίνεται στις φωτογραφίες. Ήσυχο και καθαρό. Τα παιδιά ήταν περισσότερο απο ευγενικά και φιλόξενα. Μας κάλεσαν σε τραπέζι, μας έδωσαν αβγουλάκια κατευθείαν απο τις κότες επειδή μαγειρεύαμε στο σπίτι. Ένιωσα σαν να είμαι στο σπίτι μου, πολύ ζεστά άτομα όλοι τους. Ευχαριστούμε πολύ Lucia για όλα και για τα δωράκια που μας έκανες. Του χρόνου πάλι εκεί :)
Παιδιά, πραγματικά ευχαριστούμε παρά πολυ για ολα, και για τα όμορφα σχόλια! Ευχόμαστε καλή συνέχεια του καλοκαιριού! Ελπίζω να περάσατε πραγματικά όμορφα στο νησι και στο σπιτι! Και οποιαδήποτε στιγμη είστε πάντα ευπρόσδεκτοι, χειμώνα-καλοκαίρι! Πολλά πολλά χαιρετίσματα!
---
The apt. is located at a good spot from where you can reach most of the island 's attractions. In any case u need a car or a bike to go around. Its clean and has all one might need. If not Lucia and her family are always ready to help u in the best way. Lucia and her family were not only excellent hosts but great company ad well. They very often offered us to dine with them delicious food all made of home grown products. They readily provided us with tips to top notch taverns and best local products. We also got to visit Lucias beauty saloon and that alone was a new experience. Definetely to be reivisited!
---
we are 4 italian friends who decides to spent the holidays in ikaria. we were at lucia's home at the end of july and.....were a fantastic experience! lucia greeted us in a very friendly way and her daughter was very helpfull in explening us all the home facilities and surrending places. tha flat is located in a strategic place, there is a beach nearby (reachable by scooter or by foot).... but all the beaches of ikaria are gourgeous. also the flat have an amazing view and you can see the sunset from your living room. lucia on sunday made us a wonderfull sourprice.... the best homemade mousaka in ikaria. in a nutshell...the place is worth it the money we paid but the most valuable thing is Lucia and her family.. we hope to come back to lucia and suggest to do the same.
Daniele, thank you so much for your kind words, you give us too much credit, I really wish I had more free time at home to spend with you and help and show you around. I'm glad you had a good time and enjoyed yourself though, I really do! Again, I thank all four of you for choosing our place to spend your holidays here, and I truly hope to see you again in the future. There will be mousaka waiting for you! Sending a lot of greetings to all of you from me and my family here ! Take care, Lucia and family
---
If you are looking for a place to relax and enjoy all the good that Ikaria can offer, you are certainly looking for the Lucia's house. The spot is easy to access the beaches and the center, very spacious, clean, quiet and equipped with everything you need. In addition, the balcony have a wonderful view where you can enjoy the sunset or the stars. Moreover, Lucia and her family are amazing people that will surely make you feel at home if you are traveling alone as I did, surely you find the best people, that will make you relax and forget the stressful routine that many of us face in our work. Thanks Lucia, Panaioto, girls and Sonata you made my holiday more vivacious =)
---
My stay at Lucia's went above and beyond what I expected. Since I was travelling by myself and without a vehicle (no easy task in Ikaria) they went an extra mile to make sure my stay in Ikaria was as lovely as it was. The apartment was perfectly spotless and fully equipped.The bed was very comfortable. It is very private but is just below Lucia's house so they are there if you need them or if you just want to hAng out. It is surrounded by many many flowers and you feel immersed in a quiet country lifestyle. The outdoor terrace is spacious and comfortable for reading or chatting or drinking wine. Avlaki is close to the beach but if you don't have a car you will need to be adventurous enough to hitchhike like I did, which I quite liked because it provided a unique way to talk to locals. Armenistis is very close and a very quaint and friendly village.
---
Hi I'm Lucia, I come from Brazil but I've lived in Greece for more than 25 years, 15 of which were in the island. I have two daughters and I work as a hairdresser/beautician and run a beauty salon in Armenistis,Ikaria. In my free time, I like tending to my gardens and crops, also going out to pick herbs etc which I use to make my own natural, ecological cosmetics.
语言:
Português、Ελληνικά