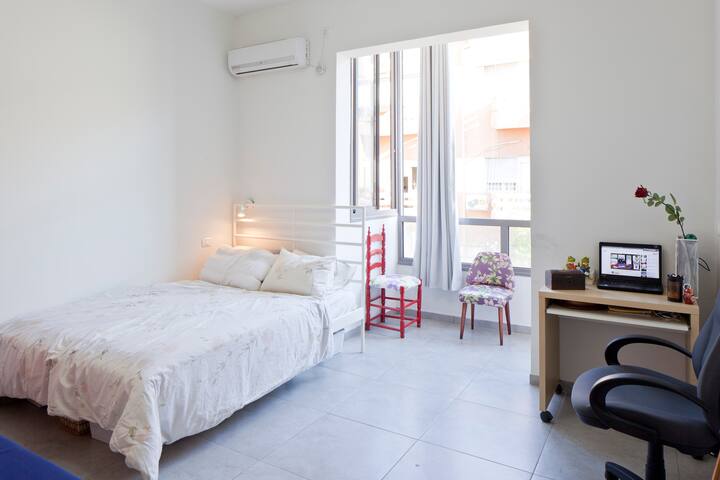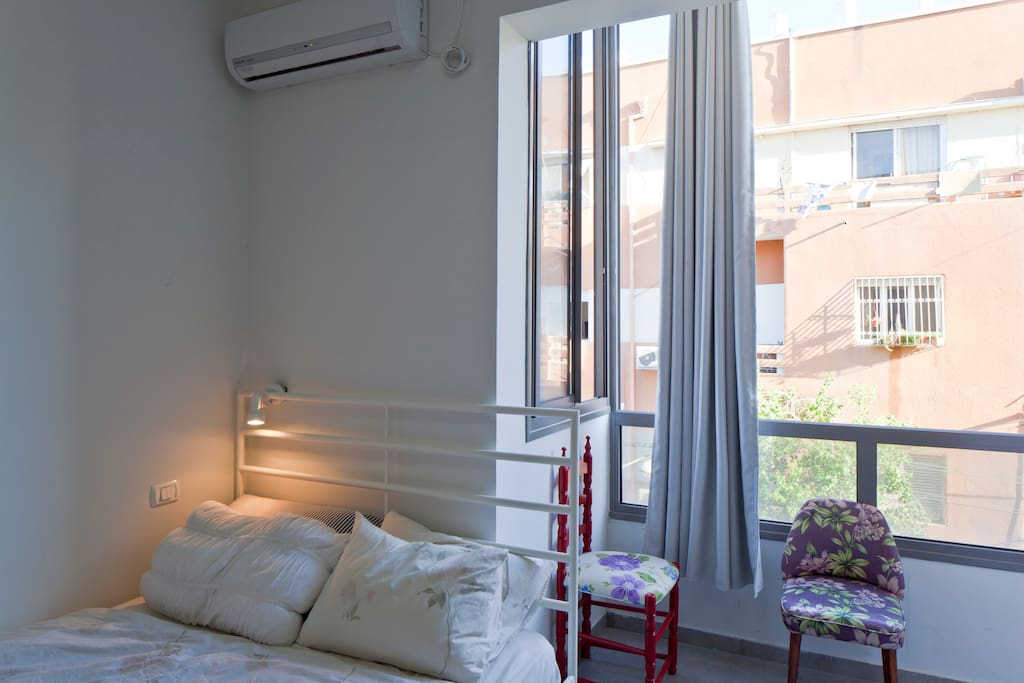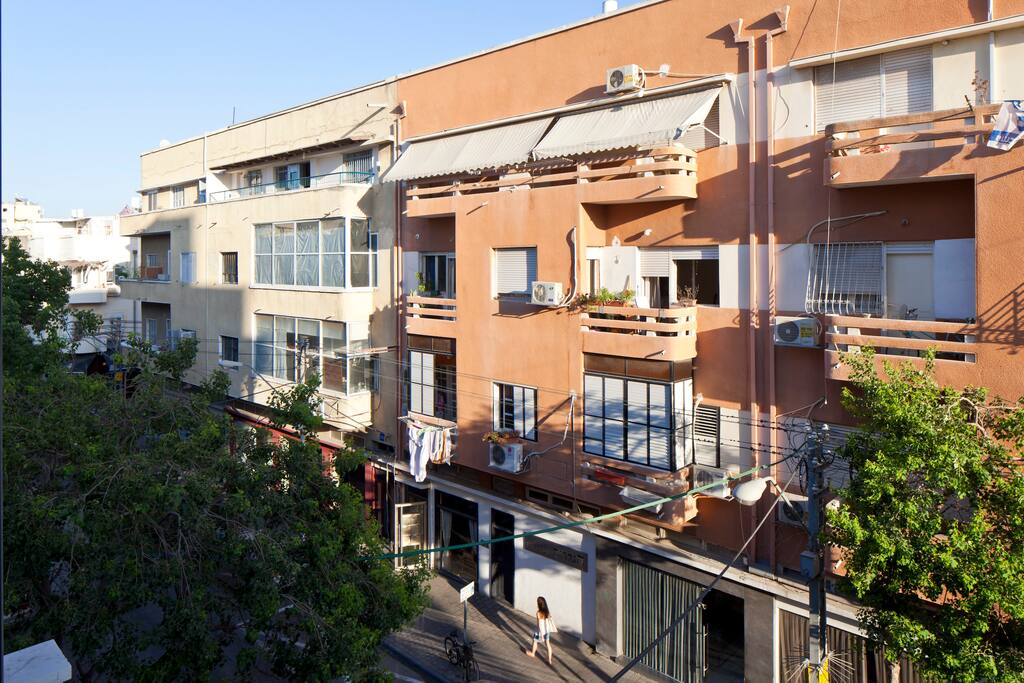 我们位于佛罗伦萨市中心的美丽公寓将让您爱上特拉维夫。房间宽敞,设有大窗户,所以您将得到所需要的所有阳光。邻里还活着,提供许多真实的体验。
Our beautiful apartment in the center of Florentin will make you fall in love with Tel Aviv. The room is wide with large windows so you will get all the sun you need and more. The neighborhood is alive and offer many authentic experiences.
房源
在佛罗伦萨附近一个大的美丽的房间。 房间位于一条安静的街道上,距离主街Vital街有两分钟的步行路程,那里有各种各样的酒吧,酒吧和餐厅。 房间有你需要的一切:舒适的床,办公椅,办公桌,沙发,空调和太阳的负担:) 包括寝具和毛巾,所以只需带上你的手提箱,你很好去。
A large beautiful room in Florentin neighborhood.
The room is located in a quiet street, which is two minutes walk from the main street, Vital Street, that has a big selection of bars, pubs and restaurants.
The room has everything you need: comfy bed, office chair, work desk, couch, air conditioning and loads of sun :)
Bedding and towels are included, so just bring your suitcase and you are good to go.
---
Enjoyed my stay at Irit's place immensely. It is a bohemian neighbourhood, lots of colour and friendly people. The (SENSITIVE CONTENTS HIDDEN) were great and there are loads of options for eating out. It is a pet- friendly neighbourhood, so you'll see lots of people walking their dogs any time of the day or night and the friendly neighbourhood cats are mostly TNR'd and fed by the residents.
---
I didn't actually meet Irit, instead I was welcomed by her housemates, Yuri and Rotem, who were brilliant! Irit provided me with all the information and details I needed for a easy and convenient check-in/stay/check-out. Irit also contacted me throughout my stay to check everything was fine. The room is nice and spacious. Florentin and Neve Tzedek were, in my view, the best areas and the best places for restaurants and bars. And also close to the beach. I have endless good things to say. My stay in Tel Aviv was brilliant.
---
Everything about this stay was perfect! The room was very big and comfortable, the location of the flat is sublime and the roommates are just awesome! Renting this apartment was the best decision ever, and included more than even noticed by Irit. This stay made me falling in love with Tel Aviv (and even more in Irit and her roommates!) Thank you 3
---
I have spent one month in Irits room in Tel Aviv - and it was a great choice! Even though I didn't get to know Irit in person she was a very nice and caring host. We (SENSITIVE CONTENTS HIDDEN)d before I came to Tel Aviv and we also were in contact during my stay in her room, she always made sure that all is fine! I lived with her two roomates, which was fun. No problem at all to get along with them. They helped me, whenever help was needed! Florentin is as well the best choice you can make when you come to Tel Aviv and you like alternative life style, street art, and of course the beach! Because it seems like the apartment is in the middle of everything: In only 10-15 Minutes you are at the beach, fleamarket of Jaffa, also the Central Bus Station (where you can get easily to other places in Israel) is in walking distance. The Room looks exactly as it is shown in the picture, very big, lots of light. It can be a little noisy because of the street - it was not a big problem for me, I got used to it after some days - only if you have a light sleep, it might be. I can honestly say that I had a great time in Florentin and in Irits room, a great time in Tel Aviv for sure, and I would always choose to take the room again.
---
I had a great night in Tel Aviv thanks to Irit's amazing hospitality! She was so friendly and couldn't have been more helpful. The fact that she speaks fluent English helped a lot! She knows the city and events very well, and has great culinary taste; she gave us fantastic recommendations, there are some wonderful restaurants in her neighbourhood. The apartment (which was perfect) is in the very interesting neighbourhood of Florentine. My only problem is that now I want to go back and stay longer!
---